1.
Conservative party MP Matthew Hancock found out that you have to be careful how leaflets look when folded.
2.
Then there's UKIP, who need to go back to the policy drawing board.
3.
This Lib Dem bar graph has no sense of proportion.
4.
But the biggest problem in this election (and probably every election ever) is SPELLING.
5.
This one to.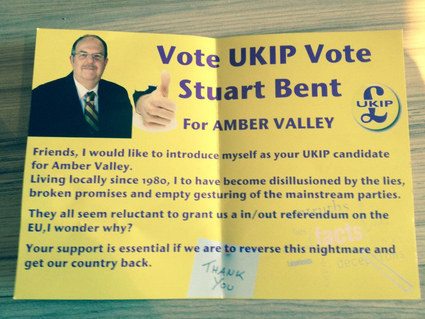 6.
And if you're going to ask people to vote for you, best to spell the place right!
7.
Time to rethink this whole triple-lock thing, Lib Dems.
8.
It's awkward when there's bad spelling in the jobs section.
9.
There's just so many spelling fails it's hard to keep up, tbh.
10.
*head desk*
11.
And when it's going to be blown up into a banner, CHECK THE SPELLING, SUE!
12.
Sometimes the leaflet just gets bored and stops mid-sente...
13.
It really is a common prob...
14.
There's that time the Lib Dems subconsciously became another coalition: THE LAB DEMS!
15.
But putting together election leaflets can be hard. There are just so many boxes to fill out.
16.
17.
And sometimes the placeholder text makes more sense than the political slogans.
18.
It's been a tough election! Give Name Surname a break!
Just stay cool and calm, because everyone is trying their best.