A photo that reportedly shows the 7-year-old son of an Australian jihadi holding the head of a Syrian fighter has been uploaded to Twitter sparking widespread condemnation. It shocked the Australian public on Monday morning when the photo appeared on the front page of The Australian with a full report of Sharouf's social media activity.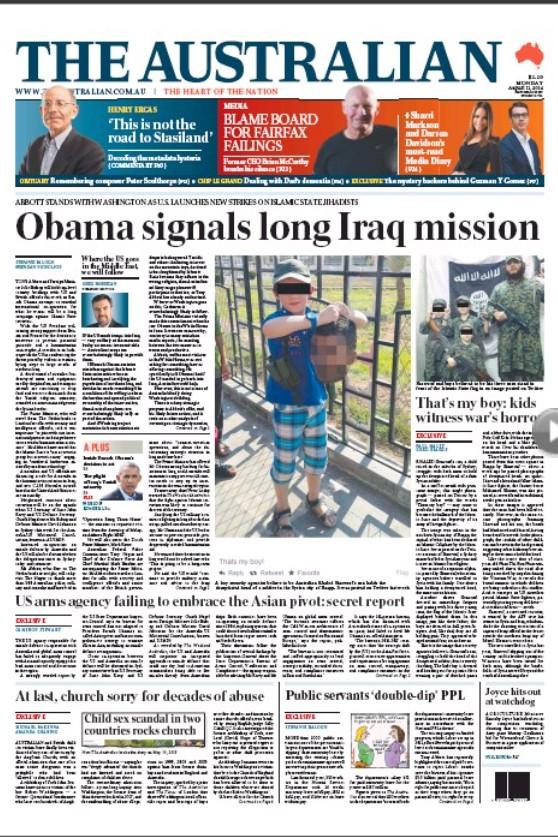 Australian Prime Minister Tony Abbott said the photo is "more evidence of just how barbaric (ISIL) is," while the Defence Minister Sen. David Johnston linked the publication to the need for new counter-terrorism laws to fight so-called home grown terrorists.
"I'm obviously revolted by that and it underscores the importance of the counter-terrorism laws we are seeking to enact," Sen. Johnston told ABC News.
There were some people who criticised the image being published by The Australian.
Among those included high-profile British MP Tom Watson.
Sharrouf (right), who has an Australian arrest warrant in his name, has posted pictures of his children brandishing guns in front of "Islamic State" banners. Twitter had already suspended Sharouf's account for posting pictures like the one below. UPDATE: British newspaper The Sun published the image on the front page of its Tuesday edition. Both newspapers are owned by media mogul Rupert Murdoch.