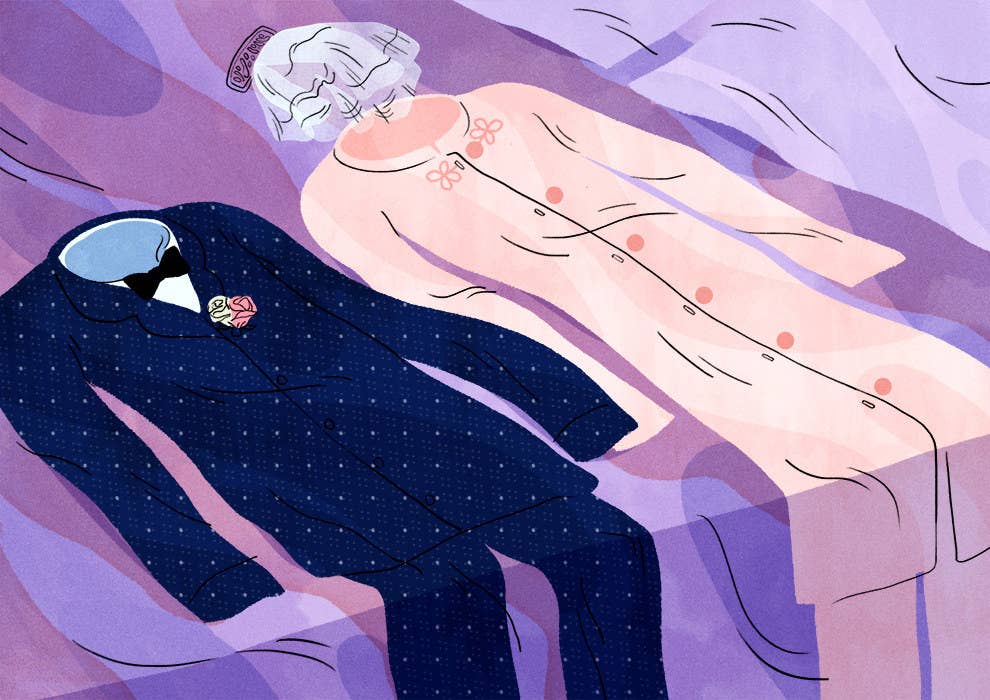 You are formally invited to a formal pajama wedding. The groom will wear bedtime black tie: a tuxedo shirt and black satin bow tie under blue polka dot pajamas. The bride will wear a blush bedcoat and a simple birdcage veil.

I hadn't anticipated ever getting married, let alone in the white-paneled living room of my in-laws' house in Maryland, surrounded by illustrations of submarines and a whale-like gray sectional from Bob's Discount Furniture.
We weren't racing to the altar. The blue sapphire engagement ring felt more like a status update than a calendar invite. Liam first asked me to marry him years earlier, a few weeks into dating, buzzed on post-sex Mexican food and an episode of Say Yes to the Dress. It was a question I'd been brushing off ever since, despite the nagging realization that I wanted to be with him for the rest of my life.
Eventually and gladly, I gave in, and over the following year we began planning a wedding that would take place in the distant future (next, next June). I put down a deposit at a landmark building on Chicago's South Side, near where I grew up and where the Obamas had their reception (a factoid I'd share half-embarrassed, as if I shouldn't expect anything so grand). We were overcome with the spirit of a thousand Bachelor contestants, ranking photographers and sifting through catering reviews and crafting a somehow small-seeming list of 150 guests, who would watch us wed in a soft-pink solarium facing Lake Michigan. I dragged photos of the architecturally significant ballroom and eucalyptus bouquets and Reem Acra dresses onto my desktop.
Then in August, Liam's mom, Michele, got sick. Or, as far as we could discern via imprecise text messages, sicker. She was first diagnosed with breast cancer when Liam was a baby. As he grew up, he was the classic youngest-kid sidekick, tagging along with his mom to the stands of his brothers' baseball games and grocery runs and oncology appointments, reading to her from gossip mags during sessions of chemo. In return, when he came out as trans as a teenager, his mom was the first family member to support him.
They spoke every day on the phone, but when it came to the specifics of her latest prognosis, she was reticent. I assured him his mom would be fine. She'd gotten worse news before and had always bounced back.
Liam adored his mom, who was nothing like my own: his, a stay-at-home Navy wife; mine, a South Side Murphy Brown. The first time I met Michele, she leapt out of her minivan — no easy feat for a woman over 6 feet tall — snapped a photo of me and Liam, and asked me to call her "Ma." I, meanwhile, hadn't yet told my family I was dating anyone.
Michele loved all things femme, often reminiscing about an early job at the Clinique counter of Woody's, a now-defunct department store. She loved red carpets, old movies, and Paris (though she'd never been), instructing our puppy to call her "Mémé." In the four years I'd known her, she'd started using an oxygen tank and progressed from a cane to a walker to a wheelchair. She liked clothes, but was hyperconscious of how they hung on her concave chest after her double mastectomy. She'd dye her short hair a cheery blonde, only to be thwarted when a new round of treatment would leave her turning to wigs that were always too hot.
Makeup, however, never failed her. Her own kids didn't care for it; she had two sports-obsessed boys and a daughter who, after years as a no-frills butch, became her son. But I did. We'd chitchat about advances in gel nail polish, and I'd send her free products from the women's magazine where I worked. She'd return the favor with a care package, and she would be waiting with a review the next time I visited.
Makeup was a cheat code for us, a safe way for me to get to know this chipper woman I appeared to have nothing in common with. I found her persona foreign, then less so, until one day she was Ma.
"That's very sweet," she said. "But it's your day. You're only going to be a bride once."
Michele had been desperate to plan another wedding ever since her own, and I was glad to share the experience with her. She would mail me dog-eared issues of Brides and wedding-appropriate Essie nail polishes, along with notes poking fun at the silly names.

As her mobility decreased, the idea that she would jet to Chicago in June became less realistic. Liam and I started driving from New York to Maryland to visit almost every weekend. After I got off work on Friday evenings, we'd hit the road, where Top 40 sing-alongs and heckling Dave Ramsey callers and enthusiastic Wawa trips drowned out the unspoken realization that Michele didn't have much time left. Liam never mentioned the inevitable, even after doctors said his mom couldn't fly. "That could change, I guess," he said, trailing off, the heir apparent to his parents' stoic optimism.
When I floated the idea of moving the ceremony (much sooner, and to Maryland), Michele was against it, and she let me know in the most diplomatic way possible. "That's very sweet," she said. "But it's your day. You're only going to be a bride once."
Liam rolled his eyes and laughed. His mom was as stubborn as she was sweet. She'd still go to church every Sunday, even if it took her five minutes to get to the pew; schedule a family dinner and push through until her oxygen tank failed her; get her nails done, if only to check in with her friends who worked at the salon. Privately, Liam talked to her about moving up the wedding, but she said that I deserved better, that she'd never ask me to sacrifice on her behalf. "This is a big day."
Neither Liam nor his mom wanted to be the one who made the choice. They said it was for my sake, but I suspected something else: For either of them to make the call meant admitting defeat. Still, to imagine Liam in some vision-boarded venue without his mom was heartbreaking. So, in October, I decided.
I told Michele that having her there was non-negotiable, that she and Liam would do the same thing for me and my mom — and that most of all, having a wedding like this exemplified the way I wanted our marriage to be.
"We're doing it on Thanksgiving," I told her, taking her hand as we sat in her bed, the television humming in the background and a pile of People magazines by our feet (she'd always have back issues on hand, to reread with me when we visited). "And we want to do it at your house." She didn't dare fight me on it after that — after all, I was the bride.
She graciously agreed to host and began thinking about the menu. I told my parents and sister to book their tickets that same day.
This wasn't going to be a Pinterest "backyard wedding," where sun-streaked photos of Ball jar centerpieces disguise $10,000 worth of tent and lighting rentals. It would happen in the living room, where Michele could easily move around and take breaks, but we also wanted it to be formal, put together. No one would feel like they were compromising.

So we went about creating a "real wedding," but scaled down — like dollhouse furniture. During the work day, Liam and I fired off link-filled emails with subject lines like "Unity candle?" We selected readings (Corinthians for the Catholic crowd; Jack Gilbert's poem "The Forgotten Dialect of the Heart" for us), which we compiled into a note on my iPad.

We ordered a cake from the gay-owned bakery down the street, found flowers from the only florist on Rockville Pike that would be open on Thanksgiving morning, and got a new SD card for our DSLR camera so our siblings could document the day. We felt like contestants on Double Dare, giddy and in love, scrambling to complete the physical challenge before the clock ticked out.
"We are all so excited to meet you and to have our families officially joined with the kids," Michele emailed my family, who'd be flying into Maryland from Chicago. "We are extra super proud of Liam as he sure knows how to choose the perfect soulmate. Please let me know how I can help make your trip easier and more enjoyable."
I Google-searched my mom into becoming an ordained minister. (We were married in the church of secular humanism, where admittance is free and the form is easy.) Since we had recalibrated our plans around one of my partner's parents, I wanted my own to feel included too. Appointing her also meant we got to sidestep an awkward conversation about a Catholic wedding when, as a queer couple, we couldn't technically have one anyway. Quickly, this started to feel like our wedding, rather than a bag of lemons we were hopelessly juicing.
Then came the question of wardrobe. There had to be some dress code — Liam and I share a proclivity for exhausting opinions about clothing — but we didn't want Michele to feel singled out, the only person dressed down (at this point, she was mostly wearing nightgowns, spending her days in bed). On the four-hour drive home after a weekend with Liam's folks, it came to me. "Two words: pajama wedding."
Quickly, this started to feel like our wedding, rather than a bag of lemons we were hopelessly juicing.
Wrangling coordinating sets for our siblings and parents was pretty painless, and it would serve as an icebreaker for their first official meeting. (As they say: When you're nervous, imagine everyone in their underwear.) I had no trouble finding a veil I liked on Etsy, and even Liam's outfit — a tuxedo shirt and bow tie under a blue polka-dot set — came together quickly. But you'll never know how challenging it is to find an opaque white pajama set until you really need it.
I ordered one with pearly pink piping from Brooks Brothers that, when worn, had the effect of dollar-store tissue paper. I ordered a white cotton set from Hanky Panky that was soft as silk but so thin you could see my birthmark through it. So I switched gears and picked up a tea-length La Perla "bed jacket" with a sweet collar and big satin buttons, its soft pink tones a dead ringer for those of the Chicago venue we passed up. Wearing it, I felt like Jackie Kennedy en fleece.
Michele was a determined host. She arranged goodie bags for everyone who came from out of town that included candy, hot cocoa packs, and Washington, D.C., tourist mugs. "We will be having white and dark turkey, cranberry walnut stuffing, mashed red or gold potatoes, candied sweets, green beans," she emailed my dad, who'd recently been diagnosed with a gluten allergy. "Please let me know what we can include so you will enjoy the meal despite the celiac disease you must combat."
By this point, she'd transitioned to palliative care, her condition beyond doctors' control, but her sympathy wasn't tongue-in-cheek. Later, she put her hand to her chest, sighed, and said, "Your poor dad — I couldn't imagine a life without bread."
On November 27, a few weeks before Michele died, we stood barefoot in front of a sectional sofa packed with our parents, siblings, and poorly behaved Boston terrier and exchanged vows.
Liam picked a quote from Goodridge v. Department of Public Health, a landmark state court decision validating same-sex marriage: "Marriage is the exclusive commitment of two individuals to each other, which nurtures love and mutual support ... Marriage is at once a deeply personal commitment to another human being and a highly public celebration of the ideals of mutuality, companionship, intimacy, fidelity, and family."
There was no grand ballroom or second cousins, no DJ beyond Spotify chirping the Talking Heads out of tinny laptop speakers. And the three fake pre-lit Christmas trees flanking the fireplace weren't what I'd imagined when Michele said there would be plenty of string lights. But it felt like a real wedding. More importantly, it felt like ours.
Our final outing before the wedding was also the last we'd ever have with Michele.

"We need to go out," she said from her bed, her voice a little raspy, "to get some more decorations." She'd always worn wigs, but that Saturday night she was tired. Her hair was downy and gray, patchy in places. We offered to go shopping without her, but she scoffed. "I'm going."
Liam's dad, Frank, draped a blanket around the back of her wheelchair, and he pushed her around Michaels while Liam and I picked out artificial flowers and she found materials for a wreath. I'd never heard of a "wedding wreath," but door hangings were her crafting speciality.
"That's not really in the color scheme," she said when Liam presented her with a lavender sprig, the palette he and I had agreed on. "I'm thinking more whites and silvers."
Back at home, she told Frank how to put the wreath together. "You're the art director," he said, delicately placing white faux hydrangea blossoms into the wooden wreath base as she pointed to spots that needed filling in. "I'm just the hired hand."
I watched Liam watching them, as Michele delivered careful instructions from her perch in their king-size bed and Frank did his best to make it happen. They were laughing. For the first time since I'd met them, they seemed less like somebody's parents than a couple, making the best of it, whatever it was.