Here's The Trick To Making Brussels Sprouts Taste Amazing
One secret ingredient changes everything.
Over the past few years, Brussels sprouts have finally been given the love they deserved.
In the recipe, the sprouts are cooked with garlic, anchovy, and chili.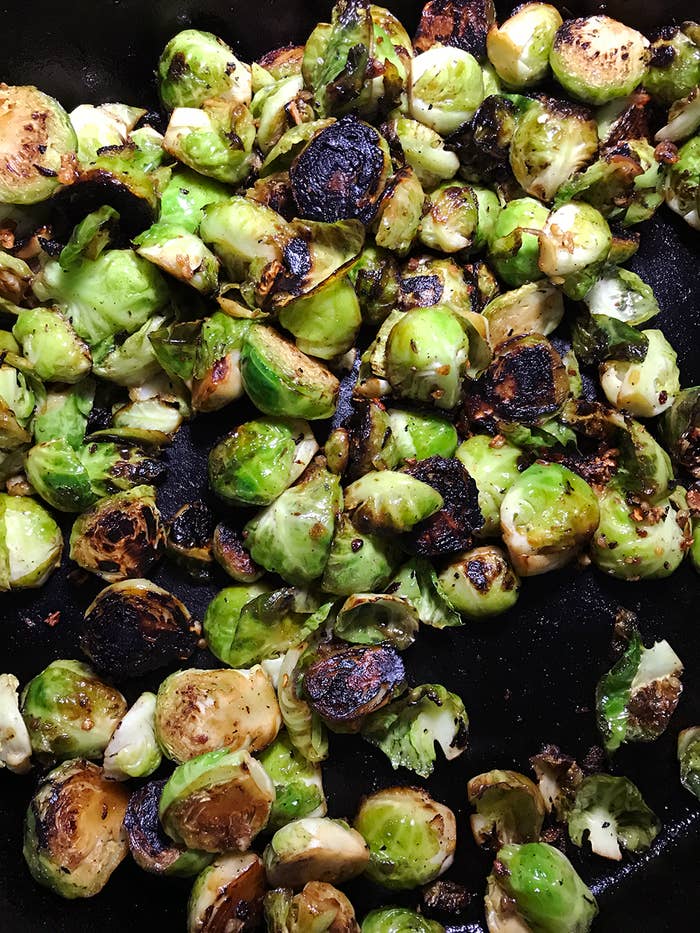 But don't worry, if you don't usually like anchovies, you'll probably still like this recipe. How do I know? Because I tricked my anchovy-hating boyfriend into eating these Brussels sprouts and he thought they were amazing.
I even asked him if he could taste any ingredient he didn't like and he had absolutely no idea what I was talking about.
So why use anchovies at all then? Because they give the dish a rich, savory flavor that makes all the difference. The honey, garlic, and chili help complete this perfect dish and make it a real stunner and the perfect side to your fall meals.
Here's the recipe if you want to make it at home!
SKILLET-CHARRED BRUSSELS SPROUTS WITH GARLIC, ANCHOVY, AND CHILI
Servings: 4
INGREDIENTS
1 pound small to medium Brussels sprouts, trimmed and halved
4 tablespoons extra-virgin olive oil, divided
4 teaspoons honey, divided
Kosher salt
4 garlic cloves, minced
4 anchovy fillets, minced
Red pepper flakes
2 teaspoons lemon juice
PREPARATION
In a large bowl, toss the sprouts with 1 tablespoon of the oil, 2 teaspoons of the honey, and ½ teaspoon of salt. Set aside.
In a 12- to 14-inch cast-iron skillet over high, combine the remaining 3 tablespoons of oil, the garlic, anchovies, and ¼ teaspoon pepper flakes. Cook, stirring until the garlic begins to color, for about 3 to 4 minutes. Scrape the mixture, including the oil, into a bowl and set aside.
Return the skillet to high heat. Add the sprouts (reserve the bowl) and use tongs to arrange them cut side down in a single layer. Cook, without moving, until deeply browned and blackened in spots — about 3 to 7 minutes, depending on your skillet. Use the tongs to flip the sprouts cut-side up and cook until charred and just tender, another 3 to 5 minutes.
As they finish, return the sprouts to the bowl and toss with the garlic mixture, the remaining 2 teaspoons of honey and the lemon juice. Season with salt and additional pepper flakes.
Excerpted from MILK STREET Copyright © 2017 by Christopher Kimball.
Used with permission of Little, Brown and Company, New York. All rights reserved.
For more delicious recipes, check out Milk Street by Christopher Kimball, which you can order here.