Press Barons And Tory MPs Partied For Nigel Farage At The Ritz
Express Newspapers tycoon Richard Desmond told BuzzFeed News Farage should "absolutely" be the next UK ambassador to the US.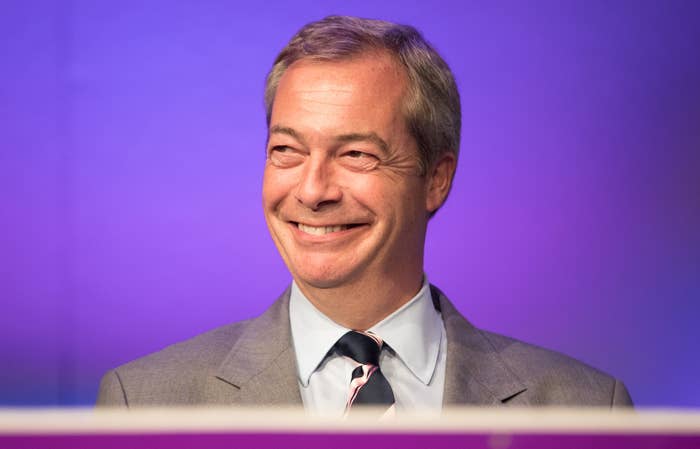 Press barons, journalists, Conservative MPs, and UKIP politicians got together on Wednesday evening at the Ritz in London to celebrate Nigel Farage's Brexit success.
The party was organised by the Barclay brothers, who own The Telegraph and The Spectator as well as the Ritz, and Arron Banks, who donated over £7 million to the pro-Brexit Leave.EU campaign during the referendum campaign.
In a room decorated with large prints of a now famous picture of the interim UKIP leader with Donald Trump, Farage was presented with a pyramid of Ferrero Rochers, as a joke referring to the US president-elect's tweet arguing that the UK politician would make a great UK ambassador to the US.
Asked by BuzzFeed News, Daily Express owner Richard Desmond said Farage should "absolutely" be the next UK ambassador to the US, though Downing Street made it clear earlier this week there is no vacancy.
Evgeny Lebedev, who owns the Evening Standard and The Independent, also attended the bash.
Several Tory MPs were at the party, including Jacob Rees-Mogg and the Grassroots Out campaigner Peter Bone, who told BuzzFeed News it was a "great party" and "it's a shame that we don't use [Nigel Farage] more".
Other attendees from the strict 120-person guest list included Daily Mail editor-at-large Isabel Oakeshott and UKIP figures Peter Whittle, Paul Nuttall, and Scottish party leader David Coburn.
Coburn told BuzzFeed News: "We should definitely have Nigel as UK ambassador – can you imagine all the trade he would bring to this country?"
Hours after it was revealed the UK would have to borrow an extra £469 million a week, in large part due to Brexit, Farage gave a speech in which he said: "In America, the revolution is total. Not only have the people spoken and won, the whole administration – Obama and all those ghastly people – are out, and the Trump people are in and are now in control."
He continued: "The problem we have in this country is that while the people has spoken, the same players have just been shuffled around the chessboard. We're still being run by the career, professional political class.

"I'm not sure what's going to happen over the next couple of years, but suspect there's a big seismic shock in British politics, perhaps going to come at the next election. I suspect the Conservative party will not fit with the legacy of Brexit."
CORRECTION
Iain Duncan Smith spoke to a journalist outside the Ritz last night after leaving a nearby social engagement. He did not attend the party. An earlier version of this post stated that he had.