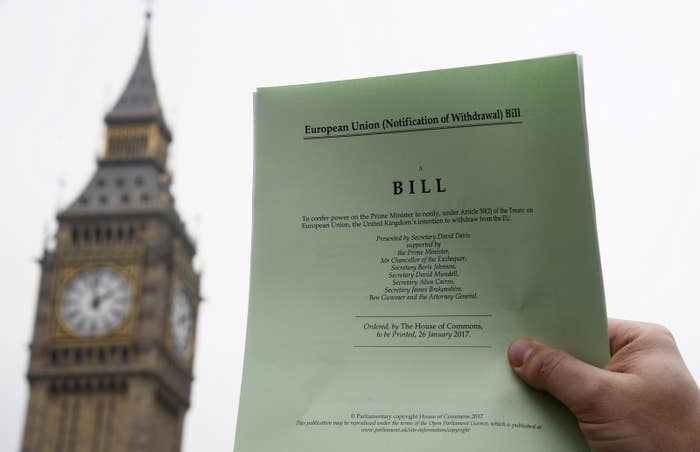 MPs have voted overwhelmingly in favour of the Article 50 bill, which effectively means that Brexit will now be happening.
On Wednesday evening following two days of debate in the House of Commons, MPs voted by 498 to 114 to give the bill a second reading.
The bill was introduced after the Supreme Court decided that MPs must have a say on whether or not Article 50 – the formal process of leaving the EU – should be triggered.

Of the 498 MPs who voted in favour of Article there were 319 Tories, 167 Labour MPs, the DUP, UUP, and UKIP's Douglas Carswell.
There were 47 Labour rebels who joined the SNP, the Lib Dems, the Green's Caroline Lucas, Plaid Cymru, and Conservative Ken Clarke in voting against Brexit.

Their action drew strong criticism from Lib Dem leader Tim Farron who tweeted: "Labour's leadership tonight waved the white flag. They are no an opposition, they are cheerleaders."
"Future generations deserve better," he added.
A total of 47 Labour MPs, however, defied their party leader, including the two Labour frontbenchers who resigned from the shadow cabinet earlier today over the parliamentary vote.

Shadow environment secretary Rachael Maskell stood down following a meeting with Jeremy Corbyn.

In a statement, Maskell said she believed Theresa May's plan for Brexit was "creating an unjustifiable level of risk at a time of national and international uncertainty and volatility".
She was later joined by shadow equalities minister Dawn Butler shortly before the vote was due to take place.
The rebels included Tottenham MP David Lammy, who said he not only voted against the bill, but that he would do the same at the second reading next week.
"I just voted against Brexit Bill and triggering Article 50 at 2nd Reading," he said. "I did so with a clear conscience and I will do so again next week."
Labour leader Jeremy Corbyn said: "I would like to thank Dawn and Rachael for their work in the shadow cabinet. They are great assets to the Labour Party and to our movement.

"MPs have a duty to represent their constituents as well as their party, and I understand the difficulties that MPs for constituencies which voted Remain have in relation to the European Union withdrawal Bill.
"However, it is right that the Labour Party respects the outcome of the referendum on leaving the European Union. We have said all along that Labour will not frustrate the triggering of Article 50 and to that end we are asking all MPs to vote for the Bill at its second reading tonight.
"I wish both Dawn and Rachael well and look forward to working with them in the future."
Earlier in the day, senior politicians from Labour and the Conservatives including George Osborne and Ed Miliband, gave powerful speeches spelling out the implications of the vote.

Prior to the vote, MPs voted down a proposed amendment by the SNP, which would have blocked the bill, by 336 to 100.
Osborne, the former chancellor, admitted that "democracy is much more difficult when we disagree with the majority", and that as a remainer, he had campaigned "with passion" and even "sacrificed [his] position in government for it".
He said, however, that he would be voting for the bill to trigger Article 50, as "to vote against the majority verdict of the largest democratic exercise in British history would risk putting Parliament against people, provoking a deep constitutional crisis in our country and alienating people who already feel alienated".
He then made a series of pointed remarks against the government's decision "not to make the economy the priority" in negotiations with Brussels, choosing instead to focus on immigration control.
"I suspect it will be rather bitter", he said, speaking of the upcoming negotiation with the EU, and warned that over the next few years, many issues would be dividing the House - including free trade, immigration, agricultural subsidies and state aid - adding that he "will be in those fights in the couple of years ahead".
Miliband also opened by saying that he not only campaigned for the UK to remain in the EU but had also been against the idea of a referendum. He said he would nonetheless be voting to trigger Article 50.
"A heightened reason for saying that the process must begin is that we do not want to give the people who voted for Brexit a sense that they are being ignored once again", he explained.
He warned, however, that with Donald Trump as US president, "European co-operation is so clearly needed more than ever", and that any focus on an even closer special relationship after Brexit would need to be "based on values".
"I can go along with the Prime Minister that Brexit means Brexit, but I cannot go along with the idea that Brexit means Trump", he said. "The danger is that the Prime Minister feels it is an inevitable consequence of the decision to leave the EU that we are driven into the arms of President Trump".
Though Miliband would vote with his party's three-line whip, which is meant to force all Labour MPs to vote for Article 50, several parliamentarians said on Tuesday and Wednesday that they would go against Jeremy Corbyn's decision, meaning Maskell and Butler may be among the first resignations.
Tulip Siddiq and Jo Stevens quite the frontbench last week as protest against Labour's position on Article 50, and others including Rosena Allin-Khan, Kevin Brennan and Rupa Huq may still join them.
On Tuesday, shadow Brexit secretary Keir Starmer tried to get the potential rebels on side by saying that Labour MPs are "above all democrats", adding: "had the outcome been Remain, we would have expected the result to have been honoured – and that cuts both ways".
He was joined by, among others, party grandee Margaret Beckett, who told the Commons: "I will vote for the Brexit bill though I fear the consequences will be catastrophic".
Former Tory minister Ken Clarke, on the other hand, used his speech on Tuesday to explain why he would be voting against the bill, and why he thought that Brexit would be a mistake.
"What I would point out to those who say that somehow I am being disloyal to my party by not voting in favour of this bill, I am merely propounding the official policy of the Conservative party for 50 years until 23 June 2016", he said.
"I admire my colleagues who can suddenly become enthusiastic Brexiteers, having seen a light on the road to Damascus, [but] I am afraid that light has been denied me...I am somehow not convinced my Eurosceptic colleagues would have abandoned their cause if they lost the referendum".