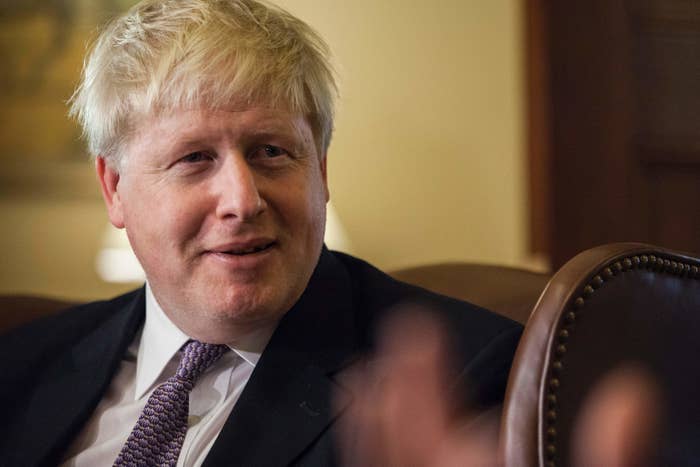 Boris Johnson declared on Tuesday that while Russia was "up to no good", the UK should still be working with the country in certain areas.
Calling for a twin strategy of "engagement and vigilance" towards Moscow, the foreign secretary told the House of Commons: "I do think it is important to understand that Russia is doing many bad things – if we look at what they have done on cyberwarfare and what they are doing in the western Balkans, there is no doubt that they are up to no good."
He added, however, that "it is also important for us to recognise ... that there may be areas where we can work together, and that is what we should do".
Johnson, who has just returned from the US, where he held the first formal meeting between a UK minister and senior figures in the incoming Donald Trump administration, acknowledged that the hacking of US Democratic party emails had come from Russia, but refused to comment on whether it had any effect on the presidential election result.
He told MPs that in his discussions with the president-elect's team, he had tried to set out a joint approach for the US and the UK on Russia.
"As I said earlier, we do think that the Russian state – the Putin Kremlin – is up to all sorts of very dirty tricks, such as cyberwarfare," Johnson said, "but it would be folly for us further to demonise Russia or to push Russia into a corner, so a twin-track strategy of engagement and vigilance is what is required."
Labour MP Alison McGovern told BuzzFeed News on Tuesday she was puzzled as to why "we now have this strange view that we are somehow in danger of pushing Russia around".
"The reality is that Russia has it within its power to help resolve this conflict [the Syrian civil war] by withdrawing support for Assad's bombing of his own people and that sanctions and diplomatic efforts from the international community have so far not been effective in convincing Putin to do this," she said.
"This inconsistency of language from important figures like Boris Johnson is not helpful when the international community needs to show resolve and determination to stand up to Putin and protect civilians in Syria."
Johnson also drew criticism from Labour MPs when he refused to criticise the views of Trump's chief strategist Steve Bannon, the former executive chairman of alt-right website Breitbart News.
Shadow foreign minister Liz McInnes told the Commons: "On Sunday, the foreign secretary met Steve Bannon, Donald Trump's chief strategist, a man whose website is synonymous with anti-Semitism, racism, misogyny, homophobia, the hero worship of Vladimir Putin, and the promotion of extremist far-right movements across the world. May I ask the foreign secretary how he and Mr Bannon got on?"
Johnson replied that he did "not wish to embarrass any member of the incoming administration by describing the friendliness or otherwise of our relations", but "that the conversations were genuinely extremely productive".
"There is a wide measure of agreement between the UK and the incoming administration about the way forward, and we intend to work to build on those areas of agreement," he said.
McInnes said she was disappointed by the answer, telling BuzzFeed News: "I'd have liked to hear Boris Johnson saying that Steve Bannon's actions and attitudes at Breitbart were unacceptable and deplorable, because – if he can't say it about his past, I don't believe he'll have the guts to say it in the future, once Mr Bannon is running the Trump White House."
The Foreign Office did not reply to a request for comment.