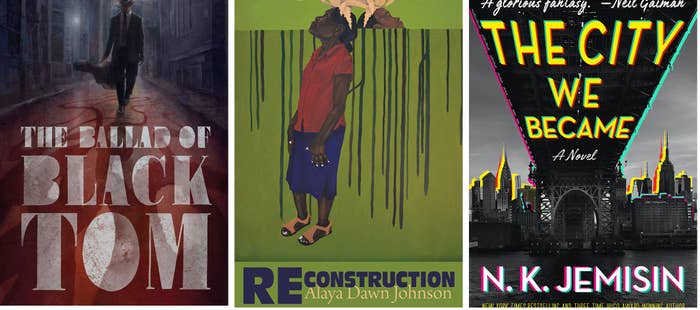 Based on H.P. Lovecraft's short story "The Horror at Red Hook," this novella grapples with the racist legacy of H.P. Lovecraft's work. Charles Thomas Tester — Black Tom — makes a living in 1920s Harlem by playing guitar on the street and doing odd side jobs. After delivering a grimoire to a sorceress in Queens, a white man asks him to play guitar for a ludicrous sum at a house party. Black Tom agrees, and when the party reveals monsters from another dimension, he sees a way to revenge himself on the racists of his world.
Get it from Barnes and Noble or your local independent bookstore.
The first story in this collection, the Nebula award-winning "A Guide to the Fruits of Hawai'i," opens in a prison where vampire conquerors imprison humans to feast upon. Key is a human caretaker doing what she can to survive in a world where hope and integrity are seemingly impossible. This theme of resilience in inhumane conditions continues throughout the collection. In the title story "Reconstruction" — one of two stories original to the collection — Sally uses her grandmother's spells to help protect a Black Civil War regiment while meditating on anger. These ten immersive stories embrace multiple speculative genres and take place in worlds both real and unreal. Much like Lovecraft Country, the stories combine horror and fantastical elements with anti-racist themes.
Get it from Bookshop, Target, or your local independent bookstore.
Recent MacArthur Genius Grant winner N.K. Jemisin's The City We Became is a masterpiece of eldritch urban fantasy, a glorious annihilation of the racism in H.P. Lovecraft's Cthulhu Mythos. It's based on her short story "The City Born Great" and imagines a New York City that literally comes to life, its midwife a starved graffiti artist. It's not the first city to do so, but it is unique in that it chooses human avatars for each of its boroughs that encapsulate each area's personality. These avatars must team up to destroy the woman in white, a primordial, multidimensional evil that seeks to destroy cities as they're born. The woman in white utilizes the racist anger of alt-right groups to attack each borough. Jemisin's writing is immersive and captures New York City's richness, diversity, stubbornness, and independence. It brings many of the same themes from Lovecraft Country into a modern setting.
Get it from Bookshop, Target, or your local independent bookstore.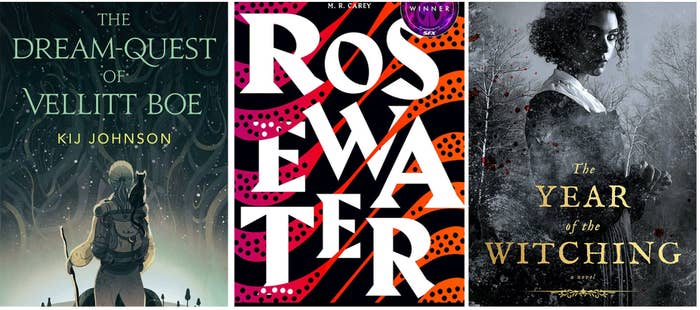 Kij Johnson based this novella on H.P. Lovecraft's short story "The Dream-Quest of Unknown Kadath." In it, professor Vellitt Boe teaches college at an elite women's college in the Dreamlands. When one of her students marries a dream walker and follows him to the waking world, Vellitt sets out to find her and bring her back before the scandal becomes known. If the scandal gets out, it could shut down the entire school — one of the few universities available for women. As Vellitt ventures farther and farther from everything she recognizes as reality, she reminisces about her own affair with a dream walker when she was younger. This atmospheric novella is a pointed criticism of Lovecraft's sexism.
Get it from Bookshop, Barnes & Noble, or your local independent bookstore.
Rosewater is the first book in the completed Wormwood trilogy. An alien biodome mysteriously appears in Nigeria, creating sensitives — or, telepaths and psychics. Kaaro is one such sensitive and he becomes a government agent despite his criminal past. When he discovers sensitives are methodically being murdered, he defies his orders to try and figure out who's behind their deaths, and to save himself. This inventive and fascinating trilogy moves back and forth in time to explore an alien near future. I imagine Atticus from Lovecraft Country would love to read it.
Get it from Bookshop, Target, or your local independent bookstore.
Author Alexis Henderson sets The Year of the Witching in a fantastical Puritan village. Immanuelle Moore's mother was promised to the Prophet — but she went against his word and conceived a child with an outsider of a different race. Once the villagers discovered her illicit romance, she escaped into the forbidden forest, where witches and darkness and evil flourish. Now Immanuelle lives with the burden of her mother's sinful legacy, and while she follows the Prophet's rules and codes, she doubts their validity. One day, she enters the woods to catch an errant sheep and encounters strange women who gift her her mother's diary. Her mother has drawn strange, horrific creatures within the diary, accompanied by a prophecy: Four phases will herald the apocalypse — blood, blight, darkness, and slaughter. By visiting the woods, Immanuelle has possibly initiated the foretold apocalypse. This dark, feminist horror will give you chills.
Get it from Bookshop, Target, or your local independent bookstore.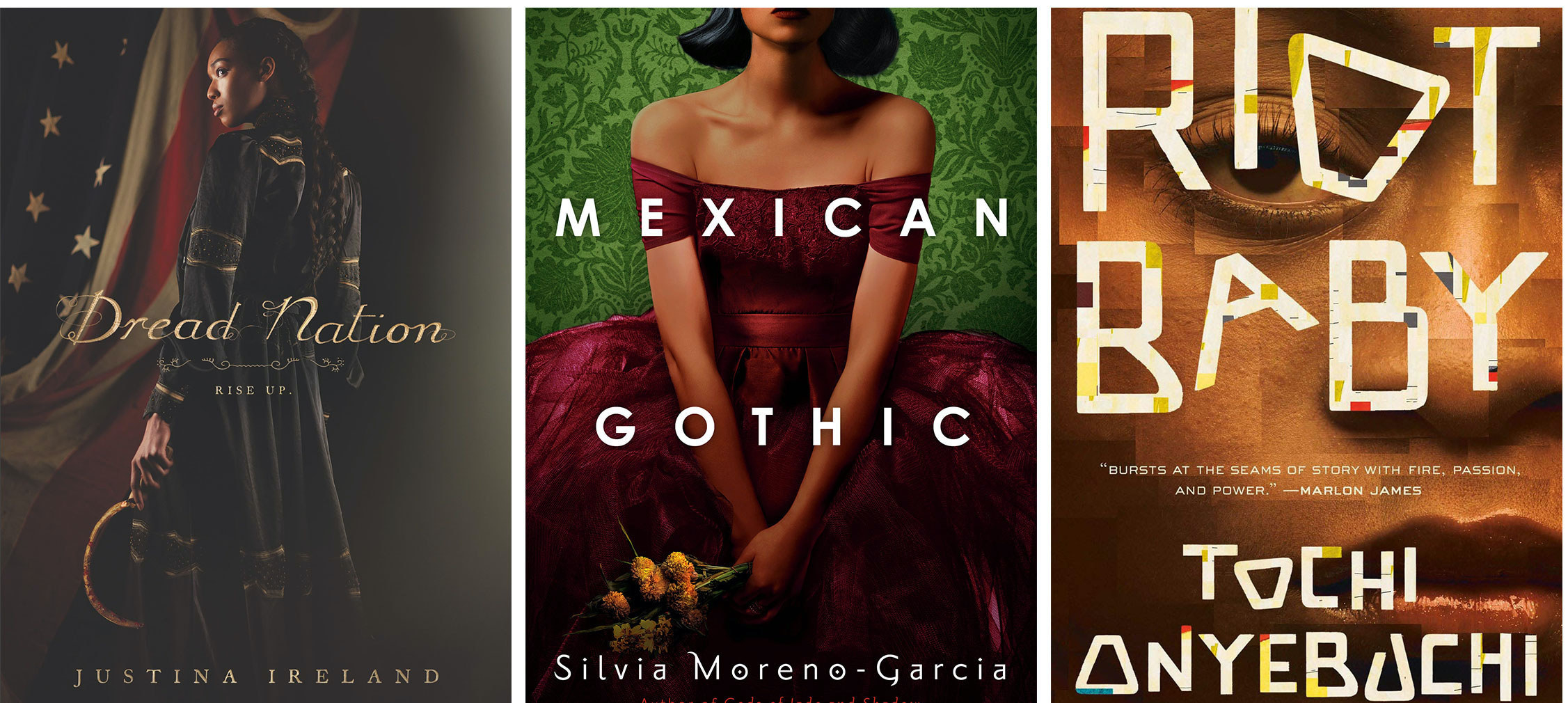 Justina Ireland sets Dread Nation in an alternate post Civil War history — one where the dead rose after the Battle of Gettysburg and became zombies. The war ended only because fighting zombies became more critical. Black people are freed from slavery and forced to go to combat schools and train to fight the dead. Jane McKeen is one such zombie slayer who is currently a student at Miss Preston's School of Combat in Baltimore. When she finds herself amid a deadly conspiracy, she's forced to team up with her rival at the school -- Katherine Deveraux. Book two, Deathless Divide, continues Jane and Katherine's badass zombie-slaying in the 1880s West. Both books combine monster-slaying with the history of racism.
Get it from Bookshop, Target, or your local independent bookstore.
If you enjoy the haunted house episodes in Lovecraft Country, then this twisty gothic is the book for you. Noemí Taboada is a socialite who delights in parties, fancy dresses, seducing men, and anthropology. After receiving a garbled letter from her recently married cousin and dear friend Catalina, she travels to the distant village of High Place and the decaying mansion that is now Catalina's home. There, she finds Catalina incoherent and lethargic while the family she's married into exude white-colonialist patriarchy — except for the youngest son, Francis, whose shy demeanor and pallid looks are the exact opposite to the men Noemí typically dates. But in this rank home with no friends, Francis becomes an anchor for Noemí. Meanwhile, the house itself seeps into her dreams and slowly comes alive around her. Much like in Lovecraft Country, entwined within the house's fantastical horror are the horrors of the white supremacists who live there.
Get it from Bookshop, Target, or your local independent bookstore.
Riot Baby by Tochi Onyebuchi
Ella has extraordinary, paranormal powers that allow her to see into the future, make herself invisible, and destroy things with her mind. She predicts her younger brother Kev's birth during the Rodney King riots. Despite her powers, nothing can stop the systemic racism and brutality the siblings and their mother face. When Kev is imprisoned, Ella sees visions of an apocalyptic future that only she and Kev can combat. This slim novel packs a punch, and its explorations of familial love and racism make it an excellent read-alike to Lovecraft Country.
Get it from Bookshop, Target, or your local independent bookstore.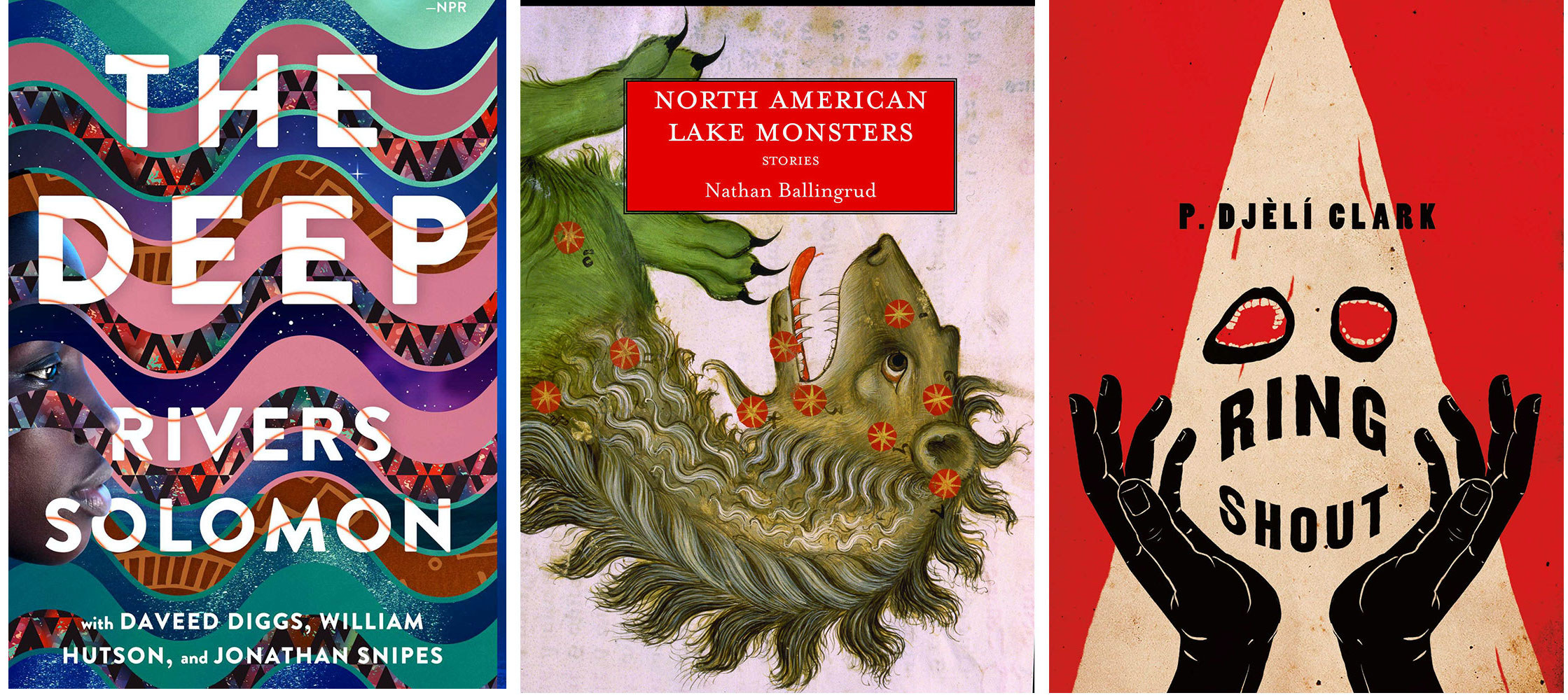 The Deep by Rivers Solomon with Daveed Diggs, William Hutson, Jonathan Snipes
In 2017, the hip-hop group Clipping recorded a song called "The Deep" for This American Life's episode about Afrofuturism. In the song, mermaids descended from the pregnant African women thrown overboard by enslavers. River Solomon uses this premise in her novella to examine history, inherited trauma, and the potential of collective healing. Among the water-dwelling people, Yetu is the historian, holding all the traumatic memories of her community so that everyone else may live in peace. But it comes at a cost for Yetu. She's constantly in pain, reliving the trauma of her forebears. In despair, she flees to the surface, hoping to escape the memories. This beautiful and uncanny novella examines the impacts of racism and slavery through a speculative lens, much like Lovecraft Country.
Get it from Bookshop, Target, or your local independent bookstore.
This short story collection teems with monsters — from vampires to werewolves to white supremacists — all in a contemporary Southern setting. In "Sunbleached," a vengeful teenager kidnaps a vampire. In the title story, a serial killer lake monster terrorizes a town, while a father recently released from prison struggles to reconnect with his family. Reminiscent of Shirley Jackson, Karen Russell, and Stephen King, these nine short stories center around working-class lives and examine themes of toxic masculinity and monstrosity.
Get it from Bookshop, Barnes & Noble, or your local independent bookstore.
In P. Djèlí Clark's version of 1922 Georgia, Lovecraftian monsters from another dimension called Ku Kluxes are consuming people and amplifying hate while posing as KKK members. Maryse Boudreaux fights these monsters with a magical sword that channels generations of Black vengeful anger alongside shotgun-wielding Sadie and explosives master Chef. Then a far more dangerous monster arrives — the Butcher, who can direct the Ku Kluxes's mindless hunger. Using the film The Birth of a Nation as a spell, the Butcher plans to bring the most terrible monster of all into this dimension to consume everyone, and Maryse is the only one who can stop him. To do so, she must face her past tragedy and contend with her anger. This emotional and riveting novella infused with Black folklore and rich friendships is a perfect match for fans of Lovecraft Country.
Get it from Bookshop, Target, or your local independent bookstore.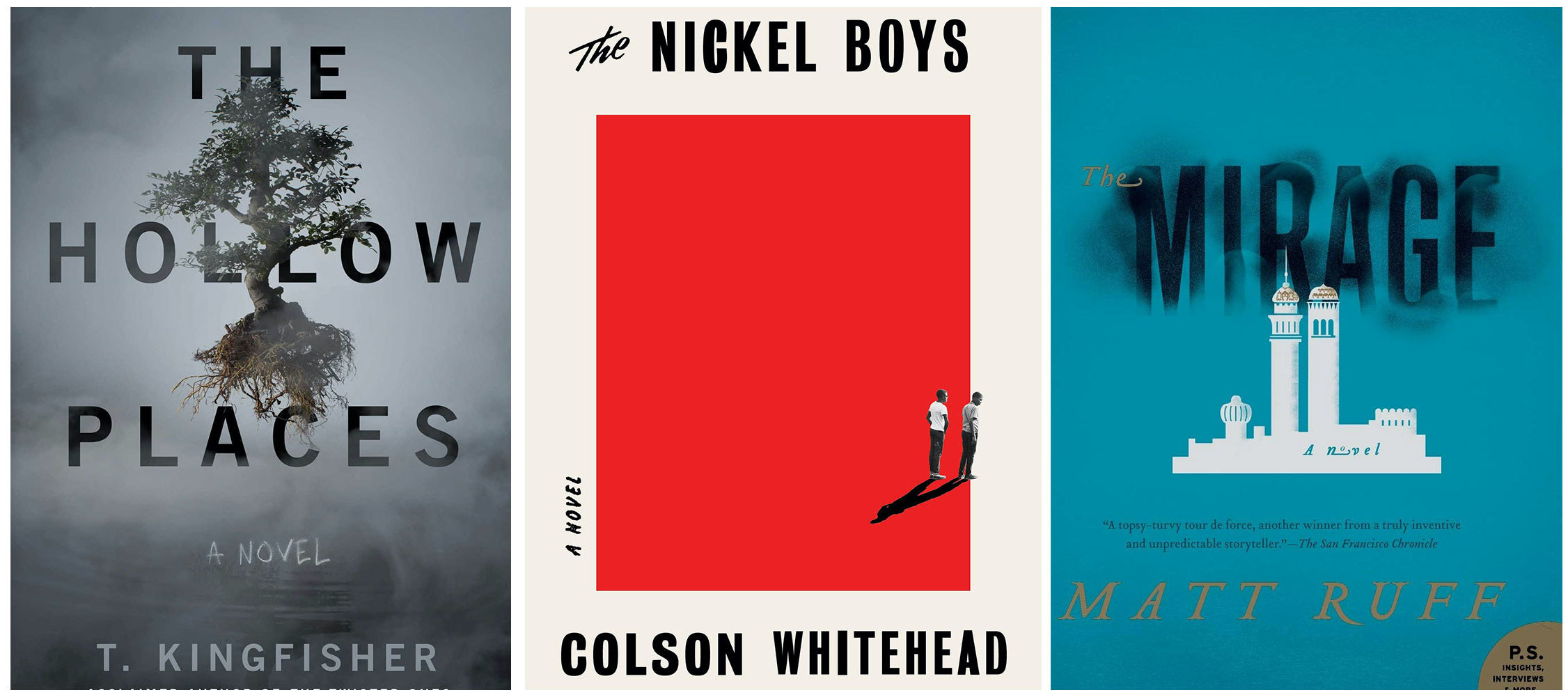 In The Hollow Places, T. Kingfisher retells H.P. Lovecraft's novella The Willows. After a divorce, Kara moves in with her uncle, who owns an antique store filled with oddities -- like a giant taxidermied otter and mermaid teeth. When her uncle undergoes knee surgery, she's left in charge of the shop. One morning, she finds a hole in the wall that reveals a hallway. With the company of the eccentric coffee shop owner next door, she explores the hallway and the door at the end that opens to another dimension. Small islands with bunkers lead to even more dimensions, but something is moving in the willow trees, and a mysterious "they" can hear people's thoughts, and they might be after her. The Hollow Places is a delightfully creepy horror novel with fantastic characters.
Get it from Bookshop, Barnes & Noble, or your local independent bookstore.
In 1960s Florida, Black, teenaged Elwood Curtis is arrested and convicted of a crime he didn't commit and sentenced to the Nickel Academy, an inhumane reformatory school for boys — aka a juvenile detention center. At the Nickel Academy, Black boys like Elwood are often tortured and murdered by the white officers. To protect himself, Elwood befriends fellow student Turner, his exact opposite in so many ways. Colson Whitehead based the novel on the real Dozier School for Boys in Marianna, Florida, which operated for 111 years and where school officials murdered an estimated 81 students. While this devastating novel has no fantastical elements, it — like Lovecraft Country — depicts the brutal consequences of racism in America.
Get it from Bookshop, Target, or your local independent bookstore.
If you're looking for more books by Lovecraft Country author Matt Ruff, I recommend The Mirage, set in an alternate version of 9/11. On September 11, 2001, Christian terrorists hijack planes and fly them into the Tigris & Euphrates World Trade Towers in Baghdad. Eight years later, Arab Homeland Security agents Mustafa, Amal, and Samir discover relics from another dimension, one where the United States was attacked by terrorists on 9/11 and is the world's superpower, while the Middle East is a fractured region. Inventive and compelling, The Mirage is an eye-opening read that's perfect for Lovecraft Country fans looking for more alternate histories.
Get it from Bookshop, Target, or your local independent bookstore.