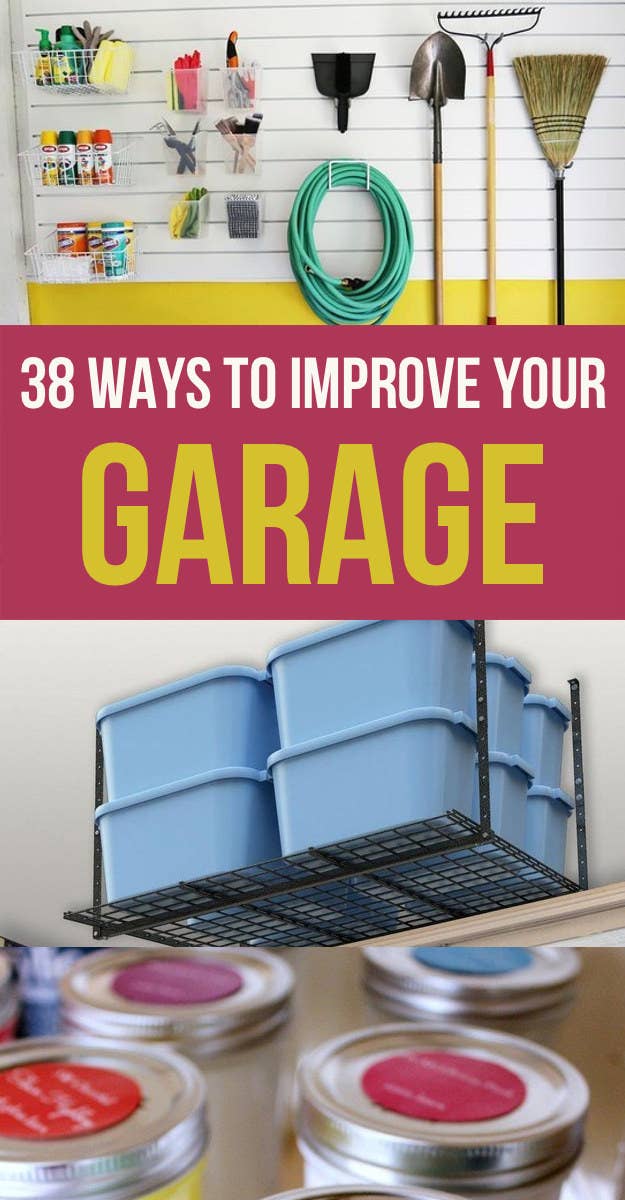 2.
Or try a pegboard wall one instead. 3.
Keep every tool in its proper place with outlines.
4.
Have a spare chest of drawers hanging around? Turn 'em into a workbench. 5.
Install a set of old school lockers and assign one to each member of your family.
6.
Create extra space and store bikes vertically. 7.
Or hang them from the ceiling. 8.
Get some air with a sliding screen door. 9.
Have a "no shoes allowed in the house" policy? Maximize floor space and store them on a rack instead of the ground.
10.
Or use a stack of vintage crates. 11.
Repurpose empty coffee cans as miniature recycling centers. 12.
Garages can be pretty dreary places--add some color and paint the door that goes into your house.
13.
Turn a corner of your garage into a mudroom. 14.
Conserve space with a fold-up worktable. 15.
Store screws and nails in old gum containers. 16.
Use slices of PVC pipe to hold your gardening tools. 17.
Put a pallet to work as sports equipment storage. 19.
Have an athletic family? Build a rolling sports goods storage cart. 20.
Easily move your tools to whatever corner of the garage you're working in with this DIY caddy. 21.
Hang your fishing rods from a ceiling rack to keep them out of the way.
22.
Store your spraypaint in a shoe organizer. 23.
Construct a storage tower to place in a empty corner. 24.
You don't need to be an expert handyman to build these simple shelves. 25.
Install a beam to hang wet jackets and snow-pants on. 26.
Don't leave bicycles and scooters toppled over in a corner--use a rack to safely park them. 27.
Or create designated parking spaces for your children's vehicles using tape. 28.
If you really want to house your children's driving toys in style, make them their own mini garage. 29.
Hang up a magnetic strip to hold screwdrivers, wrenches, and scissors. 30.
Utilize the space above your garage door with mounted shelving. 31.
Use large metal buckets to store children's outdoor toys. 32.
Painting a concrete floor makes it easier to clean and helps protects your garage from mildew. 33.
But if you're stuck with plain concrete, spruce it up with this miracle cleaner. 34.
Do a lot of building? Make yourself a lumber cart to organize your supplies. 35.
Of course the easiest way to organize scrap wood is to dump it in a bucket. 36.
Consolidate leftover paint into jars. 37.
After painting a room, save a swatch of the paint color for future reference. 38.
And if you can't find a place for something, put it in a tub.