1.
A window seat shelf you can attach directly to the airplane window, giving your laptop the space it needs on the tray table without any worries about spilling your bubbly bev on the keyboard. 

Promising review: "I bought this after a coworker told me I needed one as I always sit in the bulkhead seats on my weekly flights. I picked it up as it's always been a pain to keep my drinks between my feet or risk spilling in my lap. I installed it on my first flight and within minutes I had other passengers and the flight attendants asking about it. I wish there was a referral program. :)" —J. Eberhard

Get it from Amazon for $29.99.
2.
A set of silicone oven rack edge protectors because, if you're afraid of your oven, these covers are the burn-free security you need.  These can easily be cut to size, they are dishwasher safe, and they're heat resistant up to a whopping 482 degrees. 

Promising review: "These things are awesome. Not only are they attractive and reasonably priced, but are so easy to put on and they stay on the rack. Most important, I find they help to protect your arm when reaching into the oven from getting any bad burns. Highly recommend these, I'm so happy with them I'm buying a set for my mom and daughters-in-law." —Sandi 

Get a four-pack from Amazon for $8.95+ (available in two colors). 
3.
A bagless, touchless stationary vacuum that'll allow you to throw that dust pan in the GARBAGE where it belongs. You'll no longer bend and snap every time you sweep. 

Promising review: "Saw it on TikTok and knew I had to have one. I hate cleaning but get annoyed with the clumps of dog hair and bits of things on my kitchen floor. I usually just vacuum my tile with the vacuum, which is a pain. This thing is so easy to just sweep things into and it sucks them right up. Sure, it's more expensive than my actual vacuum, but I've only had it three days and have used it two times." —Amazon Customer

Get it from Amazon for $111.99+ (available in eight colors).
4.
"The Clean Ball" — throw this cat toy-lookin' thing into your purse or backpack, and it's gonna catch all the crumbs and debris that accumulate at the bottom. I sure wish I'd known about this gizmo before going through my homemade granola phase.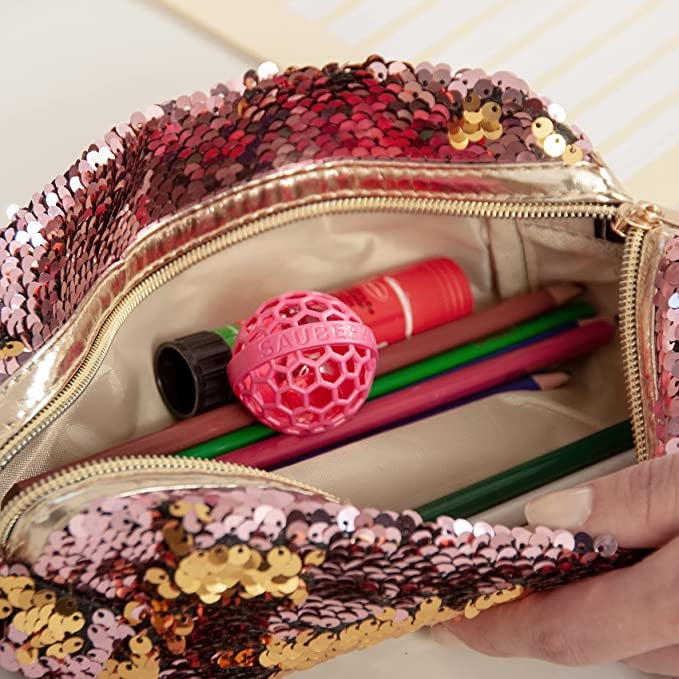 Promising reviews: "Best invention! I purchased after seeing it in a TikTok video, and it works soooo well in my purse." —Wenhether
"This little ball is genius!! Rolls around in my purse, which I live out of. It picks up a lot of lint, debris, or even crumbs. Easy to find with the bright pink. Just remove and wash and it's ready to go again. The price was great and something I can use for years. If you live out of your purse this a must-have!!" —dj3biggs
Get it from Amazon for $11.99+ (available in three colors and a multi-pack). 

5.
An at-home slushy-making cup — freeze the cup for four hours, pour in a cold drink of your choice (read: anything from soda to juice to coffee to smoothies), and crush the sides of the silicone cup until that sweet, sweet slush forms. 

Promising review: "I'm an absolute sucker for slushies. Why? Heck if I know. I saw this cup on TikTok, and bought it though I was very skeptical. However, it works!! I've made at least a dozen already, if not more." —C. Warrick

Get it from Amazon for $17.99+ (available in 14 colors and in two-packs). 

6.
A magnetic laundry guard — use this and you just might save yourself from missing sock laundry drama from now on.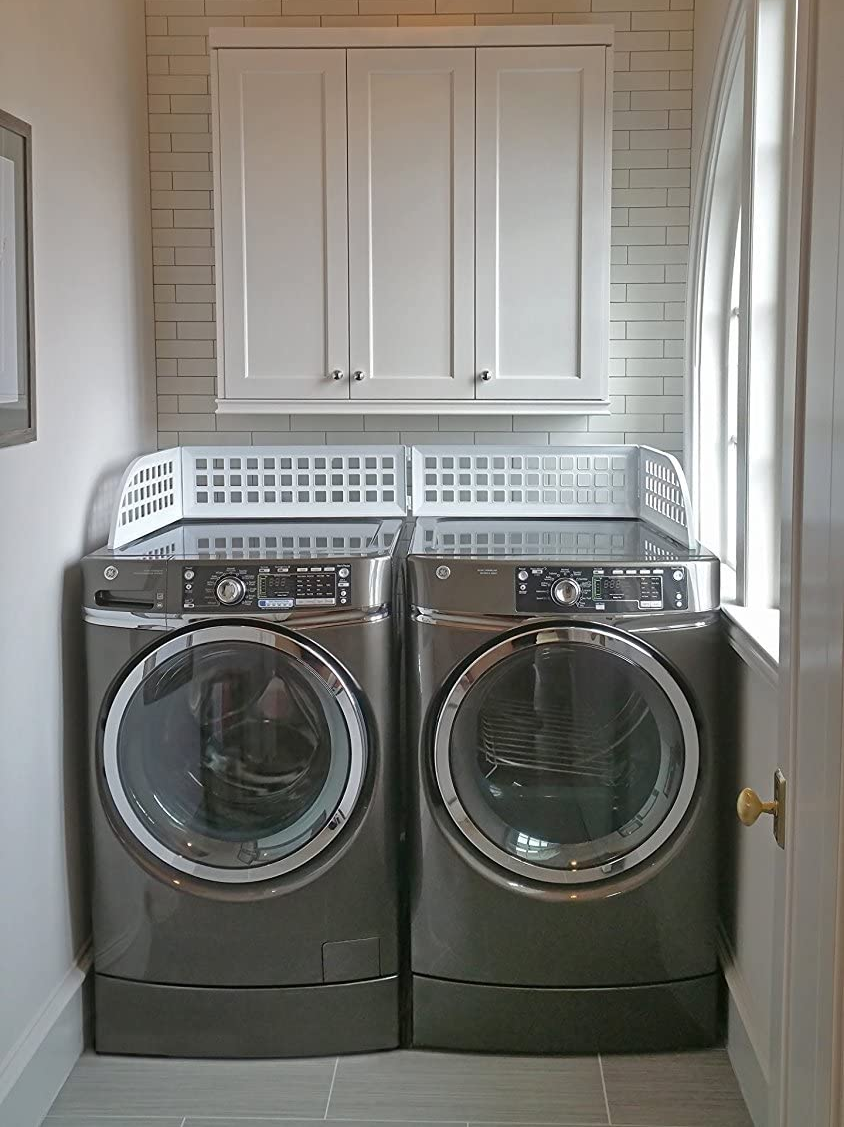 Promising review: "Oh, how I love this laundry guard! I have very little counter space in my laundry room and this allows me to use all that space on top of the washer and dryer for folding clothes. No more fishing socks and underwear from behind the machines! I love it and so does everyone else that visits and sees it for the first time. The magnets hold it in place very well. There is not a lot of shifting unless I throw something large and heavy up there but it's an easy adjustment to get it back in place. Good quality, not flimsy at all. I highly recommend this product." —Christa
Get it from Amazon for $31.95 (available in two colors).
7.
A collapsible cooling rack for when your cookie cravings are greater than your counter space.
Promising review: "This is easy to set up, sturdy, and saves counter space! I'm so happy with this purchase." —Sun Family

Get it from Amazon for $28.99+ (available in two colors and two sizes). 
8.
A small "do not flush" sign sure to be *so* useful if you, like me, live in a home with archaic plumbing. Save yourself the awkward conversations, and even more awkward accidents, by displaying this note in your bathroom. 

9.
A handheld heated bag sealer so you can keep your snacks as fresh as the day you bought them! Friends with toddlers are going to envy this thing like you won't believe. 
This includes a small bag cutter at the bottom so that reopening it is as easy as sealing is! 
Promising review: "Convenient. One of those 'TikTok made me buy it' decisions. LOL. I love it!" —Dayreona Irvin

Get it from Amazon for $13.99 (available in four colors).
10.
A self-closing, mess-free toothpaste cap to help save toothpaste in your household even if your kids are rather enthusiastic when squeezing goop from the tube. Plus, this prevents crusty toothpaste buildup! 

Promising review: "I saw these on an Amazon review video on YouTube and figured I'd give them a try because my boyfriend tends to leave the toothpaste bottle a complete mess and I can't stand it! These things have a great seal and give out a good amount of toothpaste when you squeeze it. It wipes clean very easily. So glad they come with more than one but not sure what I'll use the other ones on yet." —Kimberly C. 
Get a set of three from Amazon for $7.95. 
11.
A pickle keeper and juice strainer so you can snack until your heart's content *without* getting pickle juice all over the place. 

Promising review: "I love pickles and olives but hate the mess and pain of pickle/olive brine. I've been known to just drain it out of a jar immediately, even if that means having to throw away the pickles or olives sooner. I randomly discovered these containers from some online article, and knew right away I would be getting one. I now have two but plan on buying more. They're just great. The only thing is, you need to be 100% sure you've got the lids on completely or you will have a disaster on your hands. Check and double check each time you are securing them. The tongs are useful just to have around for anything, too." —Nick

Get it from Amazon for $6.95+ (available in six kit styles). 
12.
An acrylic Wi-Fi sign your house guests are gonna be so impressed by. After realizing how easy it is to have the Wi-Fi network and password within eyesight, everyone is gonna copy your pro hosting decor!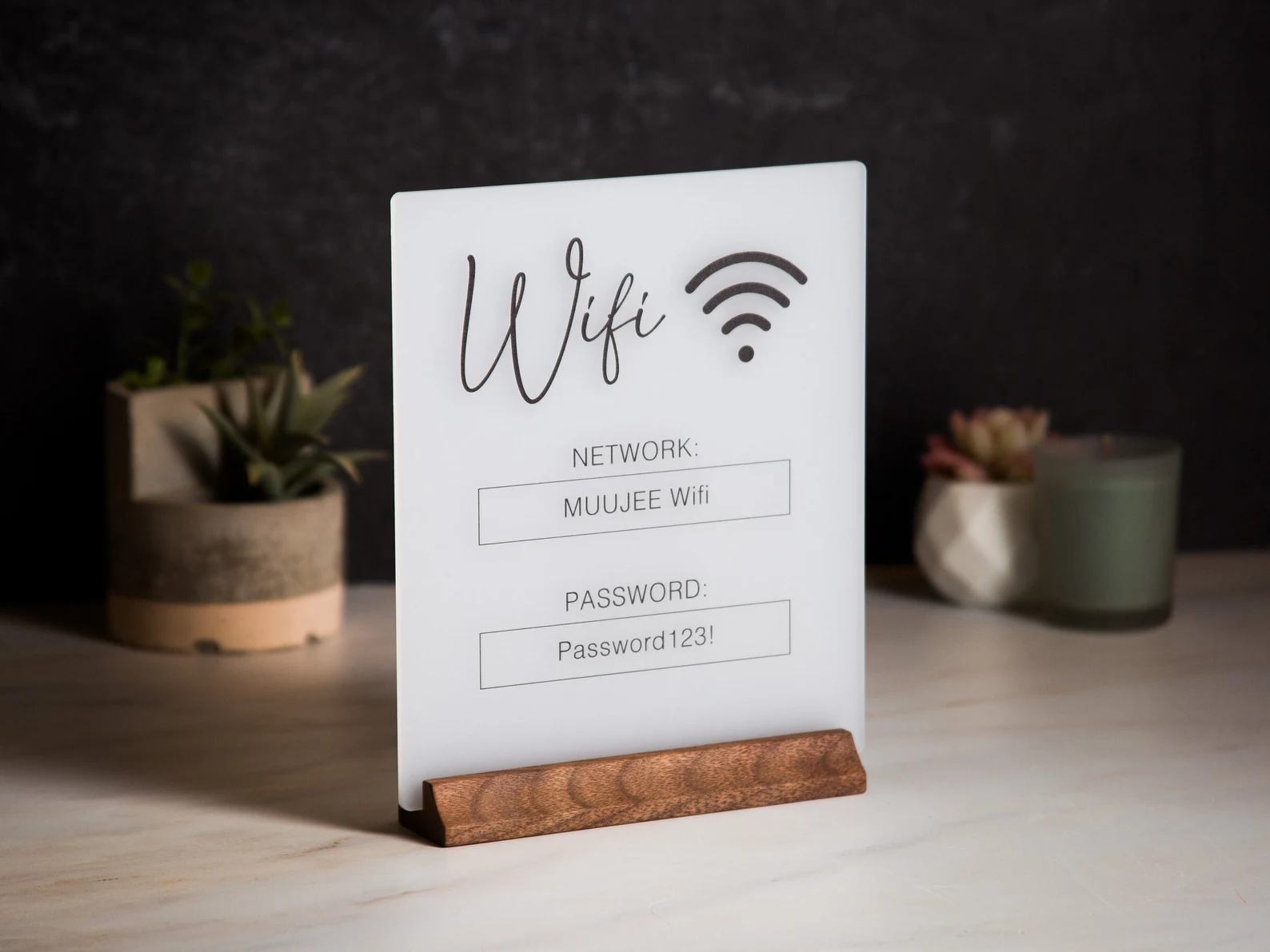 Modern Album Designs / Etsy
This is a customized item. To purchase, write your info in the area provided. Before being sent off, you'll receive a preview of the item to make sure it matches your information. 
Modern Album Designs is a small business in Sunnyvale, California. They sell wedding books, business signs, name plates, and more.

Promising review: "The quality of this item is a 10/10. Absolutely gorgeous and it came so fast in the mail. Don't sleep on this." —Courtney Hanes

Get it from Modern Album Designs on Etsy for $29.99 (available in two styles).