1.
A kid-sized lap desk designed to hold a tablet upright and keep everything your kiddo could need within arm's reach. It has a cup holder, a dry-erase board (that they can also use as an eating tray), and storage pockets for utensils and toys.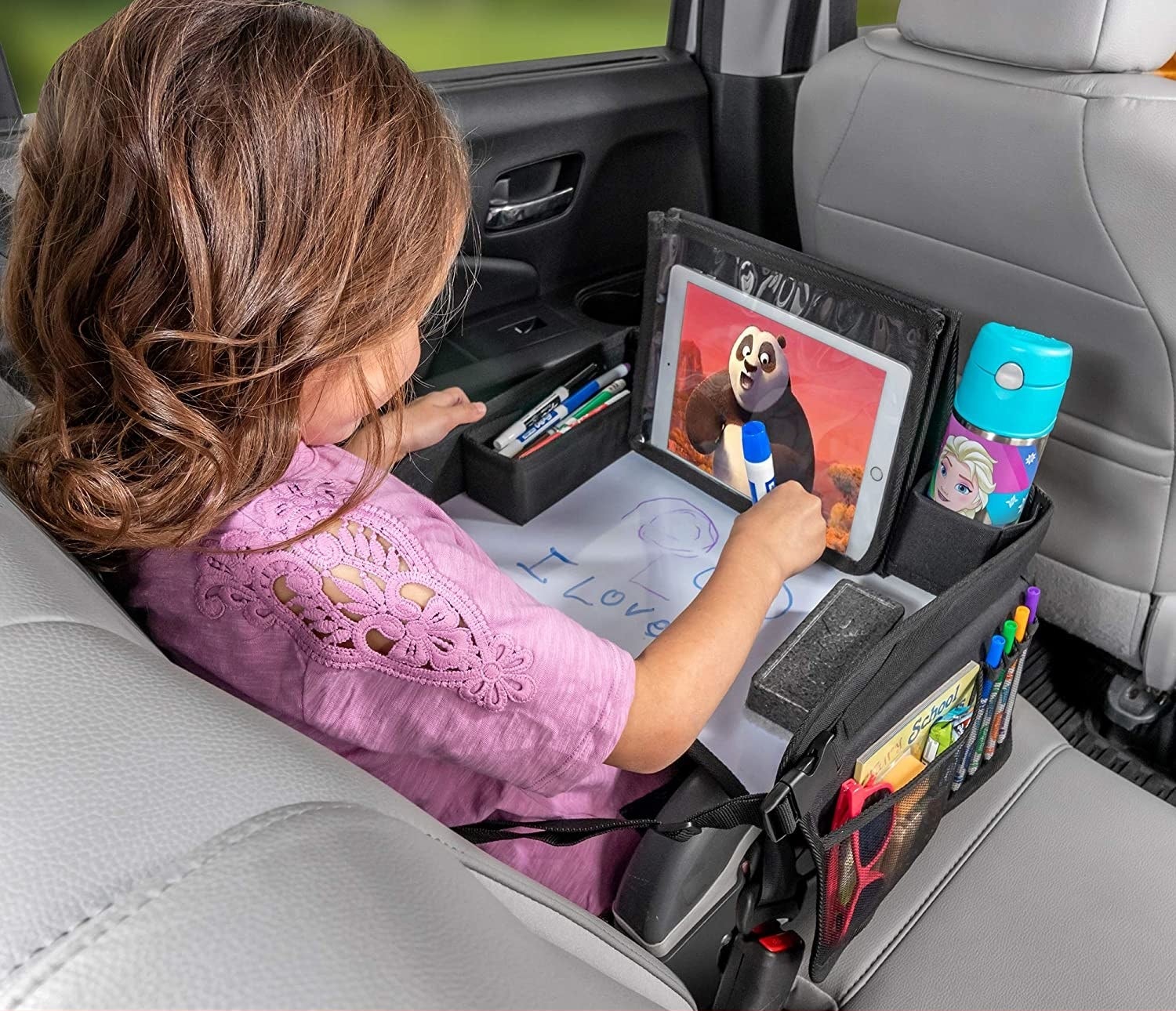 Promising review: "Literal must-have for traveling with kids. We use this on long car trips or vacations. It's a great place to color and keep markers and pencils close and it's also great for eating in the car. Many vacations we grab fast food to eat while we are driving and it's so much easier for the kids to eat with this tray that keeps all their snacks and food close to them. I honestly don't know how we traveled without this!" —Amazon Customer
Get it from Amazon for $28.95 (available in nine styles).
2.
A compact first-aid kit for tiny travelers who won't let anything get in the way of an adventure — no ifs, ands, or ~cuts~ about it.
This 50-item kit includes bandages, gauze pads, triple antibiotic ointment, thermometer strips, nail clippers, safety pins, burn cream, and more. It even comes with stickers because...how could it not?
Promising review: "I love this so much! I keep it in my diaper bag and it has everything I need for those 'just in case' moments! I highly recommend this for any parent. A plus that their first-aid is latex free! I am actually thinking of buying a few more for the car and inside the house! It is great!" —just-cuz-Liz
Get it from Amazon for $22.95 (available in two styles).
3.
A travel bottle warmer that'll work with both wide and standard sized bottles. This keeps water boiling hot for *literally* hours. No electricity needed! No need to suffer with a crying, hungry babe who refuses to drink a chilled beverage...we've got you covered. 
Promising review: "EXCELLENT travel bottle warmer!!!! We love this warmer and use it almost every single time we leave the house!!! The water stays hot for hours!! The longest we have done is about six to eight hours and each time, it is still piping hot and steaming when I pour it and it heats my daughter's bottle up easily in just a few minutes! I purchased this because we are going on vacation at the end of April and I had been trying to think of ways to heat her bottle at the airport without having to take it into the restroom (YUCK) to heat under a hot water faucet. After some research, I found this to be a great option since it's easy to go into a Starbucks or any restaurant in the airport and ask for boiling water for the thermos. This way, we can avoid cords that need to be plugged into the wall, bulky bottle warmers, and, like I said earlier, using the restroom sinks. I am extremely happy with this product and the price is great. It is much larger than I expected. However, I think this is a great feature because with any bottle I have put inside it, there is so much water around the bottle, which I think helps heat it up quicker. You don't need to fill it all the way up, just enough to submerge the bottle, so there is always plenty of water left for a second or third bottle (we use the 4-oz bottles right now). Definitely a product I never thought to even ask for until the need came about. Seriously 5 stars!"—ELMA16
Get it from Amazon for $18.97.
4.
A chin support travel pillow ideal for anyone in your family who has a hard time falling asleep while sitting up. This nifty accessory wraps around the neck and keeps your noggin' from falling forward. With this, your kids won't suddenly wake up as their head falls down and *you* won't be stuck with a crick in your neck all vacation long. 
Promising review: "Love the chin support. I'm a chiropractor and know the importance of a child avoiding minor whiplash and micro-tears when they fall asleep. I bought for my own kids and love so far." —Breanna Wise
Get it from Amazon for $34.97 (available in four sizes and 12 colors).
5.
A Montessori busy board with all the zippers, buttons, laces, and buckles your child could possibly desire! Add this to your road trip entertainment arsenal and watch them spend hours fidgeting with this flat-packed pal. 
Promising review: "Absolutely love this busy board! We bought this to keep our 1-year-old distracted on a 3.5-hour airplane ride. She absolutely loved it and couldn't stop playing with it. We tied it to the seat tray so it didn't slide all over. It is easy to carry, fits into a backpack no issue, and I love that it is all one piece: no tiny pieces to misplace!"—LEG 585

Get it from Amazon for $19.99 (available in three colors).
6.
A Luli Bebé travel bag that'll make you feel like *actual* royalty when you use it. This ridiculously luxurious duffel is a diaper bag in disguise — complete with waterproof pockets and a wipeable surface. Plus, there's so much space inside, you'll know you've got everything your family needs in one (chic) spot.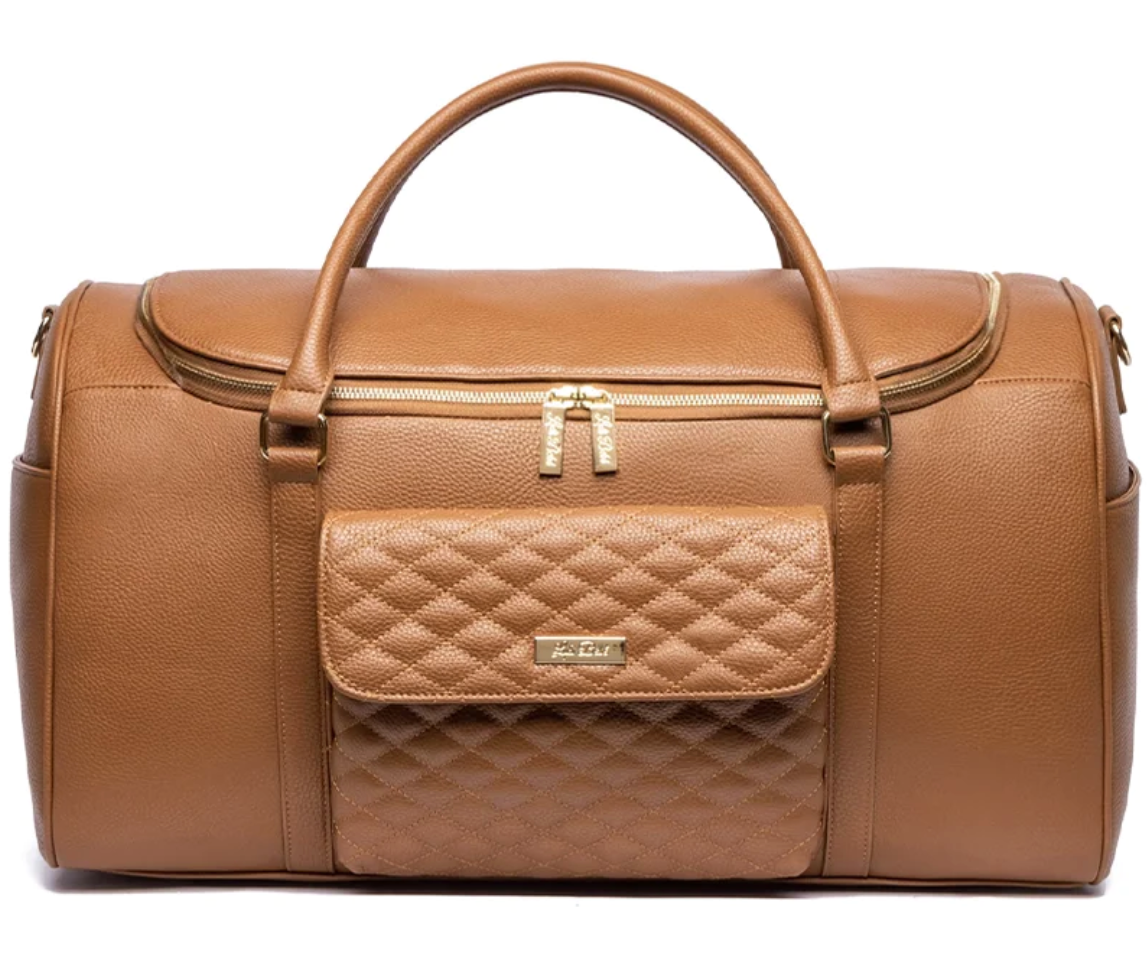 I got this diaper bag without having a kid as an excuse to buy a diaper bag. That's how badly I wanted it. Last year my husband and I spent two weeks road tripping around Iceland. I took this bag with me (and ONLY this bag!) and I was able to fit *everything* I needed for the entire trip. I'm telling you, this bag is made with some sort of Mary Poppins magic. Get it in your life! 
Promising review: "This is the bag of my dreams! It is so beautiful and the quality is great. It is so spacious inside and fits all of mine and my baby's needs. The front pouch is secure and easy to get items in and out. Love the material of both the inside and outside, easy to clean! Really, you NEED this bag! Don't hesitate to buy this or any Luli Bebé bag. You won't regret it!" —Hannah E.
Get it from Luli Bebé for $229 (available in six colors).

7.
A leakproof trash can sure to protect your pristine Prius from the trash that accumulates when your kids sneak snacks into the backseat.
Promising review: "Excellent! We used this for a road trip from Tennessee to Florida with two young boys (eight and five). As you can guess, that can get messy. My 5-year-old accidentally bumped a half bottle of water into it; I had no idea until I went to empty the bag. Not a single leak. Being that we were in a new jeep this was HUGE. Very happy with this. Easy to clean out too. It does take up some space in a smaller SUV, however the trade off is well worth it. For a road trip with young kids, it was perfect!" —Kim Lu
Get it from Amazon for $15.99+ (available in four colors).
8.
A travel toilet you can collapse and pack flat, then easily pop into position when needed. When you're driving in the middle of nowhere without a rest stop in sight, this system can save your kid's car seat from certain doom. 
FYI, this is suitable for kids up to 50 lbs! 
Promising review: "My 3-year-old granddaughter loves to go fishing with her daddy. No more squatting in the woods. This fold up potty is convenient and takes up little room in the vehicle. It's great for road trips." —Martha G. Douglas
Get it from Amazon for $20.99 (available in four colors).

9.
Or a travel urinal (with lid designs for every body) that'll keep you from getting, ahem, pissed when your child decides they NEED to pee mere minutes after they refused to go in the public restroom you stopped at.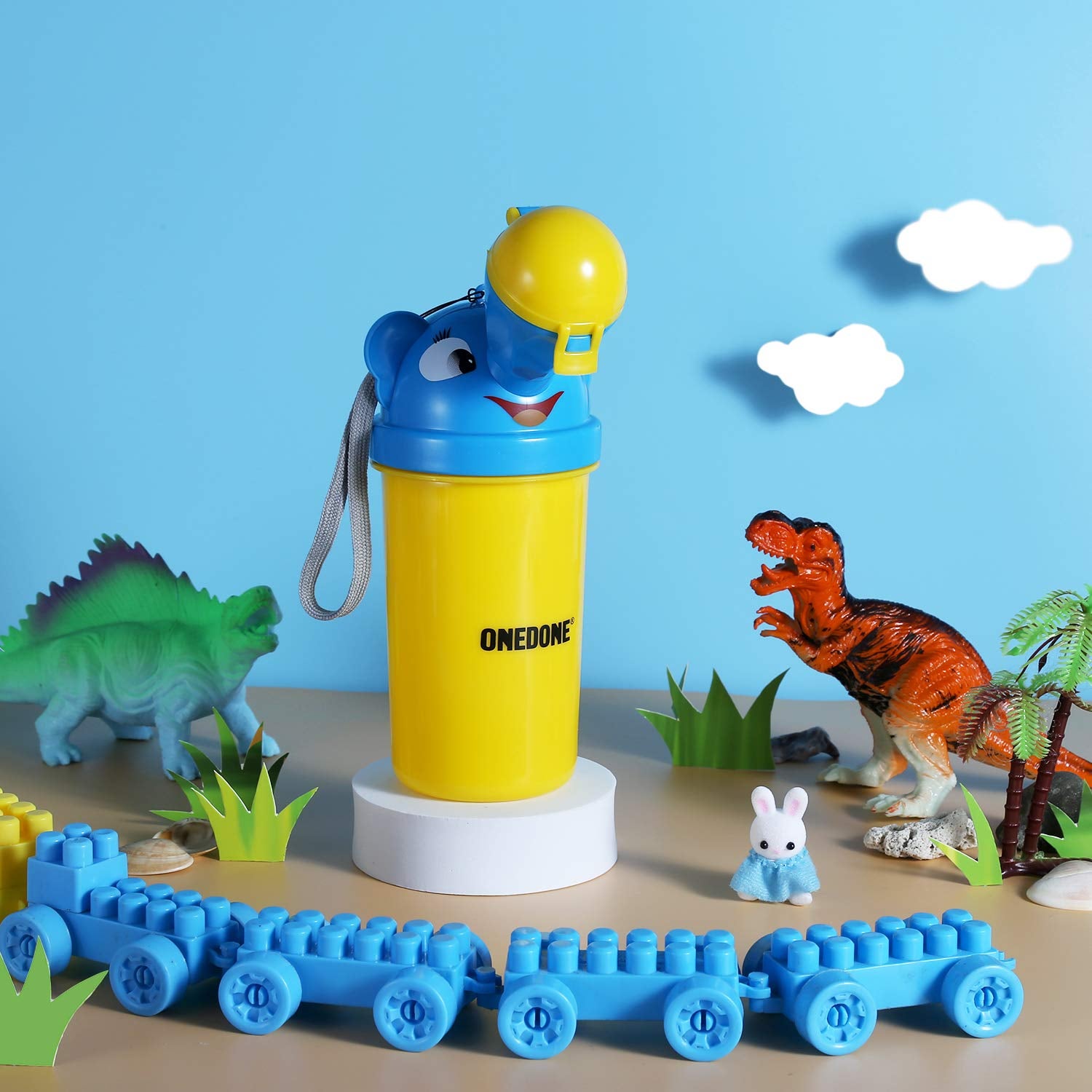 Promising review: "I purchased this for my son and our long car trips. How many times can we pull over to potty on a three and a half hour car trip? Ask my 4-year-old. When I saw this, I couldn't resist. We brought it along, and when he had to pee, no problem. It's only a little gross when you dump it later. Well designed, definitely recommend." —Evan

Get it from Amazon for $9.99+ (available in eight styles).

10.
A coconut and shea butter moisturizing detangler with 14,000 5-star reviews (!!!) to keep bad hair days away from your family pictures. Spray this a few times and the dreaded toddler knots that come from car seat naps will disappear — with no tears! 
Adults also rave about this for their own hair! Reviewers say it detangles and softens straight and curly (including 4a–4c) hair!
Promising review: "All I can say is WOW!!!!! This is by far the best conditioning spray I have purchased. I have spent a lot of money on the expensive 'miracle detanglers' and 'miracle brushes,' coconut oils, and hours combing out big knots in my daughters hair when this is all that's needed! Her hair is a disaster full of knots after the beach. I sprayed this on before going to the beach and it made all the difference in the world. Goes to show that the expensive stuff is NOT always the best. PLEASE DON'T EVER STOP MAKING THIS!!!!!" —G
Get three from Amazon for $13.47.
11.
Road trip bingo boards, with a no-mess sliding system, for engaging your whole family in a car game during road trips so long even screen time starts to lose its shine. 

Promising review: "I gave these two my two grandchildren before they left for a 12 hour ride to visit family on Thanksgiving. They worked out great – better than sitting like zombies watching videos for the whole trip! They're also easy to store behind seat pockets. These are great to make the family interact during a long car ride!" —Maureen Engle

Get four different boards from Amazon for $13.99.
12.
And a pair of GeoSafari Jr. binoculars to give your competitive kid a leg up when the bingo game starts getting real.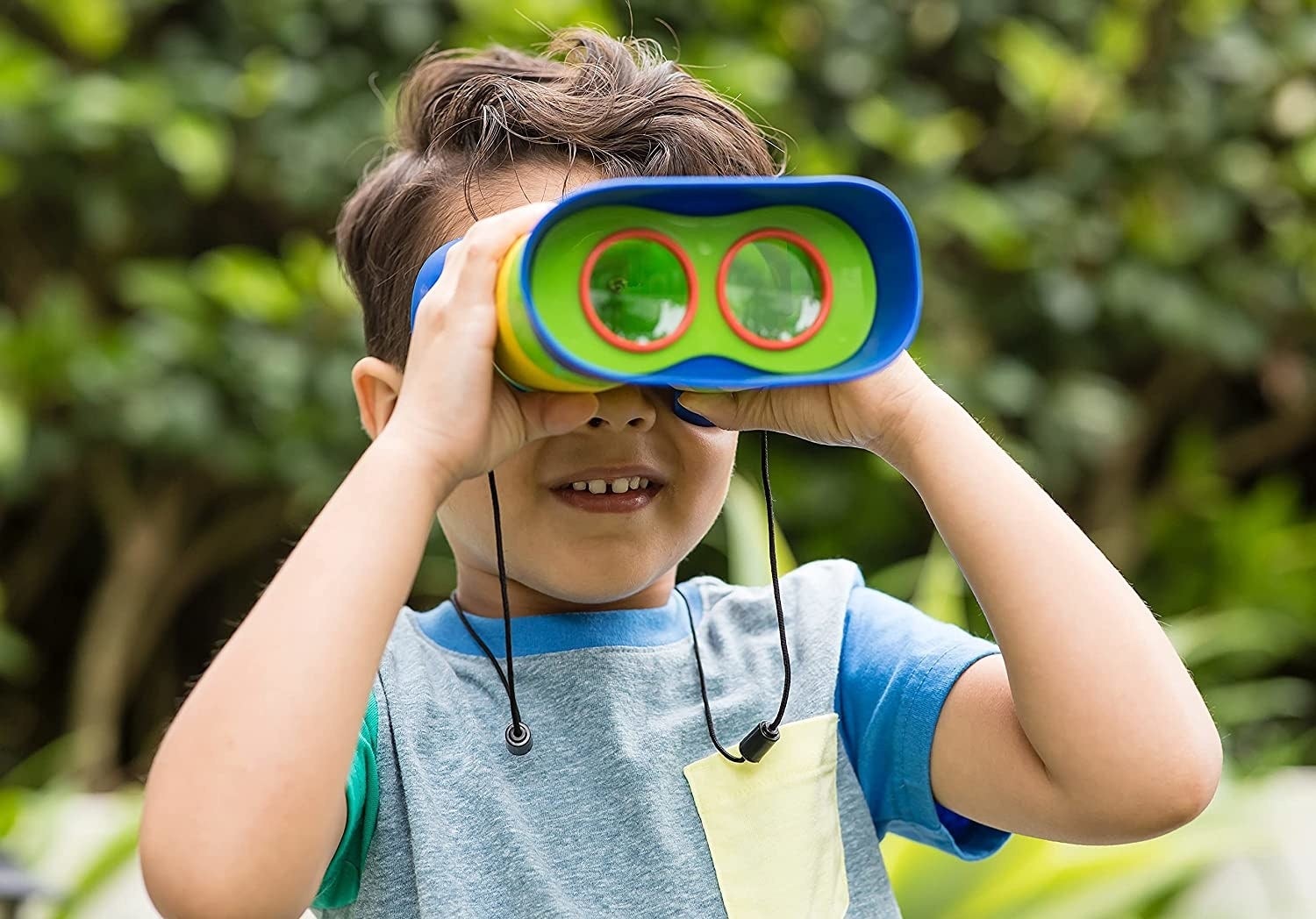 Promising review: "These are absolutely the best for preschool-aged children. There is no need for adjustment. You just look into the binoculars and see a clear image. My son used these this past summer for getting a closer look at the hummingbirds at our feeder. We also took these with us on nature walks. He really enjoyed using them and after a full summer's use, they are still in great shape. Anything that makes a child curious about nature and the environment gets an A+ in my book." —Rachael P.
Get it from Amazon for $14.99.
13.
A Tushbaby hip carrier that'll be much easier to clip on than a traditional baby carrier when you're only stopping for bathroom breaks and photo ops. This even has storage pockets large enough for snacks, a phone, and your wallet! 

This is great for kids between 8 and 45 pounds. It's designed for four different holding positions — feeding/breastfeeding, side carrying, front facing, and face-to-face. 
BTW, Tushbaby is a small biz run by three California mamas.

See why this mom calls the Tushbaby "the best invention for parents of young children" on TikTok. 
Promising review: "This has been one of MANY items I have purchased thanks to TikTok, and I'm glad I did. Super easy to use, easy to adjust, and most importantly it helps with support tremendously. It comes with pockets and a place to hold bottles/sippy cups, which can be very handy. My 8-month-old weighs around 30–35lbs, and he's basically attached to me 24/7, carrying all day was killing my back and arms! Thank God for this invention, my arms and back can rest." —Jennifer Calle
Get it from Amazon for $84.99 (available in four colors).
14.
A portable white noise machine with soothing, spa-like sounds that are sure to help calm your kiddo when they're sleeping in an unfamiliar place. Honestly, I want this for ME.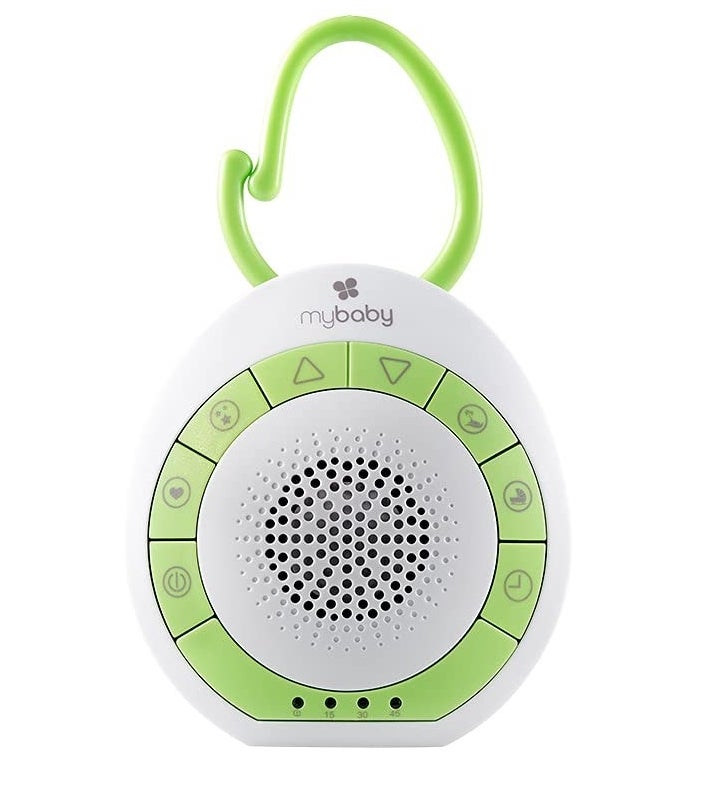 Promising review: "We use it at night, during the day at home, and even on the go. With our first baby we had white noise on our phones, this just makes our lives so much easier. We just leave it next to the baby with timer, and she sleeps for a few hours" —Tatiana Figueiredo
Promising review: "This product has been a lifesaver! Our child LOVES the sound of rain/whitenoise and this has calmed her down in the carseat sooooo much. She dislikes the carseat and the portable machine has made our lives easier. We used it about everyday for a month before the batteries finally died. Worth the money 100%." —Brianna
Get it from Amazon for $19.99.
15.
A splurge-worthy portable refrigerator for families who take their road trip snacks seriously. If your kid practically lives off of yogurt and cheese, this may be just the thing you need to keep them fed while out and about! 

Each refrigerator is equipped with a 2.5m cigarette lighter and an adapter, so it can be plugged in at home, at the hotel, or in the car. 

P.S. Reviewers also love this for camping! 

Promising review: "I wish I had bought this sooner. It fits up front, making it easy to grab a water or soda while on the road. If you want to have some steaks to grill you can keep them ready to go. Having a separate freezer option is perfect. This cooler has made camping more enjoyable by not having to get ice and end up having soggy sandwiches. It sips electricity.  It's easy to grab what you want in the dark thanks to the interior light. 
If you are looking for a small travel cooler for road trips and light camping this is the one to get. Nothing tastes better than digging into a half pint of ice-cream while sitting by the fire in the middle of nowhere. Those that don't have one get pretty jealous." —Scott
Get it from Amazon for $449 (available in two colors).