1.
A one-arm lounger that'll look casual and oh-so cool laying around your living room.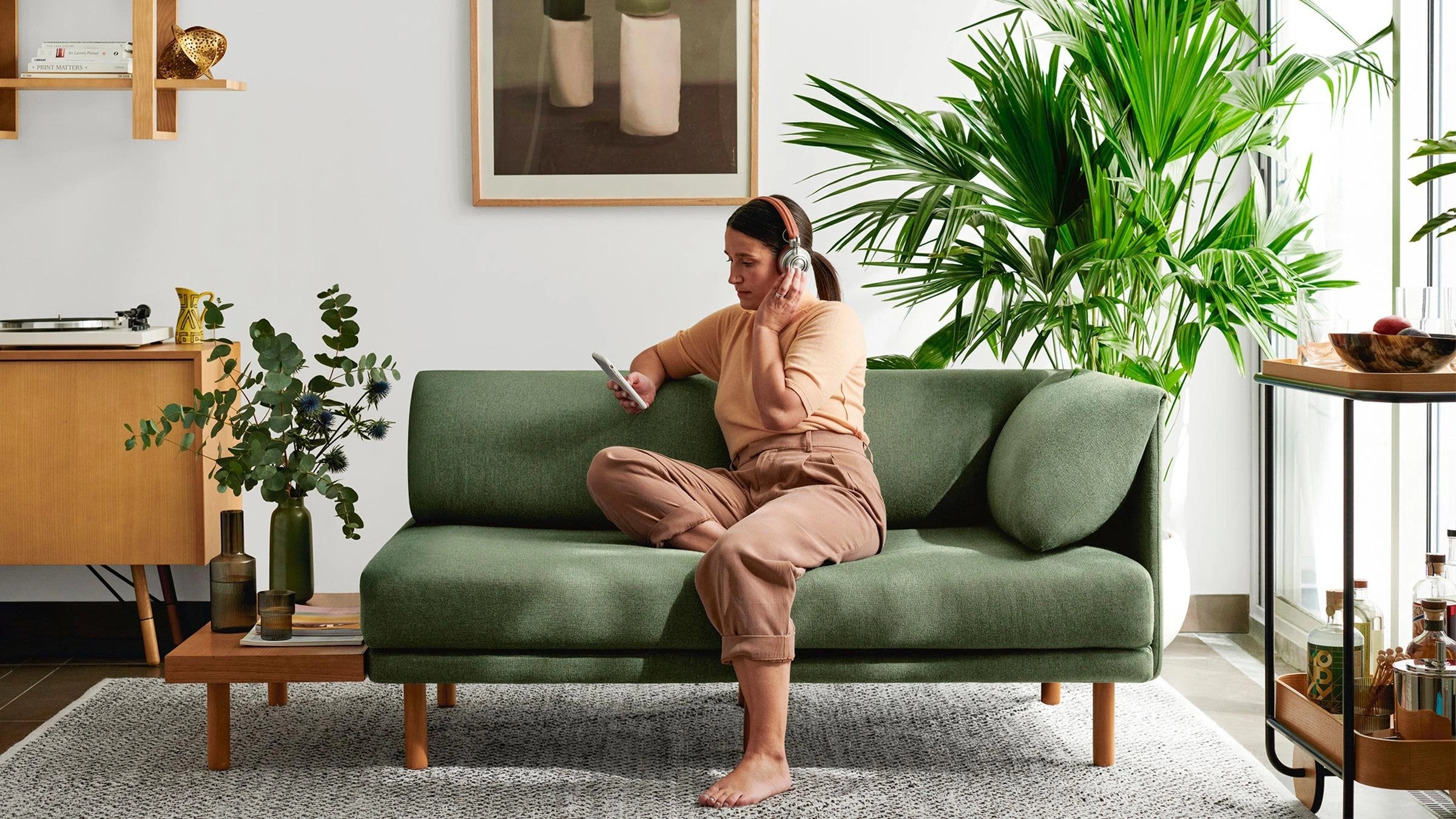 This three-piece set is modular, meaning you can arrange each piece any way you'd like. Small apartment-havers, rejoice!
Promising review: "We love our new couch! It's so cozy and tidy. It also looks so modern! The modular design allowed us to fit it to our kind of goofy living room in a way that made it look unique and SO cool. Love!" —Abbie Z.
Get it from Burrow for $1,195 (available in four colors and three leg finishes). 
2.
A square-arm option for folks who love a classic look with some eye-catching extra details.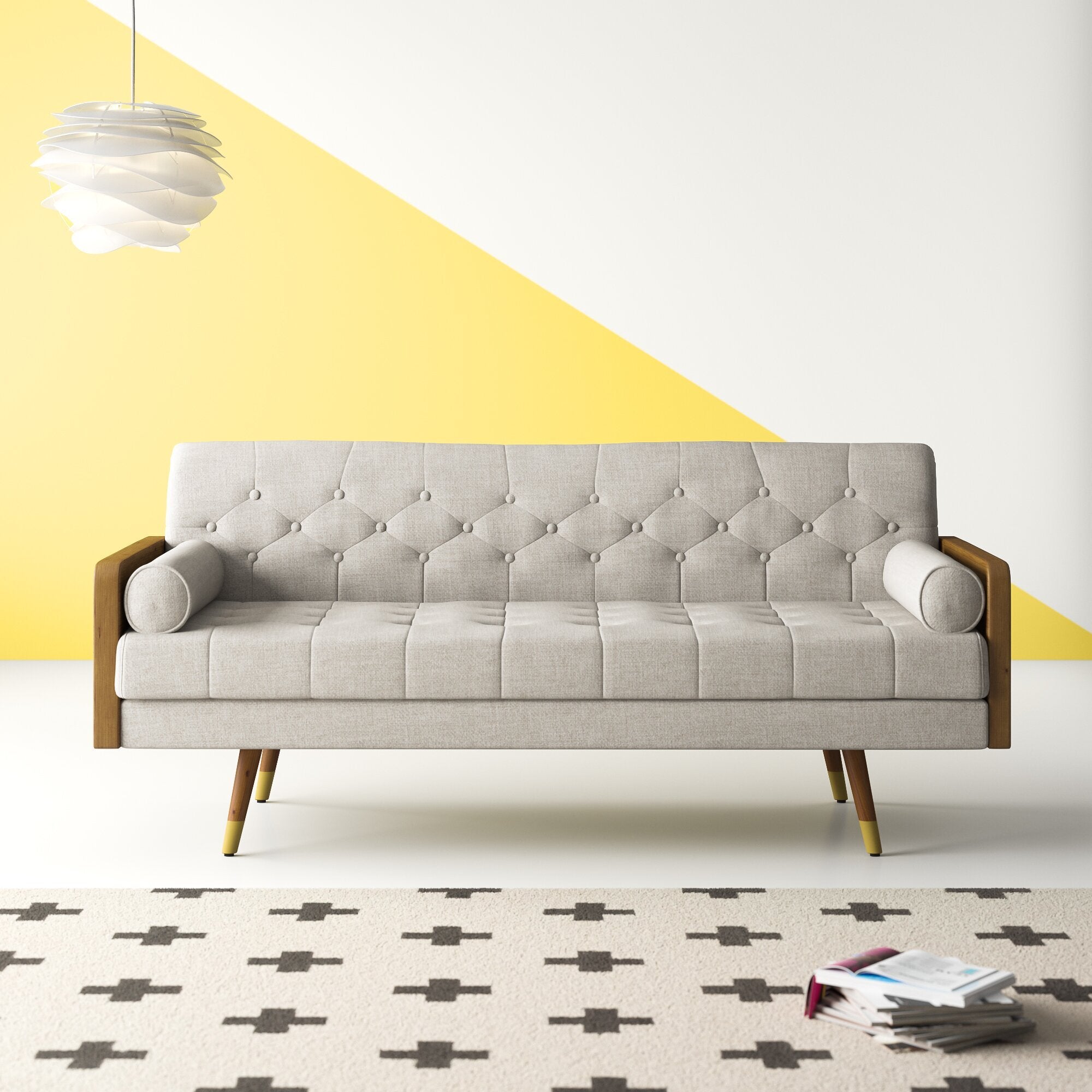 Promising review: "I honestly love this couch. It's not like a La-Z-Boy obviously, but no one has ever complained while sitting on it and I get so many compliments! The aesthetic it has is phenomenal. I've laid on it with a blanket and have been comfortable and happy. I can lay all the way down with extra space (I'm 5'7")! I'm really happy I went with this couch!" —Katellyn
Get it from Wayfair for $529.99+ (available in seven colors).
3.
An organic curved loveseat so stinkin' striking you just might be considered a home decor expert over night. TLC, you coming over or what?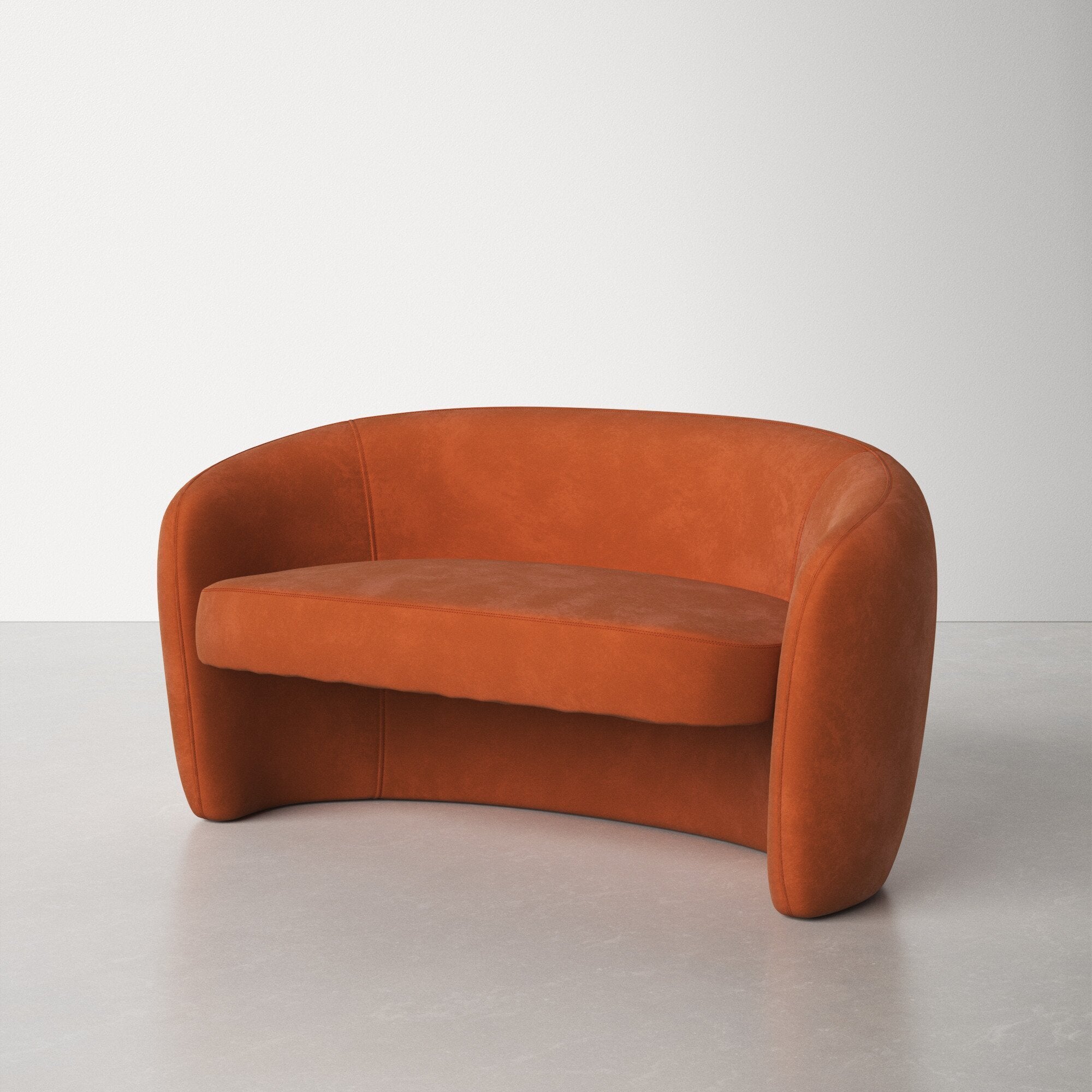 Promising review: "I'm SO happy with this sofa as a breakfast nook banquette! The seat height was perfect for the dining table and the open bottom allows you to kick your feet under when sitting on the edge (typical with dining chairs). The velvet isn't too tall, and is very soft. I bought the gray color and it's not too cool toned or too brown. It's really gorgeous in the natural light!" —Celena
Get it from Wayfair for $729.99 (available in four colors). 
4.
An Ẹkáàbọ̀ Albany Sofa with a Nigerian-inspired pattern (in honor of the owner's West African heritage) sure to make your house feel more like home.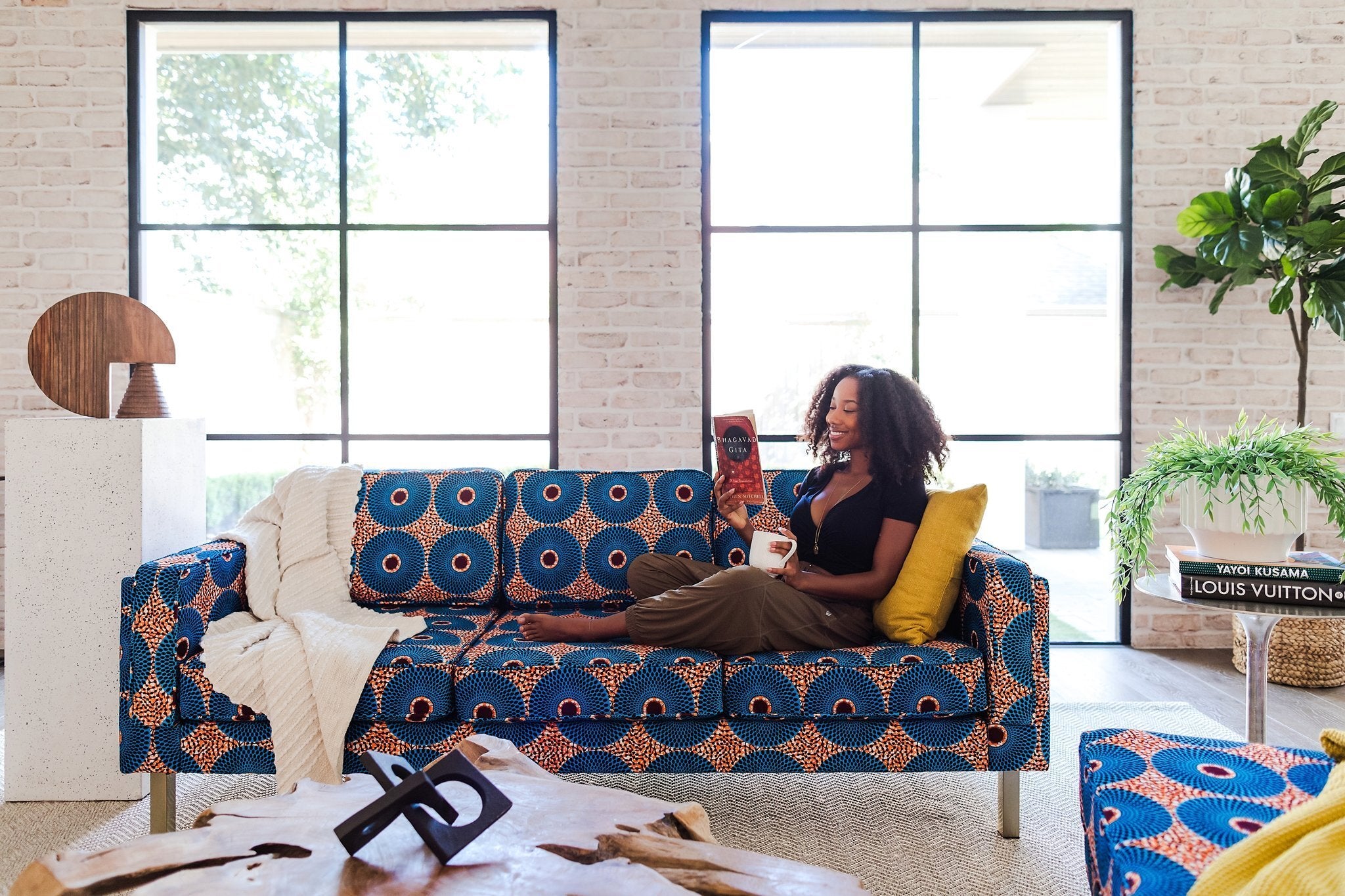 Promising review: "Our sofa is perfect. It came promptly, was easy to assemble, and the size is perfect for our space! It feels so great to support an amazing Black-owned business that we believe in. This sofa is perfect. If you're on the fence...get it!!" —Lauren
Get it on sale from Albany Park for $1,125 (originally $1,395; available in two colors and two leg finishes). 
5.
An Opalhouse patio sectional so you can enjoy some luxury seating even from OUTSIDE the house.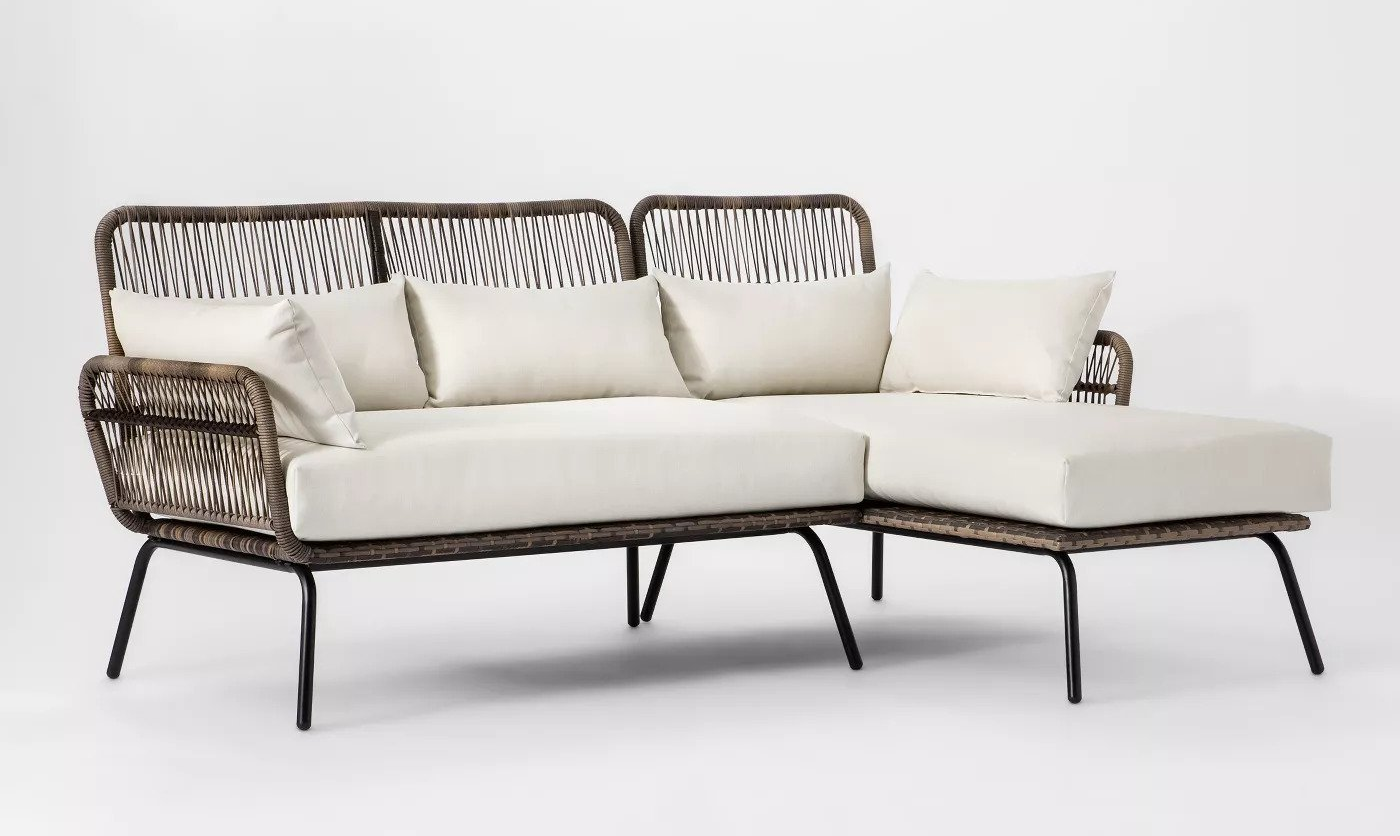 Promising review: "Ok I rarely leave reviews but I had to for this sectional! BUY THIS! I was a little hesitant to spend this much as I wasn't sure what the quality would be like, but this sectional is exactly what I was looking for! This is so well made, it was super easy to put together, and the perfect size for a cozy city balcony!" —Sarah
Get it from Target for $700.
6.
A glam tufted number that is gonna turn your drab living room into a...you guessed it...FAB living room!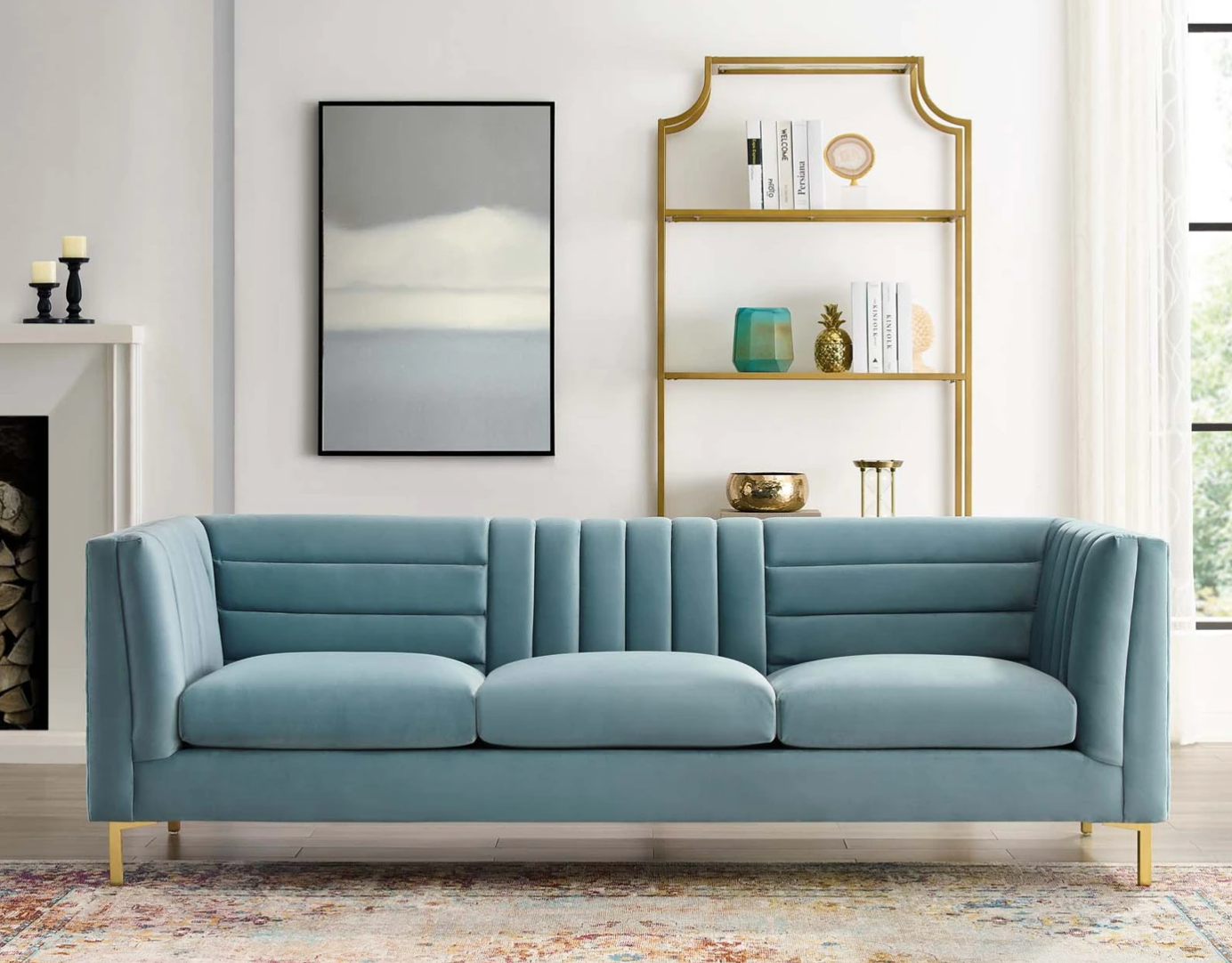 This sweet sofa has stain-resistant velvet upholstery and a solid wood frame. The cushions are made from a dense foam, so you can comfortably sit on it, um, alllll weekend long. 
BTW, this New Jersey-based small business sources everything directly, which means you KNOW you're getting the best deals available. 

Get it from LexMod for $1,026 (available in three colors). 
7.
A pillowback loveseat in a lush olive color that'll add some greenery to your room no matter how bad you are at keeping houseplants alive. Thank you, sofa, for never needing to be watered.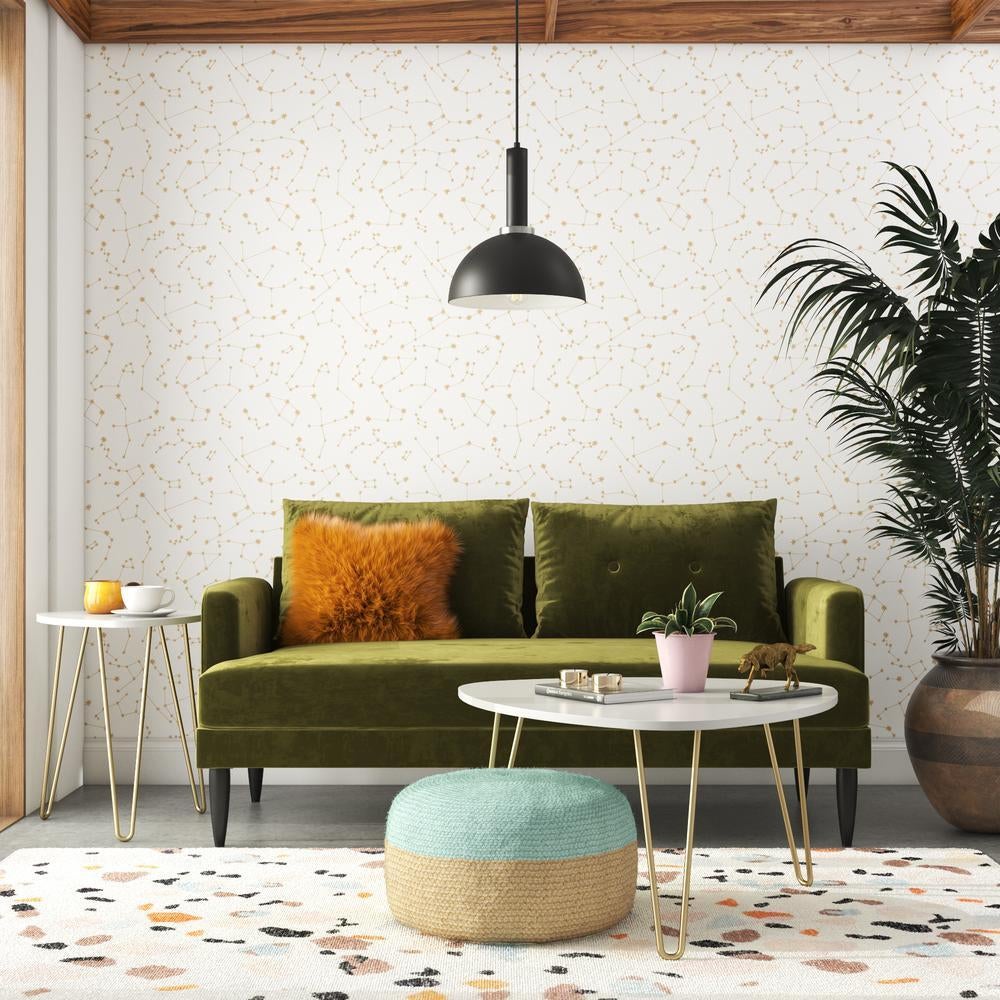 This studio-friendly velvet sofa has a sturdy wood frame with black steel metal tapered legs. If you'd like to, you can even get some sofa insurance for up to five years of use. 
Get it from Novogratz for $399 (available in two colors) or get it from Amazon for $377.32 (available in two colors and styles). 
8.
A classic mid-century sofa in a bright cobalt blue with warm oak details — you can cozy up onto this fun piece of furniture and practically live there (which is the reason they call it a "living room," I'm pretty sure). 
9.
A comfy cube sleeper sure to delight anyone who would love decorating their home with Minecraft-like furniture. You know, the people who still consider Minecraft a relevant reference.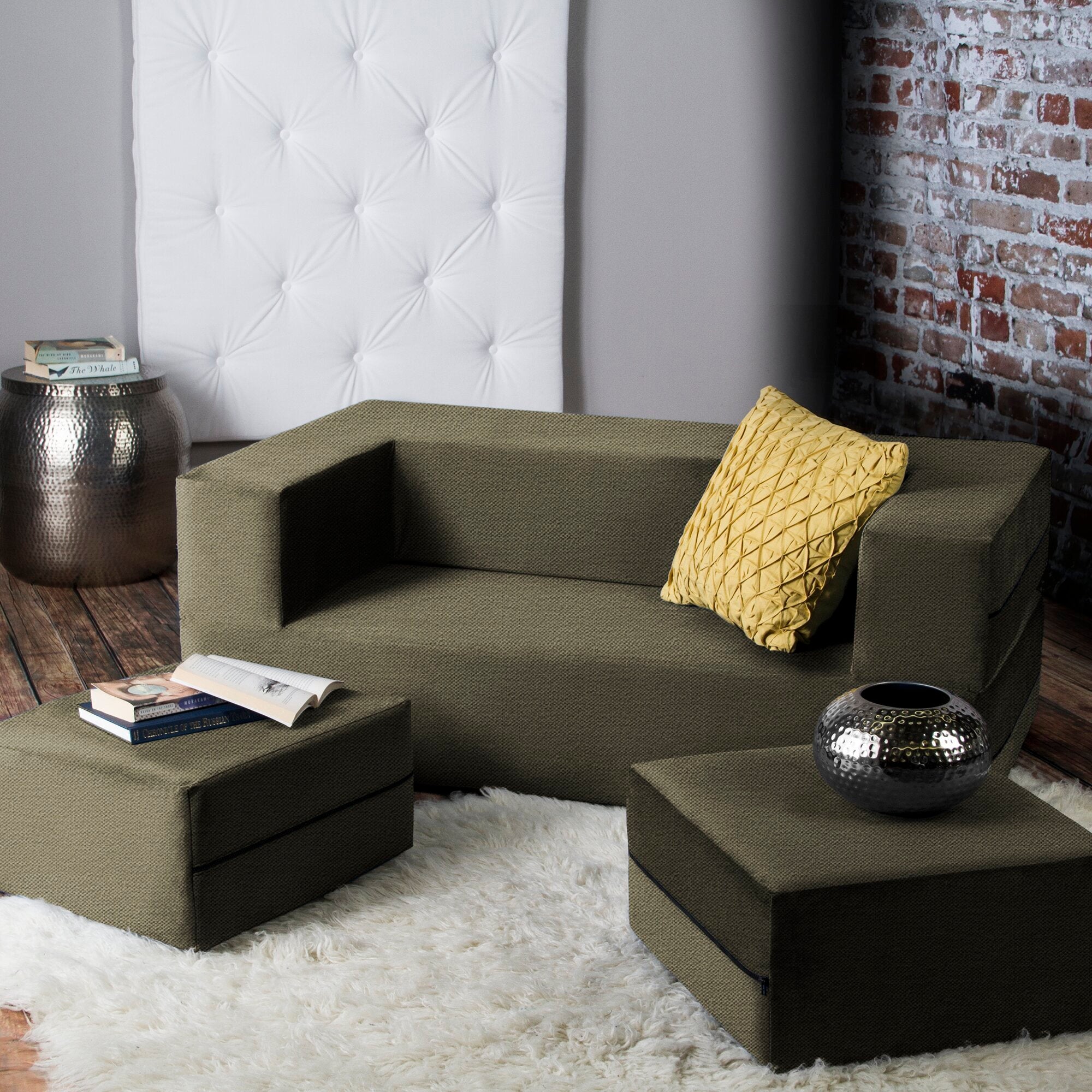 Promising review: "This sofa sleeper is exactly what we needed. We placed it in our home office to second as a guest room when family comes to visit. We placed a one-inch memory foam topper on it and it's been perfect for our guests. It nicely compacts to a sofa when not being used for overnight guests. I also love that the covers zip off and are washable since we have pets!" —Aubrey
Get it from Wayfair for $709.99 (available in eight colors). 
10.
A reversible slipcover sofa is gonna be the practical, comfy companion your family turns to during late-night movie marathons, midafternoon naps, and the dreaded day your child brings a date home and you sit them down to make sure they know...how nice your couch is.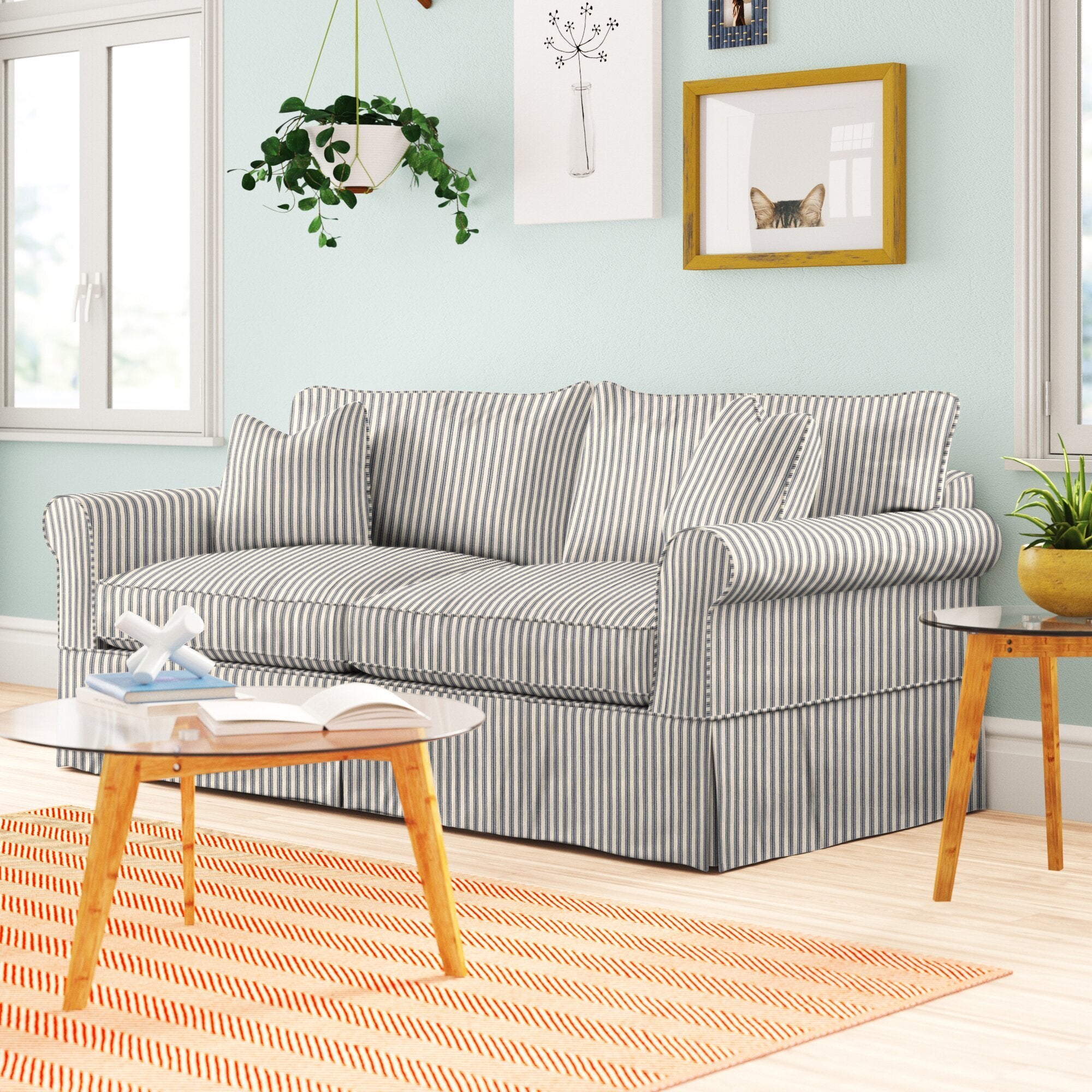 Promising review: "I love love love this perfect sofa. I have the fabric in the Sunbrella cast silver. This sofa/sleeper goes perfect in our sweet little 600-square-foot cottage. It's so comfortable and well made. I highly recommend it." —Katheryn
Get it from Wayfair for $1,325+ (originally $1,411+; available in 56 colors). 
11.
A curved cutie that'll prove once and for all that YOU and you alone are the king AND queen of home furnishings. Watch out Chip and Joanna...your reign is coming to an end. 
Promising review: "I love this sofa soo much, it is so modern and looks like I spent over $15K for it. It makes my entire apartment come together and it looks like some expensive hotel lobby. It's very soft and comfortable, my guests love it, and I have received soo many compliments!" —Simone Webb
Get it from Wayfair for $1,299.99.
12.
A cheery choice for anyone suffering inside the bland beige walls of a rental. If you feel like you're in a ~pickle~ trying to decorate a dull space, look no further than this colorful statement seating!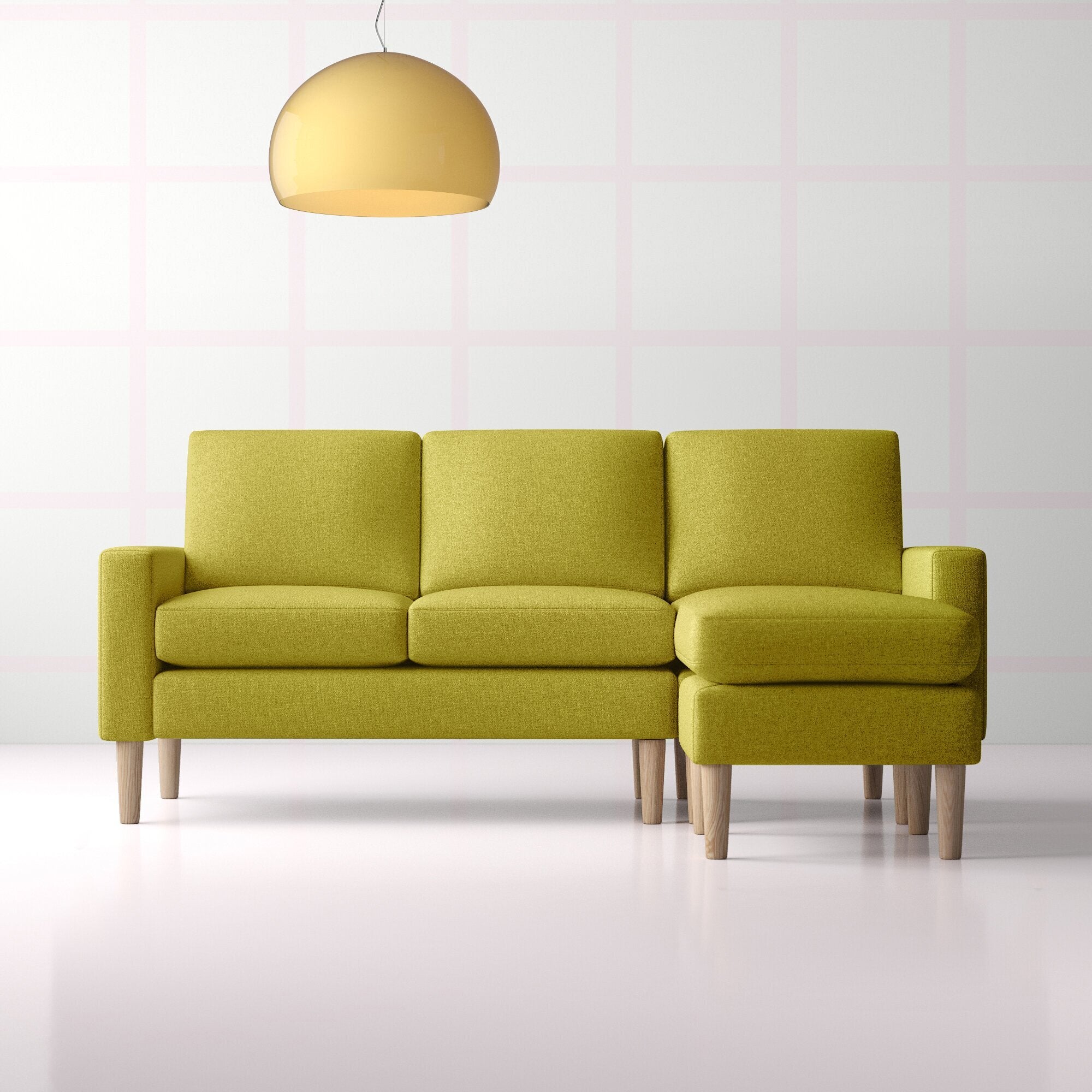 Promising review: "I wanted something functional for a small space and this was perfect! I love having the option to switch up the side of the chaise or have a separate ottoman. The cushions are a little stiff but still comfy with a couple throw pillows. Overall a great value for the price!" —Alyssa
Get it from Wayfair for $589.99.
13.
A bright-yellow couch sure to look anything but mellow in your living room. The frame and pillow placement on this is so subtle and cool!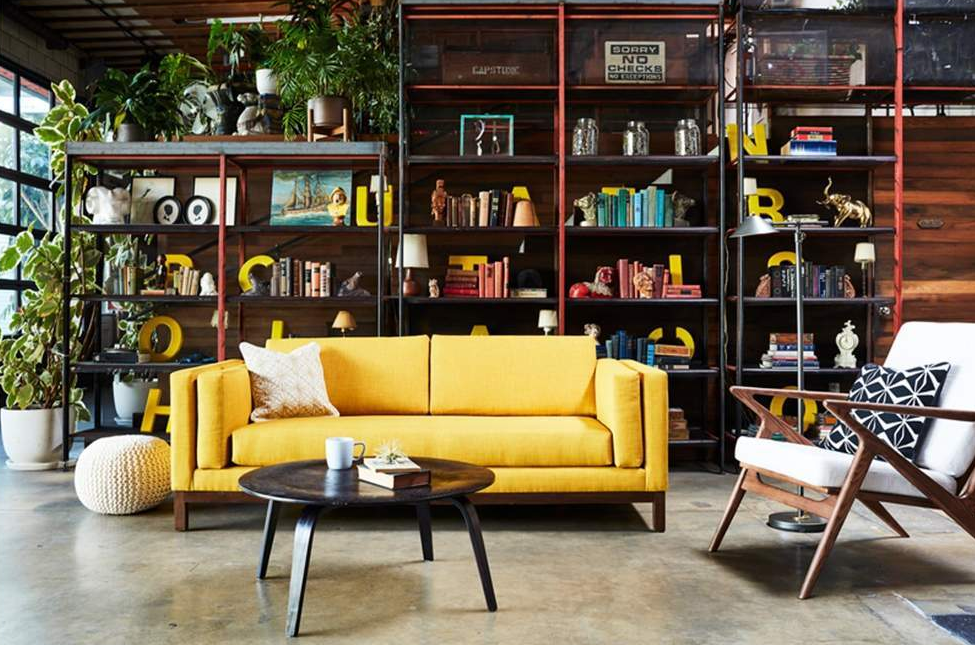 Promising review: I bought the Walton Sofa with espresso legs as well as the matching Walton chair, both with the Bisque fabric. This is the most beautiful sofa and chair I have ever seen and I love love love the Bisque fabric's texture. It looks exactly like the picture on the website. It is super comfortable and supportive and the quality is apparent. I could not be happier with this purchase. The price with the quality and aesthetics have made me a permanent customer." —Lori
Get it from Apt2B for $1,648 (available in 47 colors and two leg finishes). 
14.
A contemporary pick that can easily be placed in ultra-small spaces. Pesky armrests won't keep you from pivoting this around tight corners!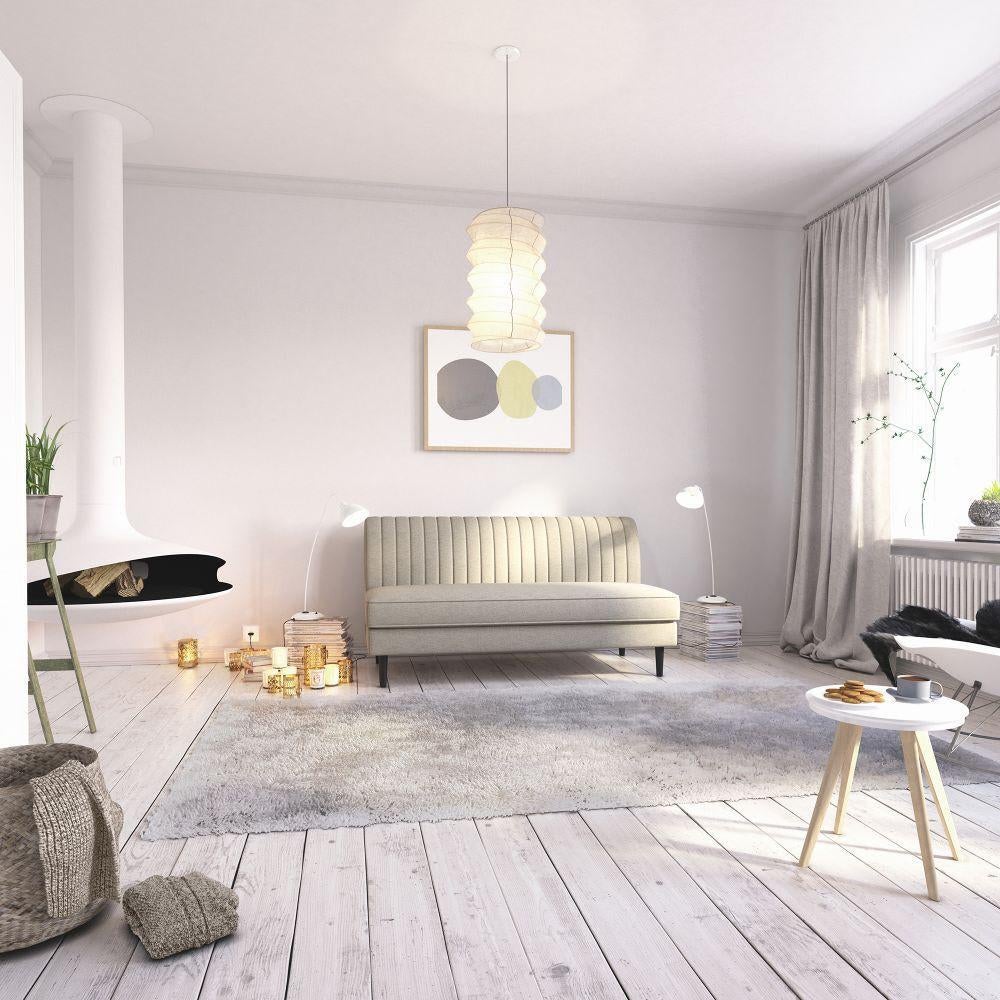 Promising review: "This is a fun, modern sofa. The color looks great with any decor. Upon arrival this sofa was packaged very nicely. It is heavy, so you'll want help moving it. The styling looks really clean and new, while still blending in with traditional decor. It is a study sofa and appears that it will stand up to normal wear and tear. The fabric feels nice and this makes a great addition to my home office space. I would definitely recommend this sofa to anyone needing a functional, good-looking piece of furniture." —Iowa
Get it from Zinus for $535. 
15.
A patterned statement piece with a luscious floral pattern that'll bring your backyard garden through the gate and into your home, sans soil.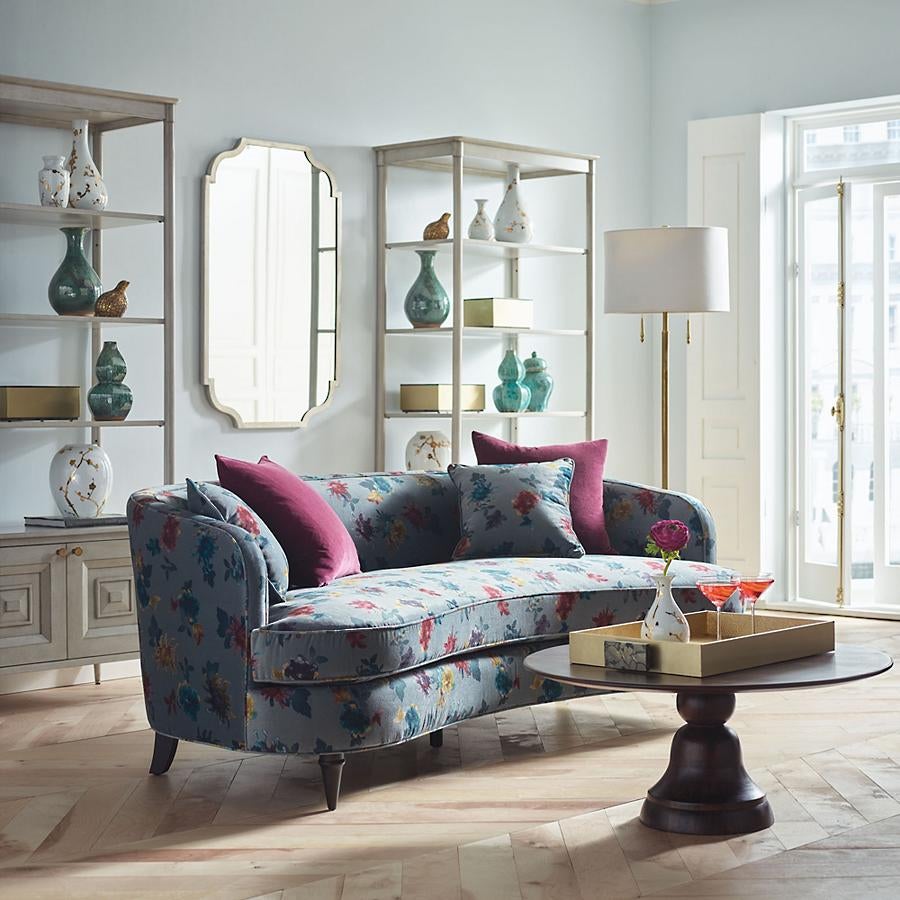 Promising review: "This sofa is beautiful! We have two of these conversation sofas facing each other rather than a sofa-and-chair setup. The Natural Performance Linen is really quite a classy color and has a slight sheen to it. The concern was that the sofa would be too firm, however, it is comfortable (medium firmness) and very durable. We have received many compliments on the sofa and the conversation layout." —KJS2021
Get it from Frontgate for $2,819+ (originally $2,999+; available in 113 colors and six materials).