1.
An herb savor pod that'll 1) make your fridge look like the future and 2) keep your bushel of herbs fresh long enough so that you'll get the chance to use them in more than one measly recipe. 

Promising review: "I use fresh herbs all the time. Too often they go bad before I finish them. I've tried multiple things to try to help them last longer to no avail. I bought fresh basil a week and a half ago. I immediately used a bit, then put them in this handy-dandy container. I changed the water once. Last night, I decided to make a little fresh pesto with the basil I had left. It was in perfect condition, and the pesto was amazing! Every kitchen needs at least one or two in it. I'm buying them for my daughter-in-law who also uses a lot of fresh herbs. She's the gadget queen, so I know she's going to love them." —Treese
Get it from Amazon for $7.44 (also available in a three-pack). 

3.
A Shark Tank hit, the Sunflow Beach Bundle — this includes the original chair with *all* the accessories that'll make it the envy of everyone else at the beach. We're talking about a UPF 50+ sun shade, a drink holder, a zippered dry bag, and a towel. This adjustable chair will be the *hottest* spot at the beach, no matter where you set it up.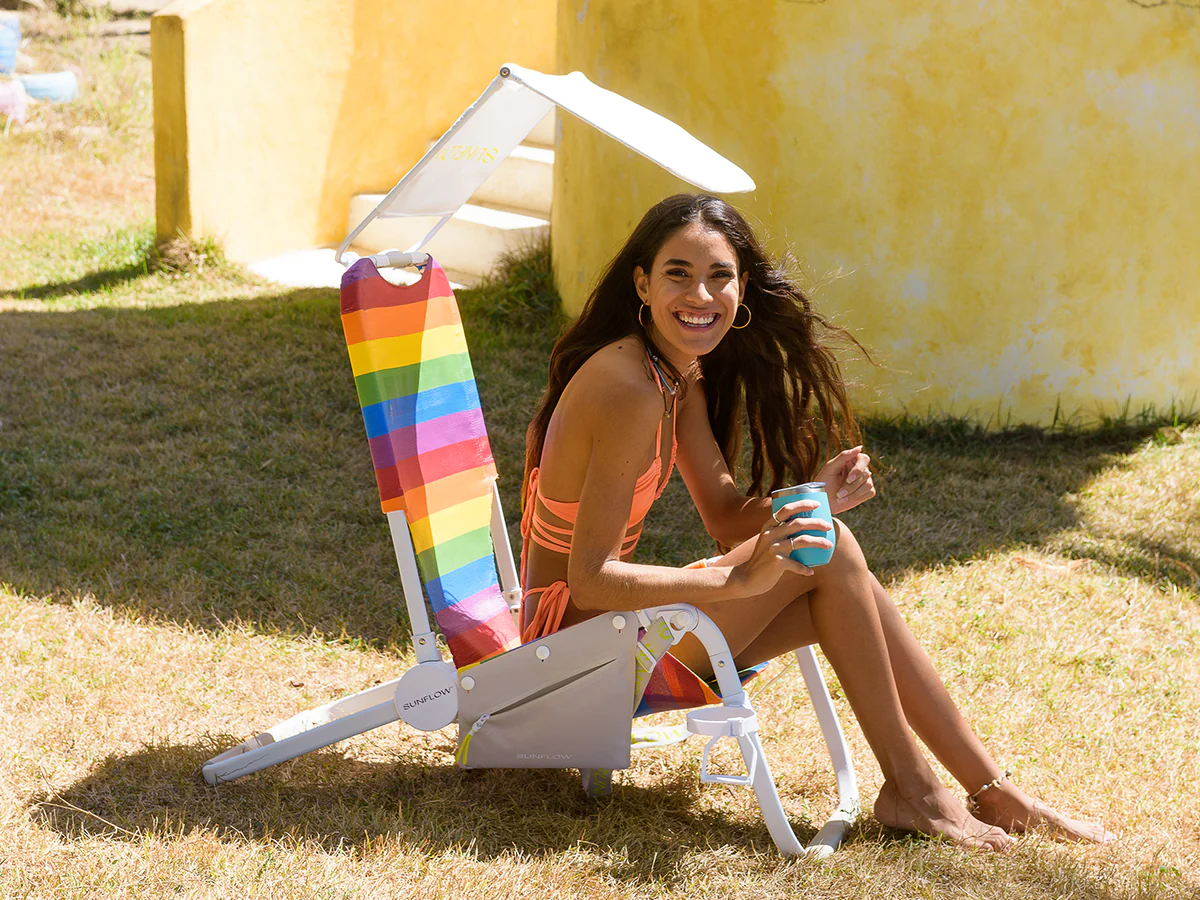 The chair only weighs 11 pounds and it sits nine inches above the ground. It has a 250-pound weight limit. I own a Sunflow chair and my biggest complaint about it is that my husband and I fight over who gets to use it every time we go to the beach. It's that great. The visor also makes it really easy to work outside as it blocks light that would otherwise make my laptop screen too hard to see. The cup holder is super helpful and it the back adjusts to all the right angles for a good snooze in the sand. I highly recommend investing in this chair if you find yourself spending *any* time at the beach! 
Promising review: "Oh, wow. I'm a New Jersey native who has lived at the beach since I was in diapers and this chair must have been designed by someone who was also raised with their toes in the sand. I would describe it as beach royalty, because it feels like a throne. If the price has you dragging your feet, think about what you have spent on beach chairs over the years (and their level of discomfort) and know that this is the last beach chair you will ever buy. It's an investment in comfort for long relaxing days at the beach. Plus the packaging is so fancy, this would be the ultimate gift for a beachgoer." —Dana
Get it from Sunflow for $296 (available in 25 colors/patterns).
4.
A modular kids' couch made with sturdy foam and easy-to-clean fabric so you can take your family's play fort skills to the next level, while saving your own sofa from destruction.

Promising review: "This 'couch' is wonderful — exactly what we had been looking for. The covers are super soft and the color is gorgeous. We have built several different forts and tunnels so far and the kids love it! We had a tiny problem with one of the arches but customer service took care of it. I would definitely buy from this company again." —Chris & Charley

Get it from Amazon for $196.99 (available in six colors).
5.
A copper cattail wind chime for adding some musical whimsey to your garden, pond, or porch.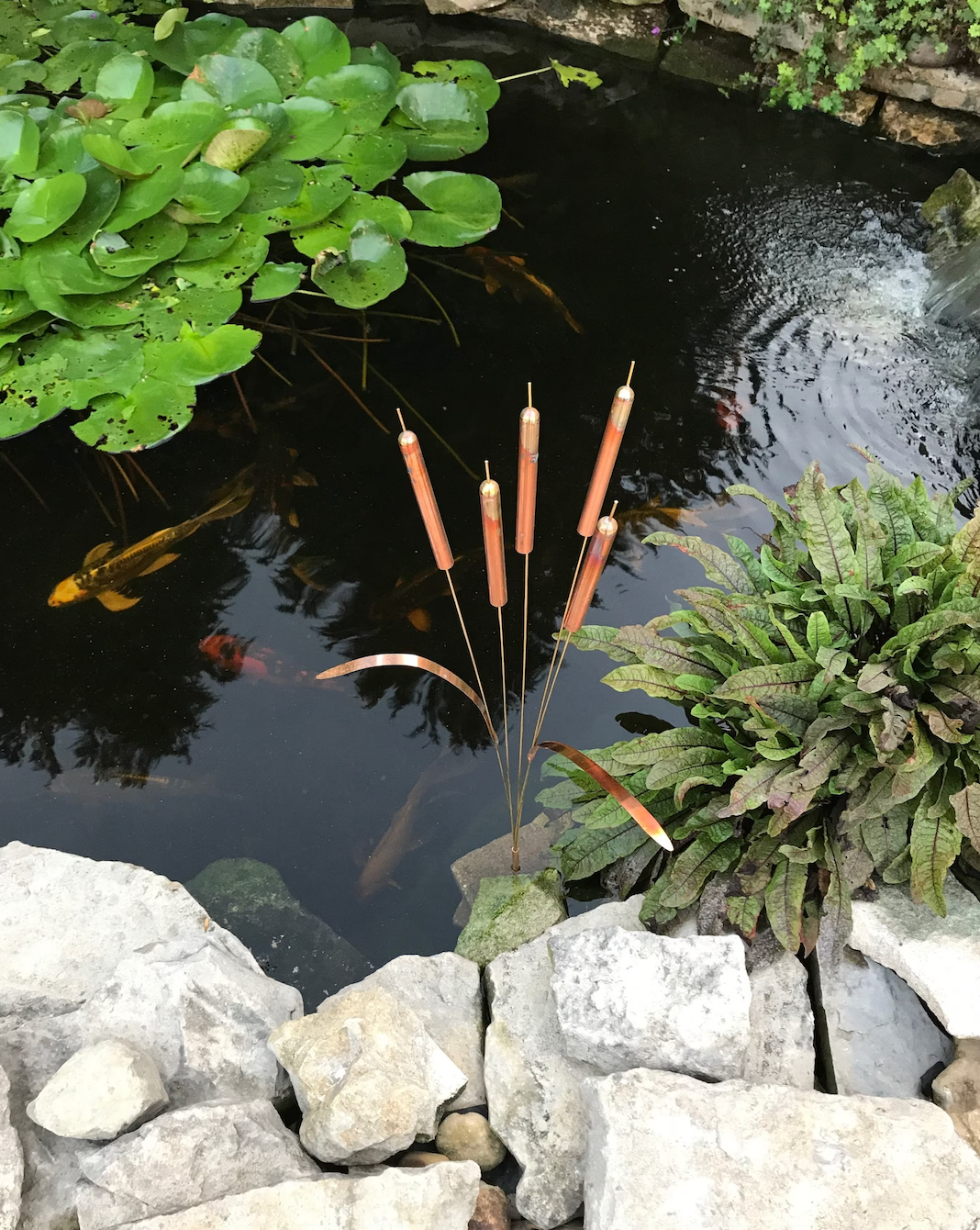 Wind And Fire Chimes / Etsy
This small biz is owned by Jaron, who creates one-of-a-kind wind chimes, bird feeders, and yard art.
Promising review: "Beautiful! We now have two of these adding whimsy to our waterfall. So happy....and they are even dog-proof!! Customer service could also not have been better." —Linda Patterson

Get it from Wind And Fire Chimes on Etsy for $49.95+ (available with or without custom engraving).
6.
A pack of four anti-snoring clips you should replace your nose strips with, helping you (and your family) if your snoring is preventing everyone else from falling asleep. IMO, these work far better than nose strips ever did *and* there's no waste!
I love this product so much I am willing to share a photo of it shoved up my nose just to show one off! I tried so many snoring solutions (I'm an actual monster, you do NOT want to hear me sleep) with no luck. I couldn't fall asleep with mouthguards and the different sprays I tried just seemed like snake oil. I used nose strips for a while, but they would fall off at night and didn't do much. These clips WORK! The magnets keep it secure in my nose and it's a cinch to fall asleep, the clips are that comfortable. Plus it looks less dweebie than basically any other physical product I've tried. And snoring? That's a thing of the past.
Get it from Amazon for $8.99.
7.
A bottle of Champagne shampoo from Cuvée Beauty for folks with dry hair that would gladly drink up a product this moisturizing. This sulfate-free shampoo has heat protection, but it's also formulated to enhance the style of your hair even while air drying, helping prevent further damage from heat tools. It's cruelty-free, color safe, and uses no parabens. Delicious. 

I have never raved about a beauty product as much as I have since switching over to Cuvée. I have very long hair that I've dyed red since high school, so I'm no stranger to chemical damage. My texture is similar to the review image above, which means that my hair is a frizzy mess without proper product. I also never style my hair and don't use heat tools, so I need products that work with air drying. I use this shampoo, the conditioner, and their Air Dry Mist and my hair comes out looking gorgeous every time. All that being said, I would buy this stuff for the scent alone! I get compliments on my hair's SMELL all the time. It feels like quite the power move. 
Promising review: "This product is like BOTOX for your hair." —Catherine M.
Get it from Cuvée Beauty for $30.

8.
A set of TikTok-famous checkered cosmetic bags made of high-quality canvas that's dirt-resistant and easy to clean. If you still fully intend on wearing a full face of makeup on your camping trip this summer...these were made for you. 

9.
A Digg's pet carrier so your four-legged friend can travel in luxury. This has a five-star crash test safety rating from the Center for Pet Safety, so you can feel confident that your pet is safe and secure. This easy-to-clean bag includes seatbelt clips and buckled straps. The design follows most airline requirements (i.e. it can fit under the seat in front of you) and it has a collar clip so your pet can safely peak out when stationary. We love to see it. 

The image on the right is of my cat, Chuck! I recently moved and had a great experience traveling with both of my cats thanks to this bag. It's secure, sturdy, and kept my anxious kittos calm. 
Promising review: "The quality is amazing, it was beautifully designed. Everything in this bag was well thought out and you can tell it's built to last." —Ronald C.

Get it from Diggs for $185.25+ (available in four colors).
10.
A belted cordless vibrating heating pad — an accessory designed *for* your body. When you have period cramps that are too much to handle on your own, strap this on and enjoy the three different temperature settings and massage modes for some on-the-go comfort. 

Promising review: "Oh my god. This might be the best thing I have ever bought. It gets so incredibly warm. You do need to wear it over clothes to prevent burns but as someone who never finds any heat pack warm enough the lowest setting is exceptionally hot. As someone who has really bad menstrual cramps and chronic constipation this little belt does it all. The heat is so soothing and adjustable and heats up so fast. The vibration is my favorite part. It helps so much with trapped gas and bloating pains, and can even move things along if you're having a hard time using the bathroom. The various patterns and heat combinations allow this to be truly customizable to however you feel at the time and it's fantastic. Absolutely worth every cent." —Chloe

Get it from Amazon for $26.99+ (available in nine colors). 
11.
A decadent olive oil cake kit with a vanilla and lemon mix and a bottle of Greek extra virgin olive oil. This is a sophisticated gift that's sure to be a hit with hosts, at a housewarming, for a birthday — you name it! Keep these around and have an excellent go-to gift at a moment's notice.

To bake, the only other ingredients you need are two eggs and 8oz. of buttermilk. Be sure to check out all the entire cake collection. Believe me, you'll be hitting "add to cart" faster than ever before. These are well worth the impulse purchase.

Founder Candice Hunsinger is a home baker turned professional bakery owner. Elia's cake mixes are prepped so that home chefs can bake with simple instructions and high quality ingredients, letting folks enjoy a divine dessert from the comfort of their own kitchen.
Get it from Elia for $30.

12.
A Solawave red light therapy wand designed for folks who love a gadget that does it all! This pen-sized beauty tool has four treatments in one: microcurrent, red light therapy, face massage, and therapeutic warmth. If used regularly, this device may help reduce the appearance of dark circles, blemishes, puffy eyes, and crow's feet.

Solawave is an LGBTQ-owned small biz based in Los Angeles. 

BuzzFeed Shopping editor Amanda Davis loves this wand:
"This. gadget. is. worth it! 👏🏾 Using the Solawave was my first time introducing red light therapy into my skincare routine and the difference in my hyperpigmentation is honestly mind blowing. The tone of my face is much more even and the dark circles around my eyes have nearly disappeared. Essentially, it's like a mix of a jade roller (which I already love using anyway) and an LED mask in one...with microcurrent/vibration therapy, too. You can apply the specific Solawave activating serum or any conductive gel of your choice (I use a different one, myself!) and it will really absorb the benefits when used with the wand. I only use it once every other day (at night) and it's super relaxing. My skin is always ✨glowing✨ the next day!"
Get it from Amazon for $74.99+ (available in four colors).
13.
A pair of Orbit sneakers from Snibbs that'll save you this summer if you suffer from sore, sweaty feet. These ultra-cushioned sneakers are also extra breathable. So go ahead, travel to your heart's content all summer long and know that these shoes are gonna keep you comfortable every cobblestoned step of the way! 

Promising review: "I love these shoes. I have wide feet that these accommodate and keep comfortable. I work in a service department in a car dealership and they are great for non-slip. My feet would usually be in extreme pain at the end of the day and they aren't anymore!" —Tiffany F.

Get them from Snibbs for $139 (available in women's sizes 5–14.5, men's sizes 3.5–14, and eight colors).
14.
A pair of bar soap grips — squish this spiffy tool directly into a bar of soap to keep it off hard surfaces and let air circulate under it, helping your soap dry faster and preventing it from sticking to a soap dish. Avoid slimy, gross bar soap with this, and watch as your artisanal farmer's market hand soaps last *far* longer! 
Promising review: "Very good product! I have purchased it for the second time. It allows the soap to hold well in the hand, keeps the countertop neat, and [keeps] the soap dry! This is a great invention and I love love love these little things!" —KINO

Get a pack of two from Amazon for $11.99 (available in five colors).