1.
Tattoo Stories is my new personal favorite game night game, in large part because it only takes seconds to learn! To play, one person is the "customer" who selects five different elements they want for their tattoo, then the rest of the players are the "tattoo artists" who have three minutes to draw a tattoo. After drawing, they pitch their design to the customer. You'll think it's a ton of fun! Especially if you're as bad at drawing as I am. 

2.
A Corico dish designed specifically for hiding olive and cherry pits. Go ahead, make your cheese boards glorious! Thanks to this dish, there won't be any leftover bits to make it look like the ~pits~.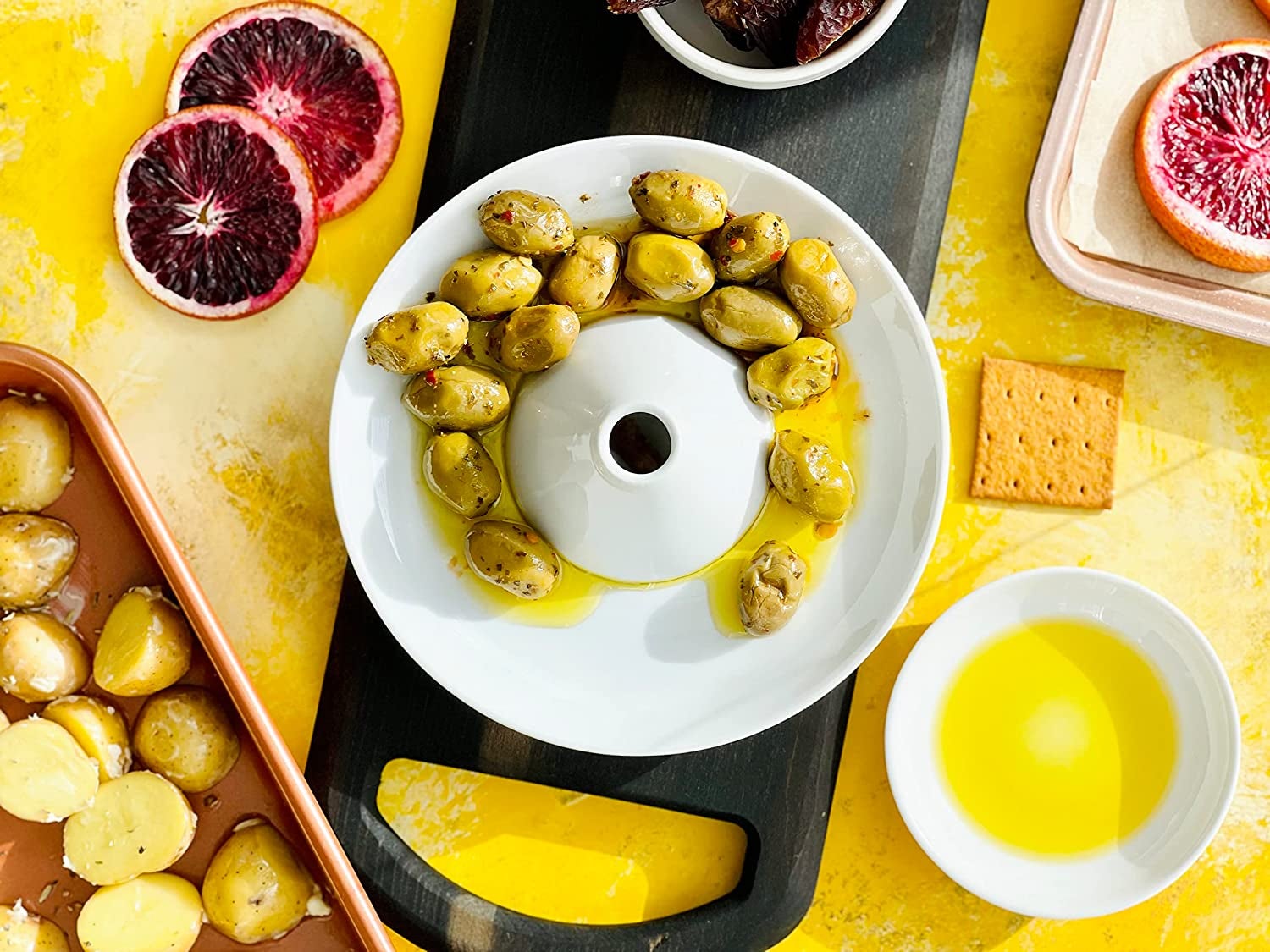 I have this dish! My husband and I love hosting dinner parties and particularly like having a cheese plate out. This has been such a lovely solution for hiding olive pits! It keeps the board looking nice and saves folks from fumbling around with pits on their plates. I love it! 
Get it from Amazon for $30.
3.
An Air Fort you can store flat (it's about the size of a sweatshirt when folded) and then inflate when your kids want to play! This genius toy is easy to pick up, easy to set up, and keeps your house free from the chaos of pillow forts. 

Promising review: "This is the best gift ever. High impact, easy to set up, so exciting for kids, but folds up SO SMALL. It's maybe the size of a folded sweatshirt when it's packed up? Honestly it's a parent's dream to have a fun activity that doesn't require a ton of storage. I will keep this on my list of gift ideas for the future for other kids in my life!" —Lindsay W.

Get it from Amazon for $49.95+ (available in 12 styles).
4.
A portable ping-pong set that'll turn your dining room table into *the* place to hang out (even when there isn't a crumb of food around). My husband and I LOVE ping-pong and we got this set for our Brooklyn apartment. We *literally* play this every day. It's turned our tiny dining room into the perfect WFH break room.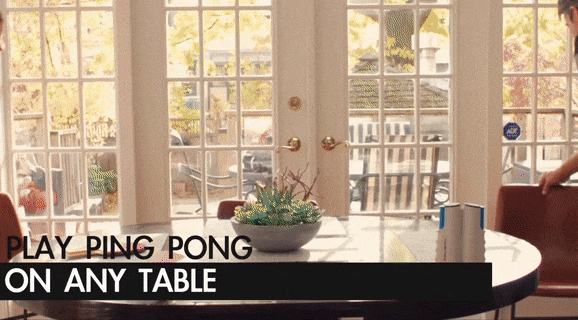 Set includes a retractable net, two paddles, three balls, and case. 
Promising review: "I got this for my son for Christmas. We don't have a lot of space for a full ping pong table but I have a long dinning table that is perfect. This is easy to assemble and it changes up family game night. Great fun!!" —Heather Gould

Get it from Amazon for $33.99 (available in three other set options).
5.
A butterfly puddler sure to add a lovely, artistic touch to your garden. This little plate is designed to gather dew and it's made with minerals that are particularly enticing to butterflies. Place this simple stone in your garden and watch as butterflies and pollinators flood to your flowers!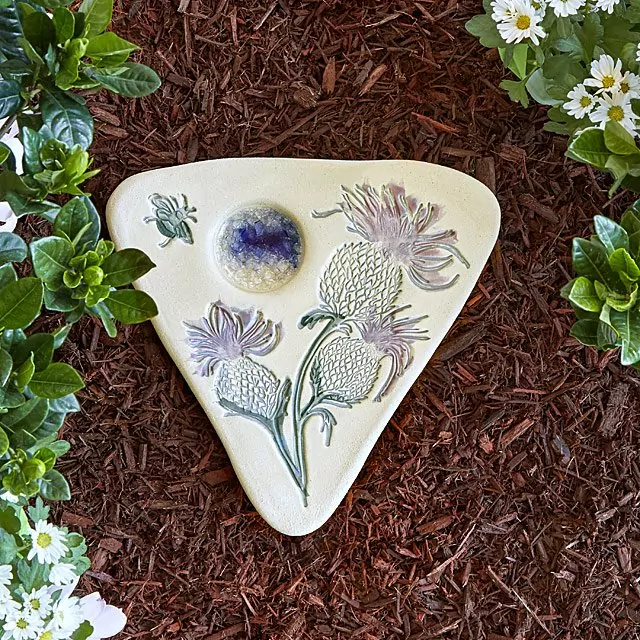 Promising review: "This serves double duty as a butterfly feeder and attractive element in a garden." —The Sustainable Shopper

Get it from Uncommon Goods for $42.
6.
And a seeding square kit for folks who would love starting a garden but have *truly* no idea how it works. This kit is basically a cheat sheet, helping you know where best to put your seeds and help remind you where they are after they're snug in the soil. 
This includes a dibbler that pushes down the dirt to the correct depth for you to drop your seeds. 
Promising review: "Love this thing! I have been gardening for a while and this takes all of the guess work out of spacing. I used this for the first time this spring using the planting chart/guide and it has worked out perfectly. I have had little to no weeds (I mean come on, you're gonna get some weeds). Planting per the Seed Square will for the most part choke out the weeds, while promoting growth for the plants. I even used this to plant growing plants and not just seeds. Just put the square on the ground used the stick to mark the spot and dug a hole where it was marked. Simple enough. Would highly recommend. Super easy!" —Jennifer Geisel
Get it from Amazon for $27.95.
7.
A portable sparkling water maker — to use, simply add a cartridge, twist on the cap, and watch your water start sparkling! The future is now. Staying hydrated is anything but boring.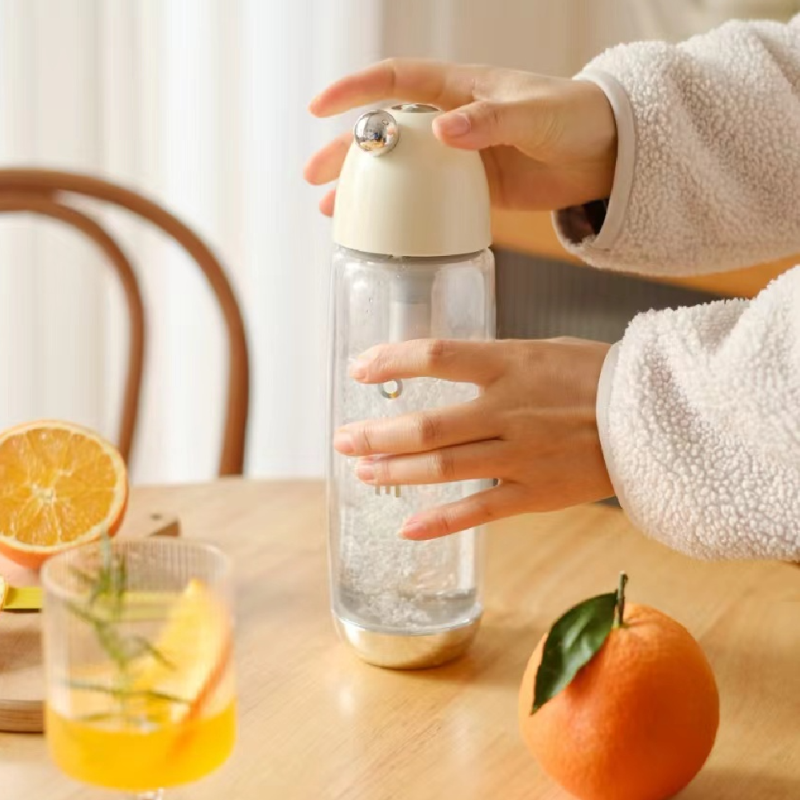 Check out a TikTok of the Ote sparkling water maker in action. 

Promising review: "Love this bottle/soda maker. I am obsessed with fizzy drinks and cannot take my bulkier at-home maker with me to work or when I travel. This maker allowed me the compact convenience of taking my fizzy drinks everywhere I go. I can control what I put in my body and always get my flavors I love. 10 out of 10 do recommend! —Zeusboomer911
Get it from Amazon for $39.99+ (available in seven colors). 
8.
An industrial tripod lamp for folks who have happily started their collection of floor lamps (overhead lights ARE the enemy, after all). With this unique piece you can have a personal spotlight allll to yourself. 

9.
BYO Blush Oil, with a color designed to react to the pH of your skin, helping you achieve a completely personalized look without *any* effort on your part. It's no surprise this is a bestseller! 
Check out a TikTok of the BYO Blush in action. 

Youthforia is an Asian woman-owned small business established in 2020 that specializes in environmentally friendly, cruelty-free makeup made with at least 90% renewable ingredients. PS: the ingredients in *all* of Youthforia's products can stay on while you sleep! 
Promising review: "I love trying new products (only those that are cruelty-free). I have to say this pleasantly surprised me. It only takes two small dots of the product on my cheeks, blended with a brush, and the result is just beautiful. The pink color is a fresh natural color. It lasts all day and then then some. This is also great for travel. I will be ordering another color to try." —Deborah T. 
Get it from Amazon for $36 (available in four shades).
10.
Cloning paste — if you've found that your houseplants are standing around stagnant, you're gonna *love* this stuff! This little formula helps encourage new growth and buds. It's technically made for orchids but it works on all sorts of plants! Begonias, string of pearls, pothos, you name it!
Check out the TikTok about this paste for information.

To use this spiffy stuff, just locate a node and peel away the bract to reveal the bud. Apply a small amount of the paste and in two to eight weeks, a clone will grow out of the node! Science is so satisfying. 
Promising review: "This product is just AMAZING!!! I waited a few months before writing this review because I wanted to test the product first. I am just AMAZED! I have to say...depending on the season and the place on the spike where you apply it, you either get a keiki or new flower spike (which is awesome!). Based on my experiments, the lower on the spike, the more chances to get a keiki. The higher on the spike, the more chances to get a new flower spike. If you apply it during winter (tropical area winter), you will more likely get flower spikes. If you apply it during summer (tropical areas), you will more likely get a keiki — at least that's what I observed!" —Anne-Isabelle Bonifassi
Get it from Amazon for $16.97.
11.
A Wilton 55-piece cake tips set to make desserts so mind bogglingly lovely you won't know whether to eat it...or frame it.

Promising review: "We used these for the first time to decorate cookies. They worked great and everyone enjoyed decorating. Normally we run out of steam decorating our sugar cookies but this year we all hung in until the end. Great results and lots of options. I am a novice and I made great cookies." —smit10

Get it from Amazon for $41.85.
12.
A bag re-sealer I'd personally buy for the looks alone (it's basically a tiny hair straightener! CUTE!), for anyone who would love the chance to reseal their snacks and keep them feelin' fresh.
Promising review: "Just got this cool new gadget! So sick of never having a clip for the million bags of chips I open daily. This sealer worked great. Heated up in, like, 40 seconds and sealed this chip bag in seconds, and now, I don't have to find a clip! I'm sure the chips will stay fresh much longer, too, since it's sealed like I just bought it! Would recommend!" —Stacy0814
Get it from Amazon for $12.99 (available in three colors).
13.
A bubble tent that'll be loved by adventurers who actually want to SEE the great outdoors when they are out. Reviewers say this is a cinch to set up (particularly easy with two people) and relatively solid in all weather (just be sure to have a pad underneath if it rains). Imagine star gazing before snoozing in this thing! DREAMY! 

Promising review: "This was easy to assemble and is likely even easier with two people. I love going out on the woods to have a camping / picnic date or party with friends. It's resistant to the wind water resistant. When the weather is cold, it's cozy and warm inside this tent. It maintains a good temperature (review image above, left)." —jimeamezcua
Get it from Amazon for $299.99+ (available in four sizes).
15.
A Pizzelle maker so you can carry on your grandmother's most delicious holiday traditions. Snowflakes have got nothing on these beauties!