1.
A pack of AA batteries so you won't have to sacrifice your kids' toys to appease the smoke detector gods.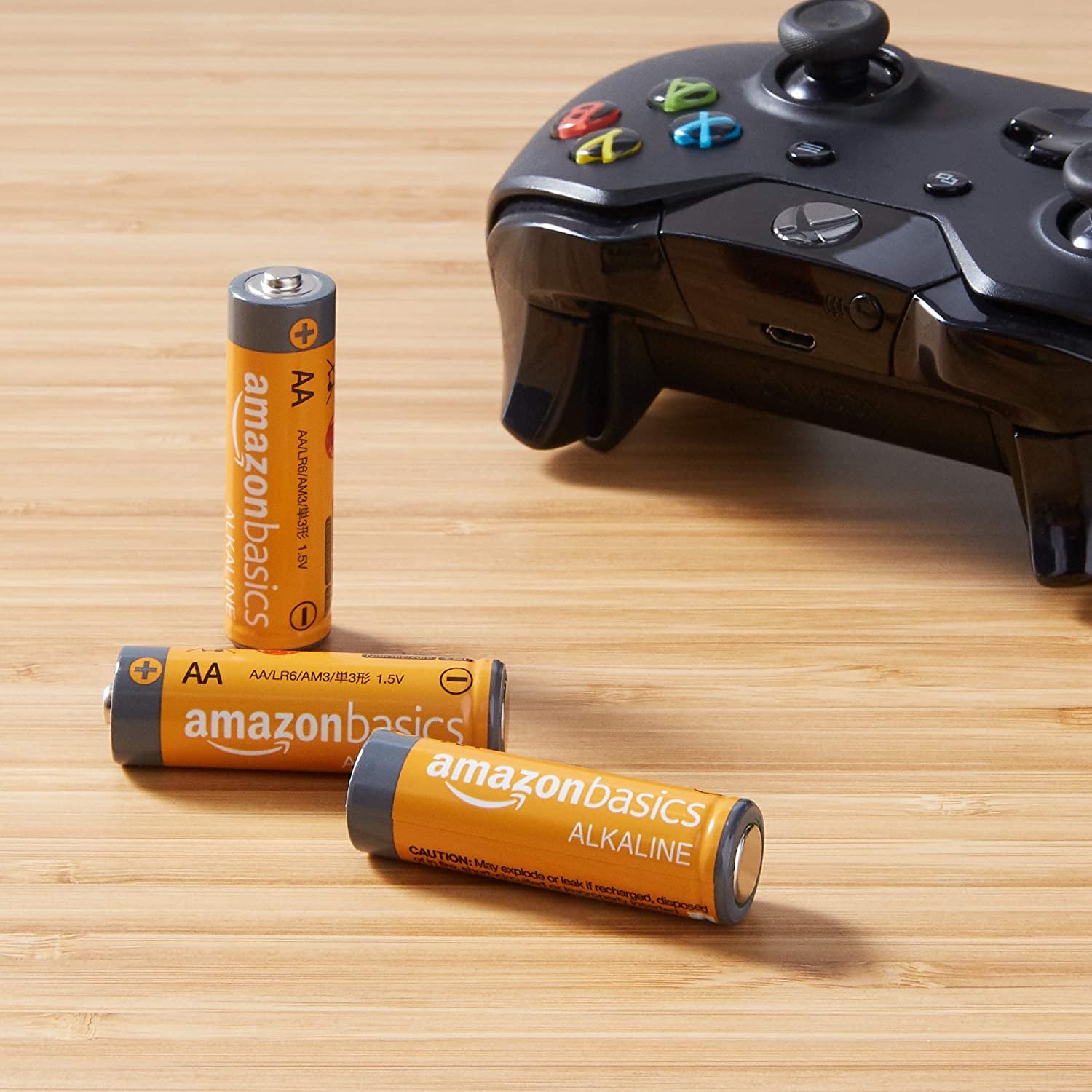 If you're buying batteries with your smoke detector in mind, some older versions still use 9V batteries...just a friendly FYI (from my spouse, who is in charge of dealing with the smoke detectors in our home). 
Promising review: "These batteries truly are a great value. I have been buying them for a while now and have never had any issue with them lasting a long time. I use them in many different items: remotes, game controllers, transistor radio (how retro!), smoke alarm, etc." —JustMe

Get 20 from Amazon for $9.92 (available in multiple pack sizes).
2.
A roll of Reynold's Wrap so you can make sure your dinner plans aren't, well, foiled when you promised the family a tin foil dinner and seem to be missing the very item the meal is named after. 

OR if you're looking for a craft to keep you busy when bad weather has you inside this winter, do what I did to an aluminum foil roll (pictured above, right)! If you have aluminum foil and a hammer, you can make a SOLID ball. It looks like magic and it's so fun to do! You literally just hammer the stuff. It's...therapeutic. 
While you're thinking of it, you might as well buy parchment paper and cling wrap while you're at it! 
Promising review: "This product is durable and far more affordable than the store bought single rolls." —Roger T.

Get it from Amazon for $11.99 (also available in a two-pack).
3.
A classic spice set for keeping your ingredients up-to-date and at-the-ready. Knowing you have everything a recipe calls for is a relief. *And* this kit just might save your meals if you're the kind of person who doesn't know the difference between thyme, rosemary, and oregano. 

4.
A jug of OUT White Brite laundry whitener — this is gonna help make your stained whites look brighter than the day you bought them...no matter what your kid (or your roommate) left on the floor for you to step in.
Promising review: "This is the best product for white softball uniforms. It's easy to use, just follow the soak instructions and the uniform comes out like new. No more scrubbing white uniforms (pictures above)!" —Amazon Customer
Get it from Amazon for $23.84.
5.
A pack of 12 paper plates — keep these around for those "just in case" moments when you host a party and realize you only have enough dishes for yourself and...your dog.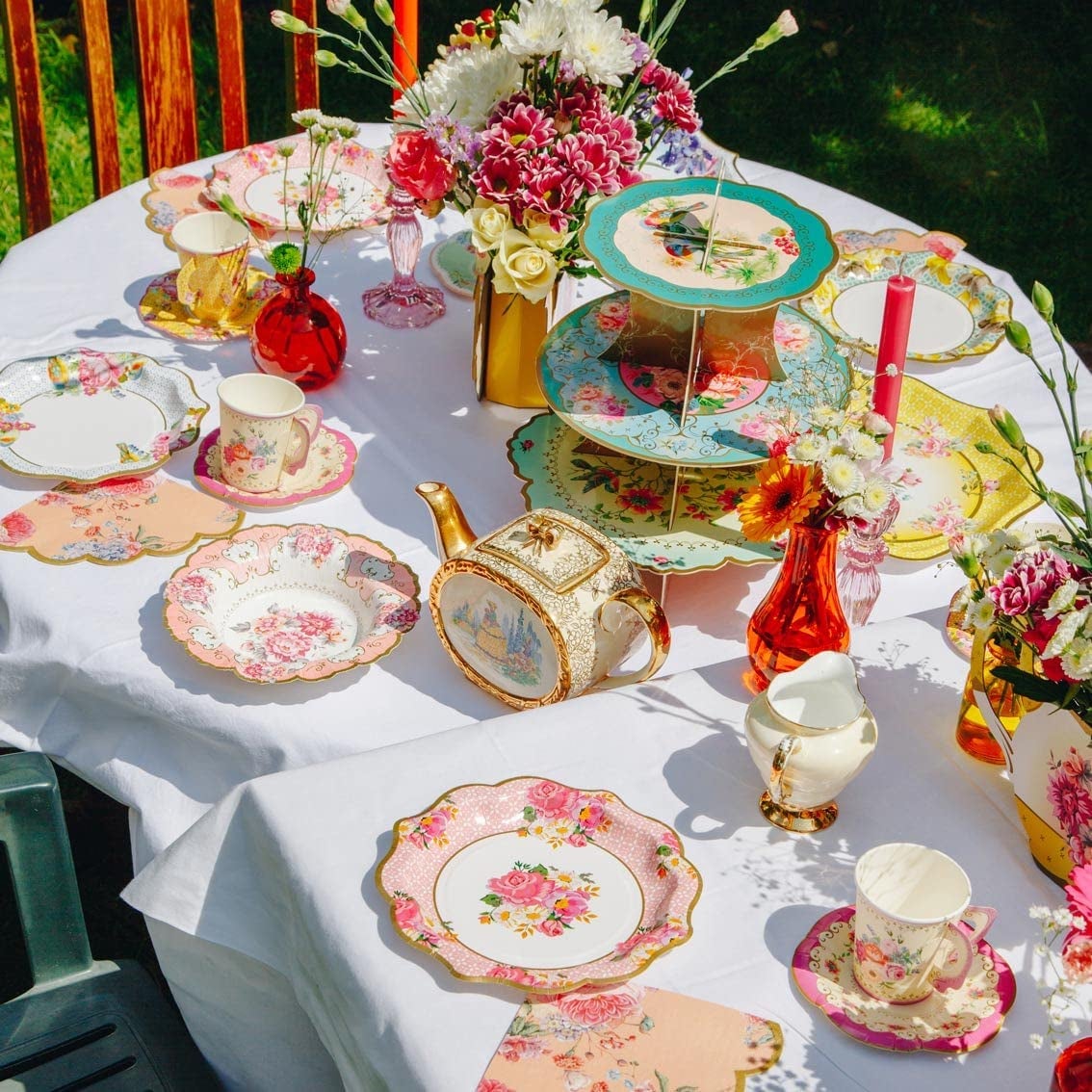 The floral set above includes 12 porcelain-style paper plates in six different patterns. If you'd like a bulk set that includes cutlery, this 250-piece biodegradable option is a great choice! 

Promising review: "These are gorgeous, awesome quality, and they made the whole party. The table was absolutely gorgeous. I've never been so pleased with how decor turned out. And they are fully functional, super sturdy. Didn't get soggy. When I was cleaning up I noticed that none of them got weak or soggy from use. I could have even cleaned them and used them again. Of course, I didn't. But that's how good the quality of the paper is. Six different beautiful patterns too." —Yvette Marie
Get it from Amazon for $7.99 (available in two pack sizes). 
6.
An enzyme cleaner ready to handle every gross disaster Bark Wahlburg brings into your home.
This works on carpet, hardwood, furniture, leather, rugs, pet beds, crates, and car upholstery.
Promising review: "Ok, I am about to get real here. Let's be honest, this product is for pee, vomit, and poop, and it works like magic. I have a grandpa dog who was starting to have bladder control issues due to hip surgery (he's better now). During that time, this stuff was a miracle worker. But, one day, dear Aunt Flo surprised me a week early and I thought my white mattress would be ruined. I decided to try this out. IT WORKED. Yes. I know that is not what this product is advertised for, but golly. If it can kick Aunt Flo to the curb, it can do anything. I am telling all of my girl friends about this stuff." —Miranda
Get it from Amazon for $16.99+ (available in two sizes).
7.
A natural loofah, because leaving faux loofas in the shower for months on end means you're washing yourself with bacteria and buildup. These loofas are better for the environment and for YOU. 

Promising review: "As soon as I found out that loofahs were actually dried gourds, I searched for my own to cut up. It expands and softens in water. I cut up the loofah for many uses. 
- Dish sponge: the shape is oddly ergonomic and comfortable in my hands. I prefer to use it for doing the dishes over the other sponges I've bought over my lifetime. It works on carbon steel pans too. Best of all, this means no microplastics are running down the drain.
- Shower: I strung hemp rope in it and it lathers up with soap. It feels so good on my body, especially because my skin runs dry. Mine did have some black 'dirty' pieces in it which appears like dried parts of the vegetable. It's a natural product so I don't mind.
- Cat toy: I throw it in a box with catnip and my cat goes wild because he can stick his claws in it." —JenniferLo99
Get a 3-pack from Amazon for $13.01. 
8.
A pack of pimple patches that'll blast away blemishes in the blink of an eye.
Promising review: "I've tried so many brands of pimple spots, and these are hands-down the best on the market. I'm a performer at Walt Disney World, and a clear complexion is required. Last night, I put these on a few acne problems (a small cyst, a whitehead, and a pimple I shouldn't have picked and has been a bump for about three weeks now). I just woke up and am writing this review in disbelief. THEY'RE FLAT! Gone! All of them! I could cry I'm so happy. The packaging is also ideal because it allows you to conveniently and easily peel the stickers off without stretching them out or folding them back on themselves. Do yourself and your complexion a huge favor! Have these on hand for a stubborn zit when you really need help. Make sure you apply them to completely clean and dry skin." —Caitlyn
Get a 40-pack from Amazon for $8.49 (available in two styles). 
9.
A foaming garbage disposal cleaner so you can clean out your rental's sink before your landlord decides to dispose of your deposit.

Promising review: "Works like a charm! These are pretty cool! I was a little skeptical but I followed the easy-to-use directions and it worked just like the product said it would. Foamed up and cleaned the drain!! Smell removed!!" —Jennifer K

Get two packs of four from Amazon for $9.99.
10.
Wood polish and conditioner for spiffing up surfaces Mother Nature never knew could be so shiny. 
This enhances the natural beauty and depth of grain on finished *and* unfinished wood. You can use it on antiques, dining tables, kitchen cabinets, wood doors and trim, etc.
Promising review: "I'm not able to sand and stain my floors until spring but they are so dry and worn. I bought this hoping to keep them moisturized until we can refinish and I am amazed with this product." —nicole feather
Get it from Amazon for $9.98.
11.
A box of septic-safe dishwasher cleaning tablets to obliterate mineral buildup and odors. If a washer is dirty...is it even a washer at all?
Just pop one in for a full cycle and let it work its magic. Plus, you only need to use it once a month, so a single, $6 six-pack will last you a while!
Promising review: "Worked very well! We've lived in our home a while, and small remedies haven't done much to help clean the dishwasher. I finally decided to give a cleaner a try, and this one worked exceptionally well. The pictures above are after one use of two packs (as per instructions for a particularly dirty washer). I'll definitely be getting more when I run out to help maintain a cleaner dishwasher!" —chocobeanie
Get a pack of six tablets from Amazon for $8.99.
12.
An odor-neutralizing candle that'll rid your apartment of the smells your fur child leaves behind, giving your boo a chance to fall in love with your pup despite their rather pungent presence.
I have multiple litter boxes in my apartment and two particularly well-fed cats. These candles were recommended to me by a coworker when I brought up the stress of keeping my place smelling fresh. I get each new sent every season, because they are the only thing I need to keep my home from smelling like pets. I firmly believe they are the best odor control around.
Promising review: "I have multiple dogs in the house and am always concerned that it smells like that to visitors even cleaning everyday. I have use other candles and melts that add a pleasant smell to the underlying odor, but these candles do better. I have been able to leave the house for hours and when I first open the door, on my return, I don't smell dog. We recently had a house full of people (many of them pet parents) over for Christmas dinner and it was actually commented 'Your house smells really nice. How do you keep the dog smell out?' I laughed and told them I was just wondering if the candles were working. I guess I got the BEST answer." —LLL Texas
Get it from Amazon for $22.99 (available in 37 scents).
13.
A pack of absurdly pretty toilet paper because running out of toilet paper is the crappiest situation we humans can put ourselves in.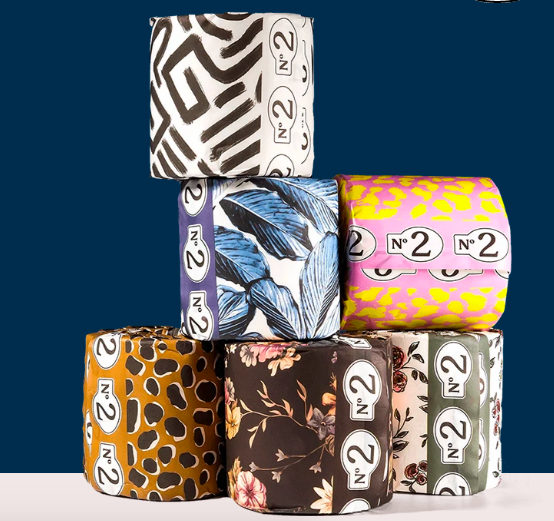 Into supporting woman-owned businesses? Start with this terrific tree-saving TP! Founder Samira Far has created a must-try line of toilet paper that's good lookin' AND good for the Earth! 
If you're looking to stock up on classic TP, we've got you covered. OR if you'd rather ditch toilet paper altogether, grab this reviewer-loved bidet! 
Promising review: "I originally bought this toilet paper to save trees, but it is high-quality TP! I use fewer sheets at a time as the paper is thick and I love soft ridges on one side. It is soft, thick, and cleans really well. Highly recommended and will continue to use!" —Ellen D.
Get a pack of eight from No.2 for $19.50 (available in 8-, 24-, and 48-packs).
14.
A pack of food spikes that'll feed your plants up to two months and give them a hearty, healthy place to grow — so there's nothing but watering on your to-do list.
Be sure to change the spikes every 30 days during the spring and summer months!

Promising review: "I swear by these plant food spikes!!! The package says they are for indoor plants, but I actually use them for all of my outdoor plants, especially my herbs. I first tried these after planting some basil and other herbs that seemed to be taking an eternity to grow. I figured I'd give them a try since they were so inexpensive and wow!!!!! Within just a few days, my plants had grown more than double what they had grown in the previous several weeks!! One of my friends (who also enjoys gardening) came over to my house and was in awe of how big and healthy all of my herbs were. When I told her about these spikes, she went straight from my house to purchase some and had the exact same growth results." —GatorDO17
Get a pack of 24 spikes from Amazon for $3.12 (available in multiple pack sizes).
15.
A container of Tide Pods to act as your detergent, stain remover, and color protector in one convenient lil' package. It'll be SO much easier to just pop one of these in the washer instead of measuring out a bunch of messy liquid detergent.
Promising review: "I have sensitive skin and these are great. They're super easy to use and convenient. I love that I just grab one and throw it in. No hassle with cups and lids. My clothes smell so good afterwards. My suggestion: make sure you're buying the ones with the 96 count. If you look you can see that the ones with 96 are usually the same price as the lower quantity." —cory
Get a 81-pack from Amazon for $21.49.