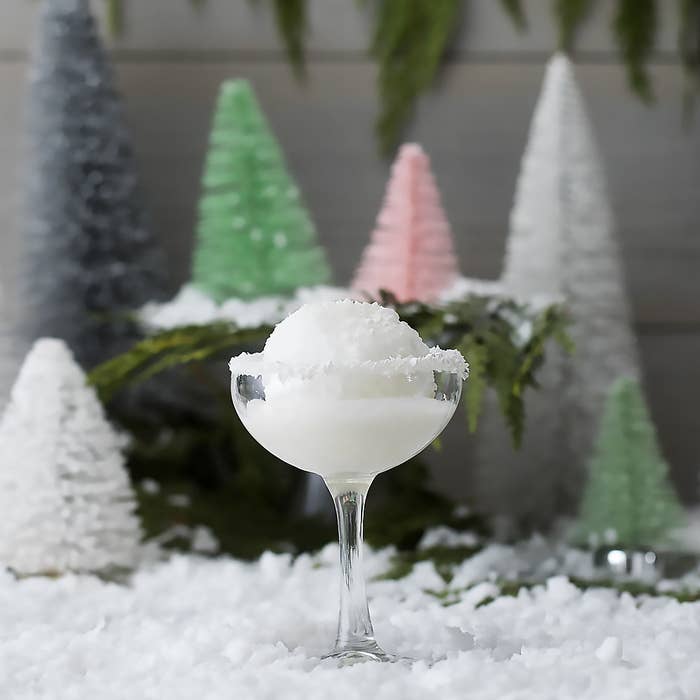 INGREDIENTS
1 can coconut cream (reserve ¼ cup)
½ cup sugar
1 cup heavy cream
1 cup MALIBU ®
¼ teaspoon almond extract
½ teaspoon vanilla extract
¼ cup finely shredded coconut
¼ cup powdered sugar
Bag of ice
PREPARATION
1. In a large bowl, pour coconut cream, whisking until smooth if there are lumps.
2. Add sugar and whisk until dissolved.
3. Whisk heavy cream, MALIBU ®, almond extract, and vanilla extract into the coconut cream mixture until combined. Pour into a pitcher and refrigerate for an hour.
4. On a large plate, combine shredded coconut and powdered sugar.
5. Dip the rim of the martini glass into the reserved coconut cream, and then dip into the coconut mixture on the plate until the rim is nicely coated.
6. Using a high-powered blender, pulverize ice until it is a fine snow.
7. Pour pulverized ice into a bowl and using your hands, form into large snowball.
8. Place the snowball in a martini glass and generously pour the coconut cream-MALIBU ® mixture over it until glass is about half full.
9. Continue making snowballs and pouring cream over until you have 8-10 servings.
10. Top with a sprinkle of shredded coconut.
11. Enjoy!