Summer is here, which means it's time to shove all of your (very warm, very comfy) drab winter clothing into bins in the closet and break out the colors!
For those of us who prefer less complicated styles, summer can be either very easy or very hard. If you want to stand out from the crowd, investing in some choice statement pieces is the way to go.
Pastels are a great way to upgrade your denim game.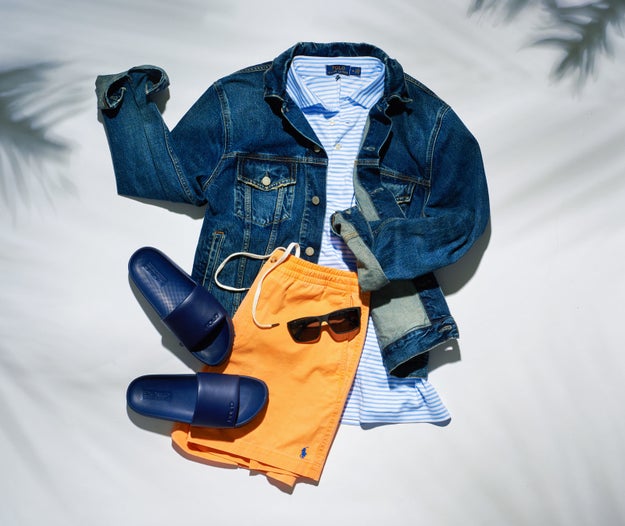 Here, comfortable slides paired with a denim jacket over a fitted button-up and pastel shorts make a look that stays with you through brunch and to the beach.
While pastels aren't necessarily new, their prevalence in men's fashion is big this year. They're the surest way to stay true to your #aesthetic for that Insta. And they're super versatile: use them as your main palette, a statement color, or to accessorize and complete your look.
If the softness of a pastel isn't really your vibe, lean into bright patterns.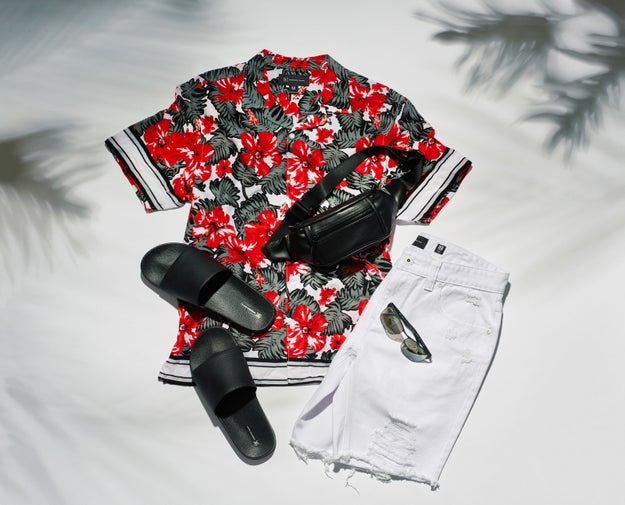 Florals aren't just for femme folks. If you're the kind of dudes who loooooves yourself some bright patterns, balance the busyness of your top with clean neutral details. In this look, white cutoffs and black slides complement the details in the top.
Creatively using patterns is a fun way to rock a bright look.
Grab patterned shorts and choose a shirt that works with and adds to your overall color palette. It's also the perfect way to rock your flashiest pair of swim trunks for a beach day.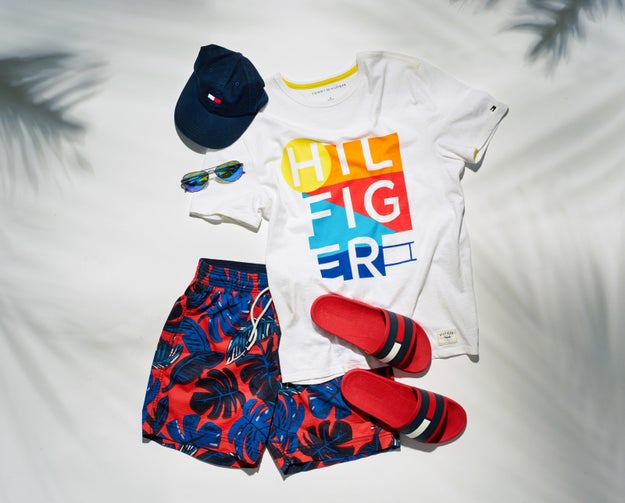 But not all patterns need to be bold.
You can get all up in this trend with something a little simpler and less, well, big — and you can always grab an item that has a saturated pattern over a more pastel backdrop to mute your look a little bit.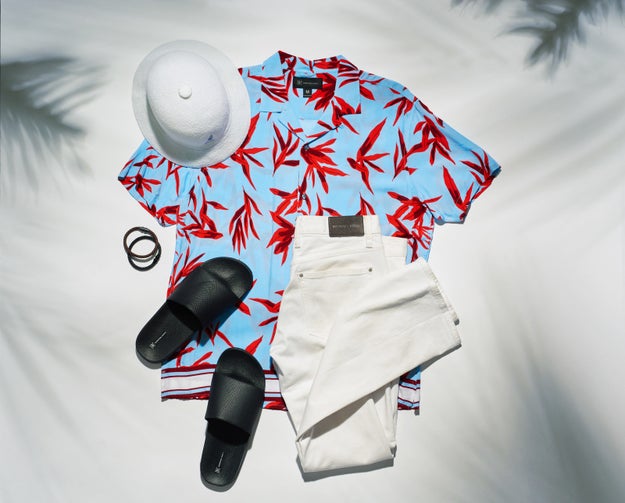 Ever-comfortable, slides are the perfect accompaniment to any summer outfit. White jeans are an excellent neutral pairing that can bring out the colors in everything else you're choosing — and get you looking mad on-point for your backyard grillfest.
Or go bold with your entire outfit.
Bright colors never go out of style, obviously. Adding a complementary bright pair of shoes and some slick mirrored aviators will give you a confident aesthetic as cool as we all wish we were while hanging out in 95-degree weather.
Take this survey. It's almost like taking a quiz!
Photography by Sarah Stone for BuzzFeed.