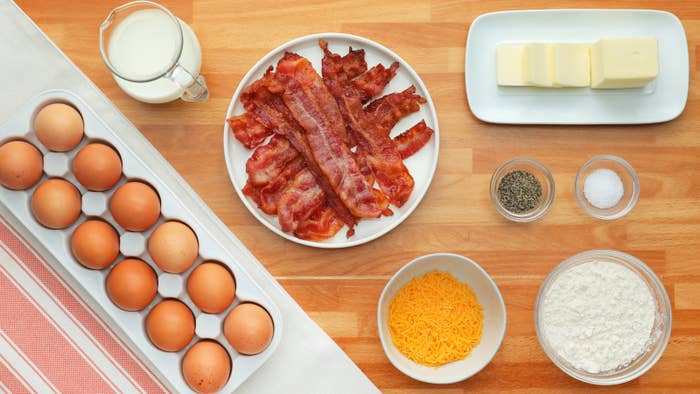 BACON, EGG, AND CHEESE SKILLET PANCAKE

Servings: 6
INGREDIENTS
3 eggs
2 teaspoons salt
1 teaspoon pepper 2⁄3 cup flour
2⁄3 cup milk
1⁄3 cup shredded cheddar cheese
1⁄3 cup roughly chopped cooked bacon 2 tablespoons butter
Garnishes
1 tablespoon shredded cheddar cheese 1 tablespoon roughly chopped bacon 2–3 fried eggs (optional)
2 teaspoons minced chives
PREPARATION
Preheat oven to 425oF.

Whisk eggs in a medium-sized bowl. Whisk in salt, pepper, flour, and milk. Fold in

cheddar cheese and bacon.

Add the butter to an empty 10-inch cast-iron skillet. Place skillet in the oven and wait 1–2

minutes for the butter to melt. Watch carefully to make sure that the butter doesn't burn.

Remove the skillet from the oven and pour the batter in.

Bake pancake for 12–15 minutes, until puffed and golden brown. Remove from oven and immediately top with garnishes and serve.