So, I'm sure you've all seen the "floyir" tweets going viral but if you haven't, have a look at the below and prepare to be blown away by Nadine's glorious Derry accent.
It's inspired some pretty amazing tunes.
1.
But Nadine has a long history of being fabulous. Let's start with the passport drama on Popstars Ireland.
The legal age for entering the show was 18 and everything was going swimmingly (She'd made the band!) until Nadine gave her actual D.O.B.
She couldn't "find" her passport (It was in Derry, busy stating her true D.O.B).
2.
But don't worry, we all know that she went on to join one of the most ICONIC British bands of all time: Girls Aloud.
4.
Like when she confused us all with this Northern Irish advert:
5.
Or like when in 2012 Nadine was shocked that it had been a whole decade since the start of Girls Aloud.
7.
Even when Girls Aloud demised, Nadine didn't stop being iconic as a solo artist - she had an infamous exclusivity deal with Tesco which she does not regret!
8.
And her solo career is still going. Her recent track Go to Work is a seriously underrated tune.
9.
But that doesn't mean she hasn't found time to be super supportive of her former bandmates.
10.
And amongst everything else, she's also found time to be candid about juggling her career with motherhood'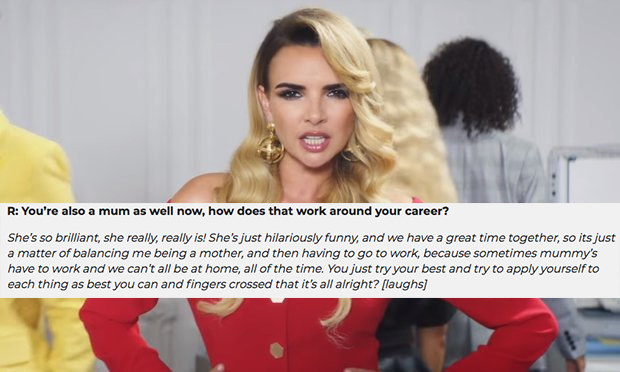 11.
She also knows the optimum temperature to get that tan.
12.
Nadine's also totally aware of the love around her accent.
13.
But sometimes, she doesn't quite 'get' it and she doesn't hold back (And I'm so grateful for it).
14.
Nadine loves the memes she inspires.