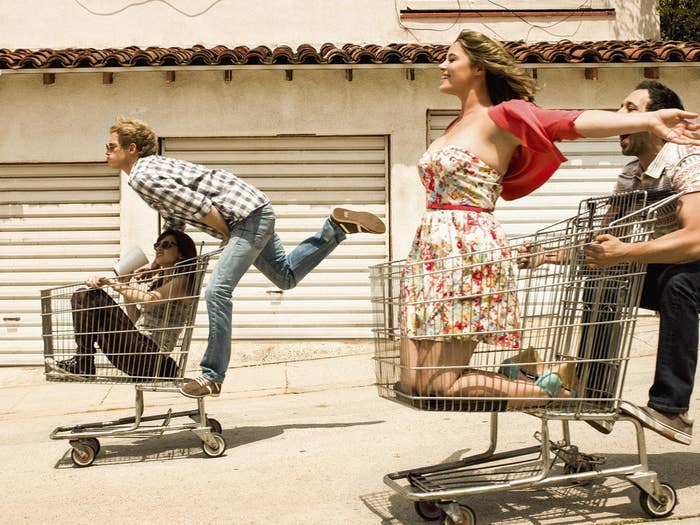 At its best, You're the Worst is us — at our worst.
But that title is both accurate and misleading: The characters in FXX's critically acclaimed comedy frequently exhibit deplorable behavior, but they're still some of the most likable people on television.
Jimmy (Chris Geere), his not quite girlfriend Gretchen (Aya Cash), his on-again off-again roommate Edgar (Desmin Borges), and Gretchen's soon-to-be-divorced train wreck best friend Lindsay (Kether Donohue) are all relatably damaged, and they're navigating an uncomfortably familiar reality.
"Even if you don't see yourself in the characters, you will see qualities of yourself in these characters," Borges told BuzzFeed News during a May visit to the set, a few weeks into filming the second season. "You will know people in your life who are exactly like these characters. And if you like watching them be train wrecks in real life, you're gonna like watching us be train wrecks on screen."
Season 2 of You're the Worst, which begins Sept. 9, picks up after the apartment fire in the Season 1 finale, which has forced Jimmy and Gretchen to speed things up: The two are now cohabiting, despite the fact that neither of them seems all that enthused about it.
With the unconventional trajectory of their distinctly antiromantic relationship, Jimmy and Gretchen appeared more likely to break up than to move in together at the end of Season 1. But having the couple share a place was always part of showrunner Stephen Falk's plan, and it will guide the plot of the series going forward.
"I always knew that I wanted every season to sort of hit very specific and universal relationship touchstones. So the first season ending with them moving in, I always knew that I wanted that even though they're not probably ready for that," he said.
Falk estimates there are somewhere between 10 and 15 of these milestones for most couples — Season 2 will move toward another — but nothing about Jimmy and Gretchen's relationship (they'd even hesitate to call it that) will resemble the idealized partnerships of standard romantic comedies.
In fact, the show's commitment to realism often means showing the ugly side of human experiences and actively rallying against the conventions of the rom-com genre. "The one challenge for us was to tackle the question of cohabitating but in a way that a standard network romantic comedy maybe couldn't or wouldn't think to do," Falk said. "I won't say what show, but we had written on the board, 'Make sure blank could not do this storyline.' And that was always our litmus test, of, Is that way of tackling cohabitating unique enough or really just specific enough to the very specific Jimmy and Gretchen that they are?"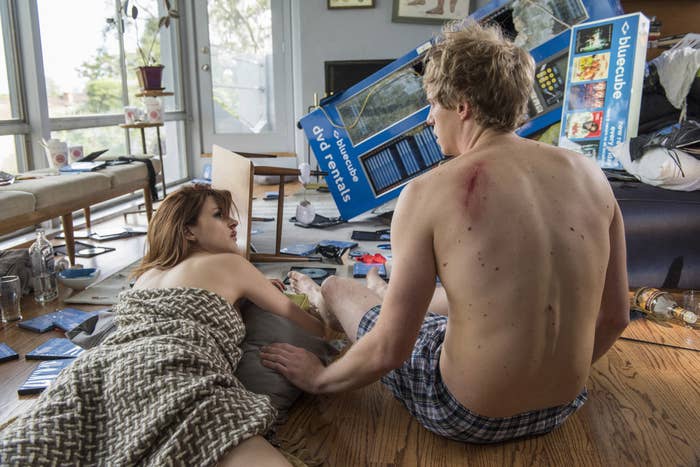 And while Jimmy and Gretchen are, for lack of a better term, the romantic leads of You're the Worst, they share screen time with supporting characters who are constantly clamoring for more recognition. During Season 1, Edgar and Lindsay actually realized that they were "sidekicks" to Jimmy and Gretchen — and they resolved to shake free from that minimizing designation.
As with so many of the romantic comedy tropes that You're the Worst subverts, Edgar and Lindsay becoming self-aware supporting players was Falk's attempt at reconciling rom-com cliché with reality. "In romantic comedy, on one hand, you have to have the sidekick characters. But it always bugged me because people don't actually behave like that in real life," he said. "People are the center of their own drama. Everyone is self-interested."
And so — without getting too meta — Edgar and Lindsay had to realize that their lives were being defined by their best friends. They existed solely for Jimmy and Gretchen to, as Falk put it, "bounce romantic ideas off of." By the end of Season 1, however, they'd broken the mold and emerged as fully realized characters in their own right.
For Lindsay, Season 2 is largely about life after Paul (Allan McLeod), her husband who finally asked for a divorce after a season of her pulling away. As Donohue noted, Lindsay — a self-professed "cockaholic" — might have claimed to hate married life, but the reality of singledom will hit harder than she would have expected.
Edgar, on the other hand, continues to battle his demons in Season 2: An Iraq War veteran, he spent much of the first season struggling with drug addiction and PTSD. These issues don't just disappear, so while he's now somewhat on the mend — and embarking on a potential relationship with Lindsay — it's not going to be smooth sailing from here on out.
"I'm afraid there probably will be a downfall, which will be amazingly fun to play, but for the heart and soul of Edgar, it could be traumatizing," Borges said. "At some point we will need to see him hit bottom so he can climb back up. Everyone is on sort of a roller coaster ride, but specifically dealing with PTSD through a comedic lens, I think we're gonna need to see more of those pitfalls and those highs from him."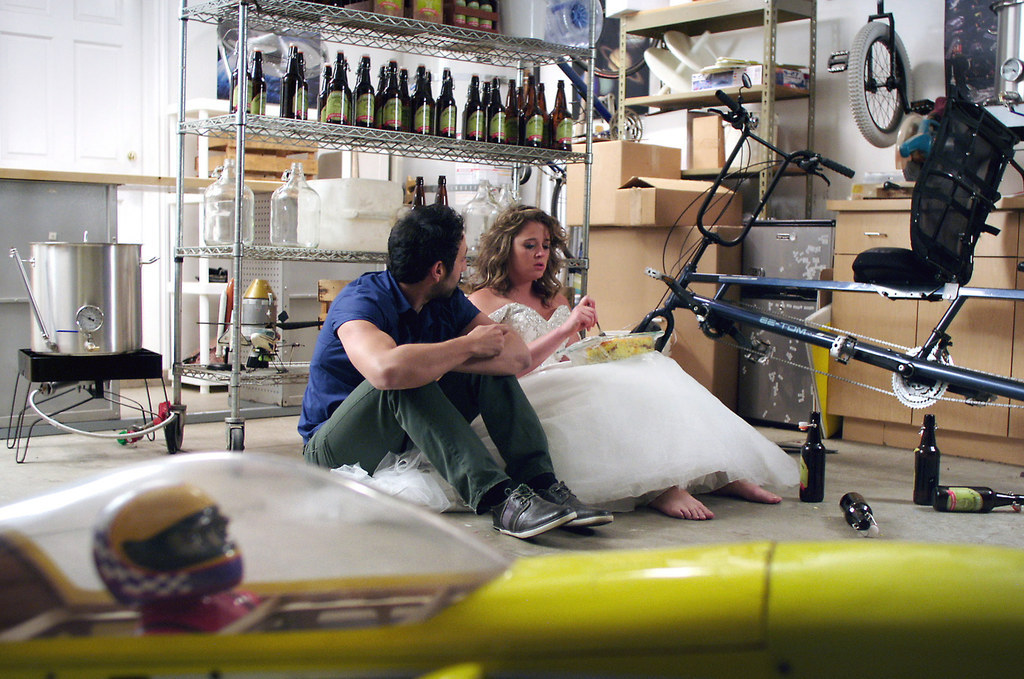 And all of the characters will reveal more about themselves as the series progresses. "Season 2 just dives deeper into each person's psyche and each person's character," Donohue said. "Lindsay and Edgar — you get their own individual storylines that dive deeper into what each of them is going through as individuals and not just as a unit … [And] Gretchen and Jimmy are individual people, so you're seeing what's going on with them as individuals."
It's not only that Falk is using Jimmy and Gretchen's relationship milestones as goalposts for the plot, but also that different permutations of their ever-shifting dynamic allow the writers to uncover new aspects of their characters.
While Season 1 largely focused on Gretchen and Jimmy fighting against their seemingly inevitable emergence as a couple, when Season 2 begins, they're past the point of pretending not to care, which allows for a new edge to their interactions. And, of course, they're dealing with the reality of shared space.
"They've got in the back of their mind what they're expected to be doing at this stage of their relationship," Geere offered, "and so this is the story, the continuation of them purposefully not doing that."
If the past is any indication, their antiestablishment efforts may be futile.
"Sometimes what you think you want and what you get are two different things," Cash countered. "Jimmy and Gretchen may think they want somebody who parties all the time and is always a good time and always doing crazy shit, but the reality of that is pretty exhausting."
The flip side of that, however, is the dreaded "D" word: domesticity. And given what we know about Gretchen and Jimmy, it's safe to say that leaning into that would feel a lot like accepting defeat.
To that end, both will continue to make the terrible choices that viewers have learned to love. And it makes sense that a series this grounded in reality would find viewers drawn to its characters, flaws and all. After all, the only real difference between Jimmy and Gretchen and most couples is how aware they are of their own awfulness.
"This is a show that amplifies some of the worst and weirdest parts of people," Cash reflected. "But we're all the worst."
"You fuckers are the worst," she continued, laughing. "In the best way."
You're the Worst airs Wednesdays at 10:30 p.m. ET/9:30 CT on FXX.