How Patti LuPone Accidentally Became A TV Horror Star
The theater icon is now starring on Penny Dreadful in her first regular TV role in over 20 years. "I always consider myself lucky that I've been offered a part, as opposed to chasing for it or being rejected," she said.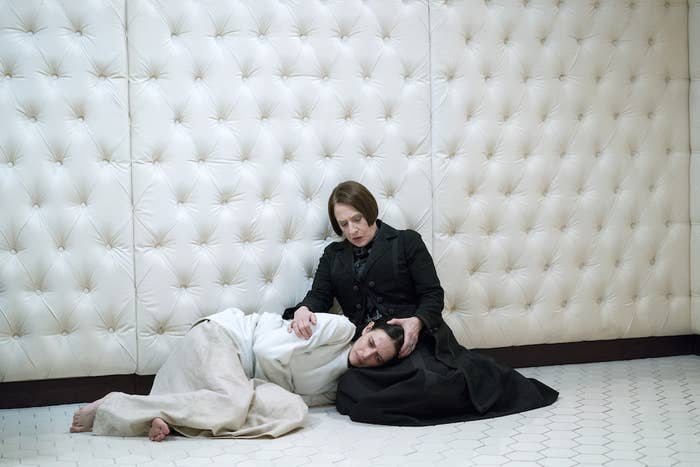 Patti LuPone is a two-time Tony Award winner who has become a veritable theater icon thanks to memorable performances in Evita, Anything Goes, Sweeney Todd, and Gypsy, among others. But there are still jobs that feel out of reach.

"My ultimate job, where I can end my career, is a hit situation comedy. And then I can pack it in," LuPone declared, laughing.
A sitcom seems particularly unattainable for the actor, who has railed against being typecast. "People think I'm this tough woman," LuPone said inside an office near the rehearsal space for War Paint, the new musical she'll star in at Chicago's Goodman Theatre in June. "The comedic side has been completely neglected, but that's how I started. My first Tony nomination [for The Robber Bridegroom] was a slapstick comedy! So I'm wondering when it's gonna come back."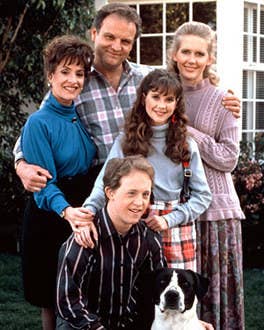 And LuPone's latest role is on a show more likely to make audiences cringe than laugh. She has joined the cast of Showtime's horror series Penny Dreadful in its third season. It's her first regular role on a TV series in more than 20 years, the last being her four seasons on ABC's Life Goes On, which ended in 1993.
Penny Dreadful, which follows classic characters from Gothic horror, including Dr. Frankenstein (Harry Treadaway) and Dorian Gray (Reeve Carney), couldn't be further from the network drama about Corky (Chris Burke), a young man with Down syndrome, and his family. LuPone plays Dr. Seward, an alienist treating the troubled Vanessa Ives (Eva Green), who has battled for her soul and her sanity throughout the series. Dr. Seward's therapeutic approach may not be the answer to Vanessa's demonic possession — but at this point, Vanessa is willing to try anything.
This is actually LuPone's second stint on Penny Dreadful. In Season 2, she had a brief but memorable role as Joan Clayton, the Cut-Wife, a good witch who took Vanessa under her wing, but was killed in the same episode.
Meryl Streep once lamented being offered a series of witch roles after turning 40. When asked if that was something LuPone considered when she decided to play the Cut-Wife — an unconventional witch character but a witch nonetheless — she answered with a shrug. "When someone offers me a part, I don't go, 'I'm not playing that because of a stereotype,'" she said. "I will not make it a stereotype if I get the part."
With a smirk, she added, "I understand what she's saying about witches, but had they offered me the Witch in Into the Woods, I don't think I would have had a problem."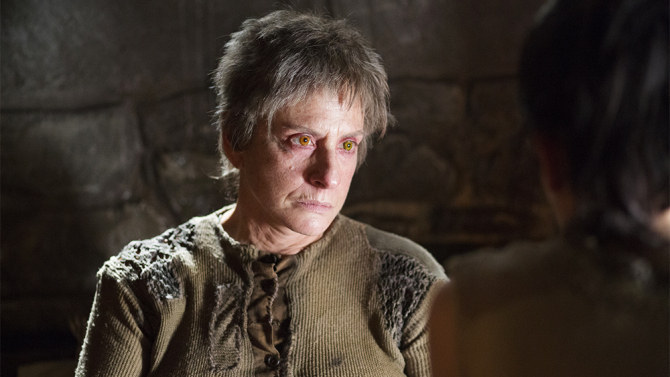 It would be easy to assume that someone with LuPone's extensive credits and acclaim has her choice of roles, but she remains grounded about her prospects. Anyone who has been in the business as long as she has knows that there are few guarantees for an actor. For LuPone, that means accepting the parts as they come.
"I had a phenomenal experience with Eva, with [Penny Dreadful creator] John [Logan], with the director, Brian Kirk, with the country, and wished that my involvement would have continued," LuPone said of shooting Season 2 in Ireland. But, "having been burned at the stake, I thought, That's the end of that."
Still, she remained in touch with Logan, discussing the final cut of the episode and the series as a whole. Although LuPone said she's usually reluctant to offer too much input, she had become a fan of Penny Dreadful and had some thoughts about the character of Vanessa from the viewpoint of an audience member.
"What I thought Vanessa needed and what I said was, 'She needs an ally,'" LuPone recalled. "I said, 'She's exhausted.' I said — this is literally what I said — 'The women want to kill her and the men want to fuck her.' I said, 'The actress and the character are exhausted.'"
Inspired by LuPone's suggestion, Logan went on to create the character of Dr. Seward, whom Vanessa first visits in the Season 3 premiere, which aired on May 1. In order to explain Dr. Seward's resemblance to the Cut-Wife, the premiere also established that the alienist is a descendant of the Clayton family.
LuPone didn't expect Logan to actually write a character based on her suggestion — and she certainly didn't think she'd be playing the part. When she received an email with the offer, she said she "burst into tears."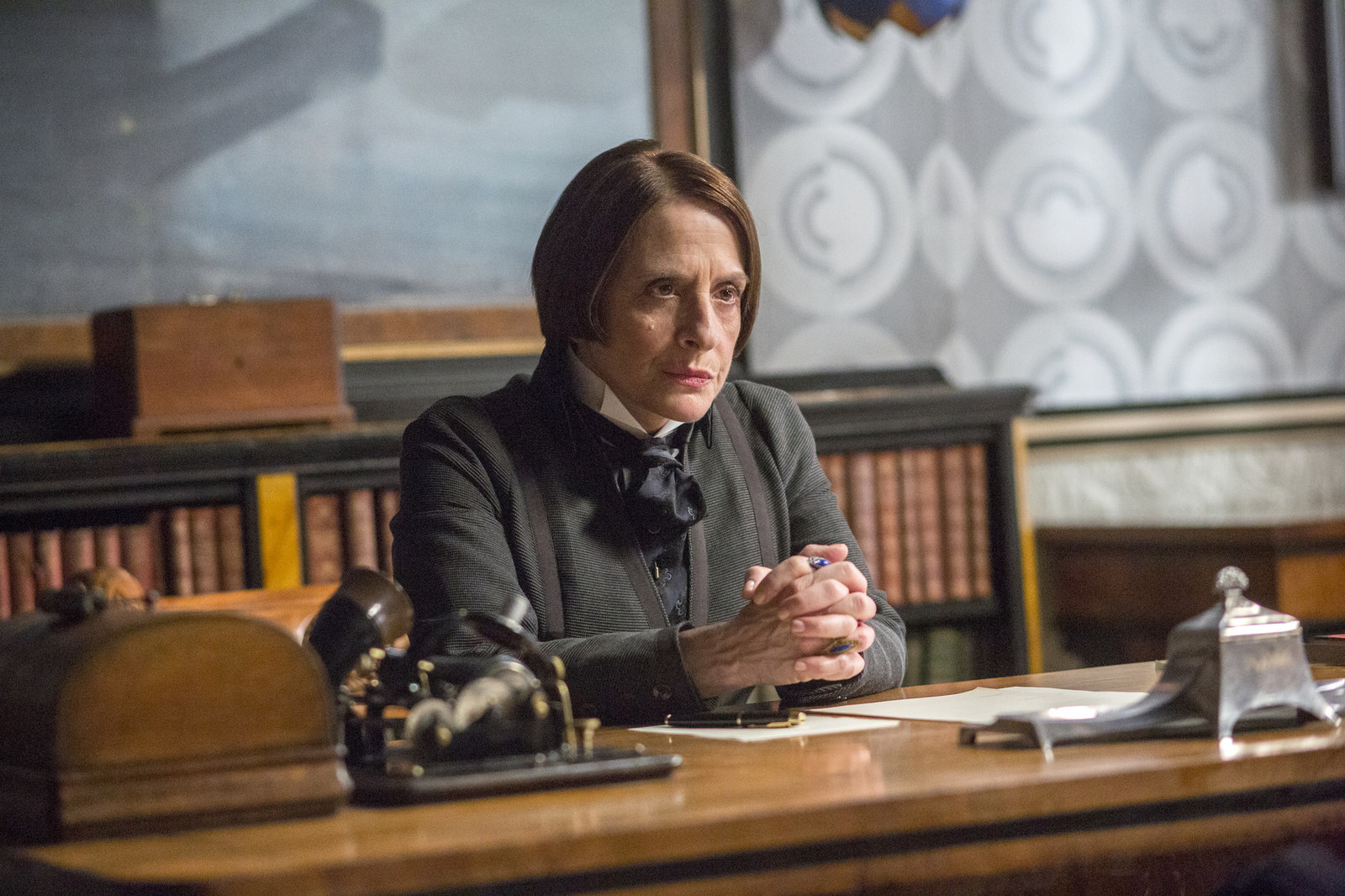 There was never a question that LuPone would accept a role Logan had written with her in mind. Prior to Penny Dreadful, she was a fan of Logan's work in the theater. His plays include Peter and Alice, I'll Eat You Last: A Chat With Sue Mengers, and Red, which earned six Tony Awards, including Best Play.
But while she was thrilled to work with Logan, LuPone admitted that horror is not a genre she typically gravitates toward. "I can't stand blood and guts," she said, which seems to contradict her recent work, including her role as a sadistic religious zealot on American Horror Story: Coven. For LuPone, however, in both cases her interest in the parts was due to the writers involved.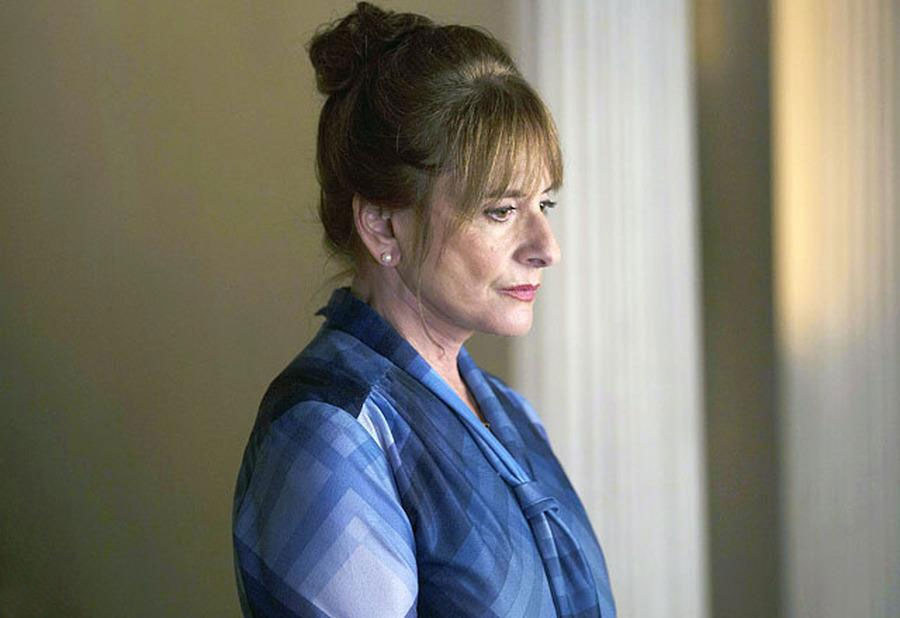 "Ryan Murphy offered me the job. John Logan [offered me the job]," she said. "I don't think you turn those people down."
It's not that LuPone will do anything — she speaks passionately about the work she has taken on — but she's honest about the realities of being an actor. "I always consider myself lucky that I've been offered a part, as opposed to chasing for it or being rejected," she said.
Even theater, which has long been LuPone's home, has its risks. In War Paint, which focuses on the rivalry between two cosmetics company entrepreneurs, she'll star as Helena Rubinstein alongside fellow two-time Tony Award winner Christine Ebersole as Elizabeth Arden. Despite the talent involved, a Broadway transfer isn't inevitable: The musical's future depends on how the Chicago run, which concludes Aug. 14, is received.
For the time being, LuPone is looking forward to returning to the familiar discipline of theater. And, perhaps most importantly, the show will keep her busy as she waits to find out what's next.
"I do love what I'm doing. And I'm very fortunate that I'm doing many different things, finally, after all of those years preparing for that, it's paying off," LuPone said. "Knock on wood, I don't have any downtime."
Penny Dreadful airs Sundays at 10 p.m. on Showtime.