Summing up Stephen Sondheim's six decades in theater is a challenge. After all, this is the composer responsible for Company, Follies, Into the Woods, and Sweeney Todd — not to mention the lyrics for Gypsy and West Side Story. And that's just a sampling.
Calling Sondheim the greatest living composer is an understatement: To many, he's the greatest musical theater composer of all time.
On the eve of his 85th birthday on March 22, BuzzFeed News reached out to the actors, writers, and directors who have worked with or been heavily influenced by Sondheim — in most cases, it was both. Below are quotes from longtime collaborators (Barbara Cook and Patti LuPone), Broadway stars (Laura Benanti and Raúl Esparza), actors who have brought his work to film and television (Anna Kendrick and Chris Colfer), and legends who are revered alongside Sondheim (Barbra Streisand and Liza Minnelli).
Though they each have distinct, heartfelt messages for Sondheim, the one thread is a lyric from Sunday in the Park With George: "Give us more to see."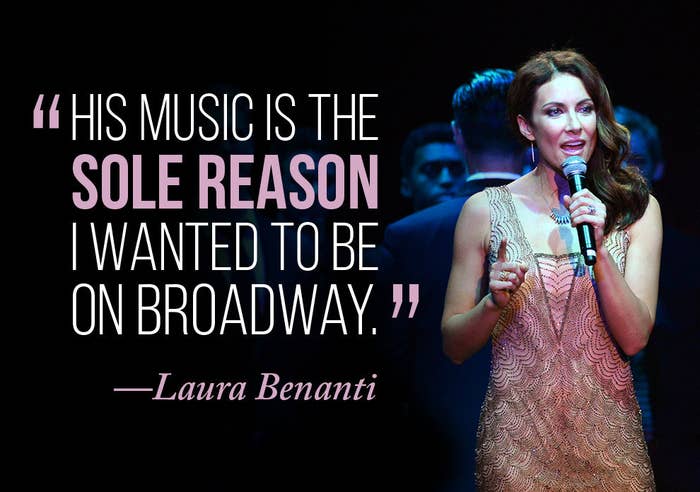 1. "For an actor who sings, Sondheim is your dream partner — an actor who writes. But an actor with an appreciation for the human condition with all its contradictions and complexities and for the endless nuances of music and language for whom he has no equal. Sondheim is singular. And to be gifted with the precious offering of any piece of his work to sing for the first time is a privilege I share with very few and for which I am forever grateful. I wish him a glorious birthday. And to quote Dot from Sunday in the Park, I say to Stephen, 'Give us more to see.' Please." —Jason Alexander, performer (Joe in Merrily We Roll Along)
2. "The first song I ever learned to sing and play on the piano was 'I Remember Sky' when I was 10 years old. I remember thinking, This is the most beautiful song I will ever hear. And that remains true for me to this day. His music is the sole reason I wanted to be on Broadway. I wanted to sing music that transports us to the most important place one can travel, our hearts." —Laura Benanti, performer (Cinderella in Into the Woods, Louise in Gypsy)
3. "I was 16 years old when I played Charley in Merrily We Roll Along at my summer camp in upstate New York. I suspect that everything I know about how to craft musical theater scores comes from having spent those four weeks inside that show, getting to know it as an actor, as a pianist, and as a young writer having stumbled upon the keys to a creative life I didn't know was possible. Steve has said he's spent his whole life trying to fix Allegro; I think maybe I've spent my whole life trying to fix Merrily. Aspiring to work at that level is the most delightfully impossible task I could have ever set for myself. I hope I never get all the way there." —Jason Robert Brown, composer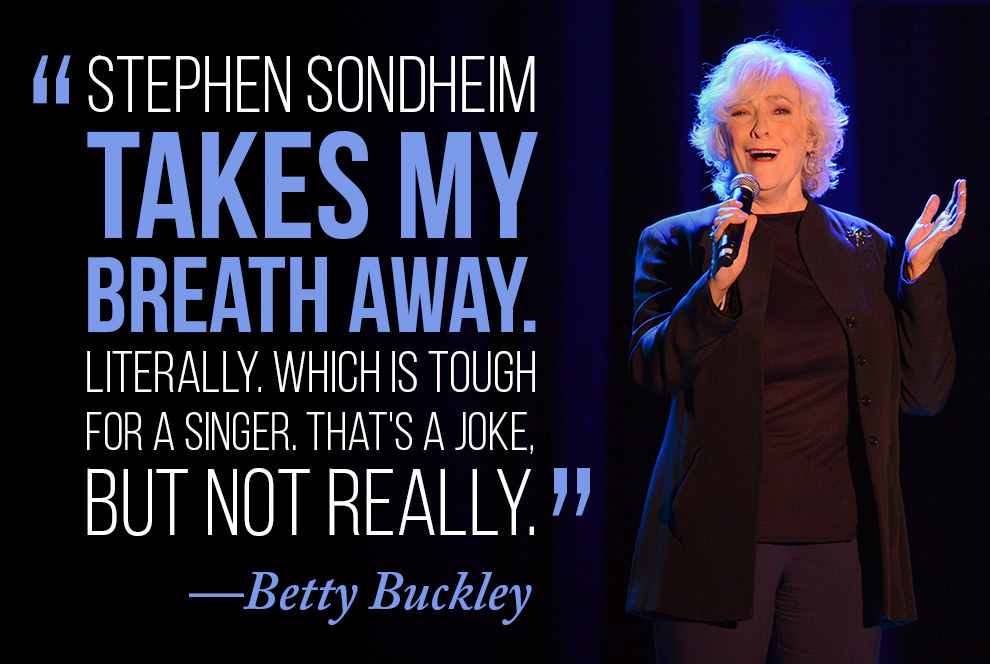 4. "Stephen Sondheim takes my breath away. Literally. Which is tough for a singer. That's a joke, but not really. I love him with all my heart. No one writes a monologue song for the singer and actor like he does. He told me one day in rehearsal for the pre-Broadway workshop of Into the Woods — I was the original Witch, doing two of the early workshops — that he wrote 'Stay With Me' for me. I was in awe. I hold all of my exchanges with Sondheim most sacredly to my heart. And for most of his birthday celebrations I get called in, at the last minute, to replace somebody who's fallen out. So I just keep showing up handing off the microphone to Sondheim during the 'Happy Birthday' song, thinking, 'I'm Still Here' adoring you the way I do, the way we all do. Happy birthday, dear Stephen!" —Betty Buckley, performer (The Witch in Into the Woods)
5. "Every Sondheim song is a three-act play set to beautiful music. They're not easy to learn, but once you have, you never forget them, because he writes magnificent poetry. If I have to choose a favorite number, it would be 'Anyone Can Whistle,' although I love all of them. Happy birthday, Steve. Love, Carol." —Carol Burnett, performer (The Wife in Putting It Together)
6. "When I was 18, I wrote Steve a letter asking him around 35 questions (easily) about Merrily We Roll Along, in which I had just been cast. He wrote back within days saying, "Answering all those questions would require a letter the size of War and Peace. Look, here's my number. Let's get together and talk.' Two weeks later, I spent an entire afternoon with him. He answered all my questions and we killed a huge carafe of white wine. And that's Steve Sondheim. A mensch. A rabbi. A genius." —Danny Burstein, performer (Paul in Company, Buddy in Follies)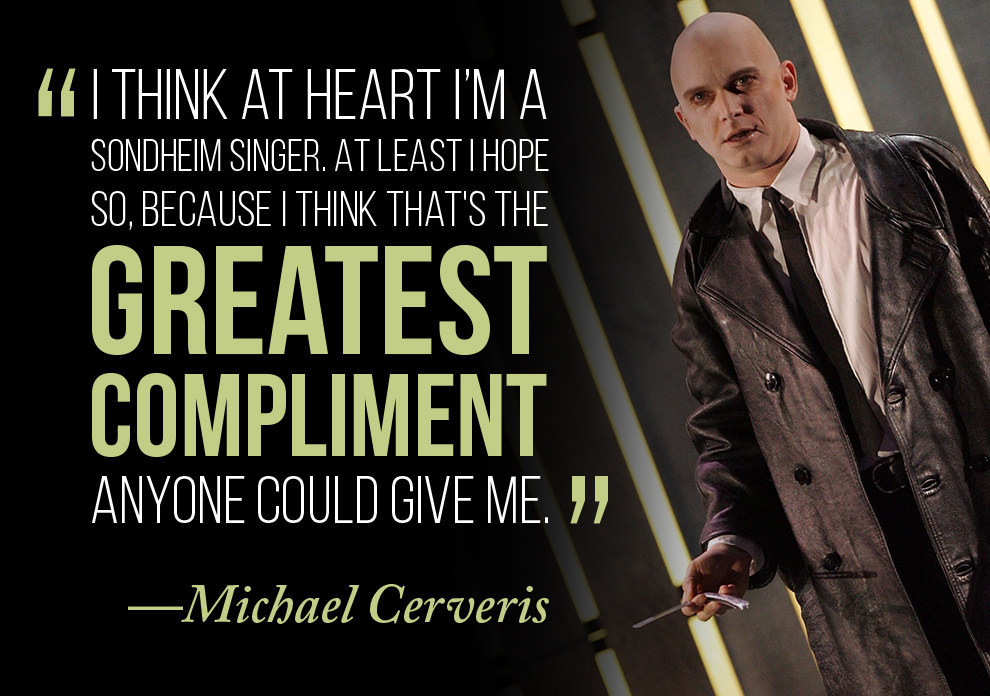 7. "During my first performance of Scott Ellis' Company at The Roundabout I came offstage to find Stephen Sondheim standing by the washer dryer. I was having my first experience being in a Sondheim musical and my second experience being in a musical! I was thrilled beyond words. I said to him, 'Why do I feel this way? I have been in a hundred plays!' He said, 'Because being in a musical is a complete collaboration with the audience.' It changed my life forever and has informed my theatrical choices ever since. Happy birthday, dear Stephen — and thank you." —Kate Burton, performer (Sarah in Company)
8. "Growing up, I thought Sondheim was essentially The Only Music Theater Composer — my dad would play me the scores at home and unlock the musical and dramatic elements for my adolescent sponge brain. Later, seeing a preview of Len Cariou as Sweeney Todd on Broadway first made me realize there was a kind of musical theater that I could be passionate about and [that was] worth working to earn a place in. So maybe that's why, regardless of the particular style of show I might be in, I think at heart I'm a Sondheim singer. At least I hope so, because I think that's the greatest compliment anyone could give me. I never met Mozart or Shakespeare, but I've worked with Stephen Sondheim. That's good enough for me." —Michael Cerveris, performer (John Wilkes Booth in Assassins, Sweeney Todd in Sweeney Todd)
9. "When I was a freshman in college we did A Little Night Music and I played Anne. I remember thinking the score was incredible and remembered thinking one day I hoped to play the lead, though I really didn't understand the complexity of her. I've seen Bernadette Peters in the last revival and I have fallen in love all over again with that show. Though he has given the world many, many beautiful pieces of work, and that brain is so amazing, it's always A Little Night Music that speaks to me. I love it!" —Kristin Chenoweth, performer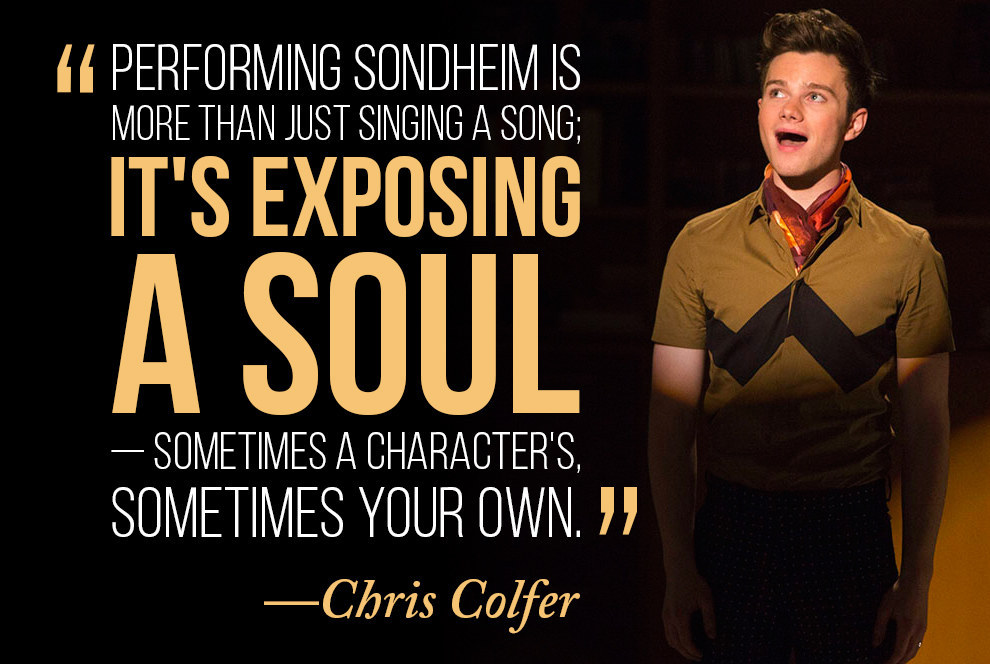 10. "Performing Sondheim is more than just singing a song; it's exposing a soul — sometimes a character's, sometimes your own. Listening to Sondheim is like handing over the keys of your psyche. Every lyric and every note is so beautifully assembled, it instantly levels your mood to whatever emotion is being portrayed. It takes a true gift to make audiences feel music as much as they hear it, and a performer couldn't ask for a better tool." —Chris Colfer, performer
11. "I've often referred to Stephen Sondheim as today's Shakespeare. Like Shakespeare, there are so many layers to his words and imagery. You can revisit their works time and time again, and there is always something new to discover." —Barbara Cook, performer (Star of Mostly Sondheim, Performer in Sondheim on Sondheim)
12. "I've always admired and quite liberally loved Steve's music, lyrics, songs, and shows. I played George in Sunday at Chicago Shakes a couple of years ago and finally got the chance to see/feel/experience, firsthand, how he laces everything together so intricately for the character but still allows for the actor's and the audience's own interpretation. His songs are specific for the character and situation; at the same time, he can transcend to a more universal idea. While Dot is telling Act II George to move forward in his artistic endeavors and stop worrying about what others say or think Steve is telling every artist in that theater. Dot: 'Stop worrying where you're going. Move on.' George: 'I want to move on. I want to explore the light. I want to make things that count things, that will be new. What am I to do?' Dot: 'Move on!' Thanks, Steve and happy birthday. —Jason Danieley, performer (George in Sunday in the Park With George)
13. "It has been my privilege to have had many professional experiences and collaborations with Steve Sondheim. My first Broadway show Sweeney Todd may seem the pinnacle, but in fact the greatest joy was Road Show at the Public Theater in New York and at the Chocolate Factory in London. To work directly with Steve and John Weidman to hone and shape this wonderful work will forever remain one of my professional highlights. It doesn't get any better." —John Doyle, director (Road Show, Sweeney Todd, Company)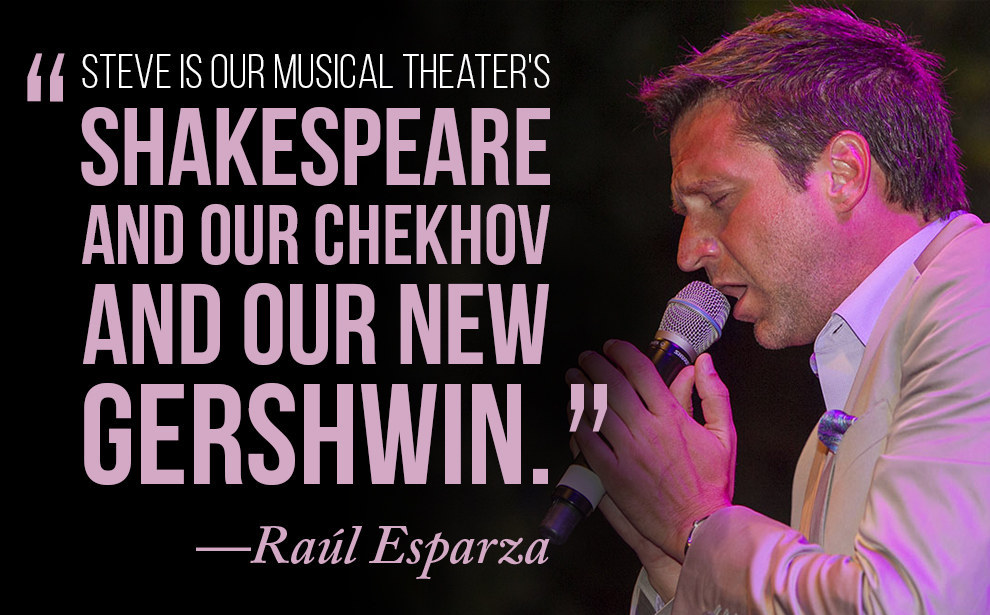 14. "Steve is our musical theater's Shakespeare and our Chekhov and our new Gershwin. He's been a great friend and the most important influence in my career. Performing 'Being Alive' is like standing on the edge of the Grand Canyon, channeling our humanity, glimpsing eternity, reflecting back to the audience everything they would most like to be. Yeah, all that stuff art's supposed to do. That's Steve's gift. —Raúl Esparza, performer (Bobby in Company)
15. "Thanks, dear Steve, for being the person I trust — for more than 40 years. I don't make a major decision without consulting you. Also, from who else could I learn that 'slotted spoons don't hold much soup'?" —Mia Farrow, performer
16. "Steve's 80th birthday celebration at Avery Fisher Hall. New York Philharmonic. Everybody on stage and filling the aisles to sing the finale 'Sunday' from Sunday in the Park With George. Purest joy, nostalgia, love, and glorious sound of which I've ever been a part. And Steve's face. Bliss." —Joanna Gleason, performer (The Baker's Wife in Into the Woods)
17. "Working with Sondheim is being close to greatness. I don't think anyone would disagree. Usually garrulous, when around him I try to adhere to the Lincoln quote, 'Better to remain silent and be thought a fool than to speak out and remove all doubt.' Having a man of such caliber be so giving with his work and his time, and be genuinely interested in and delighted by interpretation, finally gave me the authority to feel like, 'Hey! You can do this. You're not a hack. If he says you can be here, you can be here.' I even say that before auditions for other shows to calm my nerves. That is a pretty remarkable quality. He's literally part of my mantras." —Gideon Glick, performer (Jack in Into the Woods)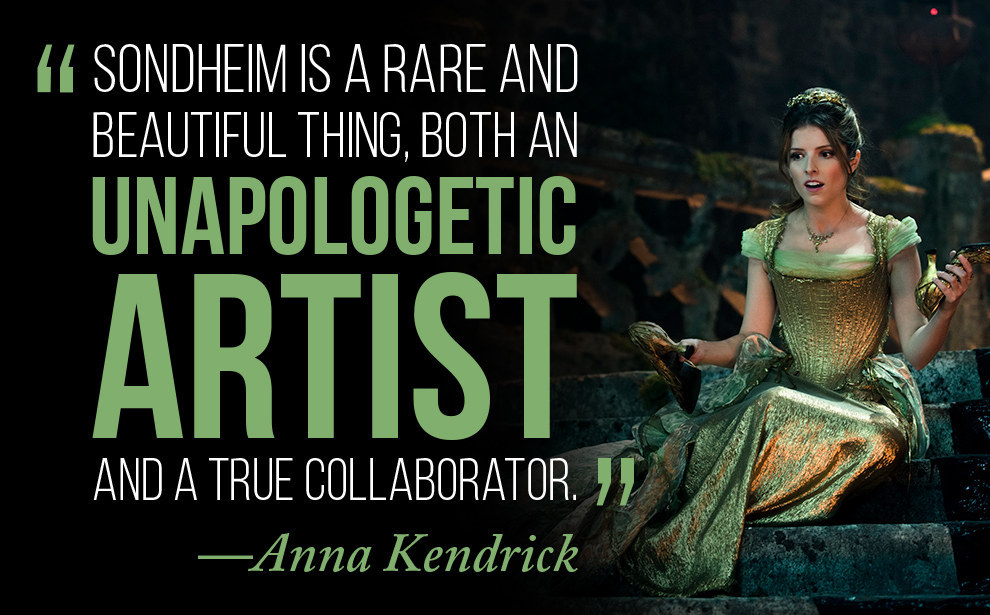 18. "Not only was Stephen Sondheim one of my childhood idols, but he is, for so many of us, the artist that ignited my passion to pursue music and theater as a full-time career in New York. The week I moved to the city, I was cast in the Broadway revival of A Little Night Music, directed by Sir Trevor Nunn, starring Catherine Zeta-Jones and Angela Lansbury, who were later replaced by Sondheim-ian masters Bernadette Peters and the late Elaine Stritch.
One day during our preview period — we were rehearsing in the daytime — Stephen looked up from his NY Times crossword puzzle and asked me to come over. He said, 'You know, Hunter, you sing the lyric "short and boring" in your solo "Later," but I just realized you aren't really short. What do you think of changing it?'
'...I think that is...just...fine,' I replied with disbelief about our conversation. Was Stephen Sondheim really asking my opinion on anything?
'What do you think about "bland and boring" instead of "short" — not implying you are bland, but I like the alliteration. How is that with you? If you think of something else, just let me know. You're wonderful.' He put his pencil back to the NY Times crossword and in only a moment, my entire life was more than I had ever dreamt it would be. Happy birthday, Mr. Sondheim." —Hunter Ryan Herdlicka, performer (Henrik in A Little Night Music)
19. "Normally I get pissed at small roles, but there is so much jam-packed in one phrase of his music that it is fulfilling and exhausting." —Jackie Hoffman, performer
20. "'Giants in the Sky' was a difficult song for me to sing, but I was so pleased when Stephen attended my recording session and mentored me through it. He gave me a lot of confidence, particularly in hitting the big last note. Stephen was so supportive and kind to me and I feel proud to have worked with him." —Daniel Huttlestone, performer (Jack in the Into the Woods film)
21. "Sondheim is a rare and beautiful thing, both an unapologetic artist and a true collaborator. When he updated 'On the Steps of the Palace' for the film of Into the Woods he was equally decisive and circumspect, enthusiastically bringing new life to his own work while honoring his most devoted fans." —Anna Kendrick, performer (Cinderella in the Into the Woods film)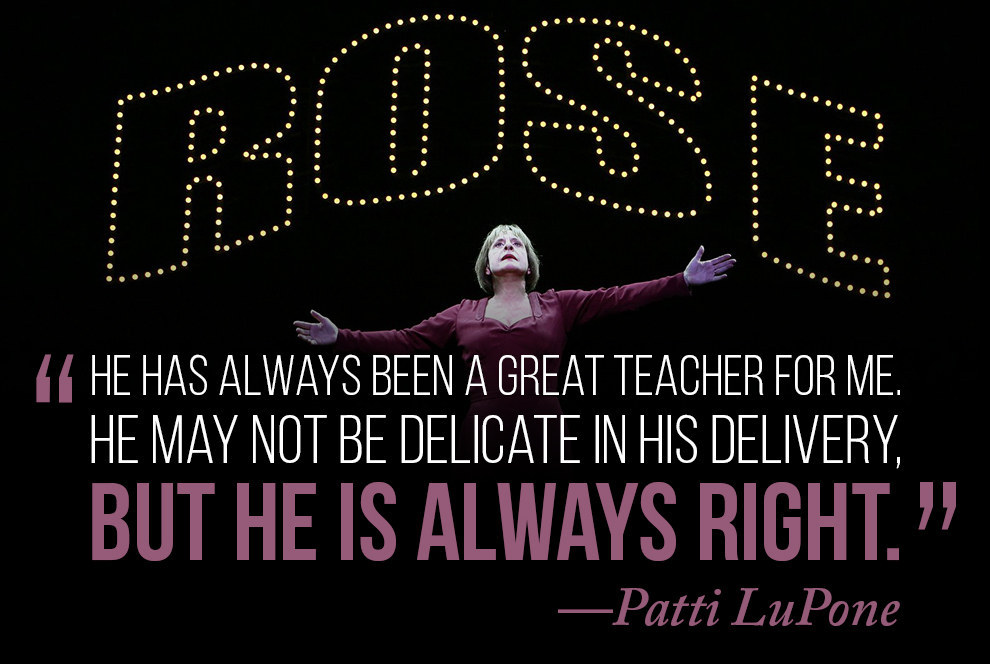 22. "When I was hired for Bounce, I told Stephen I had a few opportunities to meet him, but I was always scared that dribble and saliva would come out of my mouth instead of the witty repartee I'd have preferred. He told me, 'I'm not my lyrics. I'm just a nice Jewish boy from the Upper West Side.' Put me at ease. And I loved it because I learned how ridiculously hard he worked on every 'if,' 'and,' and 'but' of his lyrics, and he was not falsely modest about the end result." —Richard Kind, performer (Addison in Bounce)
23. "Every note and lyric of Stephen Sondheim's is a gift to the performers that are lucky enough to get the chance to perform his work — and it's also a gift to musical theater lovers all over the world. Thank you, and happy birthday, Steve. Give us more to see." —Telly Leung, performer (Ensemble in Pacific Overtures)
24. "The first time I worked for Steve was in Gypsy (1959), then in Company (1971), then Sweeney Todd (1979), and then Into the Woods (1987), so thank you, Steve, for giving me some of my most wonderful, exciting, and magical moments on stage. I cherish every one of them. Happy, happy birthday, Steve! I love you." —Merle Louise, performer (June in Gypsy, Susan in Company, Beggar Woman in Sweeney Todd, Cinderella's Mother/Grandmother/Giant in Into the Woods)
25. "When I was playing Desiree in A Little Night Music at the Ravinia Festival, Steve gave me notes after a performance that improved my singing technique. He told me not to swoop up to the note. I had no idea that was what I was doing. It was simply lazy singing. It's much harder to hit the note dead-on and on pitch. He has always been a great teacher for me. He may not be delicate in his delivery, but he is always right. His music is so complicated and luxurious, it must be sung as he wrote it. It's hard but infinitely more rewarding for the singer to accomplish." —Patti LuPone, performer (Mrs. Lovett in Sweeney Todd, Rose in Gypsy)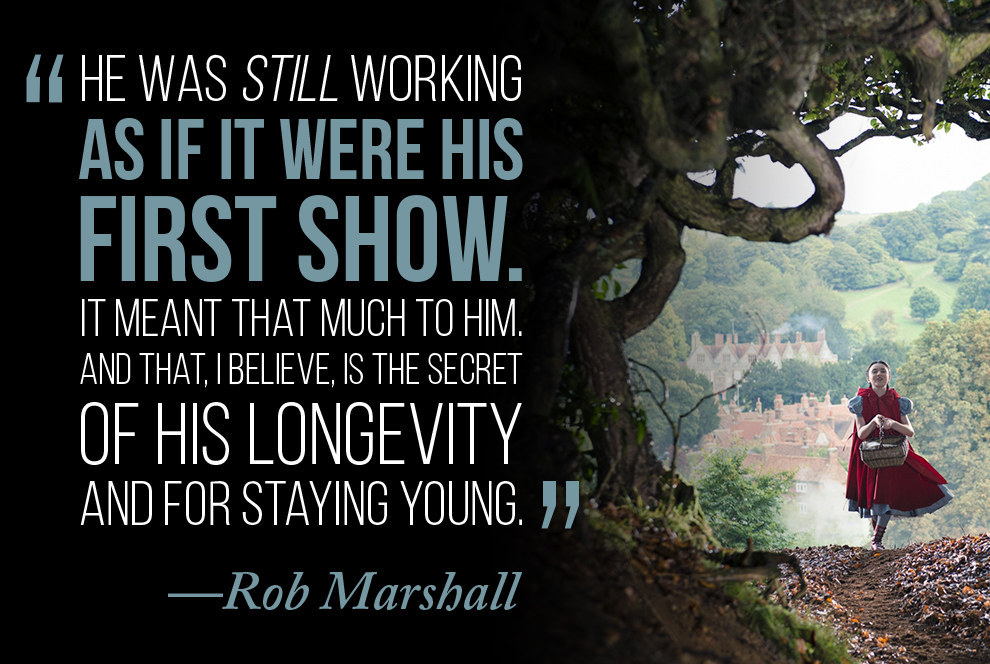 26. "Chris Pine and I were recording 'Agony' with a 50-piece orchestra and Sondheim came into the recording space to give us a brilliant note about the song. Chris and I are like, 'Dude, dude, dude. That is the Sondheim dude,' so we take the note and sing through the song again, all excited and pumped. We finish, look to the sound booth, hoping for a joyous response, and the dude is passed out sleeping on the couch. I guess we did OK, 'cause we didn't get fired." —Billy Magnussen, performer (Rapunzel's Prince in the Into the Woods film)
27. "Stephen and I were sitting in the control room at Angel Studios in London during a prerecording session for Into the Woods. Anna Kendrick was singing 'On the Steps of the Palace' with the London Orchestra and Steve was scribbling away on the back of a piece of sheet music. Steve had already made changes to the lyrics of the song to set the action in the present for the film — but clearly he wasn't done. In that moment he turned to me and said, 'I think I prefer she sing "I" rather than "you" there...' I was blown away! He was still working as if it were his first show. It meant that much to him. And that, I believe, is the secret of his longevity and for staying young. He is passionate about his work, his life, his friends — all of it!" —Rob Marshall, director (the Into the Woods film)
28. "Happy birthday, Steve! I have learned so much from you over the years, and continue to learn from you every time I hear or sing one of your songs, but I will never forget you teaching me how to sing 'Not a Day Goes By' 30 years ago! Thank you! Much love, Marin." —Marin Mazzie, performer (Rapunzel in Into the Woods, Clara in Passion)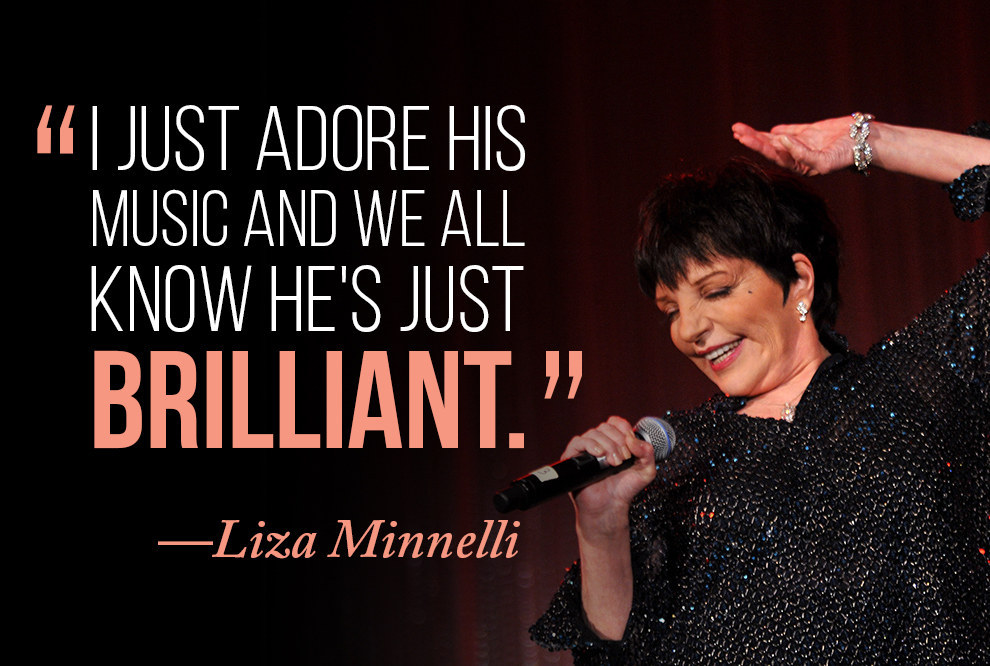 29. "My first ever appearance in a Sondheim show also happened to mark my Broadway debut. It was Sunday in the Park With George. I'd watched a number from it from my sofa in L.A. on that season's Tony Awards telecast. After it aired I decided I had to give N.Y. a shot (I'd already become obsessed with Sweeney Todd via the cast album, so I guess you could say I was already primed). Less than six months later, I found myself standing on stage at the Booth Theatre singing the finale to Sunday and experiencing the closest thing in the theater I've ever felt to a religious experience. Since then, I've been lucky enough to be a part of several of Steve's projects, and each time has felt like a gift. No one can touch him." —Howard McGillin, performer (Soldier/Alex in Sunday in the Park With George)
30. "We seem to celebrate Mr. Sondheim's birthday every three months — how old is this man?! I celebrate his birthday whenever I think of Follies." —John McMartin, performer (Ben in Follies, Narrator/Mysterious Man in Into the Woods)
31. "Oh, how I wish I had more history with him, because I just adore his music and we all know he's just brilliant. My God, the lyrics to 'Some People' alone! It's brilliant just like him." —Liza Minnelli, performer
32. "Stephen Sondheim has a deep understanding of how harmonic structure, rhythm, and lyrics all work together to communicate both simple and complex aspects of character and human nature. He not only writes the notes and words, he writes the spaces between the notes and words — the thought. His songs practically sing themselves." —Brian Stokes Mitchell, performer (Xanthias/Pluto in The Frogs)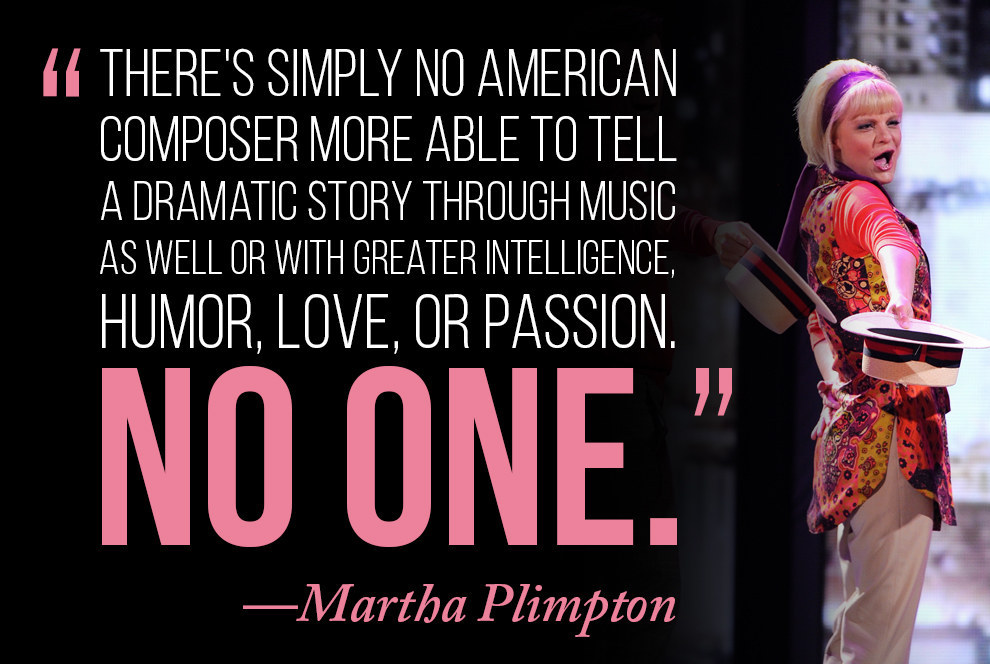 33. "I was so nervous when I was cast in the original Assassins as Sara Jane Moore, because I don't read music. But Steve was a compassionate and supportive teacher. He was our best audience and was genuinely moved to tears by the work we were doing even though the audiences were often, angrily, leaving during the show. I think 'The Gun Song' is a brilliant anti-gun and anti-violence anthem. I remember during one audience talkback a woman asked Steve why he wrote a show that supports assassinating presidents. Steve took a long breath and then sadly said, 'If that is what you have gotten from this show, then I have failed.' —Debra Monk, performer (Sara Jane Moore in Assassins, Joanne in Company)
34. "On our opening night of Into the Woods at Roundabout Theatre Company, he gave my husband and me some great advice: After joking about not taking his relationship advice (based on his shows) he said, 'Keep asking the questions.' And that is why he is every actor's dream, and why he will always be relevant. Happy birthday, Steve!" —Jennifer Mudge, performer (The Witch in Into the Woods)
35. "Sweeney Todd is the greatest American musical ever composed. Done. And Sondheim is responsible for most of the greatest before it. I never saw it performed on stage in its original production. I wish to God I had. But my mother brought home the recording, a set of eight cassette tapes, from the theater immediately after she'd seen it. I was instantly captivated as she described every scene and set piece, and I lost my 10-year-old mind. We listened to it constantly. It completely consumed me, and every year after, we made it an annual Christmas tradition to listen to it. No idea why, but it seemed to weirdly complement the season for us. We'd watch the Alastair Sim Christmas Carol and then listen to Sweeney Todd, until we finally bought a VHS copy of the filmed stage production (which has a slightly different cast, some of whom were great — though I missed Victor Garber, obviously). Then we forced all our friends to watch it every year at Christmas. Don't ask me why, but it became a bizarre holiday tradition. At no point is the story told without music. This is perhaps its secret. The music never stops. The romance, the humor, the tragedy and the grotesquery, the dissonance and the harmonics, the lyricism and the specificity. It's unmatched. Plus, I'd never know what a reticule is without having first heard the word in a Sondheim musical. Two-thirds of my vocabulary comes from Sondheim musicals, actually.
To this day that score never ceases to give me chills. It is an operatic work. Sondheim brought opera to America's popular theater. I have no idea if Steve agrees and he might think anyone a fool for saying so. But as Copland brought folk music and American unpretentiousness into the symphony halls, Sondheim brought high art to the American musical theater without ever breaking pace between the two, or placing them in conflict. Pure genius. No question about it. There's simply no American composer more able to tell a dramatic story through music as well or with greater intelligence, humor, love, or passion. No one. He is obviously the standard." —Martha Plimpton, performer (Sarah in Company)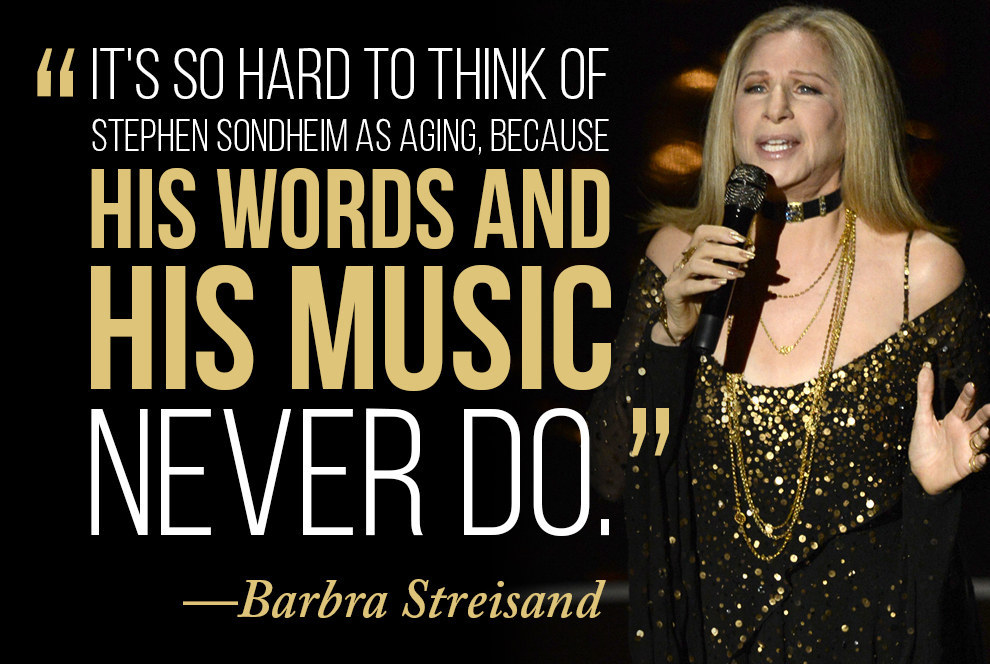 36. "It's so hard to think of Stephen Sondheim as aging, because his words and his music never do. That could be because part of his genius as a composer and as a lyricist is how startling and original all of his work is. He didn't comply with styles. He created them. He was never 'like' anyone else. He and his work were and will always remain Stephen. I thought of this 10 years ago when I led 18,000 people at the Hollywood Bowl in the loudest rendition of 'Happy Birthday' I ever heard. And now you tell me he's 85. I don't believe it." —Barbra Streisand, performer
37. "I had about five years in N.Y. to develop into a worthy audience member (and to be imprinted by Broadway as my life teacher) before the '70s, when Sondheim flooded our streets with a simply unbelievable string of masterpieces, five huge Broadway musicals in 10 years flat. Thus at 37, my sense of what life's experience was, or could be, had been shaped by that essential Stephen Sondheim, and since then, everything from him has been awaited with thirst for my own expansion. In a recent Sunday in the Park revival, I remember sitting in the dark with Jack O'Brien — in the last minutes, we clutched each other's arms in ravishment as the final chords of Sunday solemnized our work, indeed our lives, as people trusting themselves to the human need for art — be it a death-defying aria or a bum's deft flip of a cigarette into the night." —Holland Taylor, performer
38. "Shakespeare gives emotional clues to the actor through iambic pentameter like Sondheim does through difficult melodies and complex rhythms. Not unlike Shakespeare's famous advice to the players in Hamlet ('Speak the speech ... trippingly on the tongue'), Sondheim speaks to the artist: 'Having just the vision's no solution, everything depends on execution.'" —Wesley Taylor, performer
39. "Well, he's 'God'! That's the Act II opening song he wrote for Sondheim on Sondheim, which we sang to him each night of the run. It's a perfect representation of his brilliance. What a pleasure to study his work as a musical theater student and then to have the opportunity to work with, laugh with, and learn from this extraordinary man. I sang for him on his 75th and 80th birthdays and wish him all the best on his 85th." —Vanessa Williams, performer (The Witch in Into the Woods, Performer in Sondheim on Sondheim)
40. "Stephen Sondheim is a genius and simply the best of everything. Follow his template, sing the song as written, wait for the response — and for a brief exhilarating moment, you think you're a genius too!" —Chip Zien, performer (The Baker in Into the Woods, Charley in Merrily We Roll Along)