Ricky Williams was walking across the University of Texas at Austin campus at the end of the fall 2014 semester, headed to take his American Government final exam. With him were two classmates — current student-athletes — who nervously discussed their grades in the course. One student said he hoped for a C, then asked Williams what grade he carried in the class. Williams said he had a high A, a 95%. The student-athletes hurried their pace and left Williams trailing behind.
"Whoops, I probably should have kept that to myself," Williams recently said over a cup of green tea at a café adjacent to the campus, twisting his face as if he were embarrassed, then laughing.
Twenty years ago, Williams was just like the young men who left him in the dust that day. He first enrolled at the University of Texas in 1995, and then played four seasons of record-breaking — and Heisman-winning — football as a running back. Through the first two years, his C-level grades reflected the academic ambitions of his successors on the field. His only A in his first three semesters came in an Introduction to Psychology class.
Williams is now back in school at the University of Texas and is within a year of finishing his long-suspended bachelor's degree. Soon to begin his third semester, Williams is working toward a degree in Physical Culture and Sports, a program that allows him to study the philosophy, history, and, most notably, the psychology of athletics. After graduation, he intends to apply to graduate programs with the hope of earning a Ph.D. in psychology.
Most people know Williams from his 11 tumultuous years as a running back in the NFL, but his public discussion of his social anxiety and marijuana use while he was a league star has often hung over him like a cloud. When Williams was on the field, he showed a glimmer of becoming the greatest, a thrill that undoubtedly embittered fans who watched as he dropped out, and in, and out of the league. Now, as Williams orients himself within the world of academia, he is adjusting to another difficult-to-navigate new territory: consistency.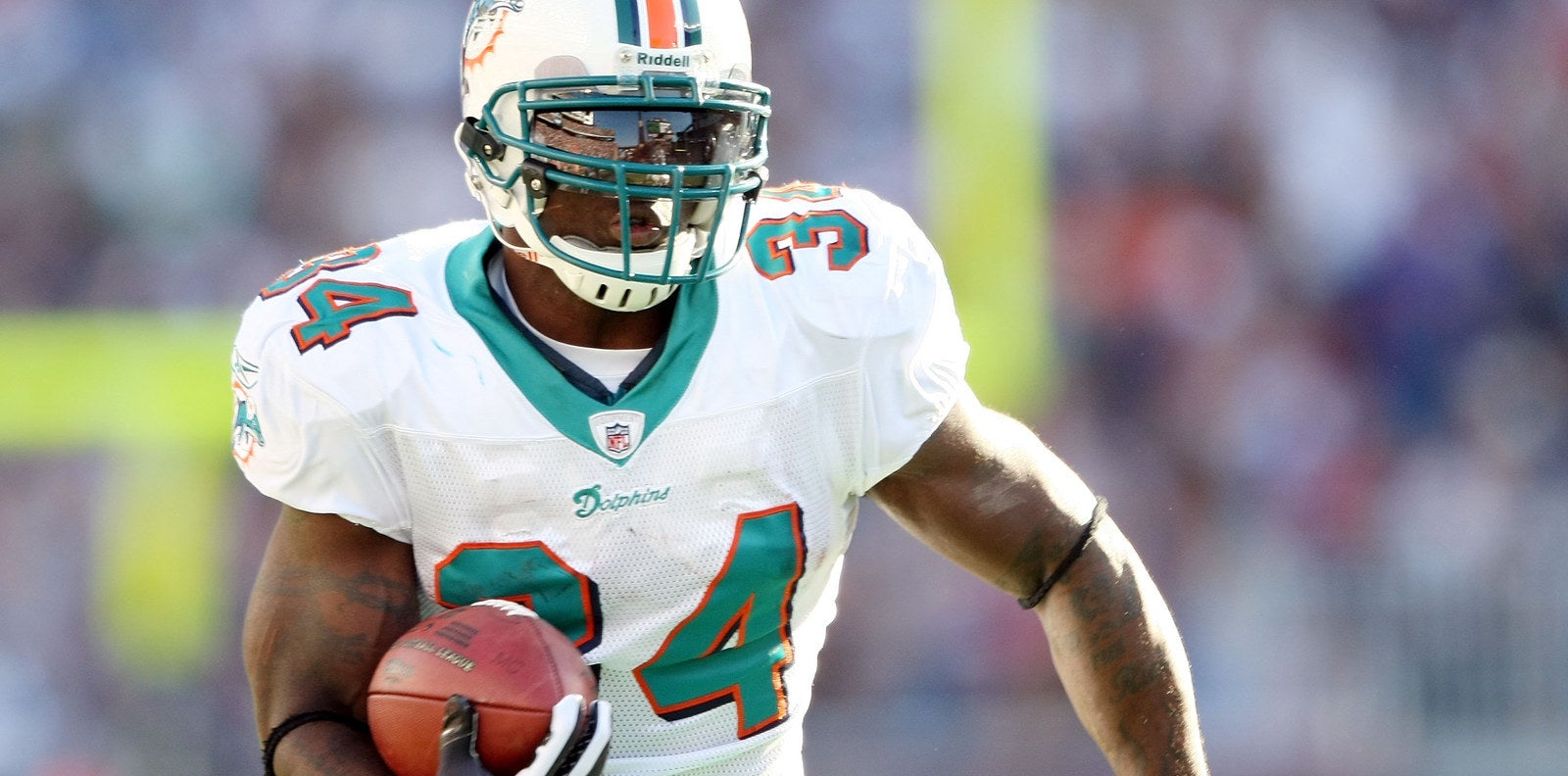 Williams with the Miami Dolphins in 2009.
In Williams' 38 years, turmoil has been one of few constants. From a fractured family environment as a child to his back-and-forths with the NFL, his experiences have instilled in him an intimate knowledge of chaos. But Ricky Williams is no longer the limitless young man he was at the peak of his fame: He is a father, a husband, a man who lives comfortably in a nice home in suburban Austin. He could be a generic American man. But though the tumult has mostly settled, there's still a frenetic vibration that remains. It makes Williams handle his new challenges in a way that is, as always, uniquely Ricky.

"I find my biggest challenge is getting people to let go of me as a football player and be willing to consider me as that and something else," Williams said during an interview on UT's campus in June. "But for most people, being a professional football player is like the pinnacle of their imagined life or actual life. For me, as much as I tried to make it that, it just hasn't worked. I still want more."
As a kid, Williams dreamed of playing professional baseball — he grew up loving the fast feet of Rickey Henderson and the 1980s Oakland Athletics — or becoming a teacher. But like so many of this generation's top athletes, Williams saw football as "his way out" of a tumultuous childhood. After his four seasons at UT, he answered when the NFL came knocking. "If I were being true to myself," he says now, "I probably wouldn't have gone into the NFL. Sometimes I feel like I wasted at least five years of my life playing football. It wasn't really what I wanted to be."
"Sometimes I feel like I wasted at least five years of my life playing football. It wasn't really what I wanted to be."
Williams grew up quickly, living in a broken home in San Diego with his twin sister Cassandra and younger sister Nisey; he's still close with both of them. His parents, Sandy and Errick — Williams is Errick Jr., legally — divorced when he was six, and less than a year later, Errick Sr. was convicted of "annoying or molesting children" — his own twins. Sandy, suddenly raising three kids by herself, was rarely able to make it to things like Little League games, and Williams quickly sharpened his independence. By the age of 5, he was doing laundry and making dinner for his sisters, and though his intelligence was never a question — "That's what I had on my sisters! I was always the smart one" — he floundered in classes, posting inferior grades until he reached high school.
Before committing to the University of Texas, he was interested in moving a few hours north of San Diego, his hometown, to attend Stanford, where legendary NFL coach Bill Walsh was coaching after leaving the 49ers. Walsh retired in the middle of the recruiting season, Williams remembers vividly. "If not, I would have been a Cardinal for sure."
Williams became a Longhorn in 1995. During his four football seasons at the University of Texas, he racked up a record-breaking 6,279 career rushing yards.
In November 1998, Williams' fourth year with the team, he broke Tony Dorsett's NCAA Division I career rushing record of 6,082 yards against Texas A&M. He'd entered the game 62 yards shy of the record and said he knew it was not a matter of if, but how he'd break it during the rivalry game. With 1:45 left in the first quarter, Williams broke past the defensive line with hardly any resistance and hit the open field, sprinting 60 yards into the end zone. Williams ran for 259 total yards that day, and the Longhorns won 26–24 — the record was his, and later that season, the Heisman Trophy, college football's top honor, would be too.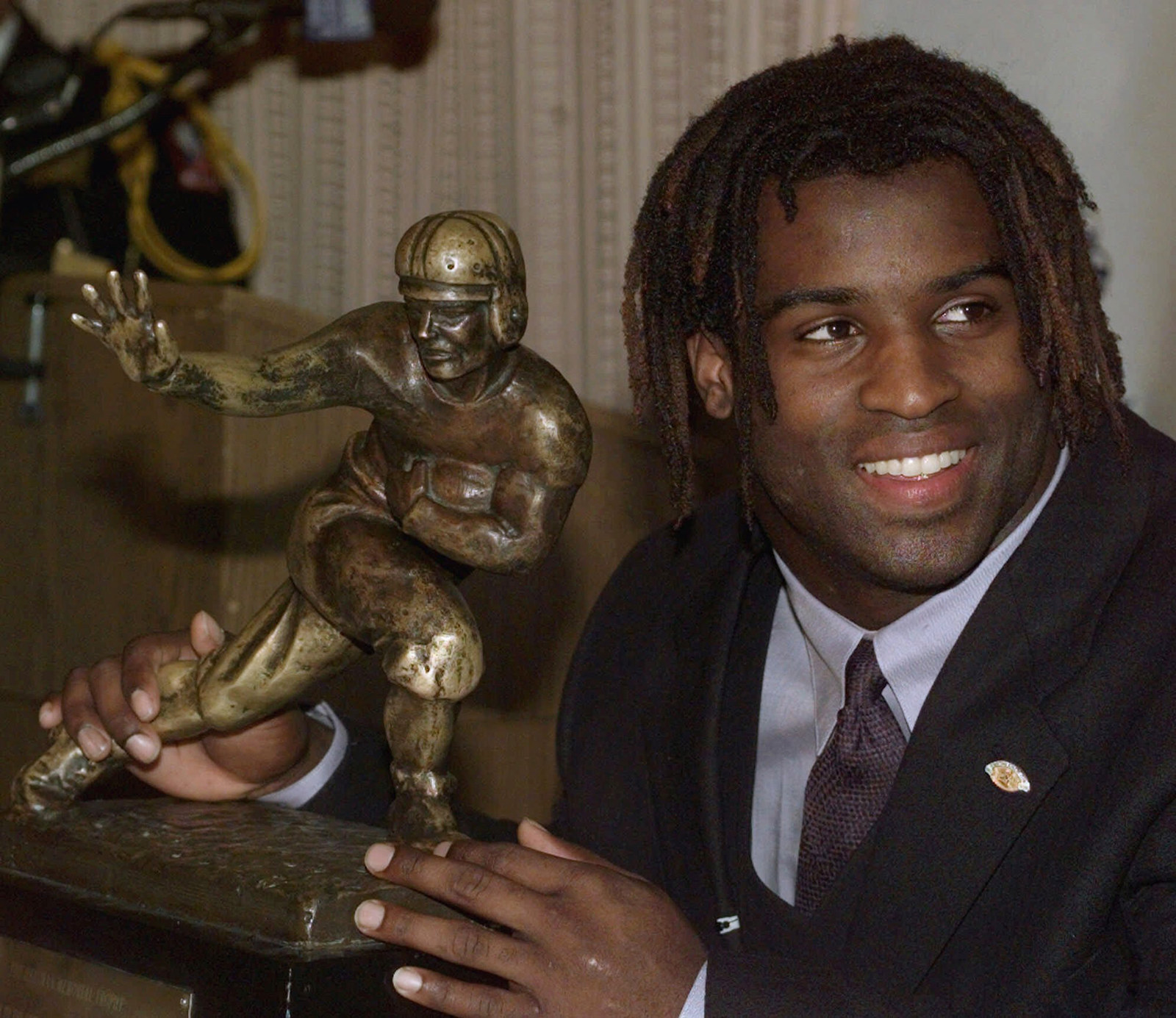 When Williams entered the 1999 NFL Draft, he was poised — and expected — to be the NFL's most exciting rookie. The New Orleans Saints, who drafted him fifth overall, could not resist the explosive running back's potential, and coach Mike Ditka traded away the rest of the team's picks that season and two for the next season to nab him. It was a lot of pressure, and Williams could not carry the team by himself. He was traded to the Miami Dolphins before the 2002 season.

Williams says he felt like he "was being strangled" during NFL work days, so he'd "hurry to get back home where I could relax and be myself." Many nights, that consisted of getting high and writing in a journal, reading, or playing guitar. Marijuana was the Band-Aid to quiet his underlying dissatisfaction. But when Williams began failing league-sanctioned drug tests over and over again, he was lambasted by fans, media, and the NFL.
Williams retired abruptly, just before the 2004 season. It would have been his third with the Dolphins. He'd tested positive for marijuana three times, and in the face of a suspension, he fled the league. He booked a one-way ticket to Australia, where he lived in a tent and hid from the football career he wasn't certain he wanted. But the Dolphins had paid Williams a signing bonus that was supposed to cover his career, and he owed them $8 million he didn't have. After a lawsuit, and the hiring of Nick Saban as head coach, Williams reconsidered his choices. "I thought to myself: If I don't go back to football...the way I left, my life is gonna be much more complicated," he said. "If I can go back and heal my reputation, my life is gonna be much easier. I saw perspective, I saw how football could help me."
He returned, his debt was forgiven, and after a four-game suspension he ran a subpar season for Miami.
But the year off didn't change much. He failed a fourth drug test in 2005 and was suspended by the NFL for the entire 2006 season. Instead of heading back to his tent, Williams joined the Canadian Football League. He appeared in 11 games with the Toronto Argonauts but suffered a broken arm, and during the recovery his Achilles tendon was nearly severed when a heavy door closed on his leg. He returned to the Dolphins after the 2006 season, drawing the the ire of the CFL, who'd been loaned a superstar only to see him yanked back. (Suspended NFL players are no longer allowed to defect to the CFL, under a bylaw known colloquially as the "Ricky Williams Rule.")
Williams finished out his NFL career quietly. He ran four more seasons in Miami, and after a one-year stint with the Baltimore Ravens, he retired — for good — after the 2011 season. He rushed for 10,009 yards during his 11 years in the league. Only six other retired players accrued more rushing yards in the same or fewer games. But Williams took something, for him, even greater away from this time weaving in and out of the NFL: time for reflection during his suspensions and experimentation with natural healing while in Canada. Both opened his mind to new adventures away from football.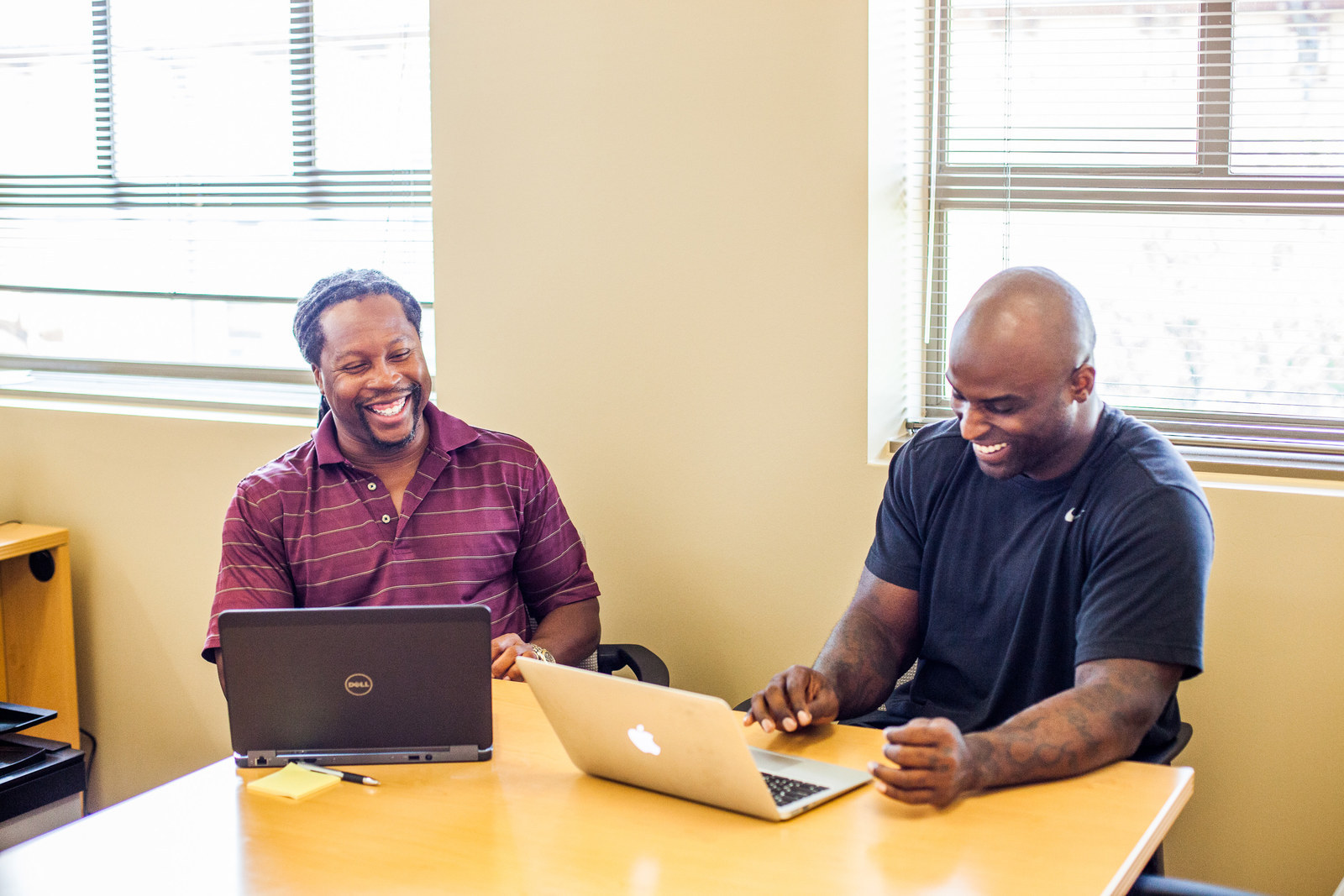 During Williams' first stint at the University of Texas, his on-field performance was far more illustrious than his academics. He carried mostly C's and D's — with A's in weight training and a psychology course. In the semesters leading up to his departure from UT and entrance into the NFL, he recorded consecutive semesters with straight F's.

But when he moved to Miami to play for the Dolphins, he began attending classes at Nova Southeastern University, which, conveniently, is also home to the Dolphins practice facility. As his stability in the NFL began its quick downward spiral, Williams pulled straight A's.
During his year abroad in Canada, Williams turned to osteopathy while recovering from his broken arm. It's an alternative form of healing focused on massage and stretching. Osteopaths are licensed health care professionals, and though many patients swear by it, the effectiveness of osteopathy is not proven.
The experience of osteopathy in Canada changed Williams' perspective on bodies and how they heal. "I was like, wow, something was very different. My headaches went away. My blurry vision went away. So I realized throughout this could be really helpful for athletes and decided to get really interested in that."
Upon returning to Miami, Williams completed a massage therapy program and received his license so he could practice craniosacral therapy, a brain-centric form of osteopathy that is supported by only weak scientific evidence. Williams trained with healer Hugh Milne, a third-generation osteopath who runs a craniosacral institute in Big Sur, California. Williams will take his University of Texas classes online next semester so he can travel to Tuscany to practice with Milne.
Williams' enthusiasm for alternative healing is a corollary to his pursuit of a psychology Ph.D. His pursuit of psychology and brain-related healing bears the impact of his physically and emotionally demanding career. In 2012, Williams appeared on longtime friend Dan Le Batard's ESPN show to share his perspective on football-related brain trauma.
"If it shows up, I'll get to work and see what I can transform."
"Yes, I'm aware that football is a rough sport," Williams said, "but instead of saying, 'Oh, I'm doomed to brain trauma,' I said, 'What can I do about it?' And I just started taking care of my body. I found people, places, and things that really helped me. Again, I don't know what's going to happen to me in 10 years, but I look at the other things I've learned about, and the way I see the world."
Williams continues to hope football players — current and former — will give craniosacral therapy a shot. As for his own cognitive health, Williams doesn't believe he's old enough to begin feeling any effects of repetitive hard hits to the head. "If I do start having complications, I'm up for it," he said one day between classes.
"I love change and transformation, and ultimately, I think healing is transformation and change. So if it shows up, I'll get to work and see what I can transform."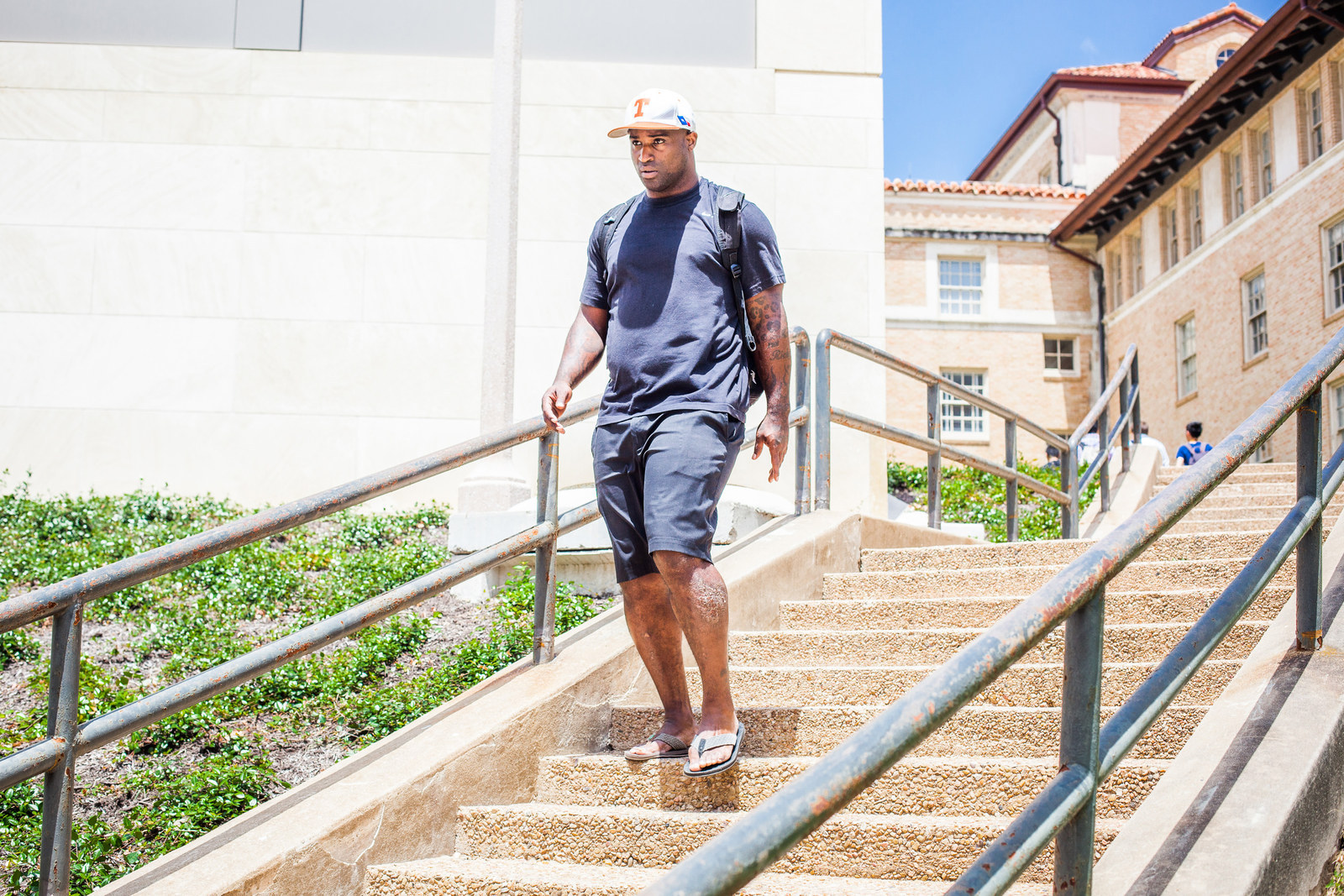 Williams asks as many questions as he is asked, and he answers with long, wandering trains of thought. He is earnest and seemingly incapable of posturing. He was the sensitive, thinking man's athlete in a league that cherishes platitudes about grit and hard-nosed perseverance. Physically, it was as if he was built in the image of the NFL's ideal. Emotionally, he could never seem to become that athlete who spoke in expertly formed sound bites. Williams often did interviews with his helmet on, a physical shield that hardly served to protect him from the constant media intrusion.

"What inspires me to pursue a doctoral degree is simple: helping people," Williams wrote in a sample application essay for a Ph.D. program. "I aim to reach my greatest potential and share what I have learned with others around me in an effort to facilitate their success. My desire to help others, who like me, have innate strengths and talents waiting to be discovered, informs my academic and research interests and goals."
Academia is like football in that it allows daily practice and learning within a narrow scope, Williams says. It's the process of research that appeals most deeply to him now, and the never-ending work is an outlet that, in the past, has proved unwieldy for Williams. Test-taking, dreaded by most students, gives Williams a chance for flair, for showing the quantifiable result of hard-earned ability. "It reminds me of the weekly football game," he said. "You practice all week, then you've got to show what you've got."
In class, Williams is anything but the quiet, shielded presence he was on the field. His curiosity is boundless, his love for knowledge uncontainable. Since returning to UT, he's earned "nine A's and two A-'s," he notes, making the distinction clear.
"Ricky was definitely one of those guys," said professor Tolga Ozyurtcu, who had Williams in a Philosophy of Sport class in spring 2014. "Like, oh man, we've got a minute left of class and you're going to ask that question right now? He got some eyerolls from the back of the class."
"If the goal of a Ph.D.'s work is to fill in knowledge we don't have, he has that mentality," he continued. "He's looking for answers and asking good questions."
In a child psychology class on a late June afternoon, Williams sheepishly asked to borrow some paper from me. He forgot his notebook that day, and he prefers to take notes by hand. "If I'm doing something active, like writing physical notes, I feel like I'm learning. It's an athlete thing, I think."
At the end of class, Williams tucked his four sheets of notes into his backpack and headed home to study for the next day's exam. "I didn't realize it until I came back how much I enjoyed school and how important it is for me to do well," he said. "I just think if I would have taken school more seriously when I was here the first time, my whole NFL career would have been so different."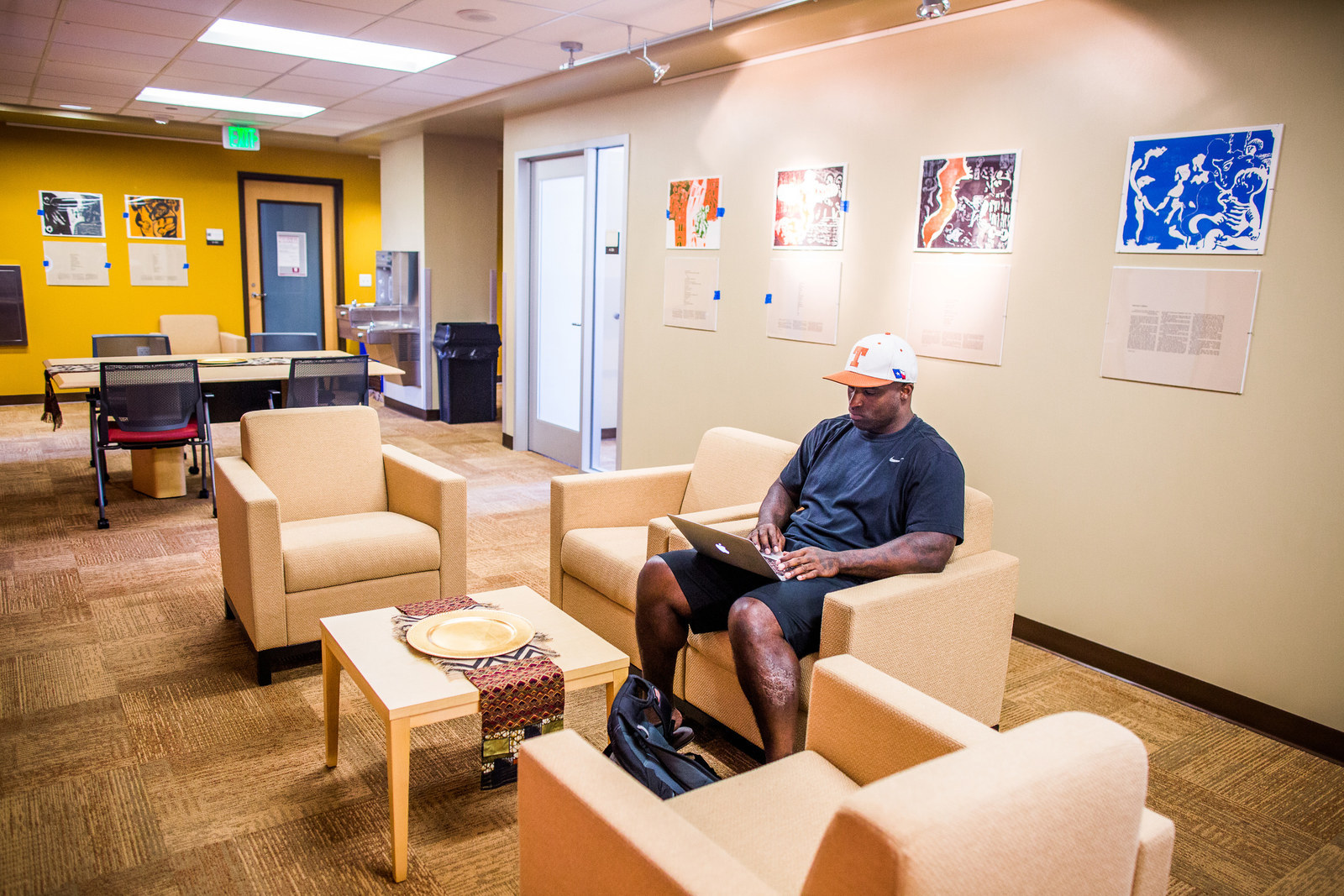 These days, Williams goes totally unnoticed walking around the campus where he is honored with a larger-than-life statue at the corner of the Darrell K Royal-Texas Memorial Stadium — even wearing his Longhorns hat and Longhorn-orange sneakers.

But in class, when younger students want to figure out who the older person asking endless questions is, they recognize Williams. Before a GRE prep course one June afternoon, he asked a small group of students if they knew who he was.
"I played as you in NFL Blitz, man!" exclaimed Terrell, one of the students.
Williams, sipping a kombucha and scrolling through a practice GRE test on his MacBook Air, seems genuinely surprised by this. The 15 or more years' difference between Williams and his classmates tempers his "celebrity on campus" status — and he doesn't mind that.
"I just think if I would have taken school more seriously when I was here the first time, my whole NFL career would have been so different."
The statue of Williams, erected in 2012, is in the shadow of the scoreboard at the stadium where Williams recorded 72 touchdowns in four years. At its foot, a plaque reads: "With remarkable determination, a rare combination of speed and strength, and a flair for the dramatic, Ricky Williams ran his way into the record books and into the hearts of Longhorns everywhere."
"It's pretty cool," he deadpans, but he's uninterested in lingering for any longer.
A building connected to the stadium houses the university's athletic facilities and academic department. Upstairs, across from offices belonging to academic counselors for student-athletes, is a small museum that highlights the moments and players that have defined the prestigious UT athletics program. Williams, of course, is one of the centerpieces. Casually, he strolls past the Heisman Trophy in his name, which the University keeps in a glass case. His personal duplicate of the Heisman is "somewhere" in his mom's house.
A midsize screen lets people choose which category of UT highlights they'd like to play. As Williams walks to the video player, he jokes: "Just in case anyone is walking by." He scrolls to "running backs," taps it once, and Jay Z and Kanye West's "N***as in Paris" begins to play over his highlights.
Onscreen, a younger version of Williams breaks tackles and hurls himself down the field with impressive agility and the power of a steamroller. "I was pretty good," he says unceremoniously, then turns his back and walks away.
Though Williams spends his days surrounded by reminders of his former life in football, he says his family is the source of most of his pride. "Fifteen years ago, I didn't ever think I'd ever have a happy or stable family situation. That only existed in television or when I was growing up," he said.
"Ricky comes home now and says to our kids, 'Look at this A+ I got!' and they're like, 'OK, Dad,'" his wife Kristin said over coffee.

"I think it scares them when they see how much homework and studying I do," Williams jokingly said later.
Kristin and Ricky met on an airplane in 2000 while he was with the Saints and she was a flight attendant with Delta. They married in 2009. Their first son, Prince, was born in 2002. Together they have a 9-year-old daughter, Asha, and a 5-year-old son, Elijah. Williams has two children, Marley and Blaze, from other relationships.
For Williams, whose life has been defined by instability and change, the routine of a standard nuclear family is a challenge he's only recently come to accept.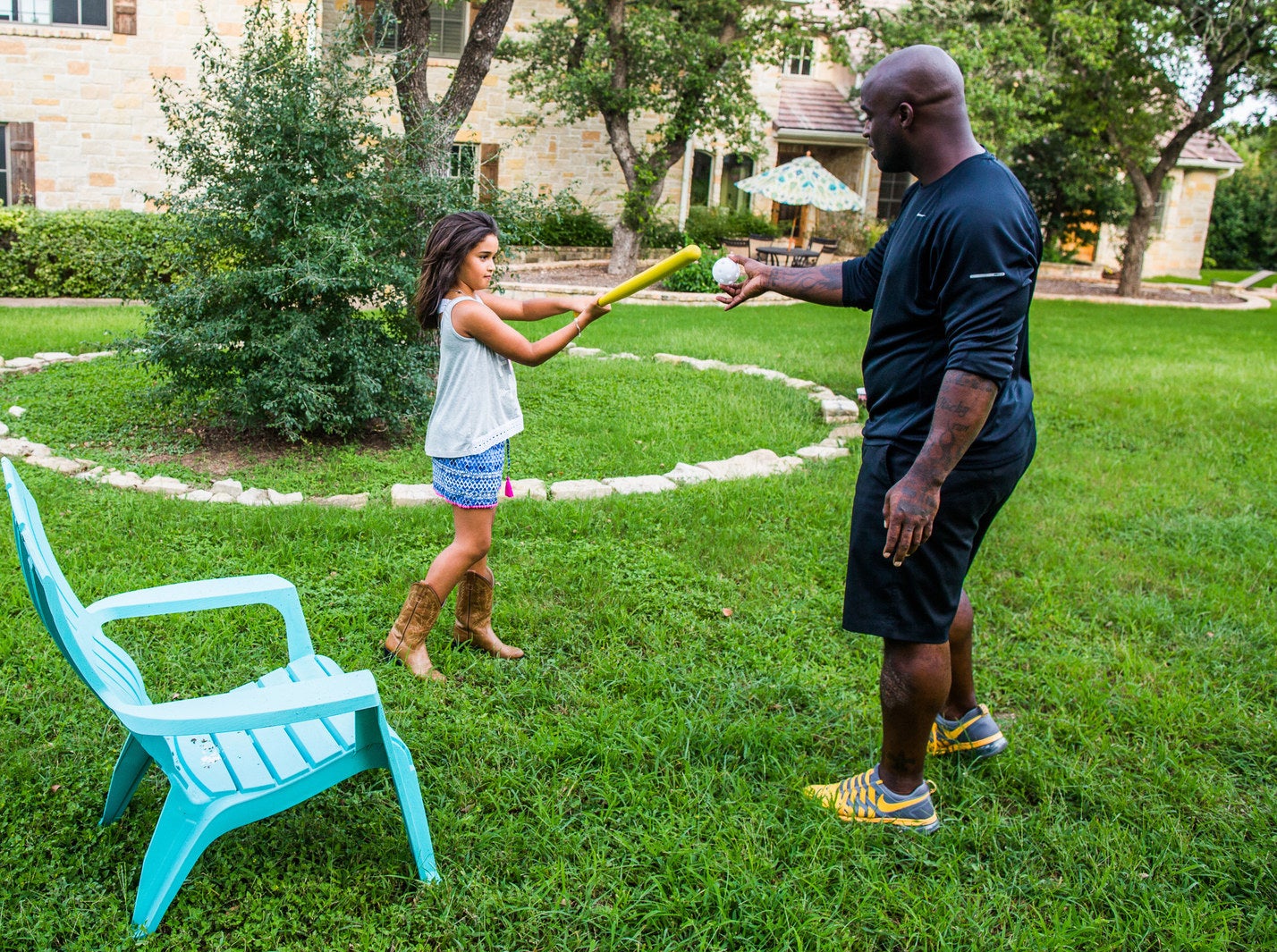 Kristin said that early this summer, she and Ricky were outside checking the mail when she noticed that the trash and recycle bins were still out from the previous night's collection. She told Ricky to grab one, and they brought them back from the curb. She thought nothing of it. The next day, she said, Williams called her to say, "Hey, I was really pissed off that you asked me to bring in the trash."

"I thought about it and I realized I'm still adjusting to typical father/husband roles," he told her later. "But I think I kinda like this relationship thing. I actually feel really good now for taking in the trash. Thank you so much."
After he told her this, Kristin said, she laughed and let out an elongated "OK, Ricky."
Kristin's needs have weighed into Williams' search for a Ph.D. program — "She hates the cold, so Michigan is out," he said. Kristin hopes he decides to stay at UT for his doctorate. He is also considering programs at Columbia University in New York and at Claremont Graduate University in Southern California.
"I'll say to Ricky, 'We need to be stable and stay put,'" she said. "Ricky, however, says routine is as internal as external."
Williams admits he was "fairly ambivalent" about returning to school, but he was 50 credits in to his bachelor's degree and decided it could open up options for him in the future. Coaching college football, which requires a college degree, is also high on his list of potential career moves.
But if he chooses academia, he aspires to focus on the study of motivation and "flow," a positive psychology principle that emphasizes living in the moment, dedicating oneself fully to a pursuit.
Originally, Williams was on track to graduate after the spring 2016 semester and set a date in July of this year to take the GRE, the standardized graduate school admissions test. In late August, he said he'd spent the summer wrapped up in his research about athlete motivation, and so he'd pushed the GRE date back to September. Then, in early September, Williams' daughter Marley, 16, moved in with him, Kristin, and their three kids, which he said required "adjustments." Now he's shuffled his projected undergraduate graduation date to after the fall 2016 semester.
To the outsider, it could seem like Williams is waffling again. But he doesn't see it that way.
"I find every time I decide or plan what it's gonna do, it ends up going the other way," he joked in between classes in June. "The world today is going to look different to me in a month. I try to stay true to that and not put myself in a position where it's difficult to get out. Like the NFL. I've learned a little bit."