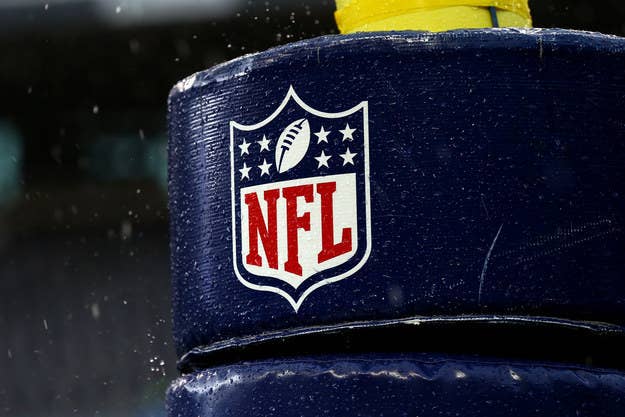 Two days before the 49th Super Bowl, the NFL is being challenged on its status as a tax-exempt nonprofit in Congress and the New York State Senate.
State Sen. Brad Hoylman, who represents Manhattan's 27th District — where the NFL's headquarters is located — presented a bill to the state Senate on Friday, asking to amend the section of the state tax law that allows the NFL to hold unique privileges as a tax-exempt corporation. Assemblywoman Deborah Glick is sponsoring a similar bill in the state Assembly.
Hoylman's hope is that by revoking the league's status in the state law, it will send a message to the federal government that a corporation that nets nearly $10 billion in annual revenue does not need the financial privileges afforded to other 501(c) nonprofits.
In Washington, Utah Rep. Jason Chaffetz has proposed a similar bill to alter the federal tax law. His bill would exclude all professional sports leagues from consideration for tax-exempt status. In addition to the NFL, the PGA Tour, NHL, and LPGA are recognized as nonprofit organizations. MLB voluntarily surrendered its tax-exempt status in 2007, and the NBA has always been a publicly for-profit organization.
Chaffetz makes his stance clear: "To say establishments like the NFL are not for profit organizations is laughable. They are a for-profit and should be taxed as such."
There have been other recent efforts in Congress to alter the NFL's tax-exempt status, including legislation proposed by New Jersey Sen. Cory Booker and Washington Sen. Maria Cantwell, but those bills failed to gain wide support.
Hoylman recognizes that this initiative may be a multiyear effort, but is determined to get the NFL to contribute financially to the state in which it's headquartered.
In 1966, a clause was added to the tax code that states:
IRC 501(c)(6) provides for exemption of business leagues, chambers of
commerce, real estate boards, boards of trade, and professional football
leagues (whether or not administering a pension fund for football players),
which are not organized for profit and no part of the net earnings of which
inures to the benefit of any private shareholder or individual.
The NFL's argument for maintaining its status has always been that the bulk of the leagues overall revenue — about $9.5 billion per year — is earned by its 32 individual franchises. However, the league collects dues from the individual teams to cover league payroll and also collects revenue, largely through television broadcast deals, and distributes that to individual teams. According to reports, Commissioner Roger Goodell earned $44.2 million in 2012, which included his $3.5 million salary and a $40 million bonus.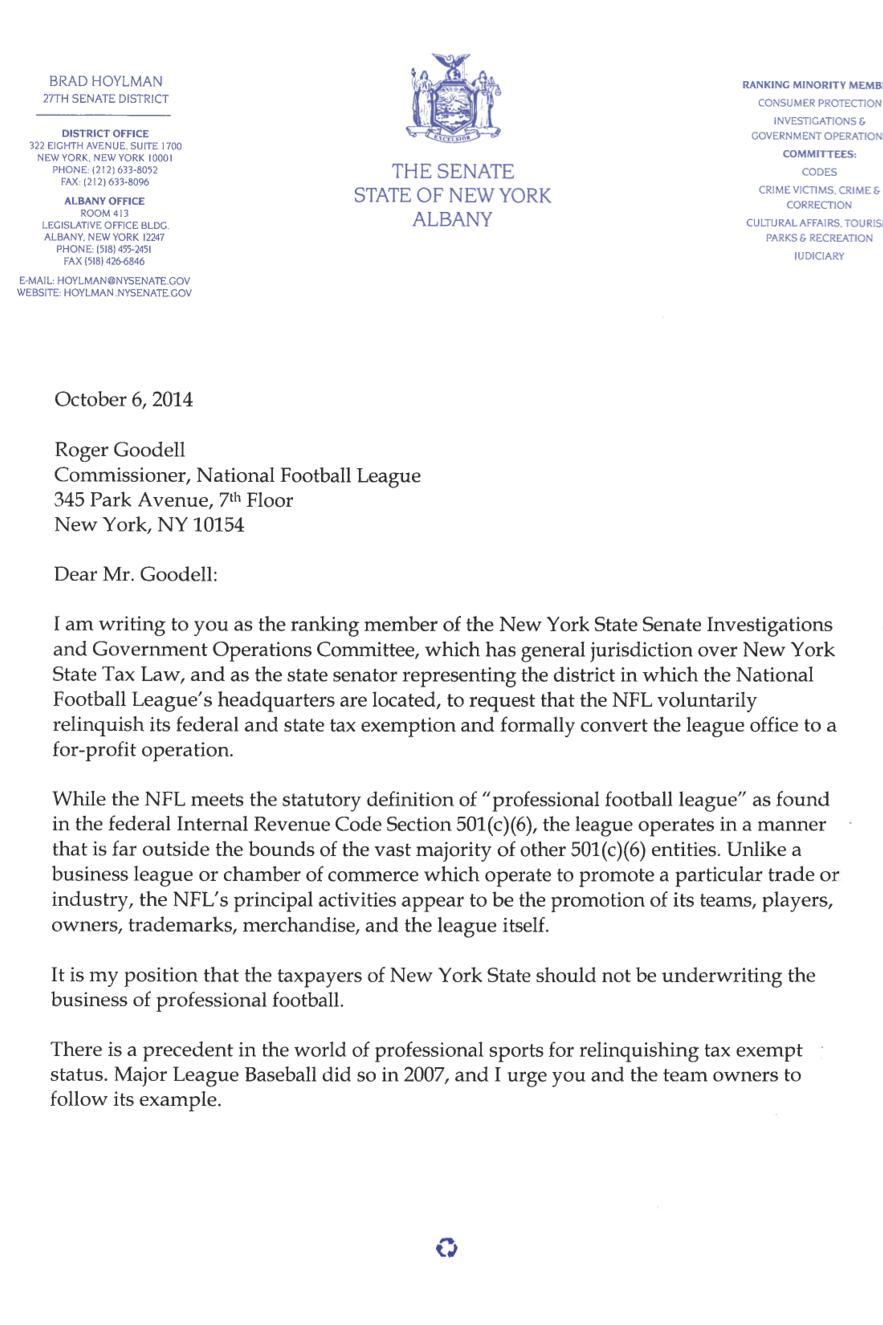 Politicians looking to fight the NFL's tax-exempt status face a major hurdle: The league spends more than $1 million annually on lobbyists to help it retain privileges like its tax-exempt status.
This season has been a turning point for the public perception of the NFL, though. Goodell's handling of the Ray Rice domestic assault incident hung over the league through the season; Adrian Peterson was charged with felony child abuse, though he plead guilty to a lower charge; key players were suspended for outdated drug policies; and now, the New England Patriots are being investigated for cheating during the AFC Championship game.
During a news conference on Friday, Goodell told the crowd that it has been a year of learning and adversity for him. He says the league has gone through a "year of humility."