Have you ever wondered why your mom's homemade chicken soup tasted so delicious? I hate to break it to ya, but love wasn't the ~only~ reason it tasted so good. It was FROM SCRATCH.

Easy, like: Cook some chicken with some vegetables in water. Then strain it. Now you have THE ONLY TWO THINGS you need to make killer chicken soup: cooked chicken + chicken broth.
Start by getting these ingredients together to cook the chicken and make the broth.
1.
First, put everything EXCEPT the chicken in a large pot. Then add the chicken in a single layer, and pour the water in.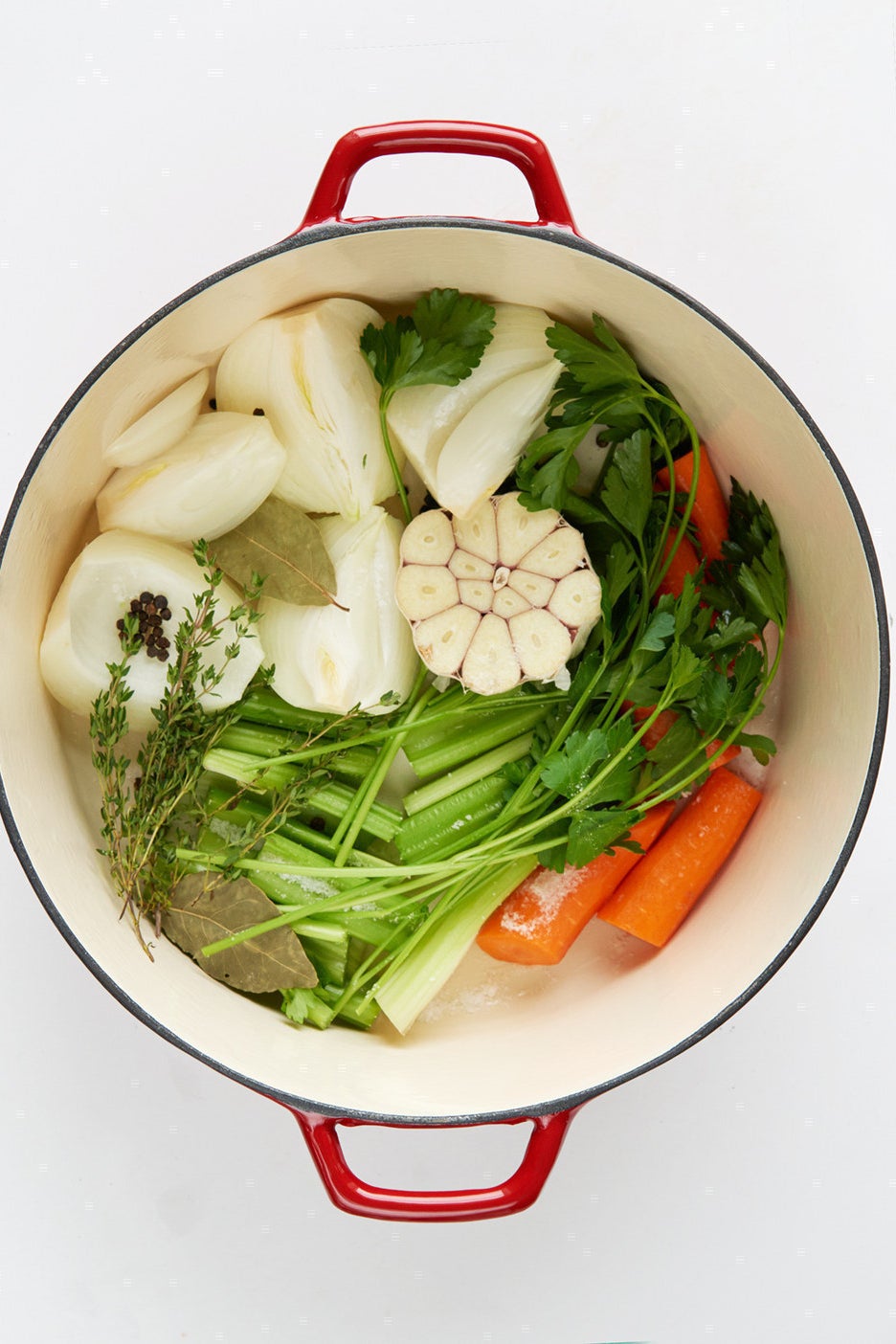 2.
Bring the whole thing to a boil and then turn it down to a gentle simmer. You'll want to see some casual bubbles popping up here and there, but not a ton of bubbles. Skim off any fat from the top of the pot and discard.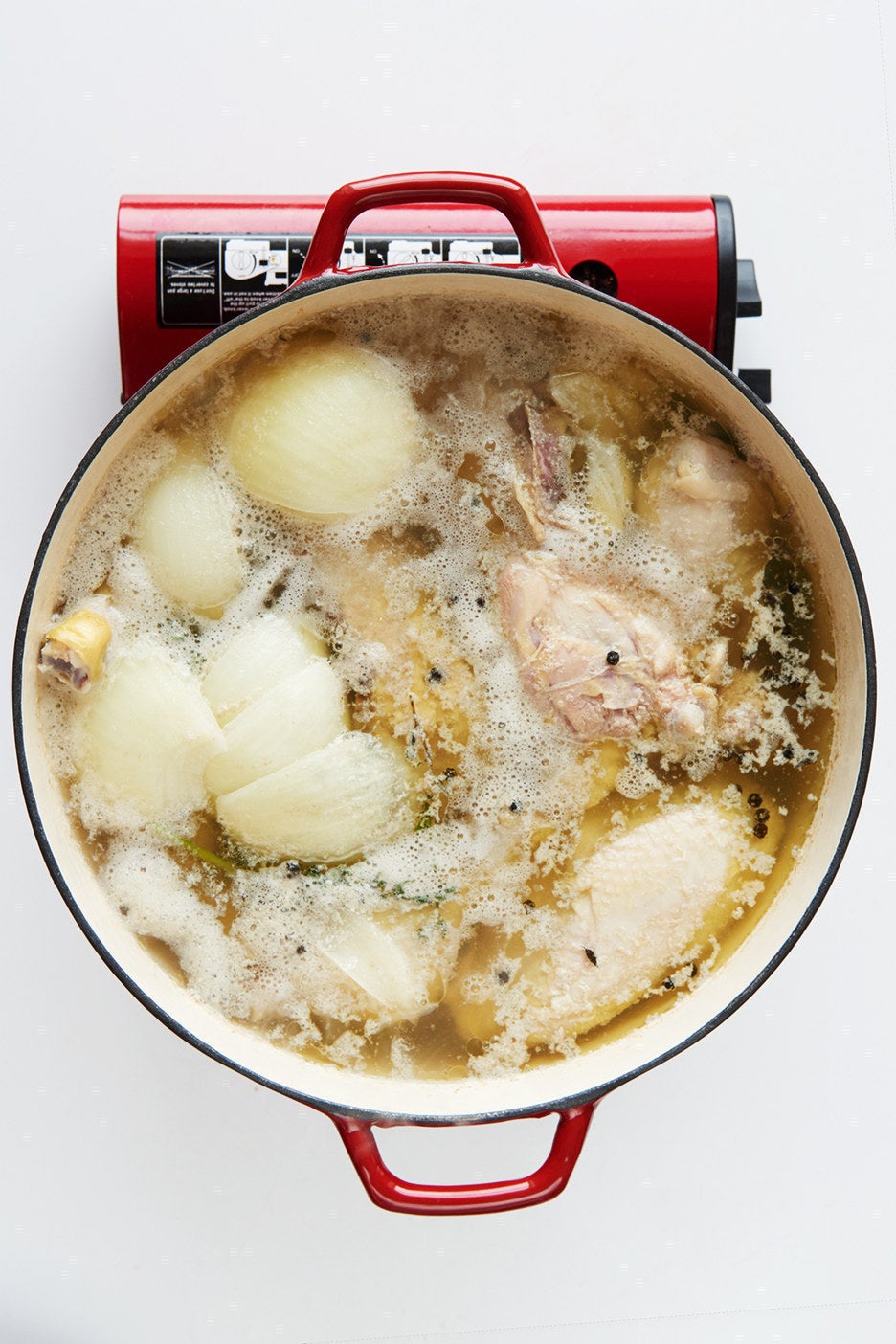 3.
Start checking the chicken around 25 minutes. It's done when you can pull the meat apart easily using two forks. Shred the chicken into bite-size pieces, discarding the skin.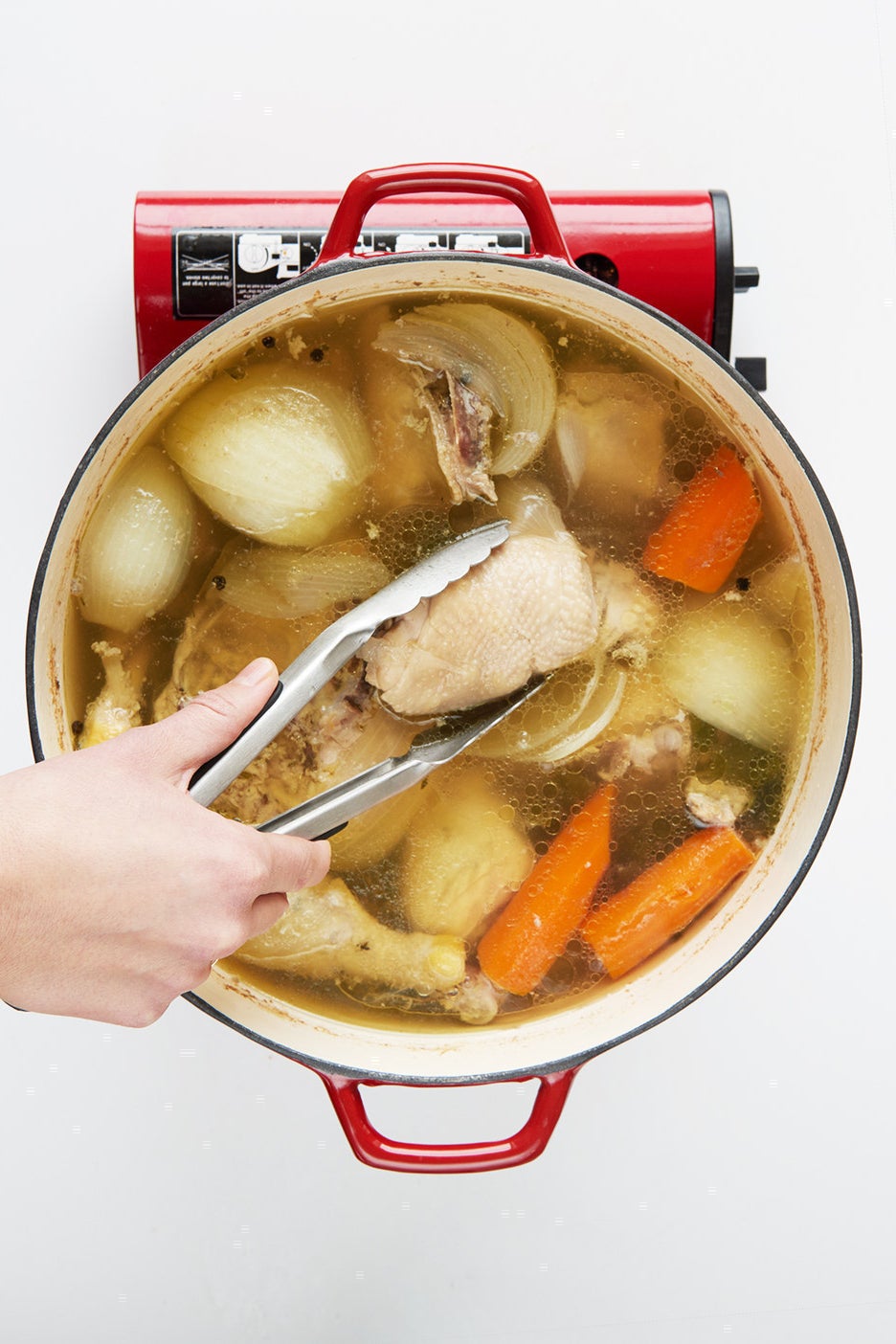 You can save the chicken bones to make more stock later, or discard them.
4.
Now it's time to strain that broth — aka liquid gold. This is SO much better than anything you can buy at the store.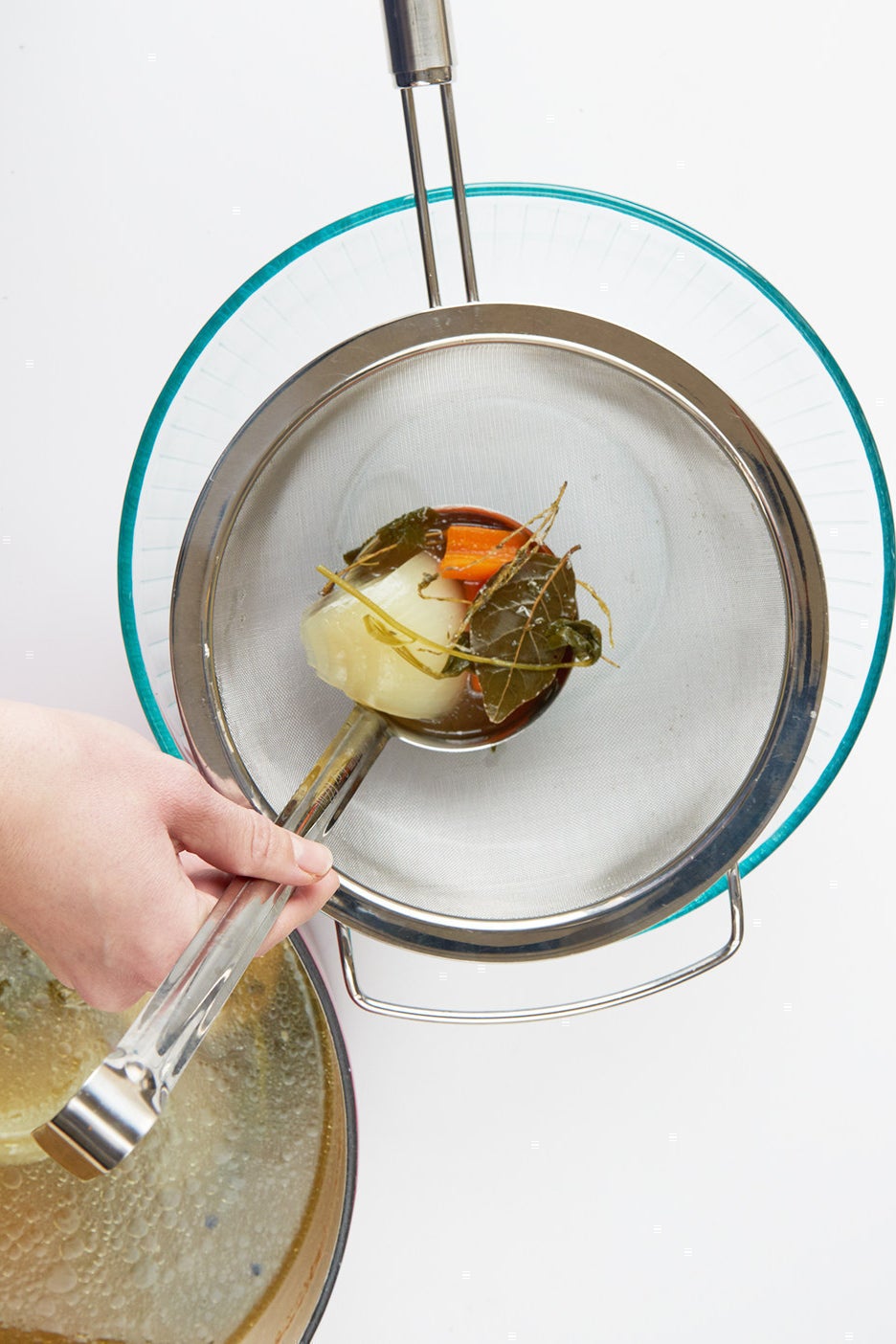 To avoid painful splashing and any burns, scoop out the big chunks first and then pour the liquid over top.
P.S. If you don't have a fine mesh strainer already, it makes things like this super easy. I love this one from Oxo and use it all the time making ricotta, straining pasta, and of course, making this soup.
5.
You should have about 8 cups of chicken stock and 4 to 5 cups of shredded chicken.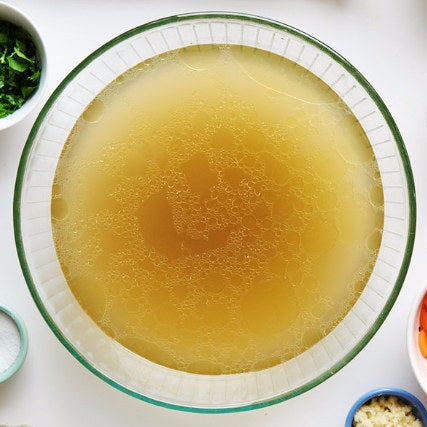 Homemade Chicken and Broth
Makes 4 to 5 cups shredded chicken and 8 cups chicken broth
2 stalks celery, quartered
1 large carrot, quartered
1 onion, quartered
1 head of garlic, halved horizontally
5 to 7 fresh parsley sprigs
8 to 10 thyme sprigs
2 bay leaves
10 to 15 peppercorns
2 teaspoons kosher salt
3 ½ to 4 pounds bone-in, chicken pieces, a mixture of dark and light meat 10 cups cold water
Put all the ingredients except the water in a large stock pot, with the chicken on top. Cover with the water, ensuring that the chicken is submerged. Bring to a boil and immediately reduce to a bare simmer. Cook until the chicken is cooked through, 30 to 35 minutes, skimming off and discarding any foam that rises to the top of the surface. Remove the chicken from the stock and set aside to cool slightly while you strain the stock through a fine-mesh strainer and discard the solids
Shred the chicken into bite-size pieces, discarding the skin. (You can save the bones to make more stock another time or discard them.)
At this point, you can make soup right away or refrigerate the chicken in an airtight container for up to 3 days. You can refrigerate the stock in an airtight container for up to 1 week, or freeze it for up to 2 months
Recipe by Lindsay Hunt
Now that you have that AMAZING broth, you can make chicken noodle soup in MINUTES.
The full recipe and four delicious variations are at the end of the post.
You'll need these ingredients to make the soup.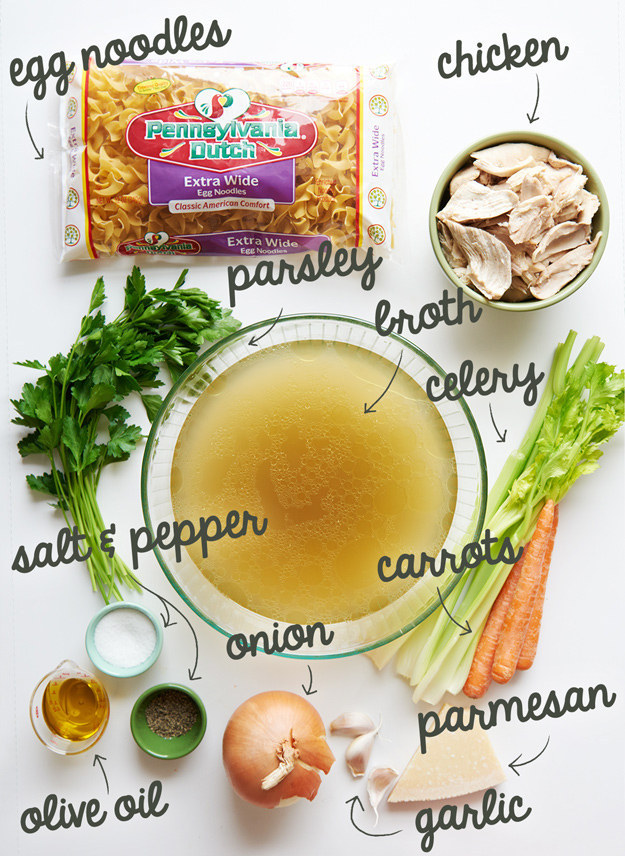 6.
Start by heating the olive oil, then add the onions, carrot, and celery, and season with salt and pepper.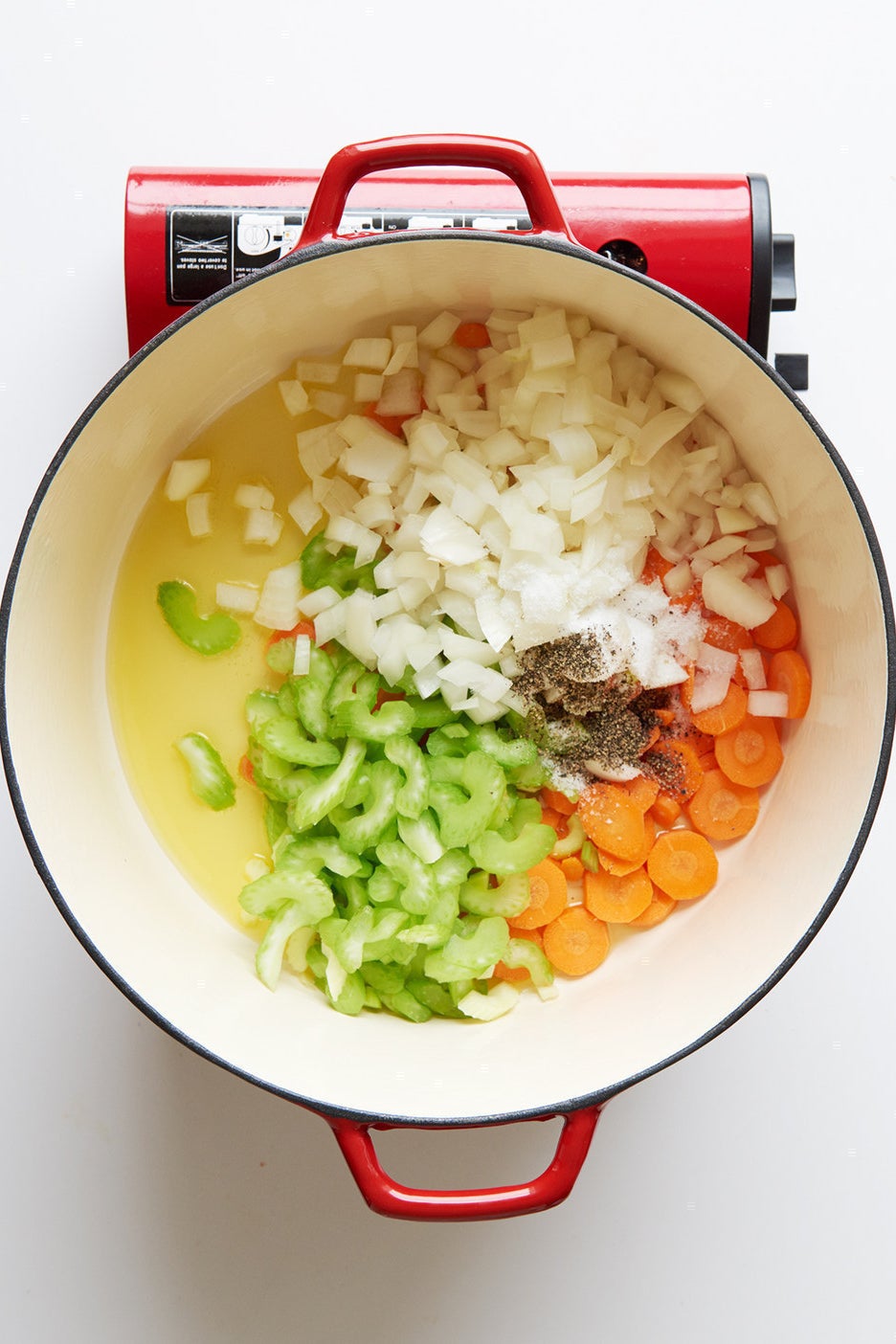 7.
Add the garlic and sauté until it's fragrant, one minute more.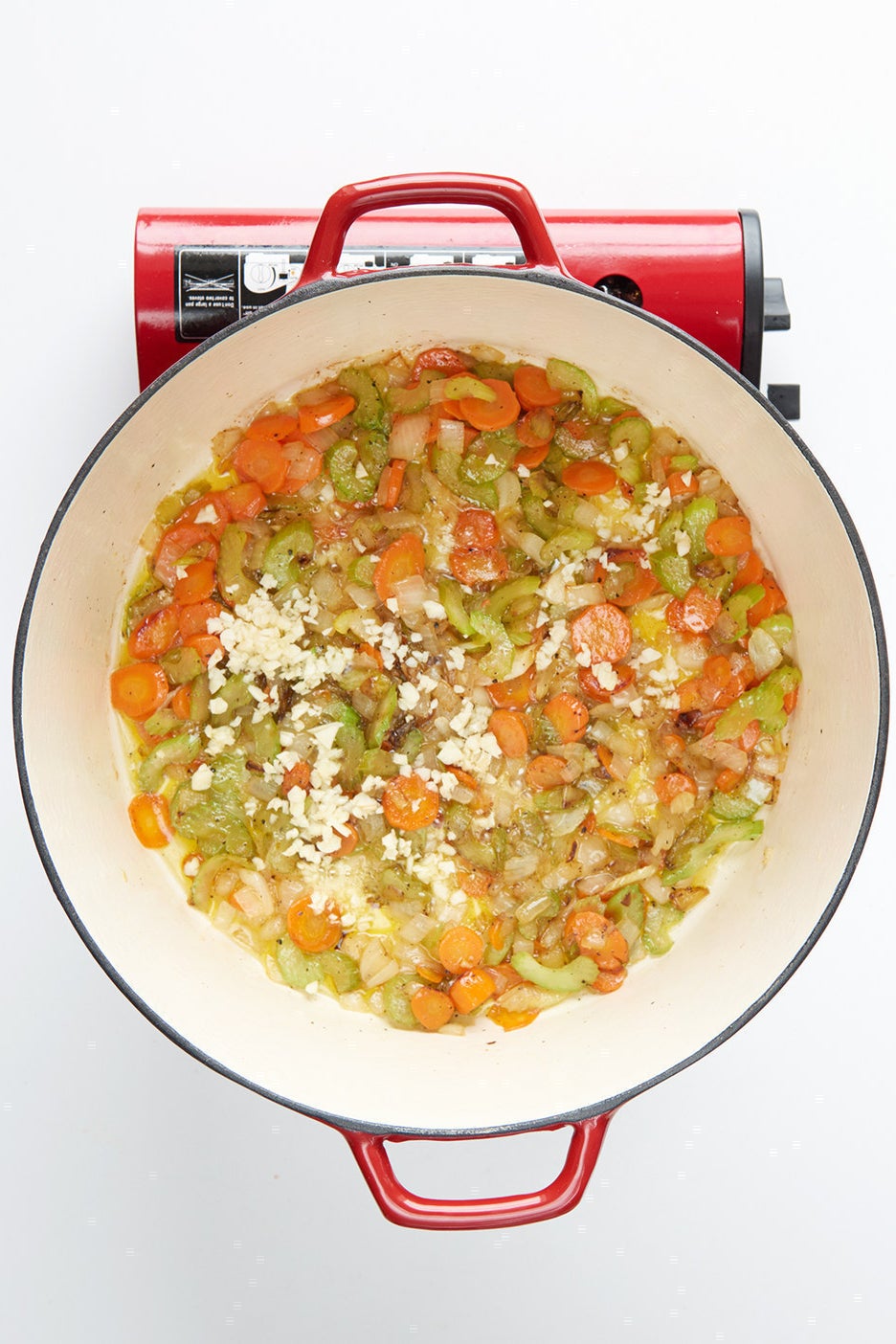 8.
Add the stock and bring it to a boil. Stir in the noodles and cook for 6 minutes.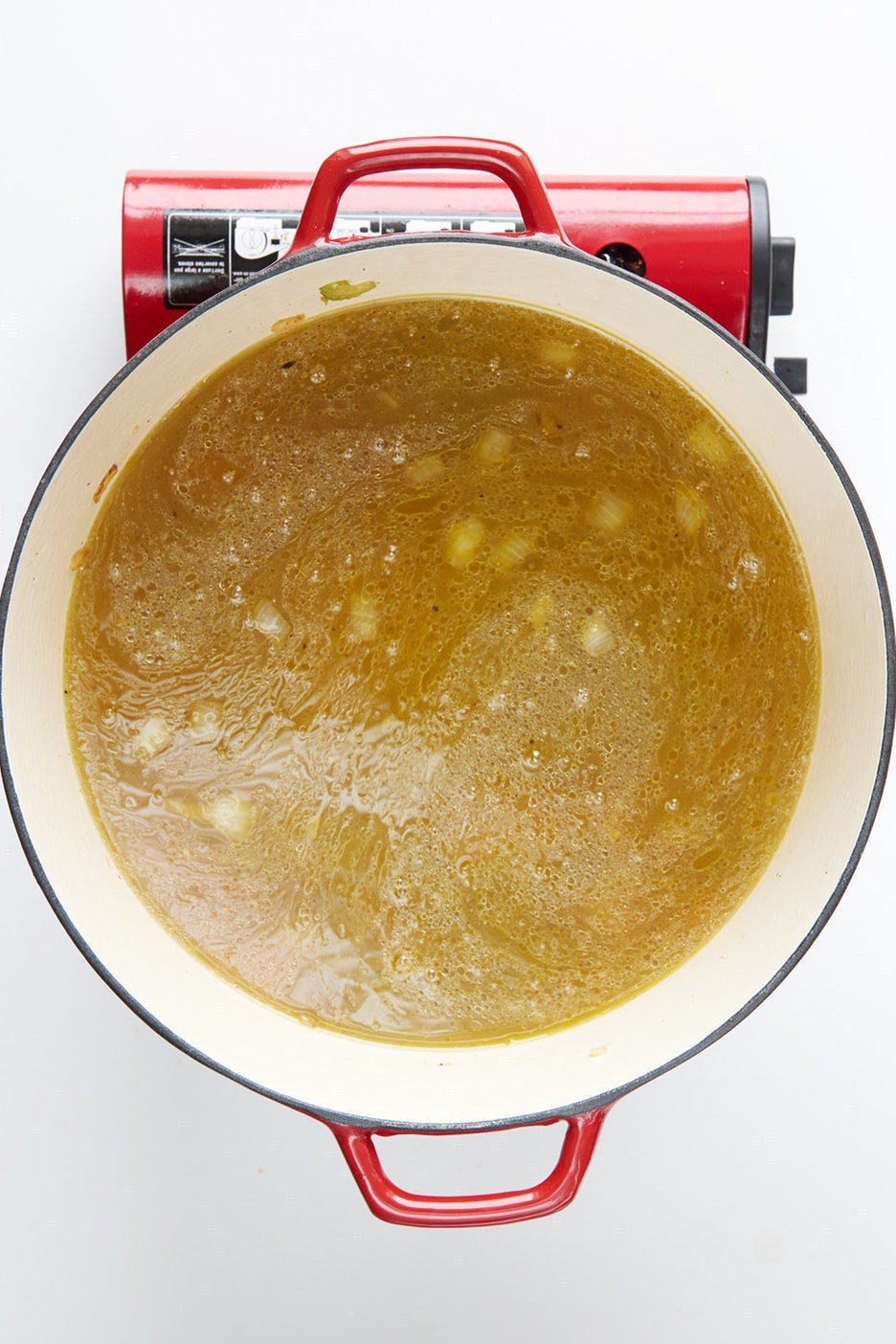 9.
Stir in the chicken and cook until heated through and the noodles are just tender, about two minutes more.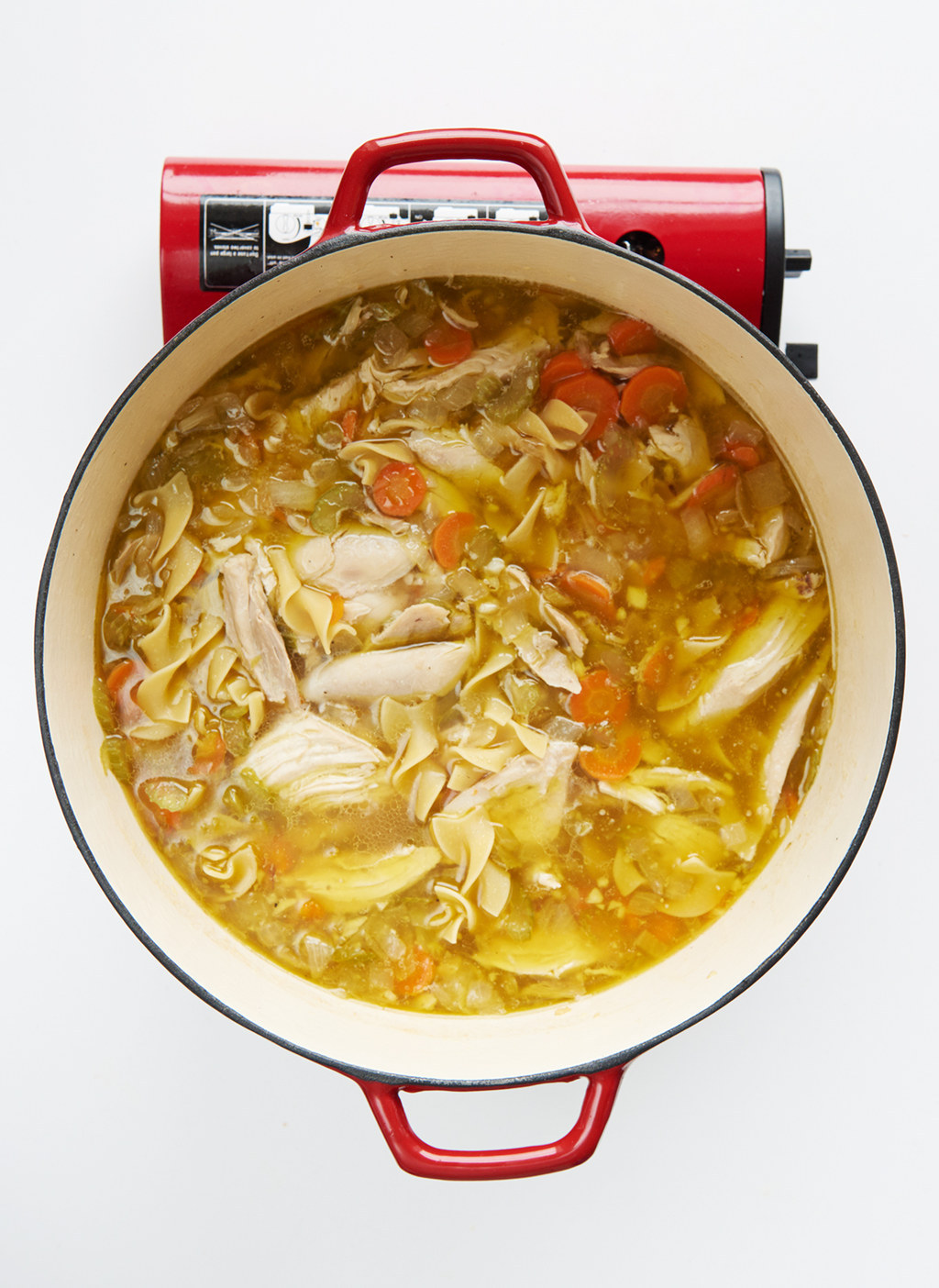 10.
Stir in the chopped parsley and season with salt and pepper to taste.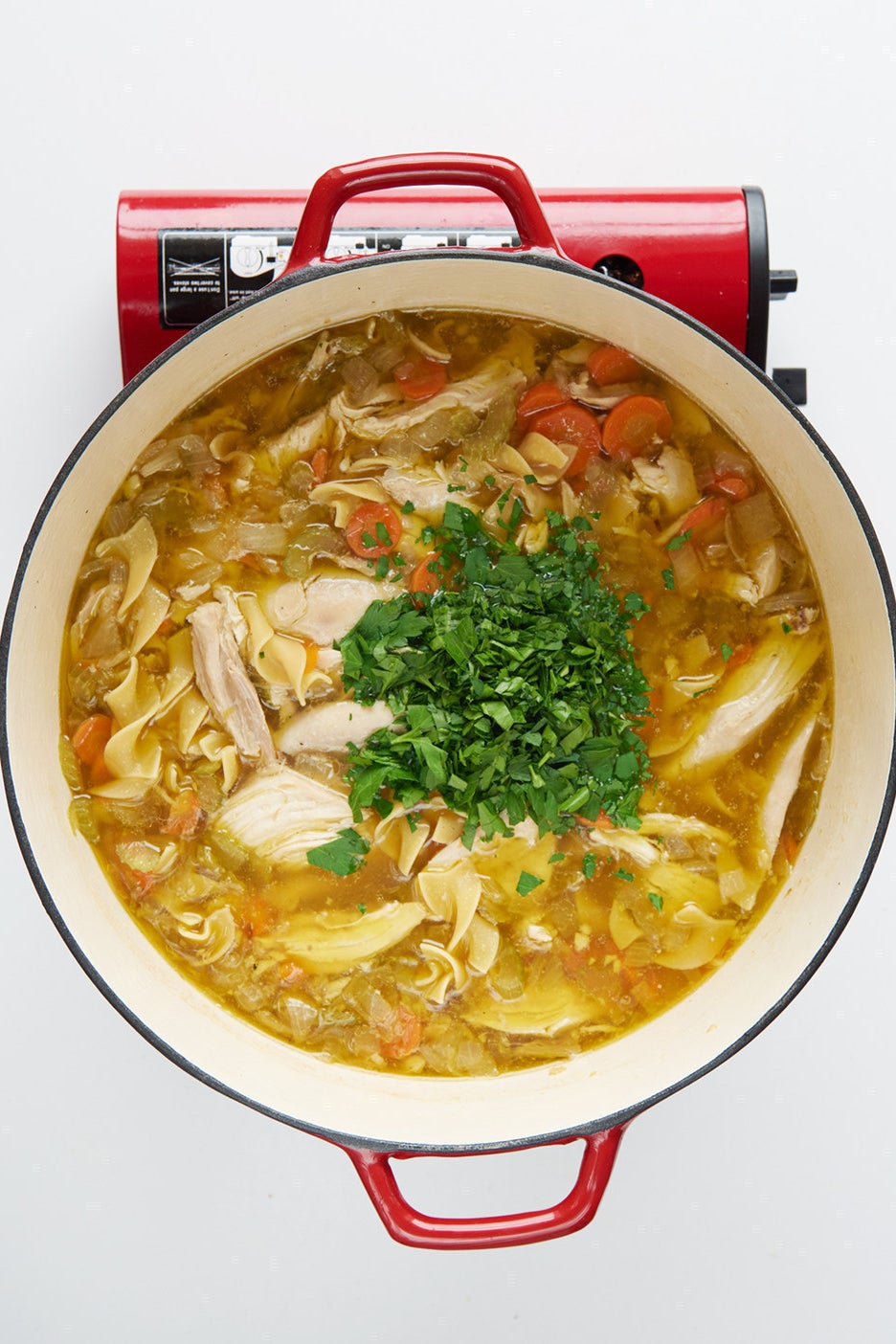 11.
Serve topped with Parmesan cheese. Lots and lots and LOTS.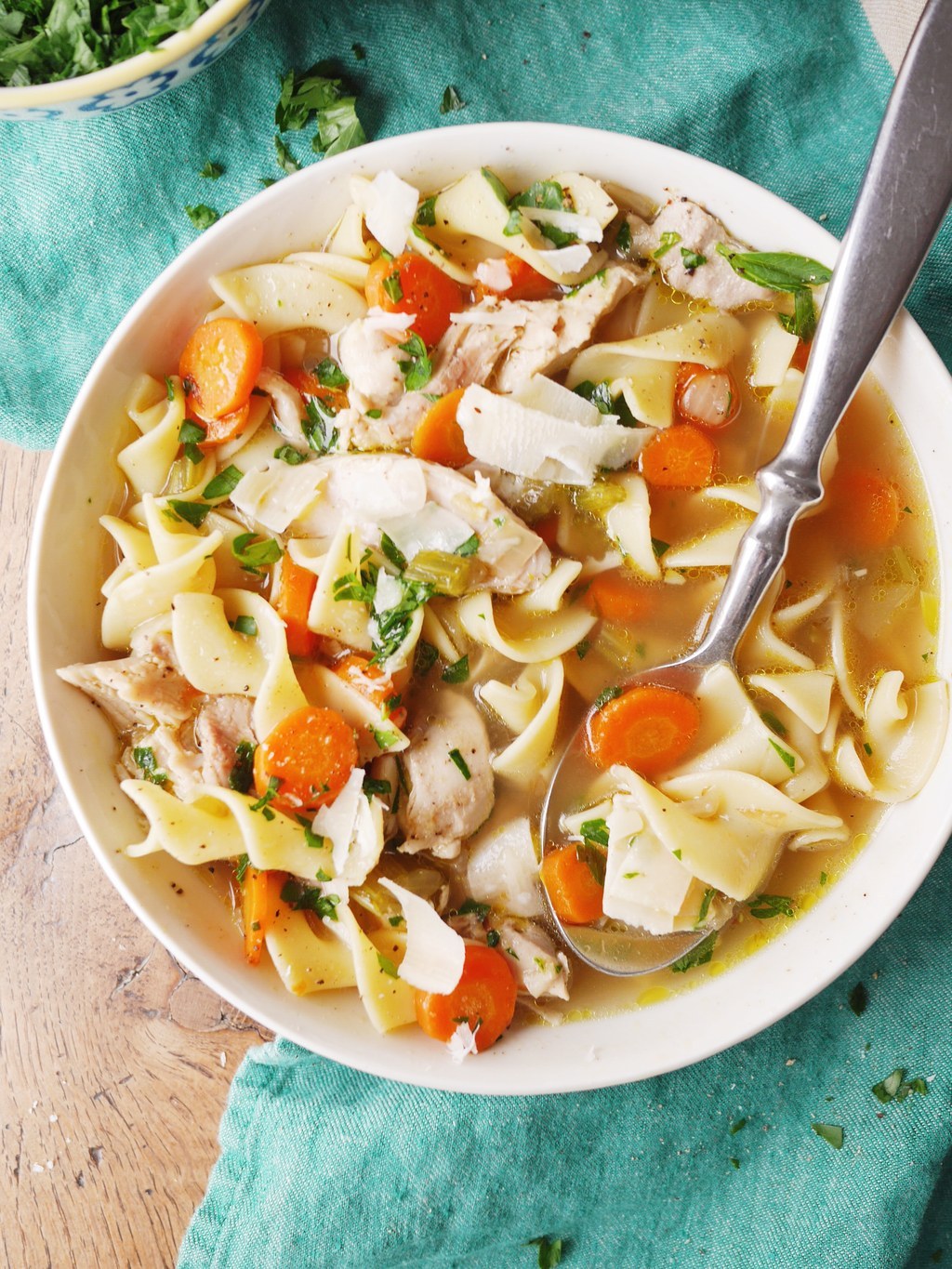 Classic Chicken Noodle Soup
Serves 4 to 6
¼ cup olive oil
1 large onion, chopped
3 large carrots, sliced
4 stalks celery, chopped
Kosher salt and black pepper
3 cloves garlic, chopped
8 cups chicken broth (see recipe above)
8 ounces egg noodles
4 to 5 cups coarsely shredded chicken (see recipe above)
½ cup chopped fresh parsley
Parmesan, for serving
1. Heat the olive oil until shimmering over medium heat in a large soup pot. Add the onion, carrots, celery, and 1 teaspoon each salt and pepper. Cooking, stirring frequently, until the vegetables are very soft, about 15 minutes. Add the garlic and cook until fragrant, about 1 minute. Add the stock and bring to a boil.
2. Add the noodles and cook 6 minutes, then add the chicken and cook about 2 minutes more, until the noodles are cooked through and the chicken is warmed through. Season to taste with salt and pepper, then stir in the parsley. Serve topped with Parmesan.
MAKE AHEAD: Do not add the noodles or parsley. Cool and refrigerate the soup in an airtight container for four days, or in the freezer for up to two months. Reheat on the stove and add the noodles and parsley just before serving.
Recipe by Lindsay Hunt
OK! Now that you know how to make chicken soup you can use the same general method to make endless variations. To get you started, try these four delicious ways to use the chicken and broth.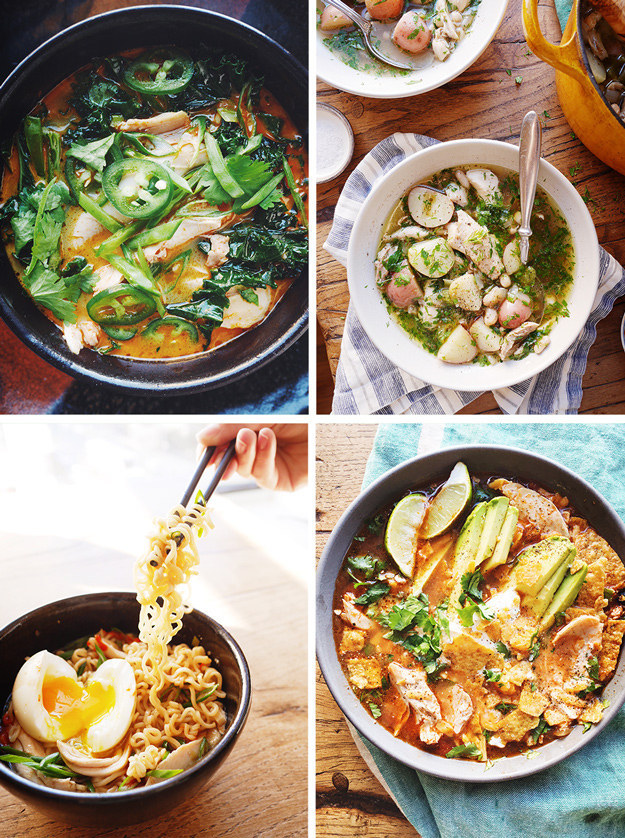 Lemony Chicken Soup With Potato and White Beans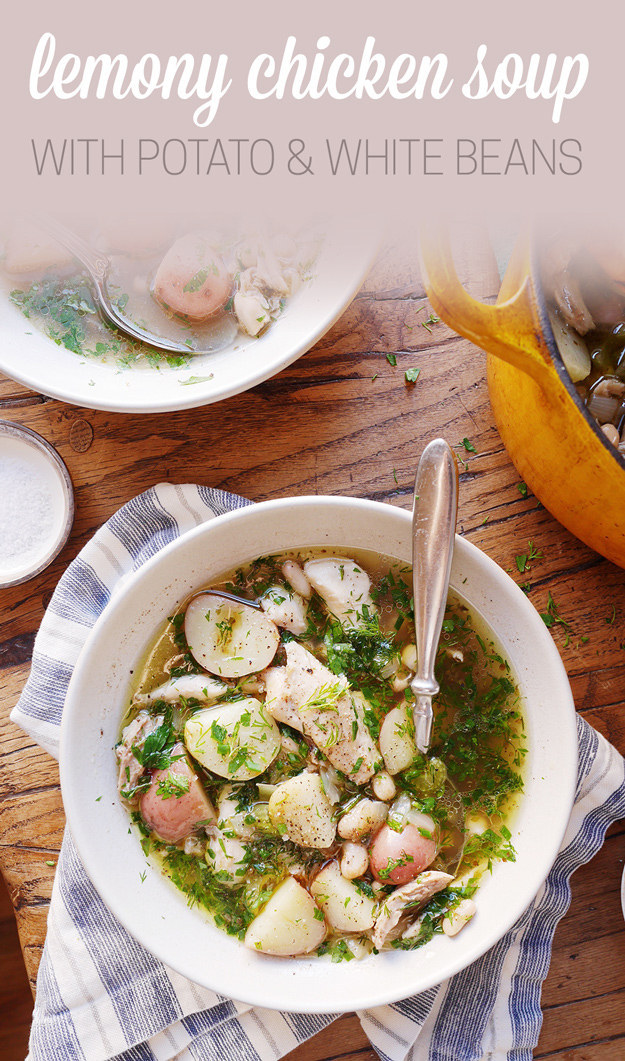 Spicy Chicken Tortilla Soup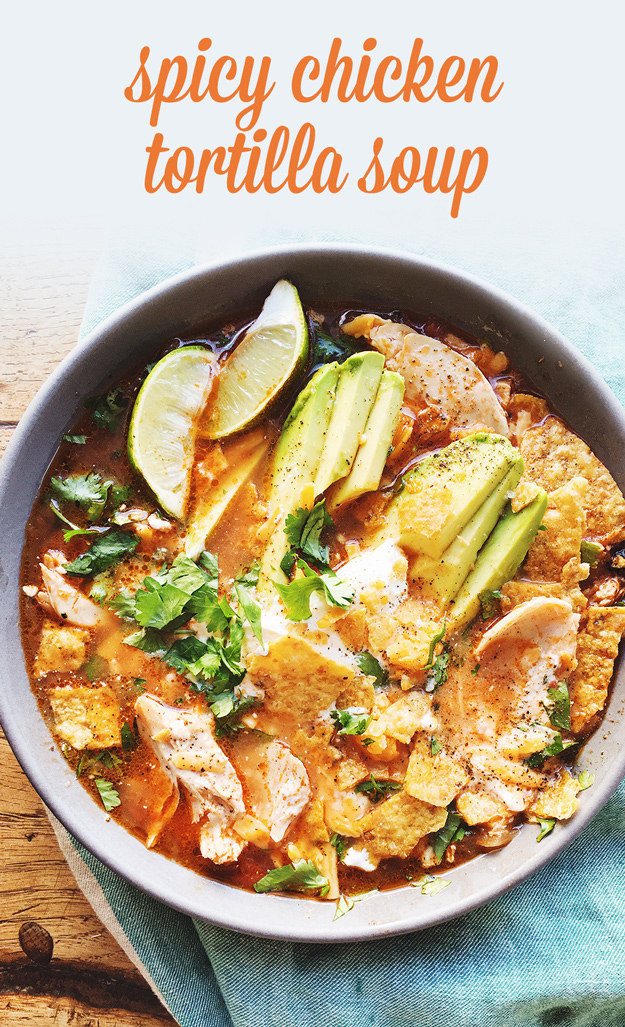 12.
Ramen Chicken Soup With a Boiled Egg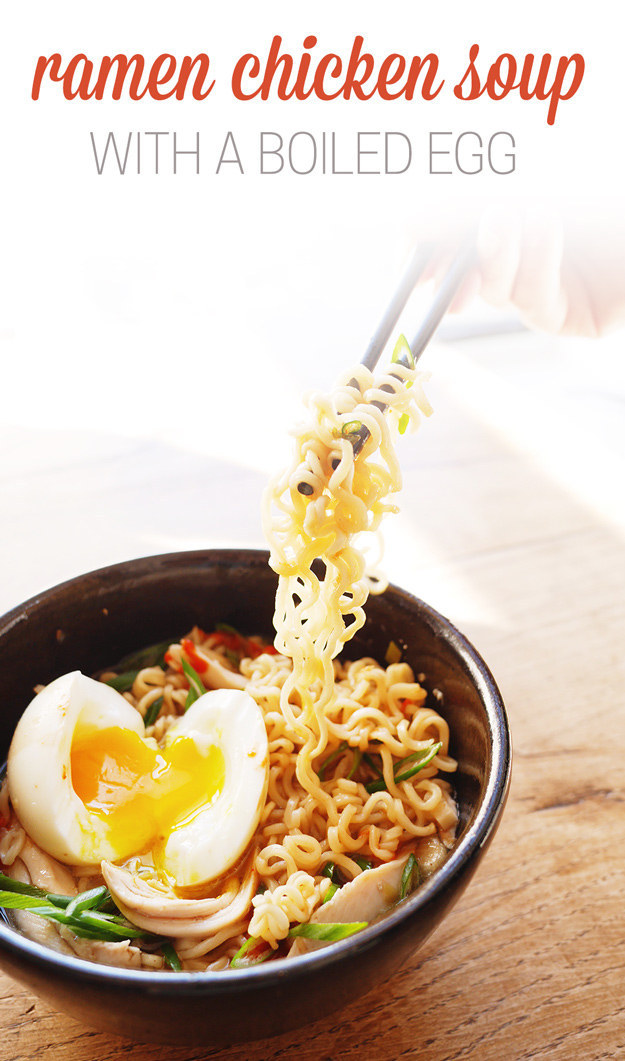 Curried Coconut and Greens Chicken Soup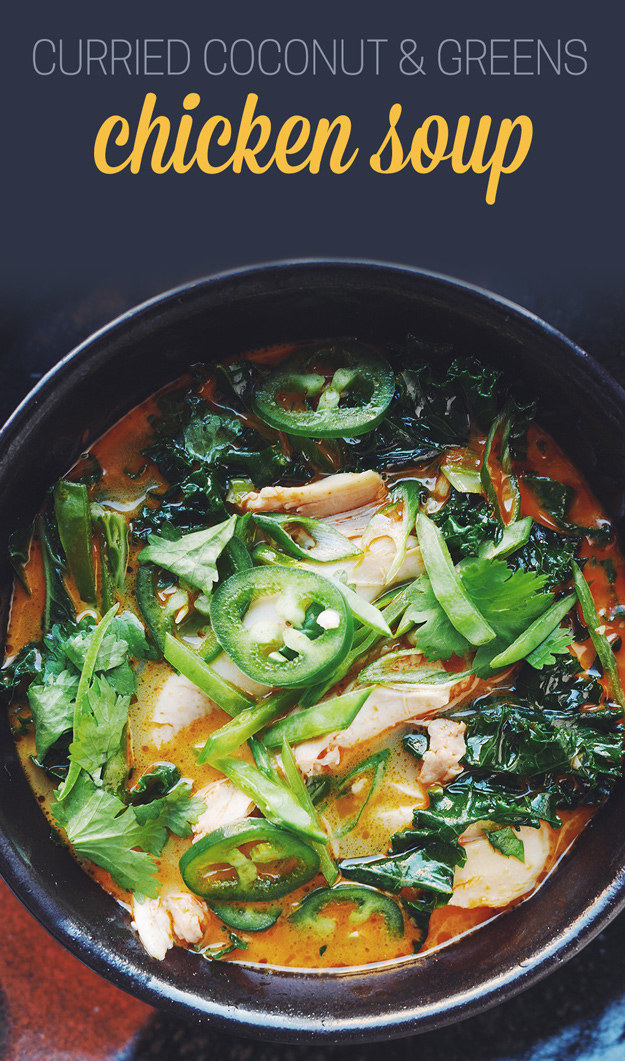 If you make any of these recipes, tag your photos on Instagram with #buzzfeastchickensoup. Or if you want to save these for a chilly day, pin this post for later!