Yesterday the Western Bulldogs beat the Brisbane Lions in a pulsating 2018 AFLW Grand Final in Melbourne.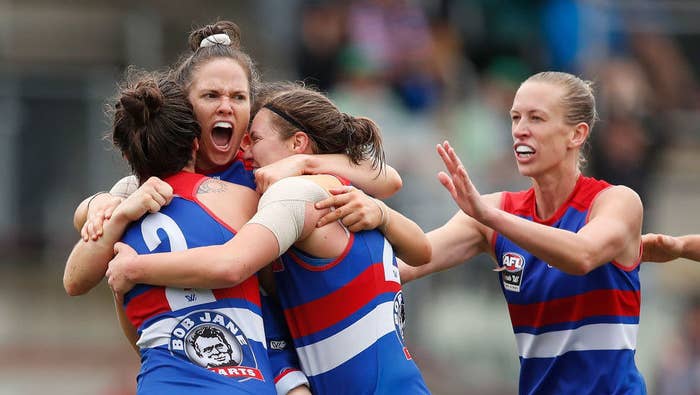 But first... a little history.
If you have never heard of the Australian Football League (AFL) it was a game started to keep cricketers fit during winter that could also utilise the oval cricket ground. There is a lot of conflicting views on who invented the sport - including the popular theory that the game is a modified form of "Marngrook" a game that the Indigenous Australian population played. Fast forward 200 years or so and the AFL is a powerhouse of Australian sport boasting 18 mens teams.
2016 saw an announcement that there would be a new women's league formed (AFLW) to begin in 2017 with eight inaugural teams. Adelaide Crows, Brisbane Lions, Carlton, Collingwood, Fremantle, Greater Western Sydney, Melbourne and the Western Bulldogs were granted the first ever licences for women's teams. Adelaide emerged as victors and won the first ever AFLW Premiership.
Last year there was so much hype before the first game of the first season that the venue was changed days out. The game was originally slated for Olympic Park in Melbourne (which has basically no seats and heaps of grass) and was moved to Ikon Park which has a capacity of 22,000. The AFL predicted 12,000 people would come to game one. The game was a lock out. AFL CEO, Gillon Mclachlan had to turn people away at the gate. The first AFLW basically sold out a non-ticketed game.
It was very exciting!
How to play
Basically, at its heart AFL is organised chaos. The game is played in 360 degrees which differentiates itself from rugby or gridiron that concentrate on forward presses. You can pass the ball whichever direction you want.
Here are a few words that you'll hear:
Handball: You are only able to pass the ball by using your fist to hit it out of your hand.
Kick: Managing to kick the oval ball.
Mark: Catching the ball from a kick.
Tackle: A big hug that pins your arms and brings you to the ground. It can only be executed properly when the other player has the ball.
Hip and shoulder: Running into someone to try knock them over...it can technically be done to someone not holding the ball.
Specky/Screamer: Jumping on an opponent or your teammates back/shoulders to mark the ball.
Free kick: like most sports if you break a rule the other team gets a free kick.
Ball: A phrase encapsulating all rule violations called out from the crowd asking free kicks to be given to them.
If there was some sort of massive apocalypse there would still be an old man sitting at the back of an AFL stadium screaming "ball". I am sure of it.
There are two ways of scoring points for your team.
Goal: worth 6 points. You have to kick it through the big sticks.
Behind: worth 1 point. You have to kick it through either of the smaller posts.
So now you know the complete history of footie and exactly how to play the game (😂). To recap, it's basically a lot of running and jumping and people in the crowd screaming "BAAAAALLLL" at various points.
That brings us to now.
Which brings us to yesterday's 2018 Grand Final. This year for the second time the Brisbane Lions made the grand final. It was Lions vs the Western Bulldogs. The Bulldogs are one of the great champions of the AFLW - they played in various exhibition games from 2013 that paved the way for the AFLW. The 2018 grand final was played under the worst possible conditions. The game change time slots a few times to make it "easier for fans" to go see their men's teams play on the same night. The venue (Ikon Park) was neither team's home ground. It also stormed hard with intense rain the day of the match.
For those playing at home, there is a venue that the AFL owns within a very short distance of the original grand final venue that has a roof and no one was playing at it at the scheduled time…. but hindsight is 20/20. Maybe next year?
A few hours before kick off.
After a tight match the Western Bulldogs 4.3 (27) beat the Brisbane Lions 3.3 (21).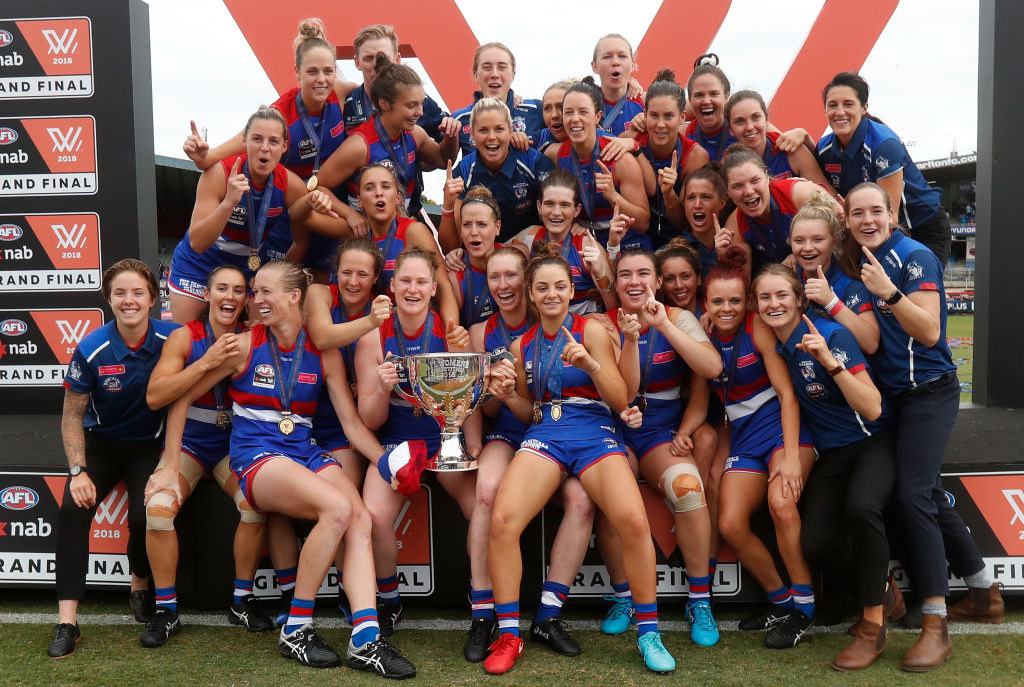 Why is AFL W so successful?
There are a bunch of things that go into the success of AFLW but a lot of it comes down to representation. Women like seeing themselves on the field. Half of Australia is women so why wouldn't we? Women's footy has been a thing forever, there hasn't been a shortage of women actually playing sport, it's just the pathways to help them play it professionally and on such a large scale level didn't exist before - especially in the AFL. It's not perfect now and a lot of other sports are handling their women's leagues better but it's a start.
AFLW also has an appeal that AFL doesn't have because it's more accessible for non-sports fans. It's got more a grassroots vibe, at 60 minutes of play versus 120 minutes it's also shorter than men's footie, and the atmosphere surrounding it is not as toxic as male sports can be. There's no horrible betting ads or tire ads that put women on the screens purely for men to lust over. Women are the focus and sponsors have really bought into that.
Fans say the games are more welcoming than AFL matches. They are at local venues that are definitely not on the same level as the MCG but there is a lot to be said about having a specially-made AFLW Bulldogs themed beer at Whitten Oval (the team's traditional home for generations) and then having a kick-to-kick on the field after the game. It's good for the soul.
Kick-to-kick after the game (not something see at the MCG).
Also... craft beer!
Another contributing factor to the massive success of the AFLW is the likability of players on social media.
These girls are talented footy players but all also do other things. This makes their Instagram accounts, on a whole, incredible. AFLW is amazing in itself but the fact that it's given Carlton forward Darcy Vescio a platform is the cherry on top.
What next for women's footie?
The current reality of the competition is that women aren't being paid full time for this gig. Aside from the handful of them who secured spots doing other work for their club offices, they have other jobs. It's a league full of multi-skilled ladies who kick butt on the field on the weekends and are teachers, gym owners and chefs.
The inequality was really shown in yesterday's grand final when the winners received premiership rings worth $6000. Some of the lower paid players probably earn that in a whole season. Maybe the would have just preferred cash?
Despite this, there is so much hope for the league. Games are pulling huge crowds, young kids are getting jerseys with female footy players on the back, and people who wouldn't normally care about sport care so much about this.
The Premiership Winning rings.
It's just the best, ok!
AFLW is truly a game changer in the sports world. Women get to do what men have always done and we're not gonna stop here. The league is expanding in 2019 with North Melbourne and Geelong joining the original teams. We're taking over the world.
Jocelyn Seip and Freya Logan are hosts of the Like A Girl Podcast. Sign-up here.