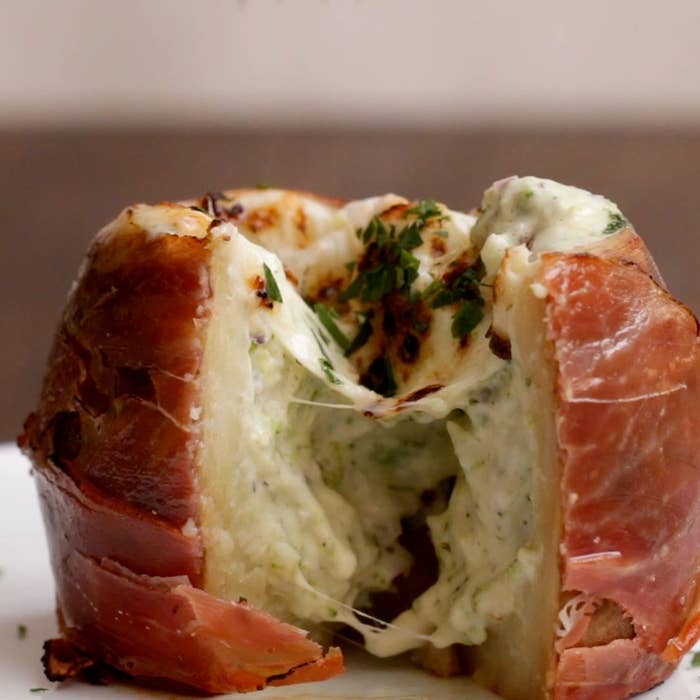 CHEESY BROCCOLI VOLCANO POTATOES
Serves: 4
Ingredients
4 medium sized jacket potatoes, washed
125 grams cream cheese
75 grams cooked broccoli, finely chopped
½ small red onion, finely chopped
½ teaspoon salt
¼ teaspoon pepper
100 grams mozzarella, torn into small pieces
8 slices prosciutto ham
A few pinches paprika
Serving suggestions
Chopped parsley or chives
Preparations
1.Preheat your barbecue
2.Wrap each potato tightly in a double layer of tin foil. Place on the barbecue grill and cook for 30 minutes turning occasionally until cooked through. Once cooked set aside. (or cook in an oven at 180°C for 45 minutes or until cooked through)
3.Place the cream cheese, broccoli, red onion and half of the mozzarella in a bowl, season generously with freshly ground black pepper and mix together until well combined. Set aside.
4.When the potatoes are cool enough to handle remove the foil and transfer to a chopping board. Cut the top and bottom off each potato and stand upright.
5.Using a teaspoon carefully scoop out three quarters of the potato - being careful not to go all the way through the bottom.
6.Wrap 2 slice of prosciutto around each potato.
7.Fill each potato to the top with the cream cheese mixture and top with the remaining mozzarella. Sprinkle over a small pinch of paprika and transfer to a metal baking tray.
8.Return to the barbecue and cook for 10 minutes or until the mozzarella has melted and is bubbling.
9.Transfer to a serving plate and scatter over some parsley. Serve immediately and enjoy!