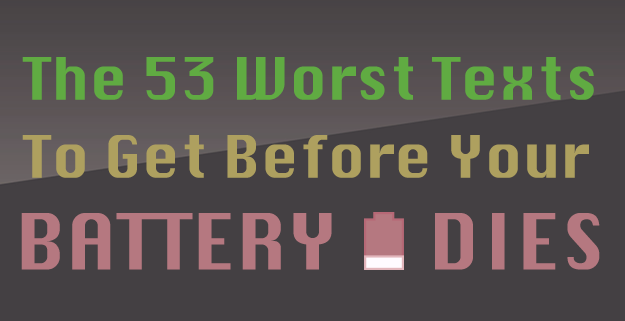 1. You said you didn't want guacamole, right?
2. Um you know how you said "don't flush the toilet because it's broken"?
3. I've made a terrible mistake.
4. Oh god it's everywhere
5. promise me you won't freak out but....
6. We. Need. To. TALK.
7. Dude, is that your apartment on the news?
8. Dude, is that your roommate on the news??
9. Dude, is that you on the news???
10. OMG you'll never believe who i just ran into
11. Um... your cat is an outdoor cat, right?
12. Aw, I've always liked you too! Dinner tonight?
13. i just got the test results. are u sitting down.
14. Yo I have an extra ticket but I need an answer ASAP. There are Beyoncé rumors.
15. Hey your apartment isn't usually on fire is it
16. lmao i just heard there's a murderer loose in ur neighborhood! here's a photo:
17. did u remember to lock ur door
18. BEHIND YOU!!!!
19. whoa did you srsly mean to post that on facebook??
20. What's the alarm code? This beeping is driving me insane!
21. hey can i borrow your cat for something? okay thanks be back in an hour don't wait up.
22. aluminum foil is microwavable right
23. Don't freak out but I think the police are looking for you
24. Wait was I supposed to cut the red wire or the blue wire
25 How do you say "I'm very very sorry about your car" in Russian need to know ASAP
26. this bar sucks we're gonna go somewhere else where are you?
27. You know how I said those berries probably weren't poisonous. Welp.
28. Hey hon, Dad and I are doing some cleaning. You didn't want all those old comic books, did you?
29. Hi, this is Helen from HR. You're still interested in the job, right?
30. So.... change of plans. The wedding is happening. Like, now. Do you have the ring?
31. you'll never guess what my parents said about you
32. you'll never guess what my therapist said about you
33. you'll never guess what your boss just said about you
34. i hope u like taking the bus!! haha but seriously bad news about your car
35. Um remember how I said that it wasn't contagious? Funny story...
36. Hey
37. Hey ;)
38. Heyyyyyyyy ;) ;)
39. Hey...you up? ;) ;) ;)
40. So you know no pressure, but where do you see this relationship going?
41. Hey your bank just called and they sounded mad.
42. Don't come home yet!!!!!
43. Oops, I sent you the wrong address! Ha! Your big interview is actually at:
44. This Is An Automated Message From Your Cable Company. You Are Next In Line To Speak To A Representative.
45. I'm not saying we have bed bugs, but does this look like a bed bug to you?
46. Is your laptop waterproof? Asking for no reason in particular.
47. Is your cat waterproof? Asking for no reason in particular.
48. so don't panic but
49. seriously don't freak out when i tell you this but
50. we're kind of being evicted
51. :(
52. ;(
53. oh btw i borrowed ur phone charger hope u dont need it
Experience LG's smartest Android phone to date.
The LG G3 is the latest smartphone in LG's award-winning G Series, featuring a state of the art battery that won't let you down. #LGG3