If you have ever watched an episode of Game of Thrones (GoT) you are certainly not alone. After all, the hit television franchise has broken all manner of records in terms of viewership in the digital age, with a staggering 8.9 million viewers watching the Season 6 finale through the HBO platform alone.
Nobody ever claimed that this record-breaking franchise was realistic, however, and the gripping storyline surrounding Daenerys Targaryen showcases this better than any other. It would cost the would-be queen an eye-watering £174,539,250 million to transport her army from Essos to the promised land of Westeros, for example, which is exactly what she intends to do during Season 7.
A Look at the Costs: The True Price of War
The research, carried out by global removal's firm 1st Move International, conducted the study based on current costs and the information laid out during the GoT literature and television franchises.
The brand found that the self-proclaimed Mother of Dragons would need 998 ships to transport her huge armada, for example, including her legion of highly trained warriors. She would also need to invest in a huge inventory for the 300-mile journey across the Narrow Seas to Westeros, including 800,00kg of hay each day to ensure that the army of horses is well fed.
Not only this, but she would also need to deliver 1,025,750kg of food across 142 ships to sustain her troops, with the combined cost of these food items peaking at an incredible £150,758,250.
These are staggering sums, but we must also factor in the necessary equipment to ensure that her eunuch warriors the Unsullied can mount a sustained attack once they arrive at Kings Landing. The cost of shipping this army and their accessories alone is around £8,492,500, primarily because it would take a total of 430 troop carriers to complete the journey.
Our Final Thoughts: The True Price of War for the Mother of Dragons
At this stage, the Mother of Dragons is probably believed to note that her beloved, fire-breathing comrades can make their own way to Westeros, while she may even be planning to send a few of her warriors and provisions along with them!
On a serious note, however, these costs are truly staggering, while they also highlight the true price of moving and relocating overseas in the modern age. It certainly underlines the importance of partnering with official removal firms, who can help to reduce these costs and ease the overall process.
As for Daenerys, she is fortunate that the realities of taking the Iron Throne will not play a part in her ultimate destiny. As for whether or not she can successfully take Westeros and rule as Queen of the seven kingdoms, this remains to be seen with Season 7 set to premier some time in the summer.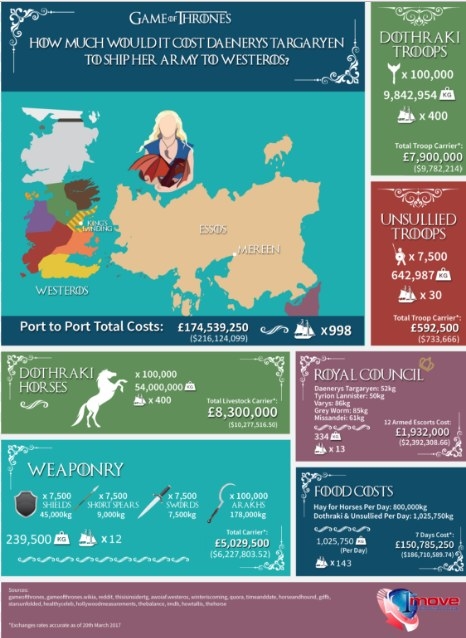 This post was created by a member of BuzzFeed Community, where anyone can post awesome lists and creations.
Learn more
or
post your buzz!