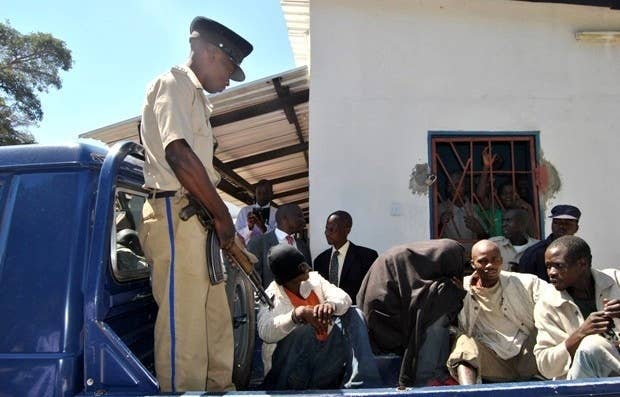 Life has never been comfortable for LGBT people in Zambia, where sodomy is a crime and the constitution proclaims the country to be a "Christian nation." But the situation has grown far more dangerous over the last month, following allegations that activists and European governments want to promote same-sex marriage in the country and ending with an arrest in the past week.
Twenty-year-old James Mwape and twenty-one-year-old Philip Mubiana, who had reportedly lived together for a while, were reported by a relative to police and were arrested on charges of sodomy in what is believed to be the first such arrest in the country.
The two were apparently released only to be rearrested on Tuesday and forced to submit to a "medical test" that "proved that they had been practicing sodomy," according to a story in the Lukasa Times.
They aren't alone. Last month, Paul Kasonkomona, a high-profile activist, was arrested in early April after calling for the decriminalization of homosexuality during a television appearance. Human rights activists also say there has also been a rapid increase of hate crimes, blackmail, and other forms of intimidation.
Th extent of the homophobic outpouring in recent weeks has taken activists by surprise, even though they have been fighting currents of homophobia for some time.
"It's sort of like dealing with an iceberg, where you don't know what the true extent of the problem [is]," said Juliet Mphande, executive director of the human rights group Friends of Rainka, in an interview with BuzzFeed. "You just [feel] defeated when you truly comprehend it."
Mphande said anti-gay sentiments have been stoked in recent years by politicians fighting over rewriting the constitution, as well as religious leaders who have been sounding the drumbeat against gays and lesbians. Some of these pastors, she says, have ties to religious conservatives in the United States.
In early April, a series of media reports helped bring the situation to a boil.
The first was a story that a handful of same-sex couples had attempted to marry in the Zambian capital of Lusaka.
On April 3, the state-owned Zambian Daily Mail wrote that four Zambian students between the ages of 22 and 30 had attempted to register their marriages to foreign men between the ages of 34 and 64.
The Zambians, the paper said, "were playing the role of women," and the implication of exploitation and feminization of young Zambian men by foreigners sounded like a hoax to many human rights activists.
"There were actually some activists who were thinking it was actually a ploy by government officials to create that moral panic," said Damian Ugwu of the International Gay and Lesbian Human Rights Commission.
But the blog Zambian Watchdog published comments by Chalwe Ranney, whom it identifies as "a leader at a Zambian LGBT rights group," saying that the marriage attempt was real and a case of "bad strategy" by individuals unconnected to organized LGBT rights group.
True or not, state-owned media continued to fuel the story following the initial report.
On April 4, the Zambian Daily Mail published comments by the country's minister of home affairs, Edgar Lungu, calling for these couples to be arrested.
"It is a pity that foreigners have started bringing this thing to us now. We are on dangerous ground where people are bringing new things to us and we are watching," the paper wrote. "The police must do their work…same-sex marriages are not a normal thing and we do tolerate such."
On April 6, the Zambian Daily Mail published a story that began, "Police say homosexuality is a serious offence and have appealed to members of the public to report anyone involved in it to the nearest police station so that the law can take its course."
Then in mid-April, the European Union inadvertently added fuel to the fire by calling for human rights groups in Zambia—including those working on LGBT rights—to apply for funding.
Lungu responded by attacking the EU, saying its aim was to promote same-sex marriage in the country, according to a report from the Open Society Initiative in Southern Africa, a human rights organization.
And then came the arrest of Mwape and Mubiana. Despite the degrading treatment they received from police, Mphande said the couple may have been lucky to have been taken to the police. Increasingly, "people in communities are feeling empowered to take the law into their own hands" and attack people they believe to be gay, she said.
Mphande said LGBT activists had hoped that "quiet diplomacy" might cool the situation up until the arrest of Mwape and Mubiana. Allegations of foreign meddling helped bring on this crackdown on LGBT people, and activists had worried that international pressure could make the situation worse.
But the couple's arrest suggests the country could start seeing the kinds of anti-gay witch-hunts that have occurred in Uganda, she said. It could also intensify because politicians are exploiting the issue in the debate over the constitution, just as the ruling party of Zimbabwe has done in recent months.
"You could be rewriting the same play," she said. "At this point, we need all the help that we can get from the international community."
J. Lester Feder is a BuzzFeed contributor and a 2013 Alicia Patterson journalism fellow.