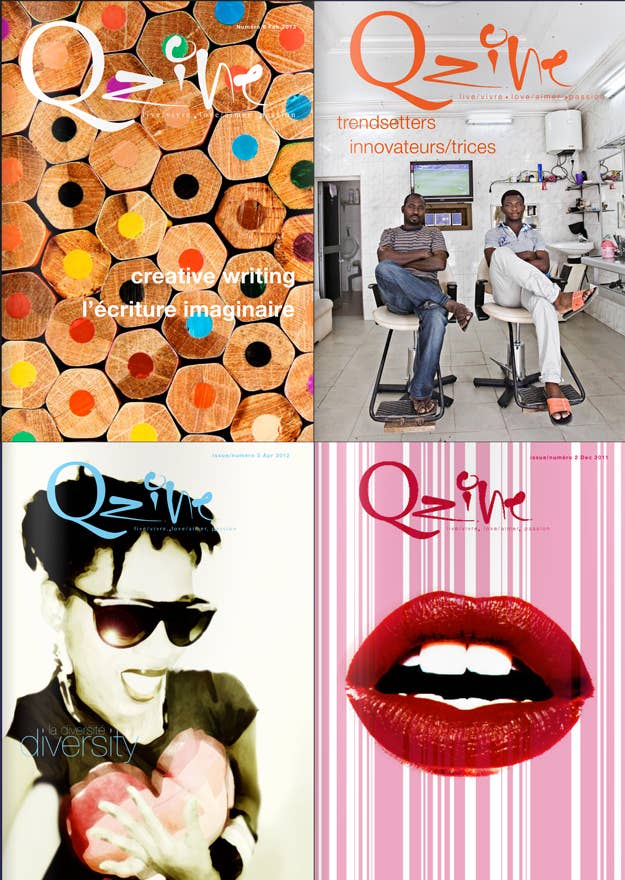 "The project of LGBTI liberation … is a process of decolonizing the mind," writes John McAllister in the editor's note opening a new collection of queer African fiction published last month. "Just as the independence and democratization movements have had to overcome internalized racism, LGBTI Africans have to fight a homophobia that presents itself as nativist and patriotic but is actually a colonial hangover."
The collection was published in February as an edition of Q-zine, a quarterly magazine by the Burkina Faso–based Queer African Youth Networking Center. At a time when politicians in several African countries use homosexuality as an explosive wedge issue — often with the active help of the media — the magazine took on a big task when it launched in 2011: to push back on media portrayals of gays, lesbians, and trans Africans as well as to take on the cultural baggage that political organizations can't.
The literature issue has special significance to McAllister, a professor of literature at the University of Botswana, who married his longtime Kenyan partner in Cape Town, South Africa, the year Q-zine launched. It takes on one of the major arguments used throughout Africa to justify harsh anti-gay laws, like ones now being debated in places like Uganda and Nigeria. McAllister argues:
Contrary to the claim that homosexuality is a European/Western import, it's actually homophobia that is the Western import. It was brought to Africa by missionaries and colonial officials in the late 19th, early 20th centuries (at the time when the moral panic over the new medical/psychological category of "homosexuality" was at its peak in the West) and inserted, so to speak, into African cultures along with Christianity, Victorian prudery, bourgeois dress codes, table manners, etc.

The anthropological and historical evidence makes it pretty clear that pre-colonial African societies had their own, often quite tolerant or even accepting, ways of accommodating alternative sexual ways-of-being into traditional social structures and kinship systems. Homophobia, including the sodomy laws that are still on the books in most African countries, are what are "unAfrican" therefore, not homosexuality in itself.
The stories in this volume reflect some of the complicated texture of LGBT Africans' lives.
"An Albino Snake," by journalist Jacob Nthoiwa, tackles the intersection of money, race, and sexuality through a story about an assault on an employee of a South African sex shop.
I just lay there for a while after regaining consciousness. Directly above me was the stain in the ceiling where the roof leaked. It looked like a big gray map of South Africa. And that darker gray spot at the centre where the water oozed through when it rained was exactly where Jozi was located. Or, better still, maybe it was exactly where I, Sabelo ... (well, you don't need to know my last name) formerly of ... well, far from that dirty grey patch, was now located,…

I tried to lift my head, but it felt as heavy as lead. A sharp pain shot through the back of my neck. I gave up on the idea and decided to survey the tiny shop with my head on the floor…. I started with the shelf directly in front of me. Everything seemed to be in place. A neat row of Erex ("For Stronger Erections and Peak Performance!"),Roughriders and Slippery Stuff ("Enhancing the Pleasure of Human Contact!"). The Specials of the Week. I had arranged the display myself this morning, while the boss did his morning cash count.
Nkululeko Siboniso Mthembu starts his contribution, "Kizori, My Brother," with a tale of two children cross-dressing to fetch livestock.
We are running because we don't want any adult to see us. Not that fetching cows is criminal. We are laughing because we are looking at each other and wondering what people are thinking. What will the other boys who are also fetching cows think of us? I am wearing a two-piece. It's my aunt's; my mom wouldn't have even thought of buying that.He is also wearing a two-piece dress belonging to our younger aunt. Aunt Winnie and Aunt Ninnie are two years apart, just like me and my cousin.

We haven't planned this, but it just happened that, as I was reading to him, we were in an unused bedroom where all the old clothes are kept. We looked at the two dresses hanging there, and we thought how fun it would be to fetch the cows while wearing them. Two identical dresses, just like us. We have been in all sorts of trouble before, so being caught while doing this seems like more fun. The beating that may follow is nothing compared to the fun and the shock value.


J. Lester Feder is a contributor to BuzzFeed and a 2013 Alicia Patterson journalism fellow.