Lesbian Who Got In Twitter Fight With President Of Ecuador Tries To Marry
Activists Gabriela Correa and Pamela Troya applied to marry on Monday kicking off a campaign by the rights group Red LGBTI to win "the same rights with the same names."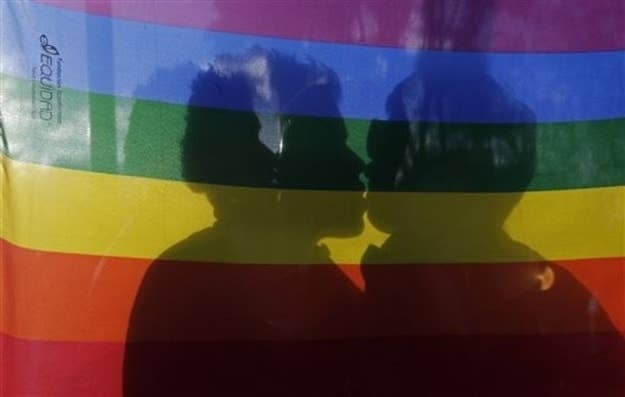 An activist who got into a twitter fight with the president of Ecuador about same-sex marriage launched a direct attack on the country's ban on same-sex marriage Monday.
Pamela Troya and her partner, Gabriela Correa, submitted an application to marry to a civil registrar in the capital of Quito. Their application is expected to be rejected, since Ecuador's constitution explicitly bans same-sex marriages. This will then enable them to launch a legal challenge to the marriage ban.
Troya, who heads the group Igualdad de Derechos ¡Ya! [Equal Rights Now!] got into a twitter skirmish with Ecuador's leftist President Rafael Correa over same-sex marriage.
When Correa announced in May that he opposed same-sex marriage, Troya tweeted, "What a shame that you make a show of your prejudices that only reinforce discrimination that exists for #LGBTI. This is your revolution?"
@MashiRafael que pena q haga alarde de sus prejuicios q solo refuerzan la discriminación q existe para los #LGBTI. Es esa su revolución?

— Pamela Troya (@pametroya) May 23, 2013
Correa fired back, "No problem: with the next local elections, we'll have a popular referendum, OK? We will see if these are [only] my dogmas and prejudices."
@pametroya No hay problema: con las próximas elecciones seccionales hacemos una consulta popular, ok? Veremos si son mis dogmas y prejuicios

— Rafael Correa (@MashiRafael) May 23, 2013
Troya and her partner timed their new push for marriage inequality to coincide with the first legal same-sex marriages being performed in Uruguay under a law passed this spring.
Silvia Buendía, a spokesperson for the Red LGBTI (Lesbian, Gay, Bisexual, Trans, and Intersex Network), said that Ecuadorian activists were optimistic about this new campaign because Argentina and Brazil have also legalized same-sex marriages in the past few years.
"Every month there is a new country that moves marriage equality forward," Buendía said.