Colombian High Court Rebukes Top Opponent Of Marriage Equality
This could be a sign that the court will endorse full marriage rights for LGBT couples in Colombia.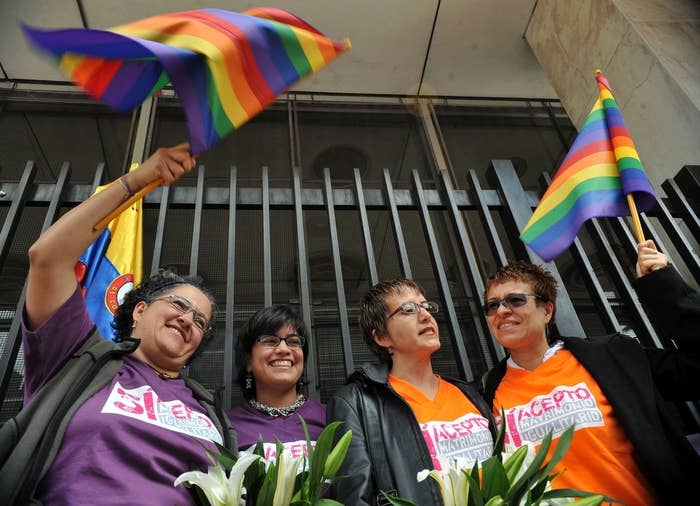 Colombia's inspector general, Alejandro Ordóñez, has been waging a crusade to prevent same-sex couples from marrying under a 2011 ruling from the country's Constitutional Court. On Friday, the court effectively told him to shut up and get out of the way.
The inspector general is one of Colombia's top legal officials, who oversees how public officials do their jobs. This includes the notaries and judges in lower courts who started receiving petitions to solemnize same-sex unions in June 20, 2013, which is when the 2011 ruling allowed them to do so.
Ordoñez had been threatening disciplinary action against any official who took up this authority. His case was based on the fact that the court's ruling did not specifically say that couples can "marry," nor did it directly change the law. Instead, it gave congress until June 20, 2013 to change the law to give equal rights to same-sex couples. The 2011 ruling only gives the power directly to judges and notaries because congress failed to act, and ambiguity in the ruling left it unclear whether they will call these unions "marriages" or something else entirely.
On Friday, the court rejected Ordoñez's petition for it to clarify that it did not intend to open marriage to same-sex couples. And Constitutional Court President Jorge Iván Palacio sternly warned Ordoñez to "observe the determinations of this Court and monitor their strict and timely compliance."
Palacio also called Ordoñez out for disparaging the court's authority, "inviting" him to "maintain decorum" when addressing the court in the future.
Palacio's statement was more concerned with ensuring the independence of the judiciary than with the question of same-sex marriage. Though it shut down Ordoñez, it also did not clarify that it intended for couples to have the right to marry. The high court seems to want the issue to percolate more among lower judges and notaries, though it is widely expected to have to revisit the issue.
But LGBT activists seem to have interpreted this as a signal that the court would ultimately take their side.
"A free path for #marriage equality," tweeted human rights lawyer Viviana Bohórquez, which was retweeted by Marcela Sánchez, the executive director of Colombia's leading LGBT rights organization, Colombia Diversa.