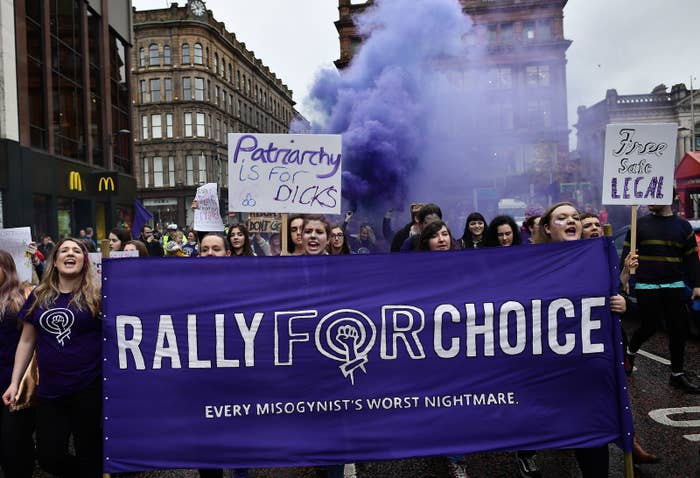 Women in Northern Ireland are so tired of waiting for their own government to loosen the country's strict abortion laws they would welcome intervention from Westminster.
The remarks come after Conservative MP Maria Miller, chair of the women and equalities select committee, said she agreed that Northern Ireland's current abortion provision was not good enough and suggested change could be on the horizon.
Although women elsewhere in the UK have been able to legally access abortion since 1967, a law dating back to1861 – which prohibits abortion in almost all circumstances – still applies in Northern Ireland.
"We have pledged that all women in the UK should have the same rights, including the same access to abortion," Miller told BuzzFeed News.
"At the moment this isn't the case, which means we are breaching international agreements. Devolution cannot be allowed to stand in the way of basic women's rights – it's too important to allow this to happen."
The Northern Ireland Assembly, which sits at Stormont, has had no executive since January 2017 after a power-sharing deal collapsed and several rounds of talks between the Democratic Unionist Party (DUP) and Sinn Féin have failed. It has stalled the approval of any major decisions.
Despite an overall desire for autonomy, the possibility of intervention from Westminster was warmly received by abortion rights campaigners in Belfast.
"In general, we would prefer to legislate for ourselves, but we are in an exceptional circumstance at the moment," Rachel Powell, vice president of equality and diversity at Queen's University Belfast Students' Union, told BuzzFeed News.

She said that a "majority of citizens" were now desperate for progress. "Women are forced daily to travel outside of the island of Ireland for the most basic reproductive healthcare," Powell added. "We need action now – we can't keep waiting on Stormont to reform."
Last week, Labour MP for Walthamstow Stella Creasy, backed by 200 MPs and peers, stepped up the pressure on home secretary Amber Rudd to legislate for Northern Irish women to be able to legally access abortion in their own country.
A report published last month by the UN's committee on the elimination of discrimination against women (CEDAW) warned that prohibiting abortion so severely is a violation of human rights.
Creasy wants increased access to abortion in Northern Ireland to be included as an amendment to the British government's forthcoming domestic violence bill. She says that a denial of those human rights is an act of violence against women.
Claire Johnson, a spokesperson for the London-Irish Abortion Rights Campaign, who is originally from Northern Ireland, said: "Responsibility for human rights lies with Westminster and that's exactly what the CEDAW report has clarified."
She added: "Whether abortion legislation should be devised locally is almost academic at this point – we have been without a devolved government for 14 months – and in the interim, the human rights of pregnant people in Northern Ireland continue to be violated."
Goretti Horgan, a lecturer in social policy at Ulster University and one of the founding members of abortion rights group Alliance for Choice, said she had little faith that a reformed Stormont would make progress on abortion and said it was "about time" Westminster stepped in.
"There are just so many strategies and policies that the devolved administration can't make up their minds on – I don't think they would ever be able to agree a policy on abortion when they can't even agree a policy on childcare," Horgan said.
"I would hope that Westminster would start to take its responsibilities seriously and actually move to end the decades of discrimination against women in Northern Ireland.
Emma Campbell, also from Alliance for Choice, said Westminster owed it to Northern Irish women to legislate for abortion reform after it missed the opportunity to do so a decade ago.
In 2008, an amendment to the Human Fertilisation and Embryology Act that would have extended the Abortion Act 1967 to Northern Ireland was blocked by Labour MP Harriet Harman. At the time, she argued that the amendment could have emboldened attempts to reduce the time limit before which a woman can have an abortion and led to greater restrictions overall.
"[Westminster] had the power to change it in 2008 and didn't," Campbell said. "They are partly responsible for the law being as it is here."
Despite polling by Amnesty International finding that there is public support in Northern Ireland for liberalisation of the country's abortion laws, the DUP has consistently blocked attempts to achieve this.
The DUP has also objected to changes that would pave the way for equal marriage – one of the major sticking points that has stalled attempts to get Stormont back up and running.
The UK government recently said it would allow a free vote on bringing equal marriage to Northern Ireland if the issue arose in a private member's bill.
Ruairi Rowan, senior advocacy officer for the Family Planning Association in Northern Ireland, said that deferring responsibility to Westminster on abortion and equal marriage could be politically advantageous to Northern Irish politicians.
"I think the public would be quite happy for Westminster to intervene, and personally I think some politicians would be quite happy for Westminster to deal with this – they can blame someone else," he added.
Last summer Creasy pushed the government to agree to provide funding that would allow Northern Irish women who travel to England for abortions to get the procedure for free via the NHS.
While the scheme has been well received, many have said it is a "sticking plaster" rather than a solution: making abortion legally available within Northern Ireland.
A spokesperson for the UK government's Northern Ireland office said abortion remained a devolved issue, and that the funding scheme introduced last summer, which also covers the cost of travel in some circumstances, was a fair compromise.
"The government has brought the experience of women from Northern Ireland who choose to have an abortion into line with those of women living in England," they said.
"We believe this approach strikes an appropriate balance between respecting the devolution settlement, and allowing women normally resident in Northern Ireland to have access to safe abortion services via the NHS within the bounds of the law."
A spokesperson for the Home Office could not confirm whether any discussions had begun with relevant parties on abortion reform in Northern Ireland, but said a response to Creasy's letter to Amber Rudd would be issued in due course.