An anti-animal-cruelty charity has said that two people were brutally assaulted at Belvoir Hunt in Leicestershire after being sent to monitor the event on Saturday.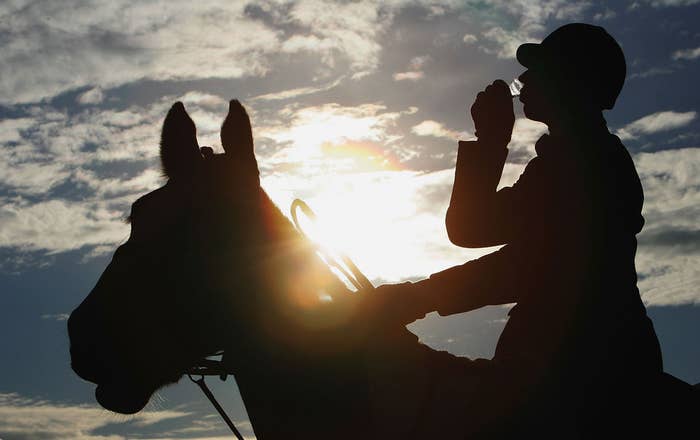 Darryl Cunnington and Roger Swaine were airlifted to hospital after sustaining serious injuries when they were attacked by a masked gang of hunt followers on quad bikes, the League Against Cruel Sports said.
Cunnington's injuries were said to be so serious a specialist ambulance was needed and there were reports that Swaine had suffered a blow to the head and heavy bleeding. Neither men's injuries are thought to be life threatening.
Both men also had their cameras stolen, a spokesperson for the League Against Cruel Sports told BuzzFeed News.
Leicestershire police confirmed that two men had been arrested following an assault reported off Tofts Lane, Stathern, at 3:50pm on Saturday.
"Two victims sustained injuries which required medical treatment," police said in a statement.
"Two men aged 54 and 23 have been arrested on suspicion of assault and released on police bail pending further enquiries."
Fox hunting has been illegal in the UK since 2004, although versions of hunts are still permitted if they can be classed as pest control.
"Our investigators stay in the background to peacefully monitor the activities of hunts and record evidence if the hunts are breaking the law. We avoid engaging with the hunts or their followers," Eduardo Gonçalves, the League's chief executive, said following the incident.
"We are all shocked by the violence of the Belvoir Hunt followers and this barbaric thuggery must not go unpunished," he said.
"Our courageous investigators play a critical role in peacefully monitoring and enforcing the anti-hunting law that some people consider themselves to be above.
"Clearly some hunt followers are not satisfied with violence against our wildlife. They now satisfy their bloodlust by attacking people."
Gonçalves felt the attacks were "completely unprovoked" and called on police to bring the perpetrators to justice.
The League Against Cruel Sports is now calling upon the organisers of the hunt to "unreservedly condemn and apologise for this brutal attack".
Gonçalves added that the hunting lobby also needed to "act decisively against the violence perpetrated by its supporters against law-abiding citizens who are ensuring the Hunting Act is upheld".
BuzzFeed News has reached out to the organisers of Belvoir Hunt for comment.