This Leading Pregnancy Doctor Says Abortion Shouldn't Be Considered Controversial
Professor Wendy Savage made the comments after members of the Royal College of Gynaecologists voted in favour of relaxing current abortion laws.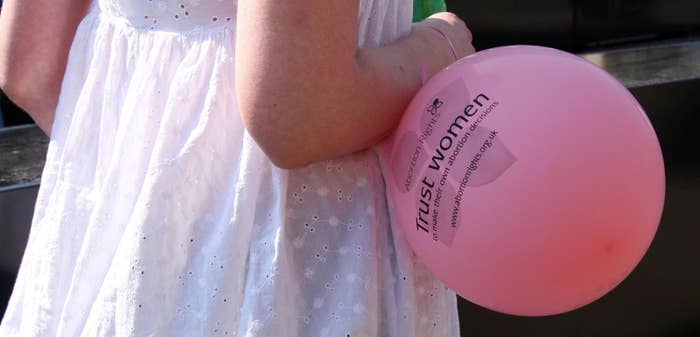 A leading pregnancy doctor has dismissed claims that the decriminalisation of abortion in England and Wales would lead to a "free for all", after members of the Royal College of Gynaecologists voted in favour of relaxing current abortion laws.
According to the Abortion Act 1967, women who choose to terminate a pregnancy can be punished by life in prison unless the procedure is obtained in highly specific clinical settings. RCOG joins the British Medical Association and the Royal College of Midwifes in formally supporting removal of criminal sanctions around abortion in England and Wales.

A letter sent by a group of anti-decriminalisation doctors to RCOG president Professor Lesley Regan said the stance adopted by the royal college, which represents over 14,000 women's health care doctors, was "being promoted by a small group of campaigners with extreme views on abortion".
Professor Wendy Savage, gynaecologist and coordinator of Doctors for a Woman's Choice on Abortion, dismissed the criticism of the RCOG's position.
"It's like a holy war for the anti-abortion lobby," Savage told BuzzFeed News. "They're very cavalier with the truth about the effects of abortion."

Campaigners, now officially backed by the RCOG, have long argued that subjecting abortion to medical rather than criminal regulation would help remove barriers to early medical abortion for an increasing number of women who are choosing to illegally carry out the procedure at home using medications bought online.
"Women aren't stupid," Savage told us, arguing that if women struggled to legally access abortion, they would find other ways to access abortion.
But, she added, we needed to ensure that if they were unable to access the procedure outside of a formal clinical setting, that they did not face jail for doing so.
Savage also criticised the media for equally balancing pro- and anti-decriminalisation arguments, which she believed gives a false impression that abortion is a divisive issue in the UK. According to the latest British Social Attitudes survey, 70% believe a woman should be able to have an abortion if she does not want a child, and 93% believe she should be granted an abortion if the pregnancy endangers her life.
"The media have this thing that abortion is controversial," she said. "They never talk about the fact that we no longer have women dying from back-street abortions.
"The positive effects of having access to safe abortion doesn't get any column inches at all."
A spokesperson for RCOG said that since announcing its support for the decriminalisation of abortion, the college had been contacted by a number of campaigners who believed that it wanted to remove all regulations around abortion, which is currently permitted for pregnancies up to 24 weeks.

"In fact, we were not proposing removal of all regulations or any change to gestational limits, but rather the removal of the prospect of criminal sanctions being imposed on both women and their doctors," the spokesperson said.

RCOG plans to stick by its formal support for the decriminalisation of abortion, which was voted for by its elected council representatives following a consultation with its UK membership.

"We are confident that the outcome of the vote reflects the views of our wider membership – however, the college remains committed to recognising and respecting the diverse range of views our wider membership hold on abortion."

Members of the RCOG's Faculty of Sexual and Reproductive Health (FSRH) also back the call for the decriminalisation of abortion.

"It seems archaic that women should be subjected to criminal sanctions, and even life imprisonment, because they have terminated an unplanned pregnancy," FSRH president Dr Asha Kasliwal said.

"Besides providing women with high-quality abortion care, our role as healthcare professionals is also to contribute to the development of professional standards that will better regulate the procedure.

"It is the view of many of FSRH's members that decriminalisation and effective regulation of abortion helps to enhance women's rights to planning their reproductive lives according to their own values and needs."