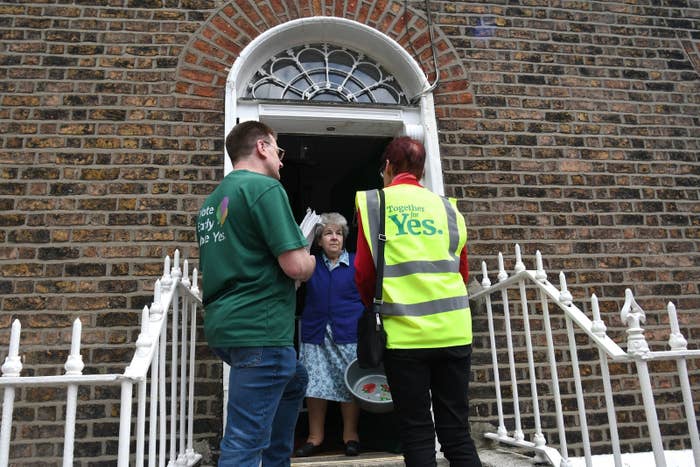 "You're not the No ones, are you?" the young woman asked canvassers from Ireland's abortion rights campaign as she peered round her front door on Wednesday night in Roscommon. After being assured that they were not, she added: "They're really pushing No in Roscommon, aren't they? They were here every day last week."
The last time Ireland voted in an abortion referendum, in 1983, 84% of people in County Roscommon voted in favour of inserting the Eighth Amendment into the country's constitution to make the procedure illegal in almost all cases.
On Friday, the country is voting again, this time on whether to repeal that same amendment and allow Irish women to have abortions without having to travel abroad to get them.
Once again, anti-abortion campaigners have their sights set on victory in Roscommon, a rural county a couple of hours west of Dublin that is considered to be the most conservative area of the country. It was the only county to reject the introduction of same-sex marriage in 2015, with more than 50% of people voting against it.
For those hoping to keep legal abortion out of Ireland, making sure people stick to those conservative values is key. On lampposts along the roads around the county, and along the main town's high street, posters declaring the unborn's right to life vastly outweigh those appealing to a woman's right to choose.
But when BuzzFeed News joined canvassers from Together for Yes, the main abortion rights campaign, as they handed out leaflets at a quiet family estate overlooking rolling hills and the ruins of Roscommon castle, it seemed as though attitudes could be beginning to shift even here.
The mum who initially mistook abortion rights canvassers for their No-voting counterparts said she would be voting to legalise abortion on Friday as she didn't agree with such a prohibitive law. "Not in this day and age," she added, an inquisitive-looking young boy eating a jam tart by her side. "I'm a yes."
Julie O'Donoghue, who leads Roscommon Together for Yes's canvassing group, and fellow volunteer Nollaig Molloy told BuzzFeed News they expected they'd have a hard sell on their hands when they began knocking on doors in April.
"We've been surprised by the pockets of yeses in certain areas," Molloy said.
Malloy said that the opposition to same-sex marriage, coupled with a "really old population," meant that she expected people here would be vehemently against abortion, "but I think it's been very positive," she added.
O'Donoghue agreed: "We weren't prepared for the really positive response we've got to the Yes message – we've been pleasantly surprised with the number of Yes voters," she told us. "Also it's getting more and more positive every week. In the beginning, people might have been more hesitant to say they were voting Yes."
Since the referendum was called in January, Irish media and social media have been flooded with women sharing their experiences of not having access to abortion. An estimated 12 women per day travel to England for terminations, and many of their stories have been shared on the popular Facebook page In Her Shoes. Some of these have been reproduced in a leaflet being handed out on the doorstep.
Last week, doctors in Roscommon published an open letter in the local paper, the Roscommon Herald, appealing to local people to vote to change the law.

"Between 2012 and 2016, 127 women from Roscommon travelled to England to have abortions," they wrote. "You do not need to agree with abortion to agree that this system is broken. It can only change if we vote Yes."
O'Donoghue believes the prevalence of these stories has made people more confident in supporting a reform of the law.
"I found there were more silent or hesitant yeses earlier in the campaign and that people are getting more forthright in saying they're voting Yes," she said. "I've noticed it even on Facebook, people who have put the Yes badge in their profile image.
"People that you mightn't expect, or at least wouldn't think they'd be openly voting Yes."
In Roscommon town centre, where Yes and No campaigners have held weekly stalls, O'Donoghue said they had also received a warm welcome, even running out of the Yes badges that seem to be ubiquitous on lapels in Dublin. "I've been thanked on the street for being there," she said. "There was a woman who said it was great to see the Yes side in Roscommon."
On Wednesday night, responses at the doors were mixed. Many said they weren't registered to vote, or simply didn't answer the door. One woman, holding a young baby, said she planned to vote No and did not take a leaflet with the Yes side's pitch. But several told the canvassers they would vote Yes.
Anti-abortion campaigners in the area are also feeling positive about the result. "We have people mobilising and getting involved like never before," said Síle Quinlan, a spokesperson for the major anti-abortion campaign Love Both and member of the local anti-abortion group in neighbouring County Longford.
"People feel very passionately about it and people are very concerned about the fact that we're being asked to remove all protection for the unborn from the constitution."
Quinlan agreed that people had been moved by Irish women's stories about abortion, particularly those who had been told that developmental anomalies meant their baby was unlikely to survive the pregnancy, or who had been raped, but said that the proposed law, which allows for abortion up to 12 weeks for any reason, was too "extreme" for many.
"I've met people on the doorstep who are concerned about the difficult cases, and absolutely you'd have to have a heart made of stone not to be moved by those, but in the same breath, those people would say that they don't want to remove all protection for the unborn," she said.
"They don't trust the politicians on this issue. While they'd like to possibly look at ways of addressing the difficult cases we hear, they don't want to give them a blank cheque."
But in Roscommon and Longford town centres, BuzzFeed News met more people, old as well as young, saying they would vote Yes than people supporting the No campaign.
Two older women, who preferred not to give their names, said they would vote only if the weather was good enough to get out, but planned to vote No.
"I don't believe in killing a baby. It's as simple as that. It's murder," one said.
"When I was pregnant there was no such thing as a condom and no such thing as the pill," added the other. "There's ways and means of avoiding things now."
Paddy, a man in his eighties waiting for a lift outside Tesco, said he was voting Yes.
"I've considered it a lot and I've listened to everyone, but I've had it in my own mind for a long time anyway," he said. "It's the right thing to do. Nobody should be able to tell a woman what to do with her body."
He said he was surprised by the number of No campaigners he'd seen around the town, but believed many in the area would be voting Yes. "A lot of people are saying No just to be on the right side, but they might vote Yes," he added.
A 19-year-old Yes voter, who would only give her first name, Tori, also doubted the impact the hard No campaign in the area might have.
"It's very intimidating when you're walking by," she said. "The No side seem to be in your face more than the Yes. They won't leave you alone."
Tori said her friends and family would be voting Yes. "It's time for change. People need to get on with their lives and things are changing."
With just one day left before voting begins, an Irish Times/Ipsos poll shows that nationally 44% of people support a Yes vote, compared with 32% who will vote No. Undecided voters make up 24%, and the final result is expected to be tight.
"I think it will be close whatever it is," Molloy said. But based on the positive response to reform she'd seen in Roscommon, she hoped the outcome would be Yes.
"A Yes vote here is a Yes vote nationally," she said. "We're optimistic."