Protesters drew more than 200,000 chalk marks on the pavement outside the Irish embassy in London on Saturday to represent the number of women who have travelled from Ireland to England, Wales, and Scotland in the last three decades to access abortion.
The protesters gathered to show support for the March for Choice march in Dublin, also on Saturday, where between 10,000 and 20,000 protesters were expected.
The eighth amendment to the Irish constitution, passed in 1983, made abortion illegal in almost all circumstances, including in cases of rape and incest. The procedure can only be carried out in Ireland if the mother's life is in immediate danger.
Since then, 205,704 Irish women have had pregnancies terminated in Great Britain. That figure includes women from Northern Ireland, where the Abortion Act 1967, which allows the procedure in the rest of the UK, was never applied.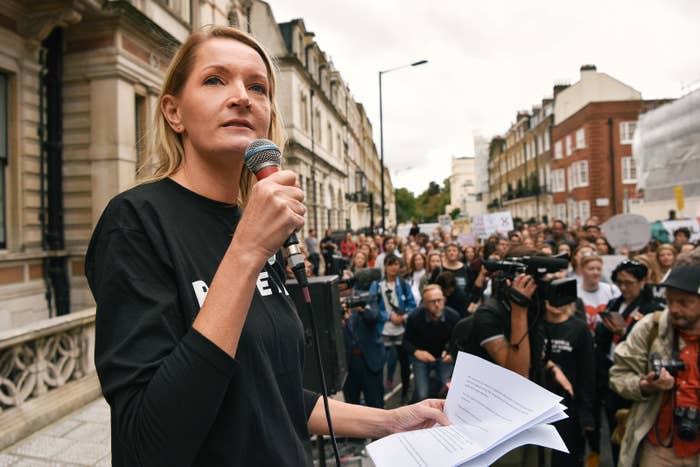 "A woman cannot have full equality so long as she does not have full control over her body," Sophie Walker, leader of the British Women's Equality party, who spoke outside the embassy on Saturday, told BuzzFeed News.
"I think it's important that we build a movement now," Walker told us. "It's time for people to come together as a movement right across the United Kingdom, in Northern Ireland, and in the Republic of Ireland.
"Because the more that women take up space, the more that women shout together, and the louder they are, the clearer we will be heard."
Saturday's event in London, organised by the London Ireland Abortion Rights Campaign (LIARC), sought to highlight the important role the UK plays in Ireland's abortion debate.
"These women have been exiled and completely let down by Irish and Northern Irish governments," Hannah Little, a LIARC member, told BuzzFeed News.

"A lot of people still don't know that 12 women travel every single day to access abortion."

Little hopes that showing how many Irish women travel for abortion, and the barriers they face in accessing it in England, such as cost or inability to travel, will help make English women more aware of the difficulties faced by those in Ireland seeking abortion.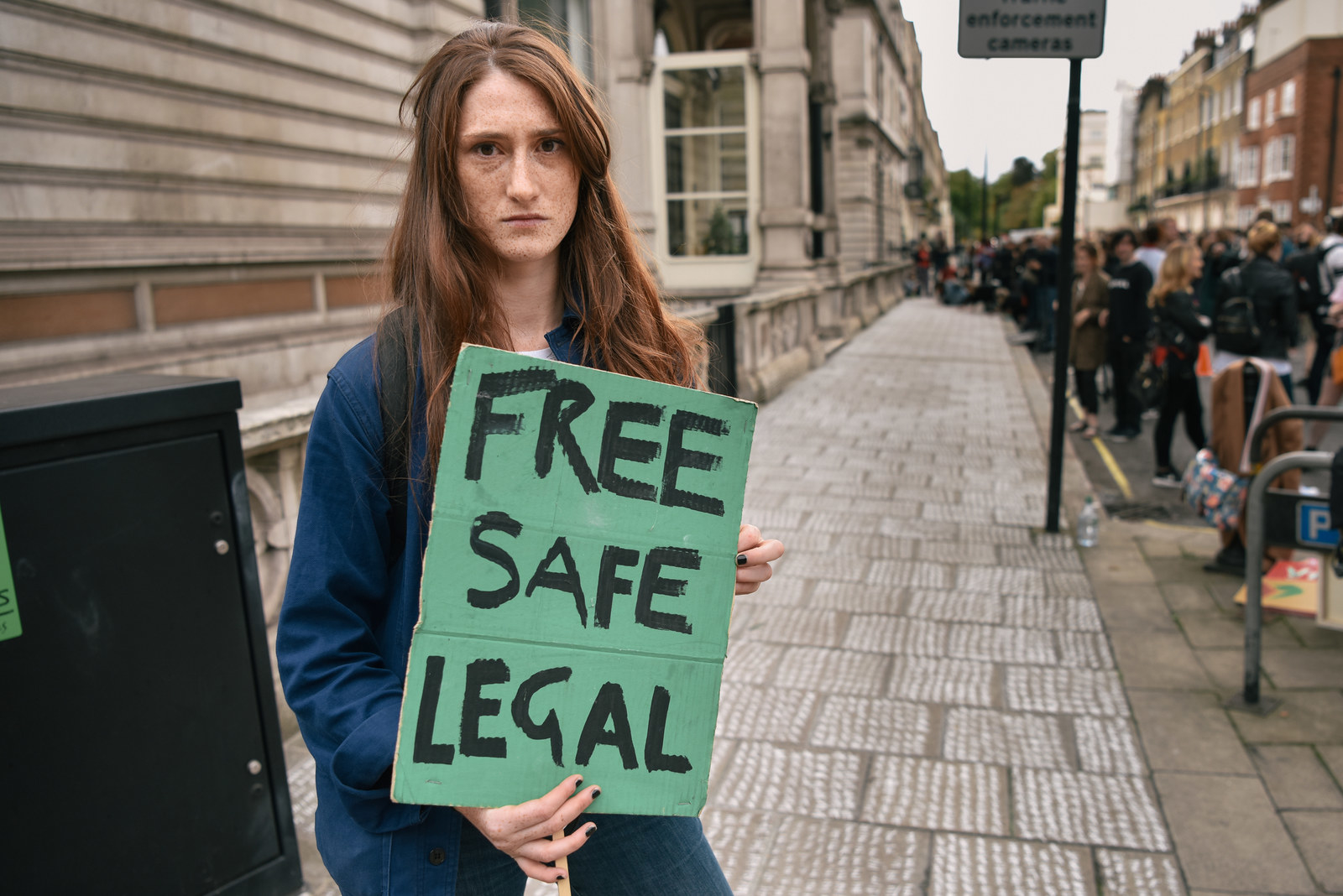 "It's incredibly frustrating for us to hear people in the UK talking about Planned Parenthood and the crackdowns in the US when those issues exist within the UK too," she said. "We would like to see a lot more solidarity with women's groups here."

Little said the London demonstration was of particular importance for Northern Irish women, who don't have the same access to abortion as women in the rest of the UK. "For far too long Northern Irish women have been marginalised," she said.

Claire Tracey, who helped draw the chalk marks on the pavement, agreed. "That there's a part of the UK where women don't have reproductive rights is kind of crazy," she said.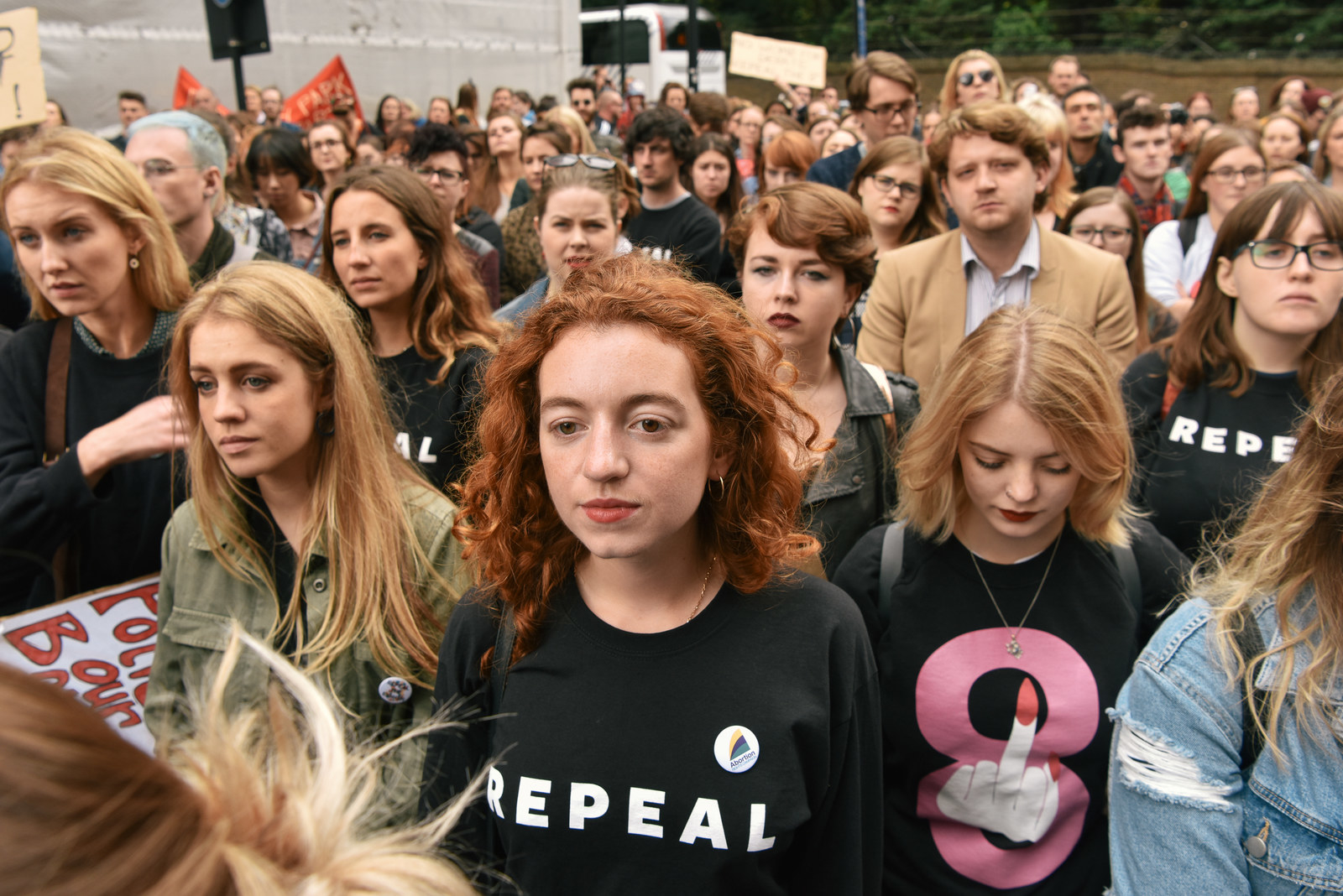 Barbara Davidson, who's also of LIARC and is originally from Northern Ireland, told us: "I think the Northern Irish Assembly would have to pay attention if decriminalisation happened in England, as well as listen to the human rights bodies who have condemned laws in Ireland north and south."
Even though abortion is accessible in England, Scotland, and Wales in a wider set of circumstances, it is still subject to criminal sanctions rather than being regulated by the healthcare system.
Campaigners have been seeking to remove criminal regulations around abortion in the UK in order to remove barriers faced by many women here.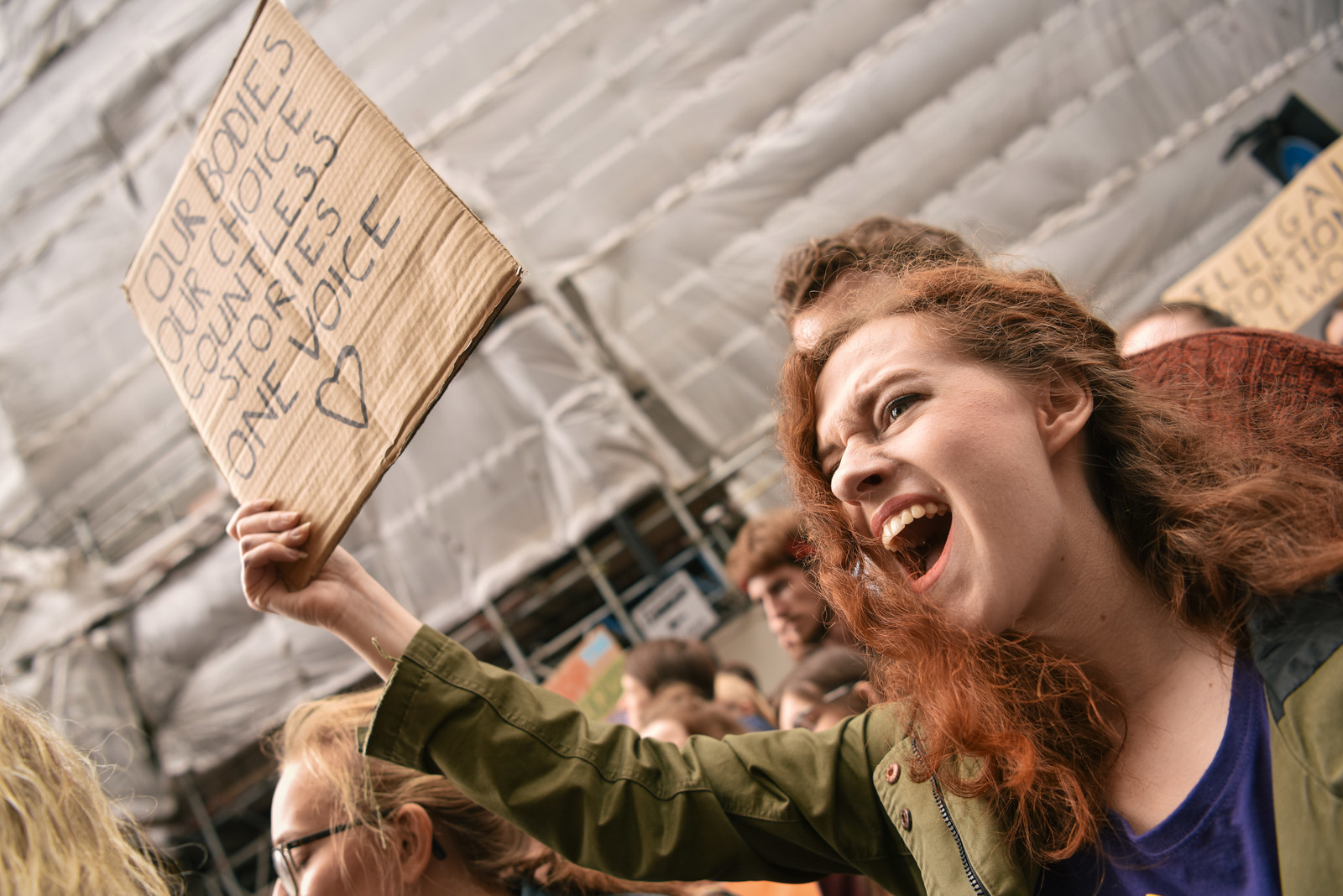 A member of the campaign group Speaking of IMELDA – "IMELDA" stands for "Ireland making England the legal destination for abortion" – said it was important to make more women in the UK aware of Irish women's plight.
"A lot of women in England maybe don't know how backwards Ireland's abortion laws are – and Northern Ireland's abortion laws," said the woman, who asked not to be named.
"I think it's really important to have solidarity across the UK and the island of Ireland, because this is where so many Irish women come to," she said. "We need that support from our English sisters and our sisters living in the UK."

Last week the Irish government confirmed that a referendum on repealing the eighth amendment in the Republic of Ireland will take place in either May or June next year, although the terms of the poll are yet to be confirmed. Many worry that any new law that passes could still pose too many restrictions on women's ability to access abortion in Ireland.
"It feels like it's starting to happen," Little said. "But [Ireland's prime minister] Leo Varadkar is yet to come out with a strong pro-choice message, and I personally feel let down by that. He's letting down 50% of the citizens he's supposed to be working for, but it doesn't seem to be on his agenda."