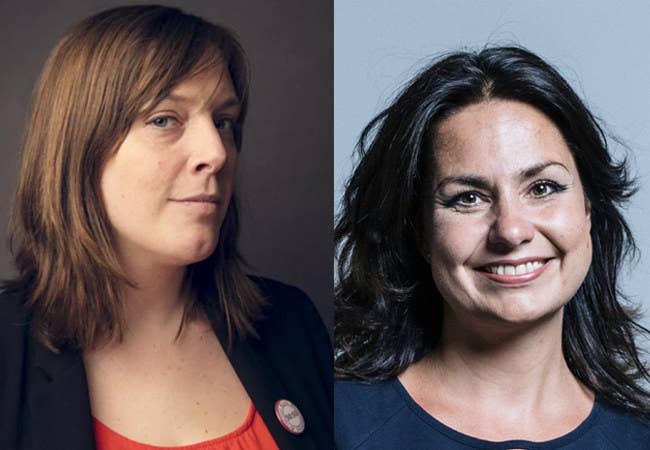 Two women MPs have become the first to speak in chamber of the House of Commons about their personal experiences of having an abortion.

During a debate on Tuesday afternoon on whether abortion rights could be extended to Northern Ireland, where the procedure is illegal, Conservative MP Heidi Allen described her decision to have an abortion when she experienced ill health during pregnancy, and Labour's Jess Phillips recalled her own abortion a decade ago.

"I was ill when I made the incredibly hard decision to have a termination," Allen, who represents South Cambridgeshire, told MPs, her voice cracking with emotion. "I was having seizures every day. I wasn't even able to control my own body, let alone care for a new life."
Shortly after, Phillips, MP for Birmingham Yardley, described hiring a car recently and noticing that the previous driver appeared to have used it to drive to an abortion clinic in Birmingham.

"The last place on [the car's GPS] was to the Calthorpe Clinic in Edgbaston, where I myself had been for an abortion a decade previously," she told the Commons. "Myself and the member for South Cambridgeshire are not criminals."
Phillips and Allen spoke during a debate on extending abortion rights to Northern Ireland, where the procedure is illegal in almost all circumstances. The emergency debate was granted after Labour MP Stella Creasy received wide cross-party support for the issue to be raised in parliament.

Creasy has proposed that the government repeal Section 58 and 59 of the Offences Against the Person Act 1861, the law that still prohibits abortion in Northern Ireland, which would effectively remove criminal sanctions around abortion and pave the way for more modern legislation.

Campaigners in Northern Ireland have long pushed for reform to their abortion law, but a recent vote to liberalise abortion law in Ireland has lent their cause extra urgency.

"How can it be that Northern Ireland will soon be the only part of Great Britain and Ireland where abortion is to all intents and purposes outlawed?" Allen added.

Abortion is a devolved issue in Northern Ireland, but the Northern Ireland Assembly has not sat for over a year following a collapse of power-sharing talks in 2017, leading many to call for Westminster to intervene and legislate for abortion rights in Northern Ireland. Campaigners have said they would support this.
"Very suddenly and unexpectedly we have a window of opportunity before us," Allen continued, "whether you feel that window has opened as a consequence of no functioning devolved administration of Northern Ireland, or because a neighbouring referendum was so close and so relevant as to be impossible to ignore, or simply because you feel the glaring light of equality and human rights illuminating the women of Northern Ireland.

"This has become their moment. And they will have my unequivocal support."

Prime Minister Theresa May, however, continues to insist that the priority should be to reform the Northern Ireland Assembly and allow it to revise abortion law as it sees fit.

"The prime minister has been clear in her support for women's rights in respect of access to safe abortions and she welcomed the referendum result in Ireland," Northern Ireland secretary Karen Bradley said in a statement on behalf of the government during Tuesday's debate.

"We are in agreement that the best way forward for Northern Ireland is through locally accountable politicians making important decisions through devolution, and for the people of Northern Ireland to have their say on the devolved issues which affect their daily lives."