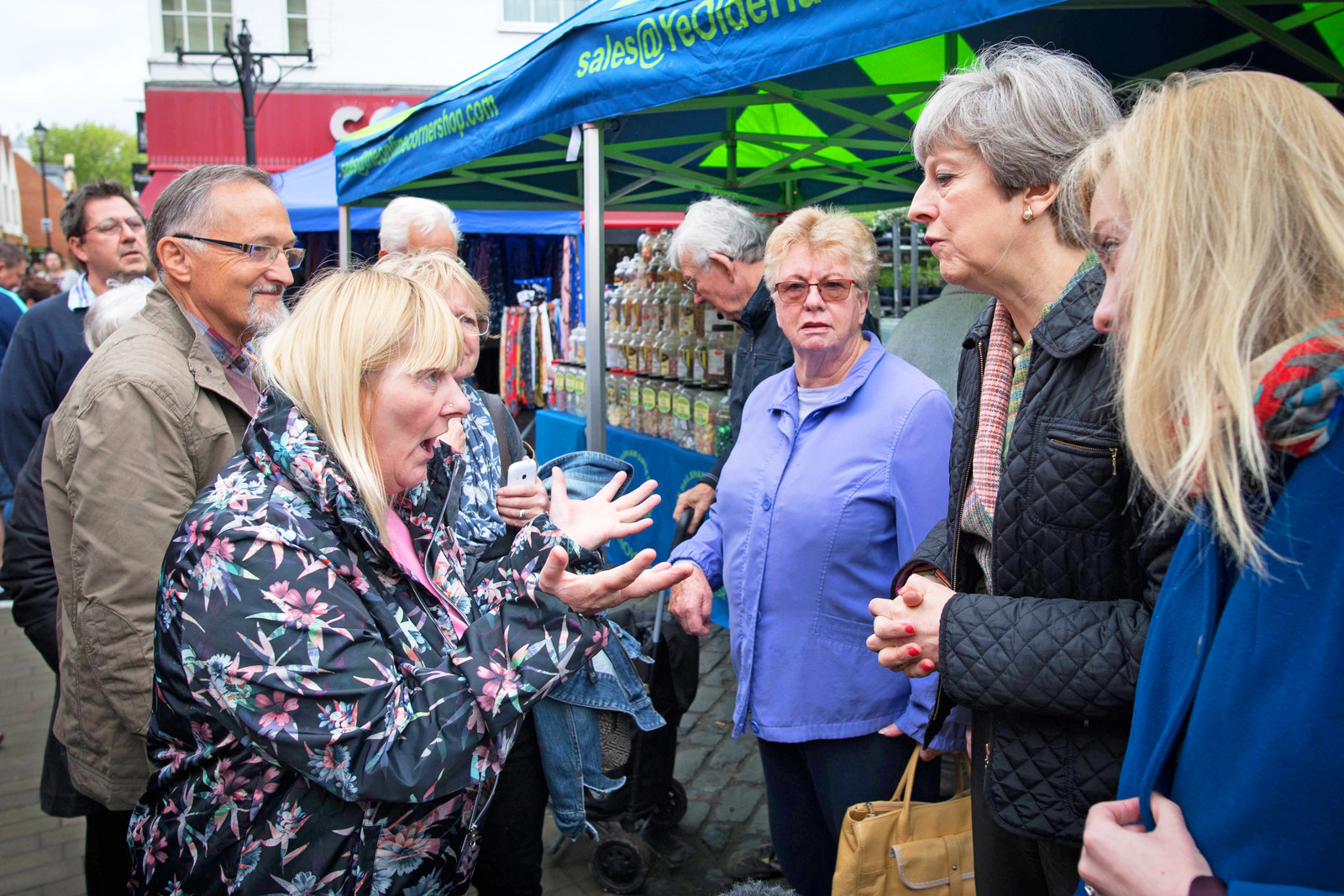 Cathy, a woman who said she had "mild learning disabilities", challenged Theresa May on the Conservative party's controversial welfare reforms while the prime minister was out campaigning in Oxfordshire on Monday.
"I'm being serious, I want you to do something for us," Cathy said as she approached May in Abingdon Market.
May, who calmly nodded throughout the exchange, responded that she had a number of plans for people with mental health issues.
"And learning disabilities!" Cathy interrupted. "I haven't got a carer at the moment and I'm angry. I would like somebody to help me because I can't do everything that I want to do.
"I'm talking about everybody, not just me. I'm talking about everybody who's got mental health and anyone who's got learning disabilities. I want them not to have their money taken away from them, and being crippled."
Last year the Department for Work and Pensions replaced the disability living allowance with a points-based system of personal independence payments (PIPs), which many have argued are insufficient.
"The fat cats keep the money and us lot get nothing," Cathy said as May continued to try to outline the "number of things" she planned to do to help people with learning disabilities and mental health issues.
"I want my disability living allowance to come back, not have PIPs and get nothing," Cathy continued.
"I can't live on £100 a month, they just took it all away from me.
"I mean people in wheelchairs and everybody, not just myself, for all of us."
May said: "We want to ... ensure when we look at the help that we're giving to people with any disability, it's particularly focused on those who are most in need."
Following the encounter, May was criticised for associating a learning disability with mental health. Ismail Kaji, Mencap's parliamentary affairs support officer, who has a learning disability said she found the exchange worrying.
"Theresa May keep talking about mental health, when Cathy said she has a learning disability, which is not anything to do with mental health. That makes me think that Theresa May is unclear on the difference, and that is very worrying," Kaji said.
"I have a learning disability and I have disability benefits," she continued. "Like Cathy, many people with a learning disability are scared of changes to their disability benefits and are understandably angry."
The PM has been taking more opportunities to interact with members of the public since she was accused of running a stage-managed campaign. When Liberal Democrat leader Tim Farron was similarly accosted by a voter in Oxfordshire, he used it as an opportunity to take a swipe at May's campaigning tactics. "Unlike @theresa_may I don't ship in activists or close my events. I am happy to meet & debate with anyone," he tweeted shortly after the encounter.