There were an estimated 43,900 excess deaths in England and Wales during the winter of 2014–15, the highest since 1999, the Office of National Statistics has said.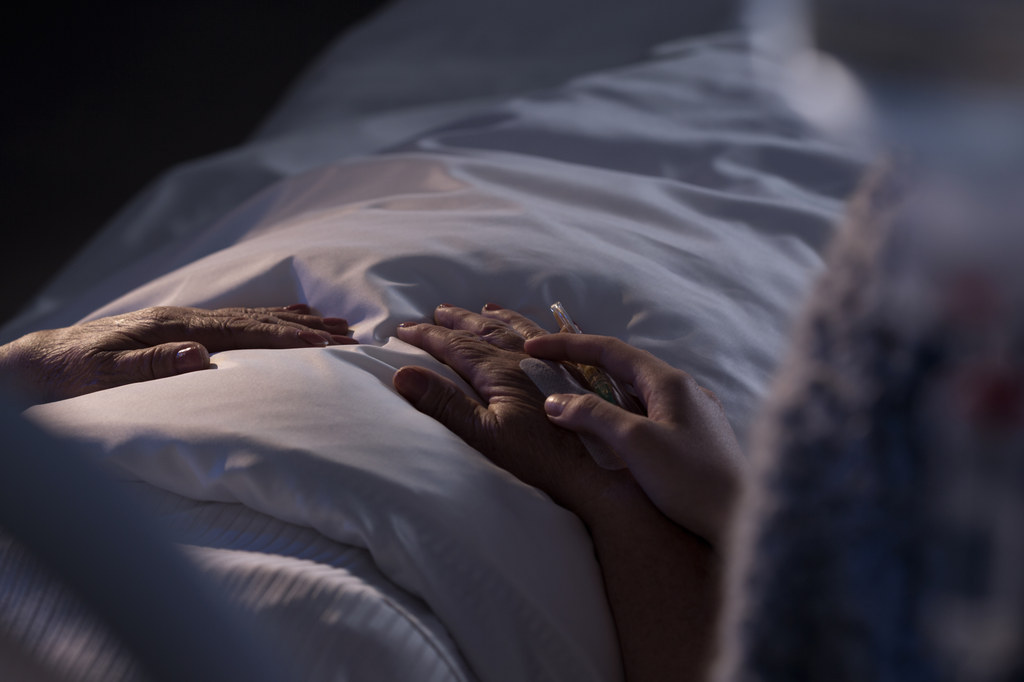 Respiratory disease such as influenza was thought to be responsible for more than a third of excess winter deaths in 2014–15.
According to the World Health Organisation, influenza, a viral infection affecting the airways and lungs, can lead to complications including pneumonia.
Pneumonia accounted for 19% of excess winter deaths in 2014–15.
An increase in cases of influenza was reported in the same period after a mismatch between the strain people were vaccinated against and the strain that circulated, Public Health England said.
The peak of excess deaths in the week leading up to 5 January followed a peak in influenza-like illness the previous week.
Public Health England considered this mismatch to be anomalous and encouraged people to continue to get vaccinated against influenza.
"Throughout the last decade, there has generally been a good match between the strains of flu in the vaccine and those that subsequently circulated, the PHE flu plan for 2015/16 says. "Flu vaccination remains the best way to protect people from flu.
"It is crucial the problem that occurred in the winter 2014/15 does not discourage people in at-risk groups from having flu vaccination this coming flu season."
The ONS report found that the number of excess deaths rose when the temperature dipped.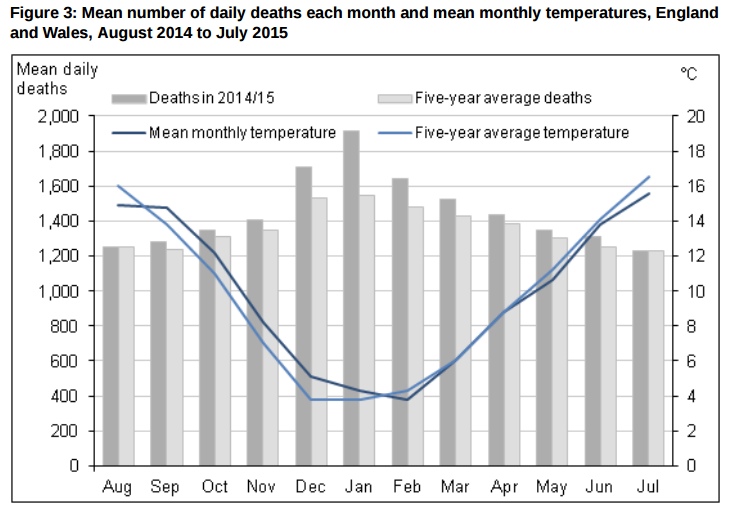 While mortality generally peaks during January, the number of deaths at this time for 2014–15 was notably higher than in previous years.
The highest number of deaths occurred on 1 January 2015, and then remained at 30% above average until 10 January. The number of excess deaths was at 10% above average until March, when the numbers began to decline, before returning to figures in line with the five-year average.
"These appalling figures are a national scandal," Labour's shadow health secretary, Heidi Alexander, said. "They show that tens of thousands of older people are dying unnecessarily in Britain today."
Alexander blamed government cuts to social care leading to older people being left without the help they need to stay healthy in their own homes.
"With the NHS facing its most difficult winter in a generation," she said, "ministers need to get their heads out of the sand and ensure older people are properly supported over the coming months.
"Many of these excess deaths are caused by people living in homes that are too cold, and alongside action on social care, the government needs to gets serious about tackling fuel poverty.
"Home insulation has fallen by 80% under the Tories and is set to be cut back even further. Older people should not have to choose between heating and eating."