The government will go ahead with the imposition of a new junior doctors contract against the wishes of the British Medical Association (BMA), Jeremy Hunt has announced.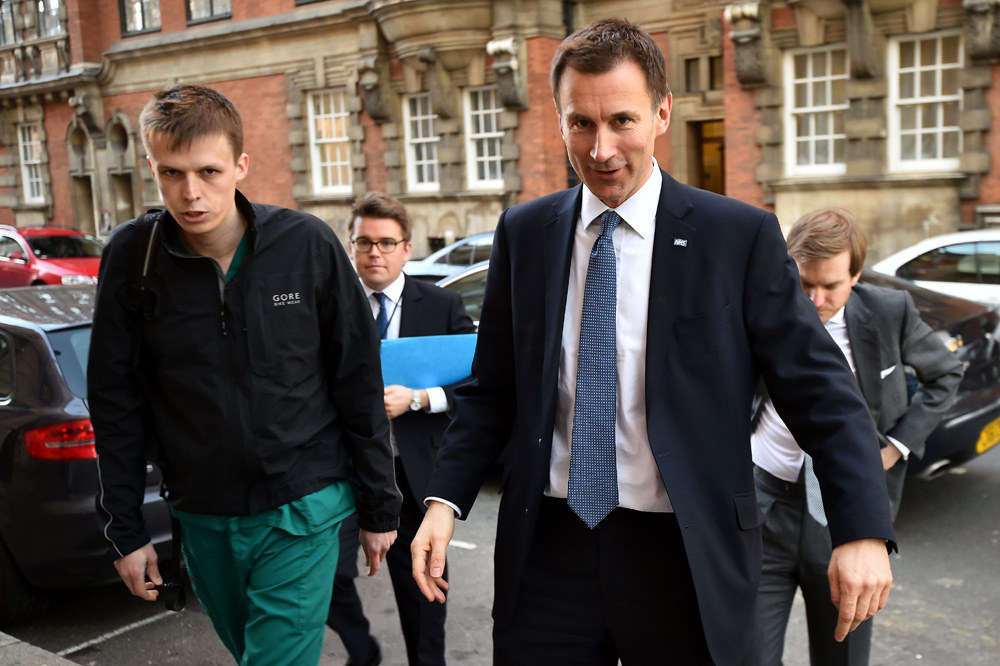 The health secretary said Sir David Dalton, the chief negotiator for NHS Employers, wrote to him on Wednesday stating that a "negotiated solution is not realistically possible" and advised him to go ahead with imposing the new junior doctors contract.
"I have therefore decided to do that," Hunt said.
Junior doctor Osman Khalid, from London, told BuzzFeed News he was "horrified" by the imposition. "I think it is unacceptable," he said. "I don't know what's going to happen after this."
Dr Hannah Fosker, a junior doctor in Leicester, told us there was a mood of upset and anger among her colleagues but that they had no intention of giving up the fight.
"I hope the public can remember who they have trusted in this dispute as I fear industrial action is going to escalate," she said. "We have been backed into a corner."
Dr Ben White, a junior doctor in London, told us he was "deeply upset" by the decision and said he did not believe the reformed contract would lead to the safe implementation of a seven-day NHS.
"I can't see how pushing through cuts which can only harm long-term patient safety can be legal," he said.
"I have been in tears today," Dr Bernadette Lomas, a junior doctor in Manchester, told us. "The damage in terms of losing trainees is already done – I have no idea how they can begin to claw this back."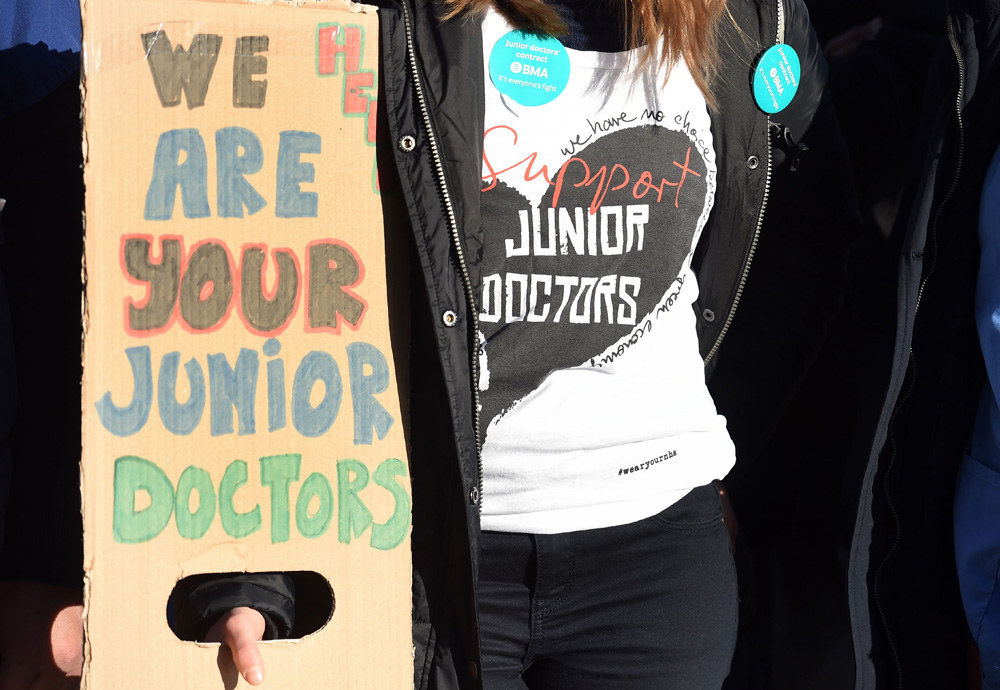 Medical student Hannah Barnham-Brown, told BuzzFeed News it feels "daunting to be starting a career with this much uncertainty as to my future".
She is due to start work as a junior doctor in August when the contract is set to come into place, and so has already applied for jobs in England, but said she will probably consider jobs further afield once her two foundation years are over.
"I know that many of my colleagues feel the same way, and many are considering leaving medicine altogether, and looking at jobs in the City and similar," she said.
"Given the debt we have accrued studying medicine (it is my third degree, I am finishing my 10th year at university, and have over £100k of debt), to be considering leaving already is incredibly sad."
Her partner is also a junior doctor, and given their desire to one day start a family, she said, it is simply "untenable for us both to stay in medicine".
Heather Holyoak, also a final-year medical student, told us she'd considered applying for jobs outside the UK but wanted "to be able to give something back to the hospitals who have put a lot of effort into shaping me into the doctor I will become".
But feeling disheartened by the government's decision today, she said: "I am now seriously considering moving to Australia after my first two years of training.
"I wanted to head into general practice or healthcare of the elderly, two already struggling specialties, but with the career potential ahead of me, I do not feel that these are still viable options.
"I am feeling extremely demoralised and dejected and I cannot believe that I am having to consider not doing something that I love and feel that I was meant to do, because of an unfair contract that is being forced upon us."
The new contract will include a 13.5% rise in basic pay for junior doctors, up from the 11% offered by the government in November, but will involve a reduced number of hours at which doctors are entitled to premium overtime pay.
When the new contract is rolled out in August, doctors will receive an increased rate of pay from 5pm on Saturdays. The BMA had been fighting for the whole of Saturdays to be eligible for the out-of-hours premium, and it was this issue of Saturday working hours classification that ultimately made a resolution between the government and BMA impossible.
On Wednesday the BMA proposed a compromise that would have actually seen a smaller increase in basic pay – less than 11% – to allow for funds to be redistributed towards premium weekend pay.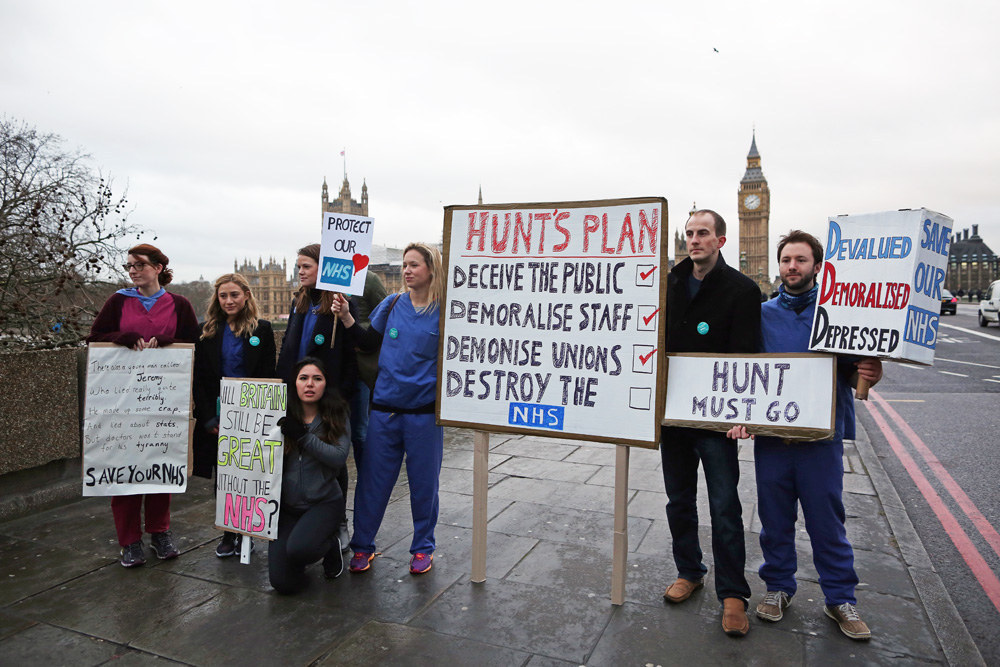 Hunt said he had been willing to be flexible with the BMA and is introducing a premium of 30% for doctors working more than 1 in 4 Saturdays.
Sundays and nights between 9pm and 7am will also be eligible for the out-of-hours premium.
Addressing the BMA's concern that tired doctors would lead to a compromise of patient safety, Hunt said the new contract would see the maximum amount of hours a doctor can work reduced from 91 to 72, as proposed by the government in November.
The maximum number of consecutive nights a doctor can be asked to work will be reduced from seven to four and the maximum number of consecutive long days will be reduced from seven to five.
Throughout negotiations, Hunt has repeatedly stated that these reforms are essential to allowing the government to keep its pledge of delivering a seven-day NHS service.
He cited research that he believes shows a patient is more likely to die if they are admitted to hospital at the weekend, although he has also been accused of misrepresenting weekend death data for political gain.
"Today we are taking a decisive step forward to help deliver our manifesto commitment, and I commend this statement to the house," he told MPs as he made his announcement.
While Hunt remained firm on his decision to impose the contract, he did say that the dispute had "uncovered some wider and more deep-seated issues relating to junior doctors' morale, wellbeing and quality of life which need to be addressed".
He announced that he would work with the president of the Academy of Medical Royal Colleges and senior clinicians to lead a review into ways the morale of the junior doctor workforce could be improved.
Labour shadow health secretary Heidi Alexander told the House of Commons the decision would "destroy" morale among junior doctors.
She accused Hunt of a "failure to listen to junior doctors" and having engaged in a "deeply dubious misrepresentation of research about care at weekends" in order to push through the contract.
"Everyone, including the BMA, agrees with the need to reform the current contract," Alexander said.
"But hardly anyone thinks the need to do that is so urgent that it justifies imposition, and all the chaos that will bring."
She cited a poll published earlier this week that showed 90% of doctors surveyed would resign if the contract was imposed.
In November BuzzFeed News learned that a record number of junior doctors had applied for the relevant papers to work overseas, thought to be due to to the looming threat of the new contract.
Alexander said: "The health secretary needs to stop behaving like a recruiting agent for Australian hospitals and start acting like the secretary of state for our NHS."
Alexander warned that Hunt's decision "could amount to the biggest gamble with patient safety this house has ever seen".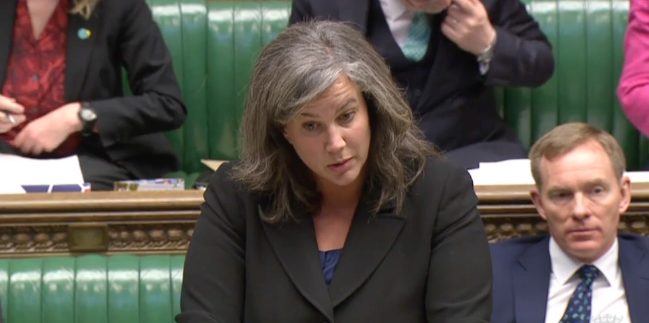 Labour leader Jeremy Corbyn echoed Alexander's concerns, calling Hunt's move to impose the contract "provocative and damaging".
"The BMA has continued to table proposals to settle the dispute," Corbyn said. "The fact that the health secretary is now simply trying to impose his will rather than negotiate demonstrates a lack of confidence in his own arguments."
He said the government was being "reckless with our NHS" and that he faired Thursday's developments would lead to more industrial action.
"If that happens," Corbyn said, "it will be clear that the blame lies with the government, not the doctors."
In a statement following Hunt's announcement, BMA junior doctors committee chair Dr Johann Malawana said the organisation "cannot and will not accept a contract that is bad for the future of patient care, the profession and the NHS as a whole".
"We will consider all options open to us," he said, mirroring many junior doctors' call to continue with industrial action.
"The Government's shambolic handling of this process from start to finish has totally alienated a generation of junior doctors – the hospital doctors and GPs of the future," he said. "There is a real risk that some will vote with their feet."