Some People Lost Their Shit During The Football Game And The Police Want Everyone To Calm Down
An ambulance was smashed up as people celebrated in London, while alcohol-fuelled disorder spiked nationwide.
As you may have heard, England beat Sweden 2–0 in the quarterfinal of the World Cup on Saturday, and it is with a heavy heart that we must report people got a bit carried away.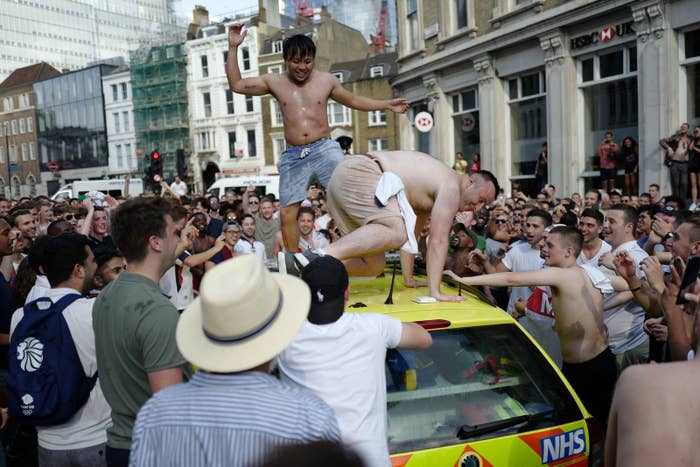 Several police forces reported a spike in disorderly behaviour in the hours following the match and urged people to behave more responsibly when England play Croatia in the semifinals on Wednesday.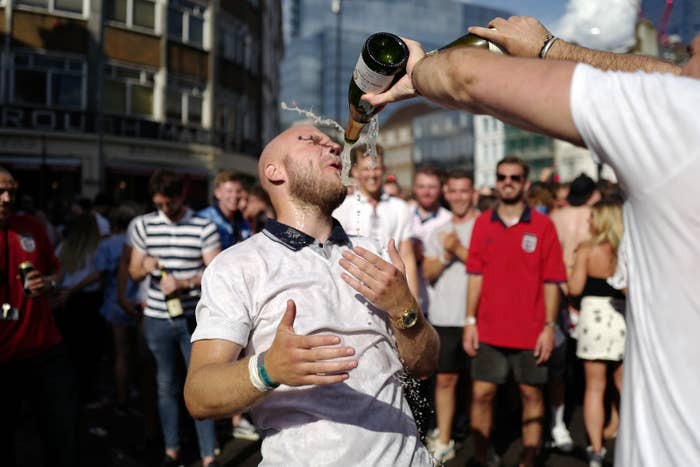 An officer in Lancashire tweeted that the local police force had dealt with a record high of 2,200 incidents in 24 hours, "predominantly alcohol fuelled violence [including] domestic & serious assaults".
Celebrations on Borough High Street in Central London led to one of London Ambulance Service's rapid response cars being so badly damaged that it had to be taken out of service.
"Some idiots obviously can't act responsibly," a spokesperson for Met Police Taskforce tweeted. "That's one vital #Rapid response #LAS unit out of service at a cost to the public."
Earlier, the Met Police Taskforce tweeted, asking people to behave responsibly. On Sunday, a group of Millwall Football Club fans launched a crowdfunding page to pay for the repairs.
"If the insurance company pays for the repairs, all monies raised will be donated to the Local Ambulance Service whose vehicle has sustained this damage," read the page, which had raised over £1,000 at the time of writing.
The Tower Hamlets police in London appealed for information about the identity of a woman who was pictured on top of the damaged ambulance car.
Across the country, local police forces described a surge in emergency calls.
West Yorkshire police reported an influx of calls – they received 999 calls immediately after the game.
They described an "Everest-esque" peak of 999 calls from 6pm on what had otherwise been a normal day. The game finished around 5pm.
West Midlands police also reported a surge in 999 calls on Saturday evening, citing "football and alcohol" as the likely cause. Sussex police reported a similar spike with 109 calls in an hour at the peak.
One police officer suggested destructive England fans were letting down the team's manager, Gareth Southgate.
England will play Croatia in the semifinal on Wednesday on what is forecast to be another hot day.
A win would take England to the World Cup final for the first time since 1966.