England And Russia Could Be Disqualified From Euro 2016 Over Violence
UEFA launched disciplinary proceedings on Sunday, citing crowd disturbance, racism, and the setting off of fireworks during the England vs Russia match in Marseilles on Saturday.
England and Russia's football teams could face disqualification from the 2016 European Championship following days of violence in Marseille, UEFA has warned.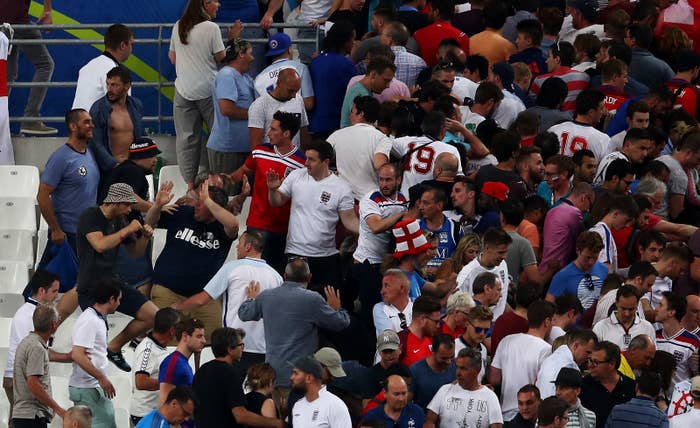 Drunk England fans have been seen violently attacking pubs Marseille, leading French police to deploy water cannon and tear gas.
On Sunday, UEFA – the official governing body for European football – launched disciplinary proceedings against Russia, citing crowd disturbance, racism and the setting off of fireworks after violence erupted among fans during yesterday's 1-1 match between England and Russia.
In a later statement on Sunday, UEFA said "it will not hesitate to impose additional sanctions on the [English] Football Association (FA) and the Russian Football Union (RFU) including the potential disqualification of their respective teams from the tournament, should such violence occur again.
"We urge both the FA and the RFA to appeal to their supporters to behave in a responsible and respectful manner".
Footage from inside the Stade Velodrome showed Russian supporters attacking England fans in the stands after the final whistle.
Russian fans could be seen kicking and punching England supporters after climbing barriers intended to separate opposing supporters.
According to the French minister of the interior, a British citizen was among the injured during Saturday's clashes.
Following emergency meetings on Sunday, UEFA said it was looking to strengthen security at France's stadium's for the duration of the tournament.
While England fans are embroiled in their own controversy after many were seen to violently clash with police in the town of Marseilles, England's Football Association does not face any charges relating to the incidents following Saturday's match.
UEFA acts on behalf of fans within Europe's football stadiums, but matters relating to supporters elsewhere remain out of its hands.
"The FA is very disappointed by the terrible scenes that we saw there and of course condemns such behavior," FA spokesman Mark Whittle told the Associated Press following Saturday's incident.
Russian minister of sports Vitaly Mutko initially told state-owned TASS, "there was no clash actually," but later conceded that UEFA had "done the right thing" by launching the disciplinary proceedings.
"There were flares, there was a flare gun, there had been clashes in the stands, it's necessary to sort all of this out," Mutko reportedly said.
"The fans were rooting greatly, but there are people who do not come for the football."
FIFA, the official body for football associations internationally, said it "strongly condemns" the violence that has so far tainted 2016's Europe-wide competition in a statement on Sunday.
"[FIFA] finds it wholly unacceptable to see such shameful scenes around football matches perpetrated by a minority of idiotic troublemakers, who have nothing to do with football and its true fans," the statement continued.
"Events such as UEFA Euro 2016 are attended by millions of people from around the world simply with the intention of celebrating football and enjoying the matches, and that is how it should always be."
The control, ethics and disciplinary body for UEFA will judge the case on Tuesday, and any sanctions will be imposed before Russia's match against Slovakia in Lille on Wednesday.
England are due to play Wales on Thursday. Following the violence in Marseille, a spokesperson for the UK Home Office said that the government had offered to send UK police to support French police in Lens, where the match will be played, according to Associated Press.
Euro 2016 only began on Friday, but already police in Marseille have used tear gas and water cannons on English fans who violently trashed bars in the town.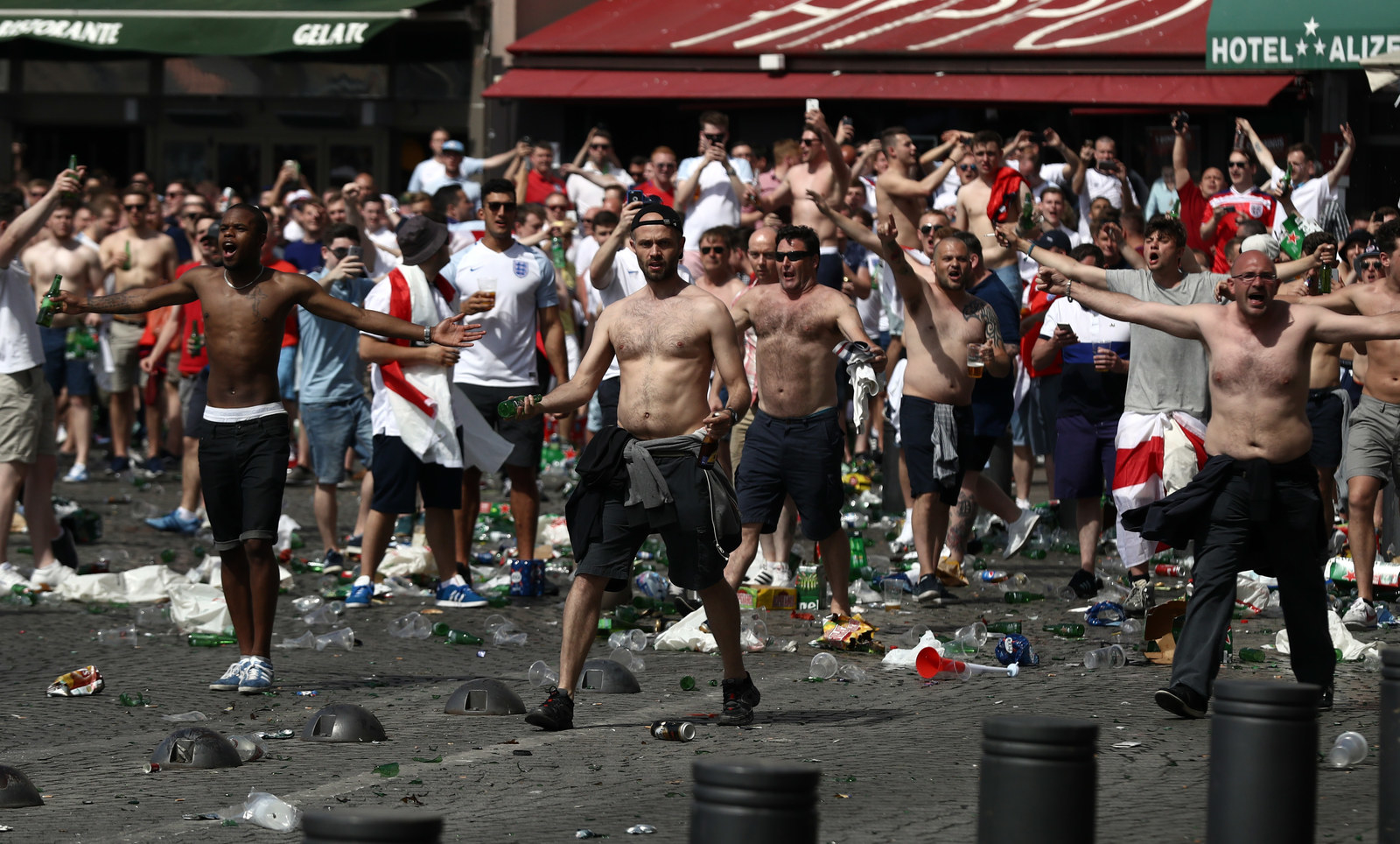 Nine people were arrested after clashes on Friday, and many bars in Marseilles are refusing to admit English football supporters. Others in the area have shut up shop entirely.
Clashes also broke out between English, Russian and French fans on Saturday.
"We are really disappointed by the scenes of disorder in Marseille," a statement by the English FA, released ahed of Saturday's match, read.
"It is in the hands of the authorities to identify those involved and deal with them appropriately.
"The FA urges supporters who are traveling to Marseille to act in respectful manner and enjoy the match against Russia."