Police Discover "Firearm" Discarded At Gatwick Airport
The north terminal was evacuated and a French man has been charged with possession of an air rifle and a knife, Sussex police said.
Gatwick Airport's north terminal was evacuated on Saturday after the discovery of "what appears to be a firearm", Sussex police said.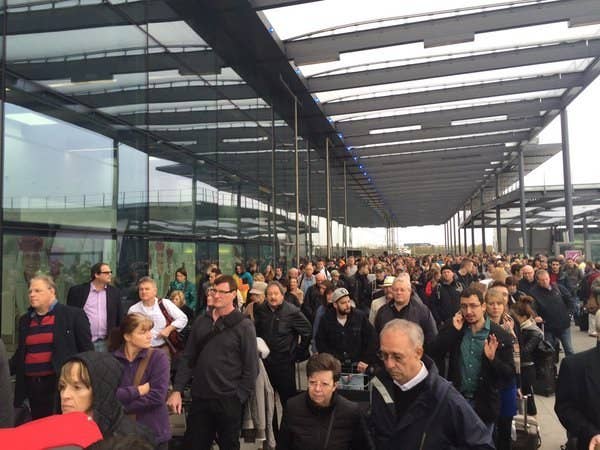 Police were called to the airport at around 9.30am after being alerted to "suspicious actions by a man who discarded an item at the airport", they said in a statement.
Bomb disposal experts were called to the scene and a controlled explosion was carried out, while thousands of people were left waiting outside in the rain as the terminal remained closed for six hours.
Police later confirmed that the package was thought to contain a firearm. However, they said, "the viability of the weapon has yet to be established".
A French man has been arrested in connection with the incident.
"A 41-year-old man from Vendôme in France was arrested at the scene at the time of the report on suspicion of firearms offences," the statement read.
"He was 'landside' at the airport and had not checked in or passed through any passport or security checks."
The man, who police later named as Jerome Chauris, has been charged with possession of an air rifle and a knife and will appear before Crawley magistrates' court on Monday.
"The man is being interviewed as we try to determine the circumstances of the incident, but at this time it is too early to say what his intentions, if any, were," Detective Superintendent Nick May said.
"However, given the events in Paris on Friday evening, there is heightened awareness around any such incident and it is best that we treat the matter in all seriousness.
"We are aware that there is concern about what has happened in France, but the general threat level remains the same and people should be aware as usual of anyone acting suspiciously and report any concerns immediately."
The alert came as security was tightened after multiple terrorist attacks killed more than 120 people in Paris on Friday night.
Gatwick Airport reopened its north terminal later on Saturday afternoon following advice from police, and thanked people for their patience throughout the incident.
"Our priority is always the safety and welfare of our passengers and extra Gatwick staff is on hand to assist," a spokesperson tweeted from their airport's account.
They advised passengers to check with airlines on the status of flights as they worked to resume normal service.