A woman in her seventies was declared dead at the scene, Kent police Chief Inspector Roscoe Walford told Sky News.
He said that a car, which seemed to have lost control, mounted the kerb and went through the window of Costa coffee, according to the BBC.
"It is a very sad occasion for Christmas Eve and especially for the family of the lady who has died," Walford added.
"We will do our very best to come to a conclusion of how this has happened and to help the family through it."
A further five people were treated for injuries at the scene, four of whom are said to be in a serious condition.
"More than a dozen ambulances attended the scene in total, including Critical Care Paramedics and one of our Hazardous Area Response Teams (HART)," South East Coast Ambulance service said in a statement confirming the casualties.
"Our thoughts are with all those involved in and affected by this very sad incident."
Kent Police said they had set up a centre for witnesses in nearby The Grasshopper pub and are appealing for information about the crash.
Police and ambulance services were called after an Audi crashed into the coffee shop at 10:30am on Thursday.
"Someone has just driven a car straight into costa coffee in Westerham. Madness," one eyewitness, Peter Thornley, tweeted shortly after the crash.
Sally Pendleton, who arrived at the shop around five minutes after the collision, described seeing "12 people by the side of the Costa looking very much in shock," the BBC reported.
"There were a few people who had been hurt and quite a few elderly people as well," she said.
"It's a horrible thing to have happened, on Christmas Eve of all days.
"Westerham is quite a quiet, sleepy area usually."
Jilly Probert, a hairdresser at nearby Fringe Benefits recalled the moment she saw the car hit the coffee shop to The Mirror.
"We heard a big explosion. The streets were flooded. People were looking around, people were crying," she said.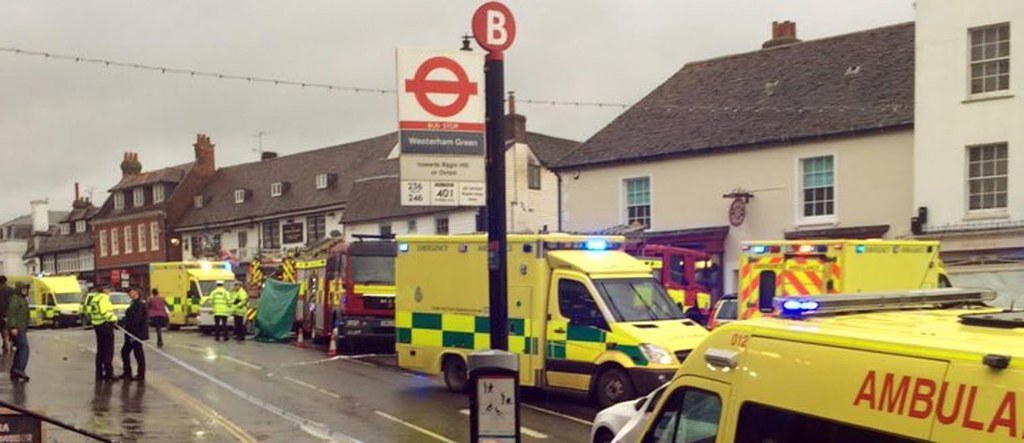 A spokesperson for Costa said the company was working with emergency services to support rescue efforts.
"Our thoughts are with the victims and their families who have been affected by this very sad and shocking event.
"Our team are deeply shocked by what has happened."