Nigel Farage Got Called Out By This Reporter After Sharing A Fake Anti-Refugee Image
"He has the eyes and ears of thousands of people daily, listening to him, believing that what he says is truth," the reporter who took the original photo told BuzzFeed News.
Former UKIP leader and right-wing broadcaster Nigel Farage shared a now-deleted, fake image with an anti-immigration message to his 1.2 million Twitter followers earlier this week.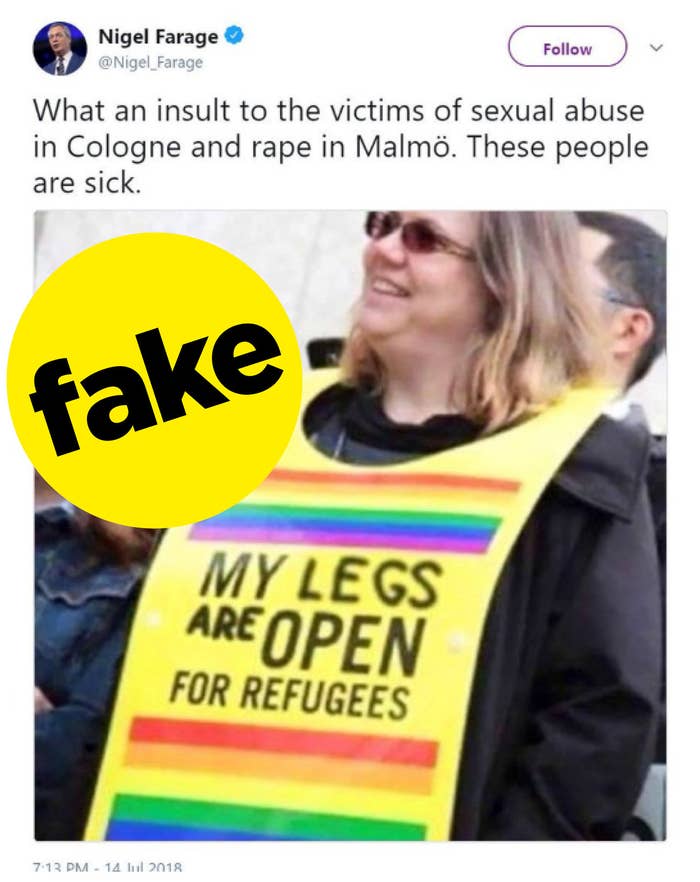 The doctored image showed a woman wearing a sign that apparently read, "My legs are open for refugees," along with a caption referring to reports of sexual assault in Cologne, Germany, and in Malmo, Sweden. In a leaked report, German police appeared to hold Syrian refugees responsible for some of the attacks.

While Farage and others have attributed high levels of sexual crime in Malmo to newly arrived refugees, there is no correlation between an increased number of asylum-seekers and rates of sexual crime.

The original image was taken in 2015 by Canadian journalist Lasia Kretzel, now a News 1130 reporter in Vancouver, and shows a woman wearing a sign that says, "My door is open for refugees".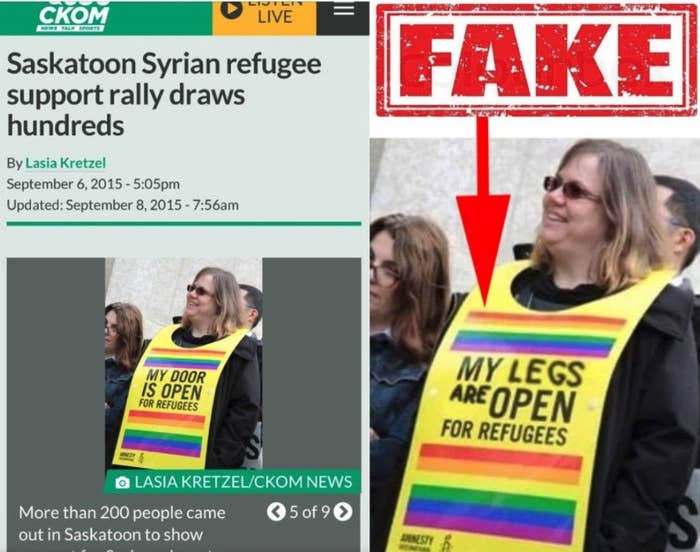 "It was around the time Canada was accepting Syrian refugees and it was all over the news," Kretzel, who at the time was a reporter at Saskatoon, Canada, radio station CKOM.

She was sent to cover a rally, in which many residents of the city were demonstrating their solidarity with the incoming refugees.
"They wanted to show refugees that they would be welcoming when they came into our community," she continued.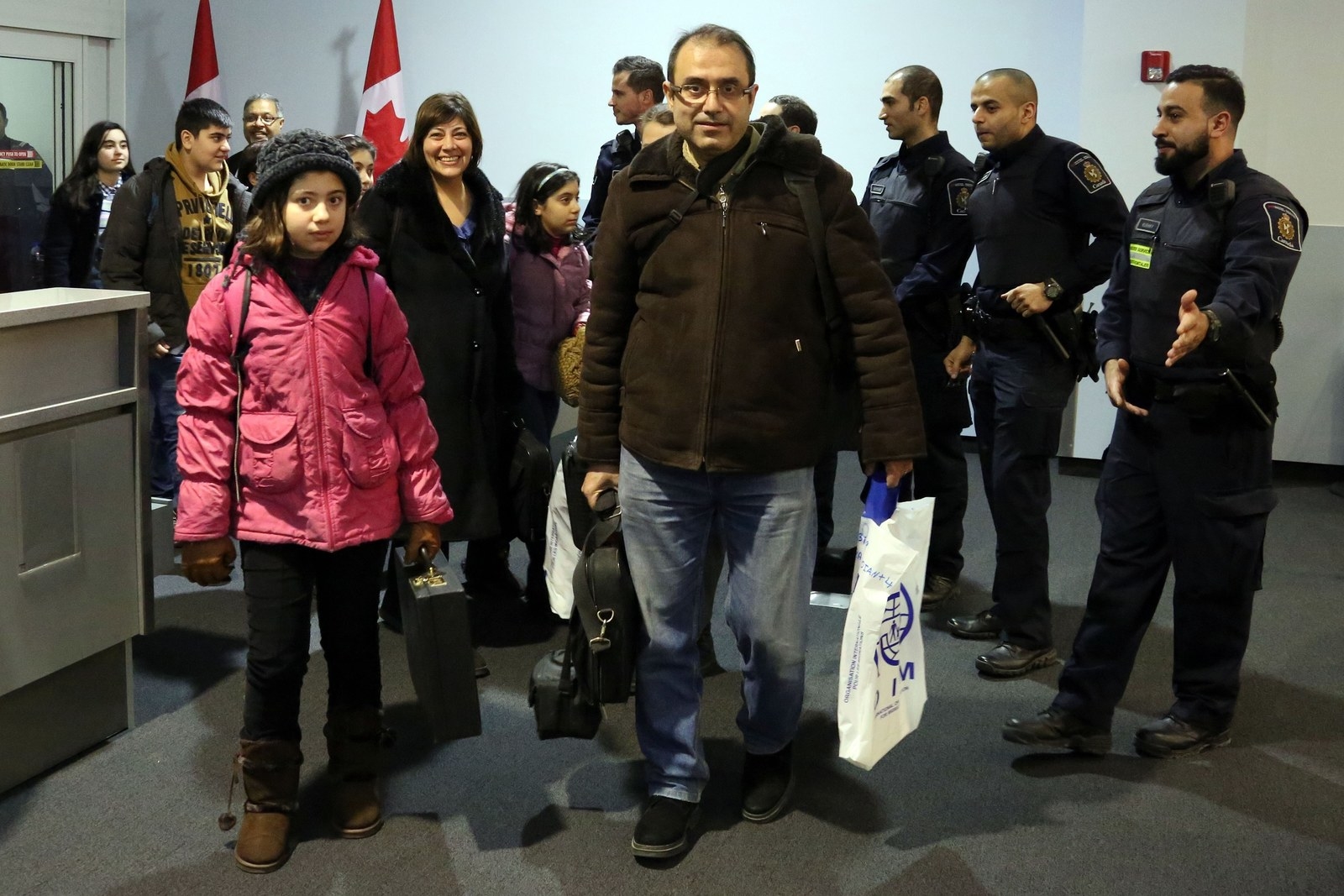 Kretzel said she was simply there to do her job and cover the rally and didn't think much more of it after her story about the day was published.

"It was a photo like any other photo from a rally, I didn't think twice about it."
Around a year later, Kretzel received an email from someone she didn't know telling her that what looked like her photo with different text on the woman's sign was being shared on anti-immigration Facebook pages.
"I was upset to see my photo having been manipulated and was being spread as truth, it was disappointing to see that," she said.

But at the time, Kretzel felt like there was not much she could do about it. "At the end of the day there are so many images online that could get lost and fade from existence, which is what I wanted," she said.
"I wanted it to die and disappear into the vast ether of the internet."
Then Farage found and tweeted it Saturday, racking up more than 1,000 likes and more than 700 retweets before eventually deleting it.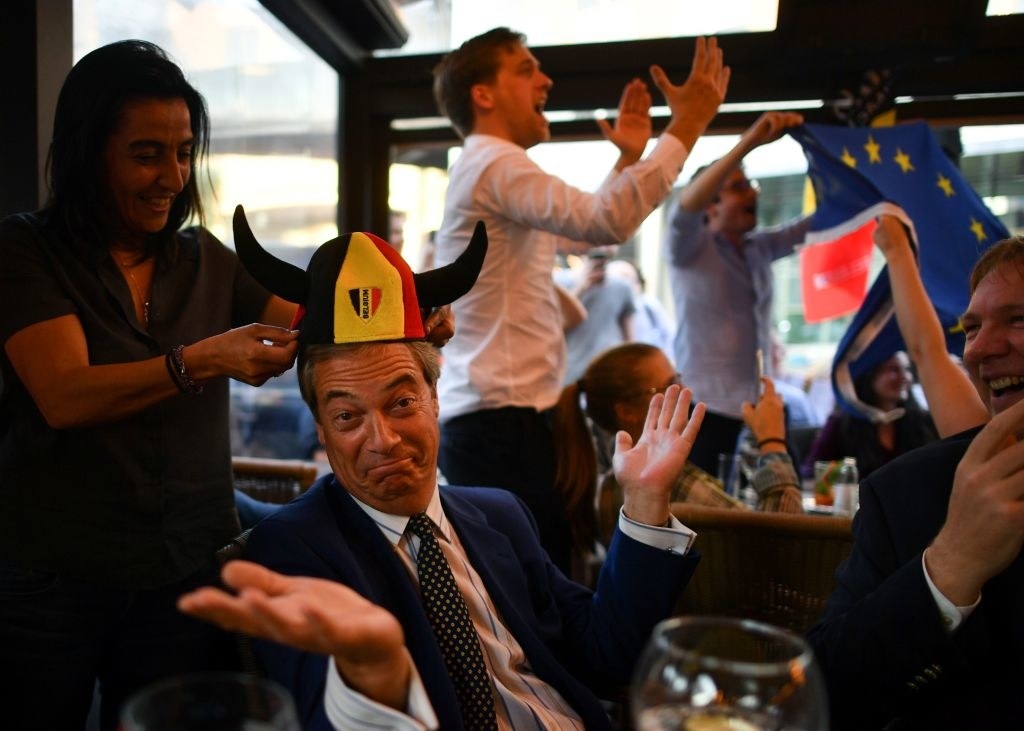 Kretzel said that seeing someone with such a huge public profile share the picture felt uncomfortable, and so she tweeted her version of the story in order to quell the false message the doctored image had spread.
By the time Kretzel realised Farage had used her image, he had already deleted the tweet and acknowledged it was fake. But, he added, "the refugees welcome brigade need to think harder about what is happening".
Kretzel said that she was aware of Farage, and that he was known in Canada, and felt disappointed that someone with such a public profile wouldn't ensure an image was real before sharing it with such a large following.
"He has the eyes and ears of thousands of people daily, listening to him, believing that what he says is truth, or at least that it's well researched and thorough," she said.

"I would hope that individuals that are in broadcast like he is would put in the time to recognise whether an image is real or not before putting it out. At the very least just to cover their butt legally!"
She continued: "Regardless of how I feel personally about anything that's going on in British politics, or with Farage himself or anyone else who has shared these images, it was the fact that this image had been changed and was being peddled as fact that's bothered me."

Kretzel said she was pleased with the huge response she got in calling out Farage.
"Regardless of what happened after, I wanted to show that this was a fake image, and maybe help stop it in the end," she said. "If I'd called someone out who was a nobody, I don't think anyone would have cared, or that it would have received the attention it is getting.

"I never expected the kind of response that I have been getting and it's been wonderful to see the support that people have been showing to this."
BuzzFeed News has contacted Farage for comment.