"Women I've never met before will tell me about their vaginas," Gabby Edlin, a self-described "social change creative", tells BuzzFeed News at our London office. Her light Manchester lilt adds an assertive kicker to the anatomical term so often uttered in hushed tones.

Edlin is the founder of Bloody Good Period, a charity that collects donations of sanitary products, as well as other toiletries – shower gel, wet wipes, and whatnot – that women might grab on a trip to Superdrug for pads, and gives them out to refugee women at two asylum-seeker drop-offs in north London.

Because she is Jewish, Edlin says, she feels a particular affinity with asylum-seekers, and is especially keen to offer extra help to women who are refugees.

"It's kind of in our blood – that idea of being displaced," she says. "My great-grandparents came from Poland, Lithuania, and Russia at the turn of the century and my maternal great-grandmother lost her siblings in the Holocaust, so the idea of being an asylum-seeker is just a couple of generations away for a lot of us."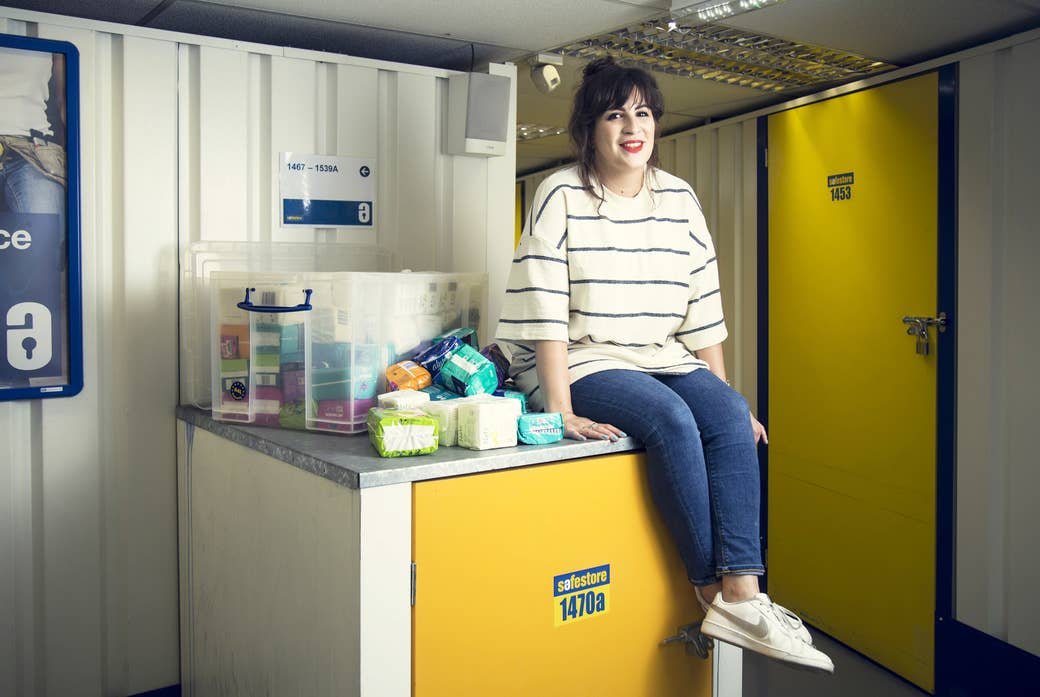 Because asylum-seekers are unable to work while their claims are processed, they are more likely to be living in poverty, often for many years. "Especially the women who have this extra expense because of their gender," Edlin says.
After the tragic fire in June at Grenfell Tower in north Kensington, where hundreds of people were displaced from their homes, often wearing only the clothes they were sleeping in when the blaze took hold, the charity gave around 1,500 packs of sanitary towels to relief efforts.
"Apart from the fact that we thought there were likely to be asylum-seekers living there, we (rightly) assumed that pads wouldn't be considered by many," Edlin says. "If there were 100 women and girls affected, it stands to reason they'd need up to 500 packs and even more pantyliners, especially as people weren't necessarily able to shower and change underwear.
"We wanted to make sure it was one less thing to worry about for the women affected by such a horrible tragedy."
She started Bloody Good Period shortly after completing a master's in social change at Central Saint Martins and beginning volunteering at the New London Synagogue's asylum-seekers' drop-off centre. When Edlin asked one of the other volunteers why sanitary products weren't alongside food and clothing on the list of items they were collecting to give out to local refugees, she was told they only had them "in emergencies".

"I was just like, every period is a fucking emergency!" Edlin says. "Sanitary products are as essential as food. You can't just bleed everywhere. It's not something extra to help – women need them."
Edlin put out a call-out to her friends on Facebook for sanitary products and got a huge response. "People really just got into it," she says. Now anyone can donate by selecting and buying specific products from the Bloody Good Period website and the charity's Amazon wishlist, or by making cash donations via its JustGiving page. There's also an option to donate via a Damebox subscription, either monthly or as a one-off, that will provide a two-month supply of pads along with a cotton bag and travel wallet to keep them in.

Initially, Edlin was encouraged to discreetly store sanitary donations under the tables of clothes at the centre to be handed out "as and when", but she was determined to have a dedicated table where they could be laid out, loud and proud, so people could openly browse and pick up what they fancy.

"I don't see why we should have to make the women embarrassed for having to get sanitary towels," Edlin says, adding that those using the centre will regularly make a beeline for her table, including men picking up pads for their wives and daughters.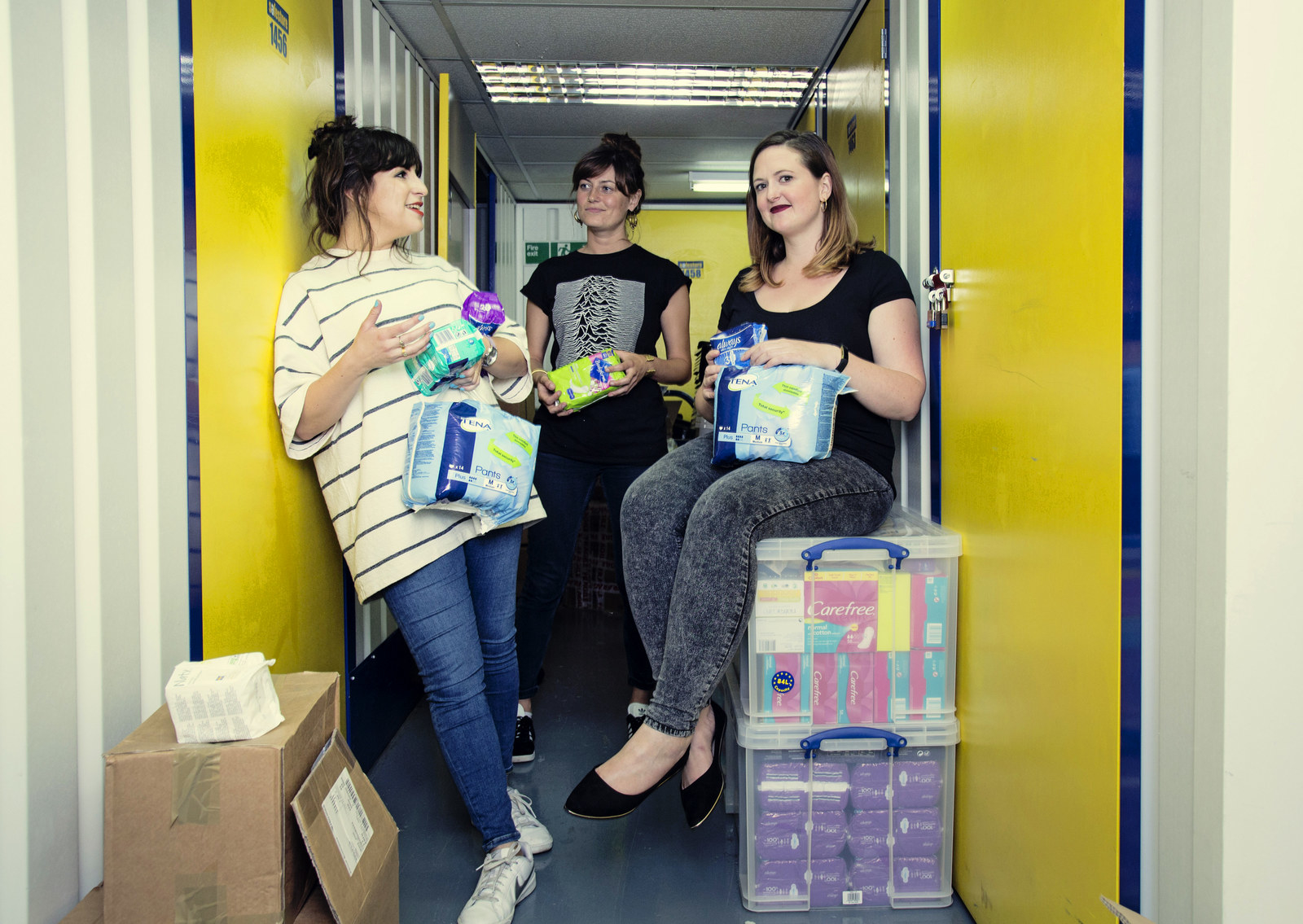 This approach has also created a space where women will share stories and offer each other emotional support, or simply just bitch together about period pain. "One woman who comes in will always dramatically announce when she's bleeding," Edlin laughs. "There's a real sense of community. It's really nice. You do really get to know people a lot."

Marina*, a 22-year-old refugee from Georgia, travels across London for more than two hours, taking three buses, to visit the centre with her 1-year-old daughter Nino* once a month.

She describes it as like a "fair", and says she often struggles to get around the centre in her allotted 10 minutes without getting caught up in conversations with other women.

"You end up talking loads," she tells us. "It is definitely good for emotional support.

"I feel like I've been able to open up to Gabby loads of times now. She doesn't look at me in a different way."

In 2009, Marina, then aged 14, fled her home country, which was in the grip of a bitter civil war. With her twin brother, she travelled to the UK via Ukraine, with plans for their mother and older sister to follow and find them later on.

"As long as we weren't in Georgia, they thought we would be safe, so we left alone," she says.

Marina says they had witnessed horrific things in Georgia, but otherwise didn't really know why they were leaving. "As kids they were trying to hide it from us. Now we obviously understand it."

Once reunited with her mother and sister in London, months after arriving, the family were moved to Cardiff and spent the next six years in and out of asylum-seeker detention shelters – not always together – and were regularly faced with deportation. Marina was at one point sent to Yarlswood detention centre, which she calls "the bad place," referring to regular allegations of poor living conditions and its mistreatment of women.
Marina was eventually able to scrape together funds from friends she had made in Cardiff to hire a lawyer to get her out of the detention centre and file a claim for asylum. For the past two years, while waiting for her application to be processed, she has been unable to work, but receives an allowance from the government of £36 per week. She also receives £37 for her daughter and £36 for her mother, who became her dependent after attempting suicide, and now lives with her in a house with four other women and their babies.
Marina generally reduces her own allowance to allow her mum to have some extra money. "I always want her to have everything she needs, even though she would never be able to go into a coffee shop or a restaurant," she says.

Marina's sister was deported back to Georgia, and she has not been able to see her since, something that makes the family sick with worry.

"It felt like she had died," Marina says. "It's so worrying for her to be sent back to a country that is so risky we'd rather come here to live off £36 per week than stay there!"

When she discovered Edlin's stand at the north London drop-in centre, which she had heard about through word of mouth, she says it was amazing.

"I was pregnant and really confused, depressed, and I was homeless at the time," she says. "When I saw the big table of toiletries I didn't even bother looking at the clothes."

Marina, who is wearing immaculate matte lipstick in a soft raspberry shade, and has her thick, curly dark brown hair pulled into a sleek topknot when we meet, prides herself on having a groomed and put-together appearance.

"You always look so amazing when you come in," Edlin notes.
"Being clean is really important and it picks up your mood too, when you smell good," Marina adds. She says she is deeply thankful to Edlin and all the people who donate pads and other beauty products to Bloody Good Period. "I'm just so grateful, because I'm only 22 and I'm obsessed with clothes and toiletries and that," she says.

"When you come into my house, it looks horrible, but go into the bathroom and it's amazing. It's a great help."

The majority of donations given out by Bloody Good Period are pads, which Edlin says the women visiting the centres tend to prefer. "We only give out about one box of tampons for every 100 box of sanitary towels, or even less, because the women we work with just don't want them," she says. "It may be cultural or just what they're used to, but we don't force anything on anybody!"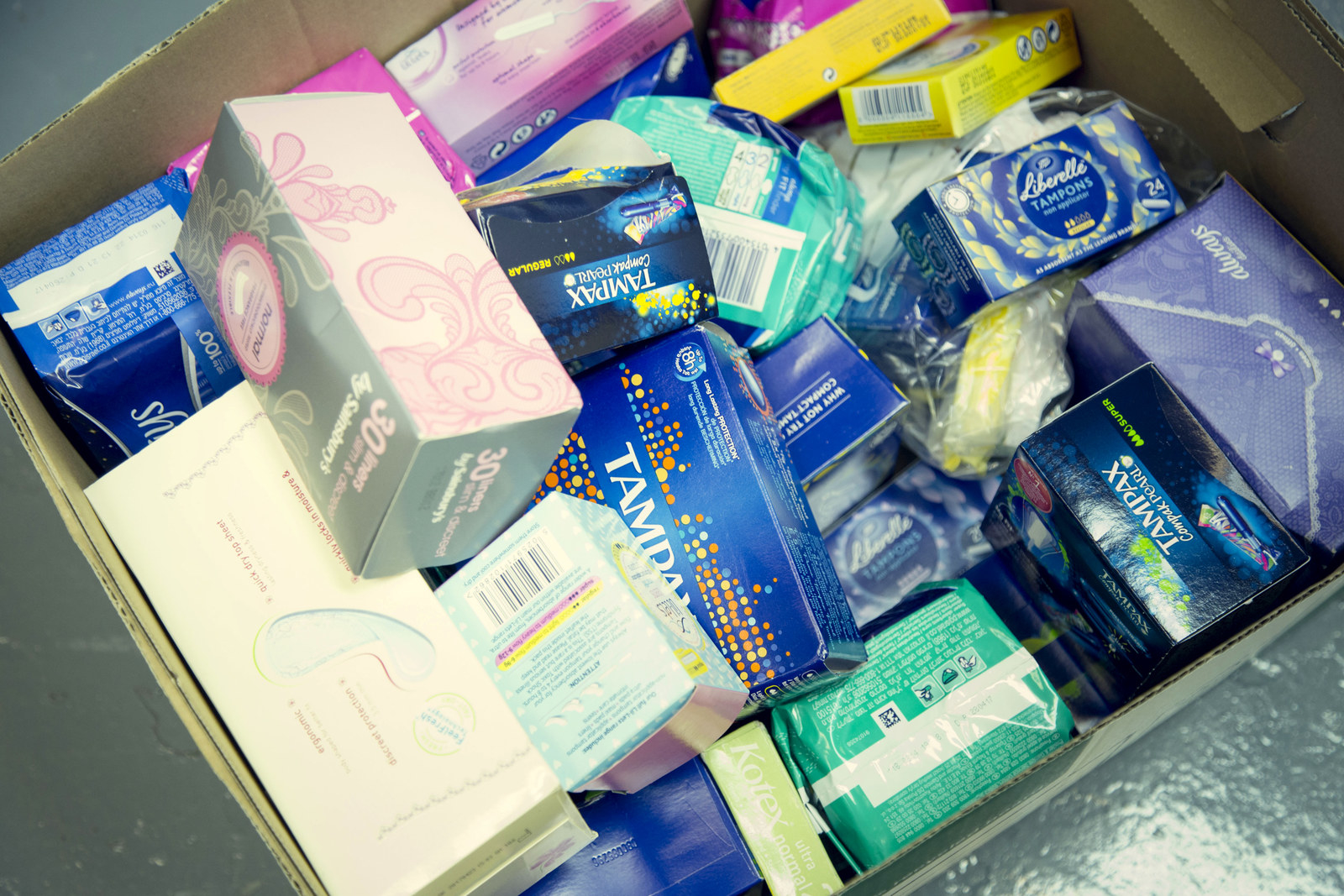 Kotex and Always are among the most popular brands at the centres, and Edlin believes it's important to be able to offer premium products to women whose poverty will often rob them of that choice.

"We could probably get more for the money sometimes," she says, "but why would you want the cheapest things? Why should you feel really shitty because you've had to leave your own country?

"It's the same with the pads – you don't want to use the cheap ones."

Marina agrees. "Everyone's got a vagina, no matter what country you're from," she laughs. "You have a vagina and you bleed!"

She continues: "I used to have to get really cheap ones from Lidl or Asda because I just couldn't waste my money on anything else, but I have really sensitive skin and they would irritate it.

"Everything they have on the table from Bloody Good Period is from a good brand. I always see them when I go to a shop – I'm like, oh my god those are £2.35!"

Marina says it makes her feel great to be able to use nice products she wouldn't otherwise be able to afford. "It's hard, because I like toiletries, and I like to be clean and smell good, but I can't waste money on it."
Having good toiletries and sanitary products taken care of for her by Bloody Good Period gives Marina one less thing to worry about while she remains in limbo and unable to get a job.

"I just wish they would let us work for our own toiletries!" she says. "If there's anything I can do to volunteer, I do. I've always kept myself busy." Marina speaks seven languages, including Russian and Kurdish, as well as English and her native language, and has previously volunteered as an interpreter for the Red Cross.

Marina says she finds it frustrating when people see the volunteering she does, along with her polished appearance, and say she doesn't look like an asylum-seeker.

"I'm like, well, what do we look like?" she says.
"Asylum-seeker is not my name. My name is Marina, I was born in Georgia. I'm from a normal family in a normal house. I'm an asylum-seeker because this system has decided to make me one for all of these years. I'm a young girl. I like fashion, I like style. It's not hard to wash and brush your hair."
*Names have been changed to protect identities.