It was "business as usual" in the NHS, according to consultants who covered for striking junior doctors on Tuesday and Wednesday, but as the first ever all-out strike ended with no peace deal in sight, the question medics are asking is: "What next?"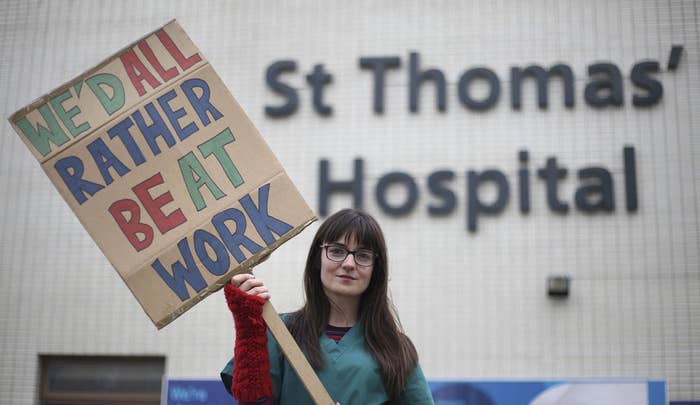 "All anyone in my hospital can talk about is what can happen next and we just don't know," Stella Vig, a consultant surgeon in Croydon, told BuzzFeed News.
She said she was "exhausted" after covering for the junior doctors she oversees during industrial action this week that saw them withdraw all services, including emergency care, for the first time in history.
The strike, which took place between 8am and 5pm on Tuesday and Wednesday, was the latest development in a long-running dispute with the government over changes to working hours and pay structures that doctors believe are unsafe for patients and unfair to staff.
"I'm not sure there is anyone of influence left who hasn't already spoken out against this contract who can sway this government one way or another," she said.
Philip Lee, a consultant in London who also provided cover during the strike, felt the prospect of more walkouts was regrettable but necessary. "I'm not sure Hunt will budge on this, but I think junior colleagues will fight them tooth and nail," he said.
"Doctors have no interest in striking," said consultant anaesthetist Helgi Johannsson, who warned that further industrial action was "inevitable" if the government didn't agree to further negotiations.
Amir Reyahi, a consultant in emergency medicine in Bedfordshire, predicted the British Medical Association (BMA) would schedule more strikes, but didn't expect any movement from the government until after the EU referendum in June.
"I think if we vote to leave the European Union there will be pressure for the prime minister to resign and if so there will be a cabinet reshuffle and things will change then," he said.
Dr Johann Malawana, chair of the BMA's junior doctors committee, told BuzzFeed News on Wednesday: "It's patently not over yet."
But health secretary Jeremy Hunt continues to stand firm with his decision to impose the new junior doctors contract in August.
Speaking to BBC Newsnight on Tuesday, he said it seemed that many junior doctors simply didn't understand the new contract, which he argued was a fair package – 90% of which has already been agreed by the BMA. "On that basis, withdrawing emergency care from patients who depend on you is a very disproportionate action," Hunt said.
On Monday, ahead of the strike, he told parliament the contract was integral to delivering a "seven-day NHS", as promised on "the first line on the first page of this government's manifesto".
He said "no trade union has a right to veto a manifesto promise voted for by the British people", evoking historical disputes between the government and unions, such as the miners strike in the mid-1980s.
Vig also recalled that dispute, in which miners eventually voted to return to work, but said: "The BMA is quite happy to strike and juniors are happy to walk out independently of the BMA, but the government seem to be stuck saying 'this is a miners moment and we can't possibly give in'."
Junior doctors have also vowed they are not yet ready to throw in the towel.
"This can go on for as long as it needs to go on," Malawana said.
Ahead of this week's strike, leaked emails from the junior doctors committee to BMA members showed that indefinite walkouts by junior doctors in June had been discussed – something many medics said they would be prepared to do if necessary.
Malawana, who described the first day of walkouts as one of the saddest in his career, said the committee would be reflecting on how this week's strike had gone before consulting members about next steps. He also didn't rule out the possibility of further industrial action.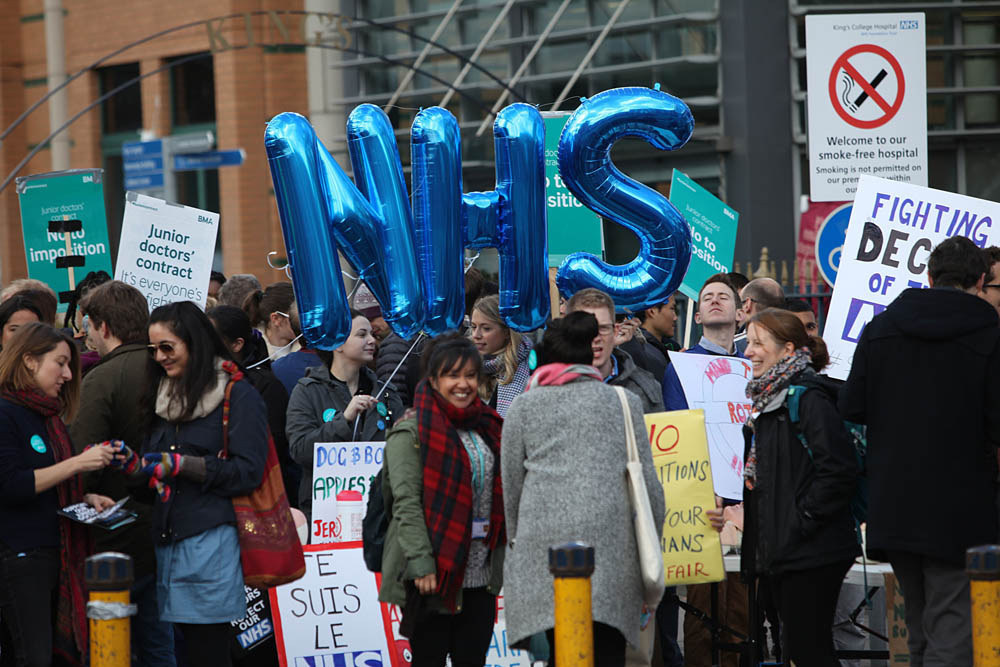 Senior NHS figures including NHS England chief Sir Bruce Keogh had warned the walkout could be catastrophic for medical services, but careful contingency planning by hospital trusts meant emergency departments continued to run smoothly throughout.
"Everyone is working together and the patients are getting excellent care," Johannsson told BuzzFeed. "I think this highlights our commitment to each other and the NHS as a whole."
Malawana had hoped the government might still consider further negotiations, believing that was the only way Hunt could win back the trust of junior doctors.
As the strike drew to a close on Wednesday evening, Malawana wrote to Hunt to once again call on the government to return to the table for fresh talks.
"I want to work with you to build trust between the Government and junior doctors and to ensure that becoming a doctor is still an attractive career choice in this country," the letter read.
It continued: "We're all aware of the significant challenges the NHS faces and we will need motivated, engaged doctors, supported by first-class training and fair working conditions, to address these and deliver the quality of patient care to which we are both committed.
"So, my offer still stands: lift imposition so that talks can resume."
Following a march by thousands of junior doctors at the end of Tuesday's strike, Labour leader Jeremy Corbyn urged them to keep fighting for the NHS and condemned Hunt's "utterly contemptible" handling of the dispute.
But Malawana said junior doctors and the BMA alike have never wanted this to be a political battle. "Everyone's been trying to resist that because it feels like Jeremy Hunt is gagging for a fight in the political sense, because that would mean he can pretend this is about something that it isn't."
Throughout the dispute, doctors have maintained that they are fighting to protect patient safety rather than score points against the government.
Jessica Hanlon, a junior doctor in London who provided emergency care during previous rounds of industrial action but did take part in this walkout, told us that "this strike makes us all feel sick", but vowed to continue the fight for a fairer contract.
"Make no mistake – we have considered our options," she said. "Many other ideas of how to protest have been discussed and modelled, but we realised that the damage caused by other means would not pick up media attention, and likely not be given any consideration at all by those in power."
Ben Janaway, a junior doctor in Plymouth, also said he would be willing to continue striking. "We wish only to prevent this contract and negotiate a safe replacement," he told us.
Tom Oates, a junior doctor in London, said that while indefinite walkouts would be something he'd be willing to take part in, he wondered how sustainable it would be long-term. "I think many people would be put off by the associated loss of earnings," he said.
Plus, he told us, with delays to procedures and operations already mounting up in the NHS, confounded by cancellations as a result of strikes, he wondered how long doctors would be willing to continue with action if patients start to suffer.
"A lot of services are in daily chaos as it is," he told us, "so feeling that you're adding to that wouldn't make doctors feel great."