Jeremy Hunt Is "Alienating An Entire Generation", Doctors Warn
"We cannot afford to lose any more staff. We are teetering," the chair of the British Medical Association's Junior Doctors' Committee told BuzzFeed News ahead of a protest expected to be attended by 16,000 doctors.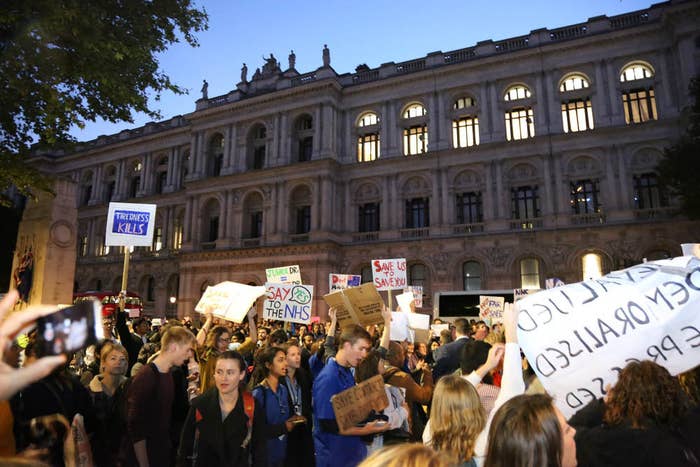 Health secretary Jeremy Hunt is alienating an entire generation of young doctors and medical students with proposed changes to their contracts, the chair of the British Medical Association's Junior Doctors' Committee has warned.
Ahead of a planned protest against the changes in London on Saturday, Dr Johann Malawana told BuzzFeed News that if Hunt does not begin to listen to the "outpouring of feeling" from doctors, the impact could be profound.
An expected 16,000 members of the medical community and its supporters plan to march from Waterloo to Parliament Square today, many of whom, Malawana said have "never protested in their lives". The demonstration is "very much a reflection of the situation that they've put the professionals and the NHS in", he said.
The contract proposed by Hunt could see "sociable working hours" for which junior doctors are paid a standard rate change from 7am-7pm Monday-Friday to 7am-10pm Monday-Saturday. It would also remove incremental pay rises, with increases instead based on moving through the stages of training and taking on more responsibility. Doctors have said that the new contract also removes safeguards that mean hospitals can be penalised for overworking juniors.
"The NHS is already in a difficult place," Malawana, an obstetrician, said, adding that many doctors have expressed fears that the changes would push them to crisis point. "We cannot afford to lose any more staff. We are teetering. I worked in a department recently where we needed 30 doctors to deliver a safe service, and we only had 19."
There is a fear that the changes will be particularly prohibitive to women, who make up the majority of doctors. And as staff feel increasingly devalued and denigrated, Malawana said that they are being forced to "make choices that they really don't want to make and we as a society don't want them to make", ultimately pushing them out of the NHS.
"I often have young families where both parents are doctors ask me, 'How do we look after our children, and also go to work if the average hours are from 7am-10pm and on a Saturday? And take a pay cut?'" he said.
Malawana echoed the concerns of the royal medical colleges, which recently wrote to Hunt to point out that new contracts could lead to a recruitment and retention problem. "We need young doctors and those coming out of medical school to actively choose to go into the NHS and front-line specialties rather than go and work in the city or practise in Australia, or all the other things that they have options to do," he said.
Having attended a meeting in Camden, north London, to address the public's concerns about the issues around junior doctors the day before we met, Malawana said the feeling was that "people don't want to end up in a situation where the NHS isn't there any more."
"The NHS is central to vast swaths of this country – they genuinely have an affection and a loyalty to the NHS because they understand that the NHS is there to look after them when they get sick and are at their most vulnerable."
For doctors too, opposition to the changes is not "a political thing", but rather "a genuine desire to see the NHS function – and function properly".
"These are people who have never protested in their lives," Malawana explained, but said that "if we carry on pushing and pushing and pushing front-line staff in the way that we are, even the most politically inactive staff will be politicised as part of this protest."
He added: "All of the doctors doing this are not politicians. What they genuinely want is to enter into a situation where they can have a genuine, frank negotiation that actually results in an end point."
Hunt's claims that the new contracts are in the interest of both doctors' and patients' safety has been repeatedly disputed by NHS workers. "It's very hard to spin something that is genuinely a problem," Malawana told us. He added that the level of feeling doctors are expressing in opposition to the changes can't be manufactured. "This is very much a reflection of the situation that they've put the professionals and the NHS in."
He also felt that the Department of Health had lost the trust of doctors. "Hunt has said that no individual doctor will see a cut to their pay as a result of the contract, but when asked about this by [shadow health secretary] Heidi Alexander he said that the overall budget for junior doctors, and 'average pay', will not be cut.
"Those are two very different points and that's making people even more angry when what they want is a straight answer." Malawana described the ongoing process as "dishonest" and "not fair on us".
Instead what doctors want, he said, is "to find constructive solutions for the government and society, because ultimately our job as doctors is to ensure that we have a health service that functions".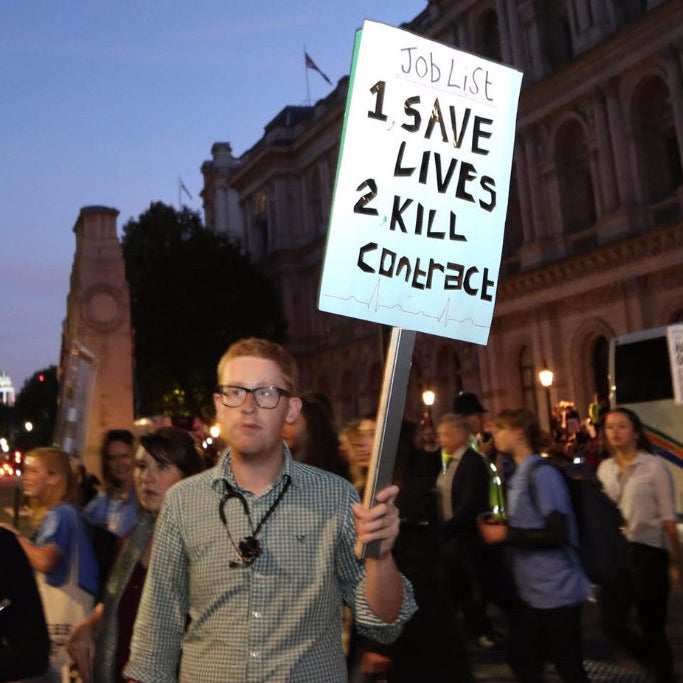 Doctors protesting against changes to the junior contract in September.
Negotiations between the Department of Health, NHS Employers, and the British Medical Association (BMA) were halted earlier this summer. "In order to have a negotiation, we have to pre-agree to things that we just don't think are safe or fair," Malawana said, highlighting that the changes to working hours raise serious concerns for patient safety. "We'll end up with burnt-out doctors making difficult decisions in difficult circumstances, probably making mistakes."
Earlier this month, Hunt wrote to Malawana to try to re-open negotiations, but, Malawana said, while the Department of Health has said that it's showing conciliation, "they actually haven't said much different for the last three years, and whilst they're couching it in different language, it's effectively the same things that they're saying, and that's the main problem."
When the letter was made public, junior doctor Sundeep Grewal, who has been instrumental in organising Saturday's protest, told BuzzFeed News that it was "not worth the paper it was printed on".
In addition to the protest, the BMA is due to ballot junior doctors on industrial action, a decision Malawana has not taken lightly: "We do not like the idea of industrial action at all, but the mood in the profession is that we understand that if we don't do something, and if we just allow this to happen, what is potentially disruptive for a short period of time will turn into the NHS not being delivered over a generation."
He reiterated that doctors felt that the government had pushed them to a point where striking was a necessary last resort: "We have to do this to try and make them listen, because if we cannot deliver the health service, then that's a fundamental issue for society.
"And that's a lot more patients affected long term than would be in the short term with a strike."